Camargo showcases highs, lows of youth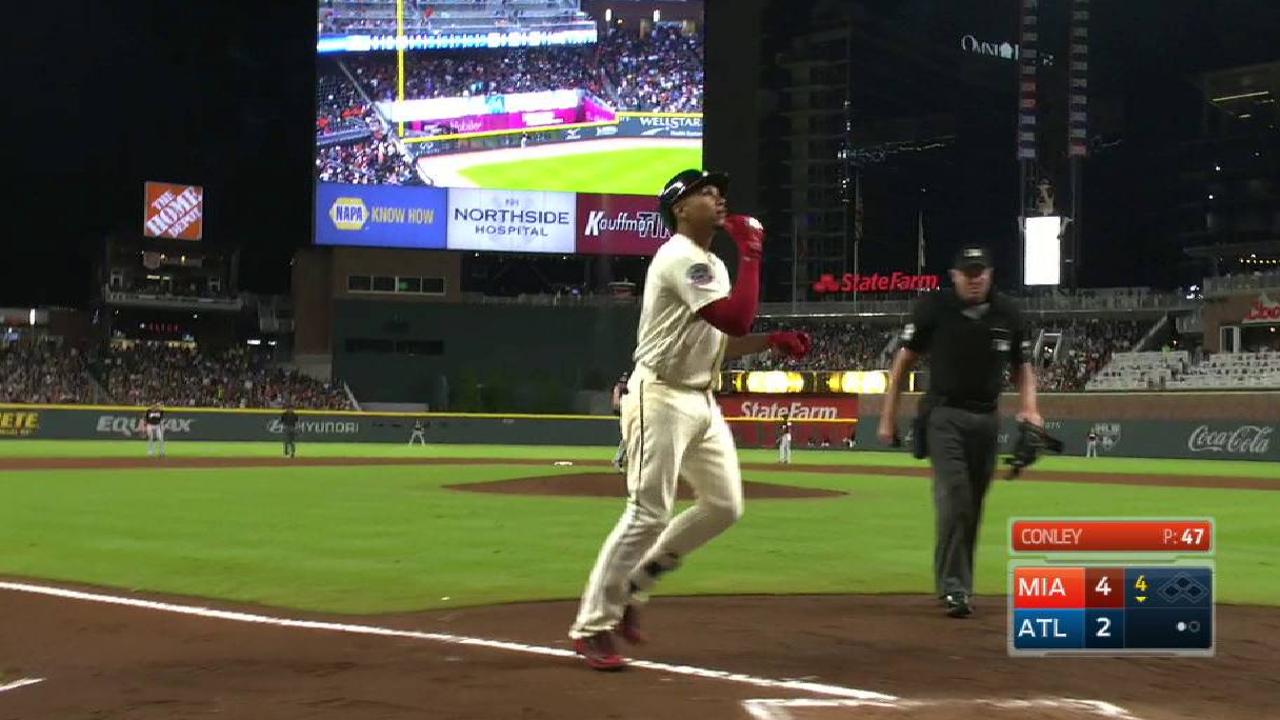 ATLANTA -- While Johan Camargo spent a month on the disabled list recovering from a freak knee injury he can now laugh about, Ozzie Albies began his bid to be recognized as the Braves' most valuable rookie this year. But now that Camargo has returned, he has quickly shown why he drew so much favorable attention this summer.
At the same time, Camargo has proven he remains young and inexperienced enough to make that occasional head-scratching blunder.
Still, the baserunning mistake Camargo made during the fifth inning of Saturday night's 6-5, walk-off win over the Marlins at SunTrust Park did not prevent him from being lauded for his other contributions. He homered in the fourth to account for the Braves' first two runs, then contributed to the decisive ninth with a sacrifice bunt.
"There's always highs and lows," Camargo said through an interpreter. "Whenever something like that happens, you've just got to take it, learn from it and move on from it."
This entire season has been a valuable learning experience for Camargo, who drew attention with the stronger frame he brought to Spring Training and essentially forced the Braves to keep him at the Major League level once June arrived. He unseated Dansby Swanson as the starting shortstop in July and might still be in that role had he not sustained a right knee bone bruise on Aug. 8.
Camargo was sidelined when he landed awkwardly after extending his tradition of reaching down to grab infield dirt along the base line while taking the field in the first inning. Since returning from the injury this week to primarily play third base, he has modified his pregame ritual.
"I still kind of sneak it in," Camargo said. "On my way out from the dugout, I'll grab a little dirt right there by the steps so that it's not as much of a process."
After highlighting a three-run fourth with the two-run homer hit off Adam Conley, Camargo scored Kurt Suzuki in the fifth with a single to left field. The 23-year-old rookie casually got out of the box and made his way toward first base before opting to race toward second when the throw came back to the infield. He was tagged out as he neared second while still standing.
"It was just a careless [play] when he didn't slide," Braves manager Brian Snitker said. "He probably got a little too casual out of the box, really. That's where that play started and went awry. They're young and they're going to make mistakes and they're going to learn from it. When they make mistakes, they're going to get better."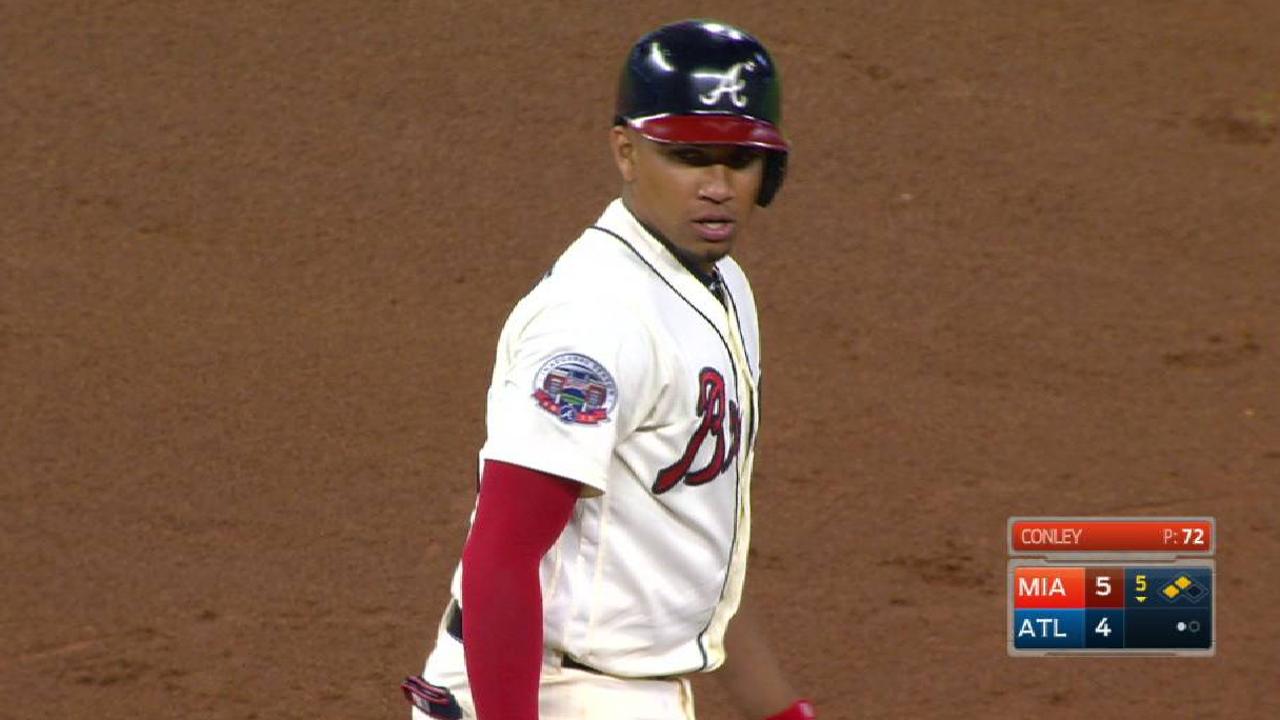 Given a chance to make amends, Camargo provided the successful sacrifice bunt in the ninth inning that put a pair of runners in scoring position, then celebrated with his teammates after Ender Inciarte drew a four-pitch, bases-loaded walk-off walk from Kyle Barraclough.
"I just tried to stay calm and be patient with the process of returning [from the injury], and thankfully all the hard work we did has been translating to good results in the games," Camargo said.
Mark Bowman has covered the Braves for MLB.com since 2001. This story was not subject to the approval of Major League Baseball or its clubs.