Heaney departs with left shoulder soreness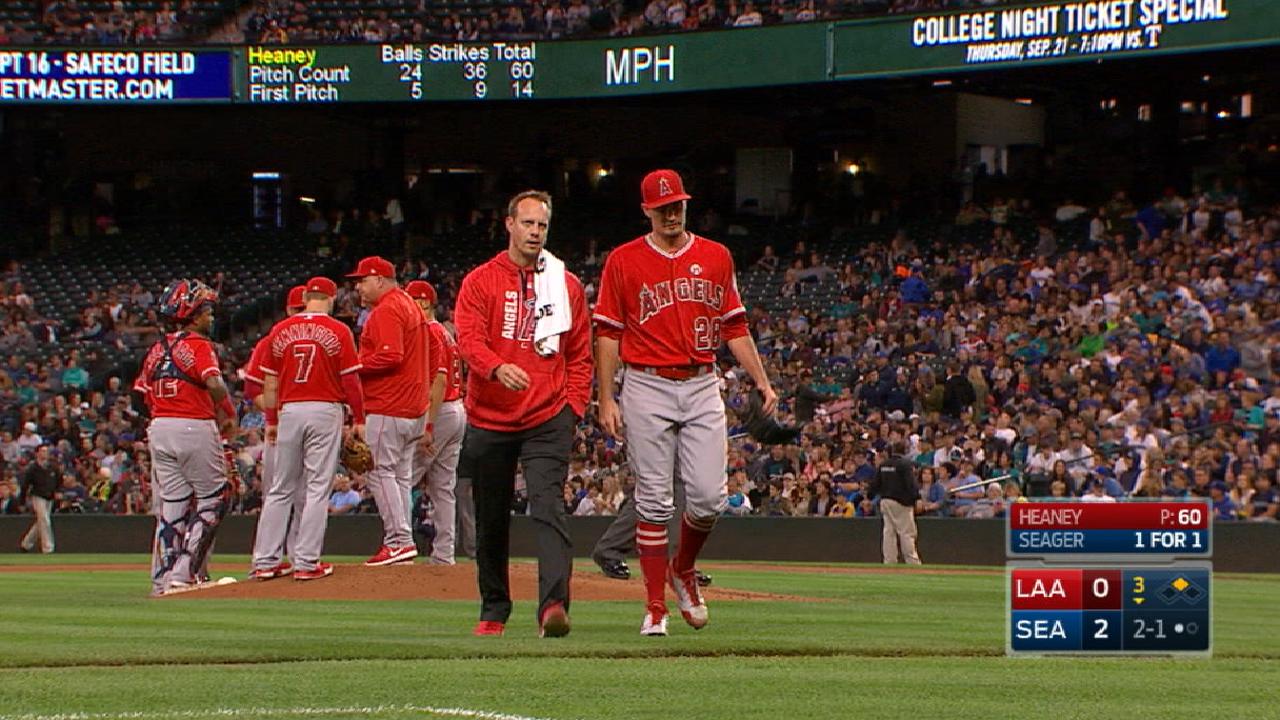 SEATTLE -- Given the injuries and performance issues suffered by the Angels this year in the starting pitching department, the sight of Andrew Heaney shaking his left arm after delivering a pitch in the third inning of Saturday's loss to the Mariners was about as welcome as the 8-1 final score.
Heaney, after all, hadn't pitched since April 5, 2016, before he made his season debut on Aug. 18. He had undergone Tommy John elbow reconstruction surgery. And while he hadn't been super-sharp in every outing prior to Saturday, he had his moments, such as a 10-strikeout victory over the A's on Aug. 28.
On Saturday, he came out and was reaching 94 mph with his fastball. The Angels' brass was encouraged.
"I thought his velocity was good," Angels manager Mike Scioscia said later. "When he started off, it looked like he had good rhythm, the ball was coming out of his hand really well, and it looked like he had a good breaking ball, which he didn't have his last start. So there were a lot of things pointing in the right direction.
"Unfortunately it went the wrong way."
In the third inning, with one out and two Mariners runs already in, Heaney was facing Kyle Seager when he threw one pitch and felt discomfort in the back of his left shoulder. He threw another pitch, showed more unease, and shook his arm a bit.
That was enough for the team's training staff, which quickly visited the mound and escorted him out despite his argument to stay in.
Heaney's injury was listed as shoulder soreness and he's sure to be reevaluated in the coming days. It's another blow to an already-ravaged rotation, and it's another tough break for Heaney, who had endured a lot and worked hard to get back.
Even though Heaney insisted after the game that it was "just tightness" and that he was "not very concerned," he admitted that this injury stuff is getting old.
"I know they're looking out for my safety and well-being," Heaney said. "It's obviously just extremely frustrating.
"It's been a battle. I'm trying to grind through some things and figure some things out. Obviously, it's just frustrating, not quite getting the results. It's little things, but I'm putting myself in those positions."
Doug Miller is a reporter for MLB.com. Follow him on Twitter @DougMillerMLB. This story was not subject to the approval of Major League Baseball or its clubs.