White Sox bash 6 HRs, Shields deals vs. Giants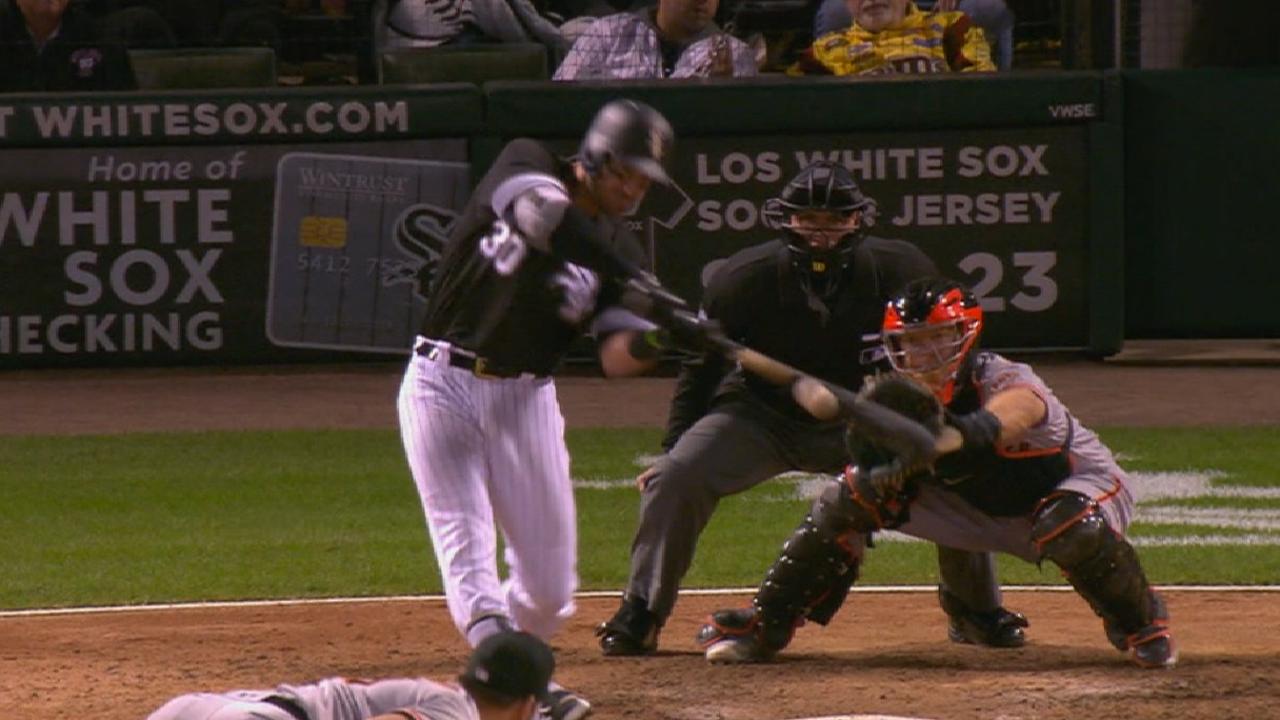 CHICAGO -- There were a few moments earlier this week where it looked uncertain whether James Shields would pitch again this season, let alone make his next start Saturday night against the Giants at Guaranteed Rate Field.
A line drive off of your right knee, as Shields sustained Monday against the Indians, tends to make matters uncertain.
But not only was Shields on the mound for a 13-1 White Sox victory Saturday night, but he threw one of his best games since joining the team -- and his teammates backed him with six homers. Shields yielded two hits over seven innings and until a one-out Nick Hundley homer in the seventh, the only Giants' hit was a Buster Posey infield single in the first on a play where Yoan Moncada double-clutched after fielding the ball up the middle.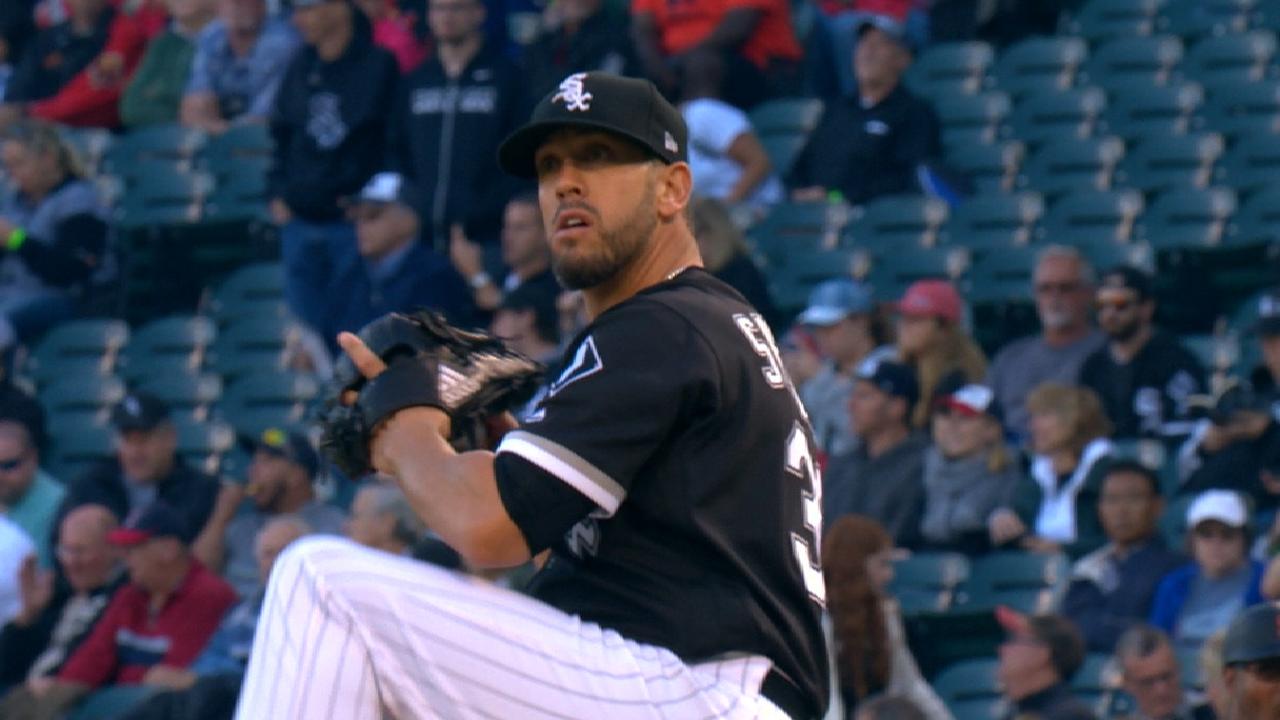 "My fastball location was pretty much on point," Shields said. "I got behind the count on a few hitters, but overall didn't really leave anything over the plate besides the home run. I got a ton of ground balls today. That's what I wanted to do."
"Their guy was on," Giants manager Bruce Bochy said. "Shields was hitting his spots. He tweaked his delivery. He's a little bit lower now, and getting some sink. We didn't hit any balls hard. I think the three hits, we had an infield hit, a bloop and Hundley hit his home run. We didn't even threaten. We were just flat tonight."
Shields struck out five and walked two while throwing 106 pitches, with the Giants moving back in front of the White Sox for the No. 2 spot in the 2018 MLB Draft.
Jose Abreu hit for his first career cycle, getting there with a two-run triple to right-center off Roberto Gomez in the eighth inning. It was the seventh cycle in the Majors this season, and Abreu became the sixth player in White Sox history to achieve the feat. Jose Valentin was the last White Sox player to do so on April 27, 2000, vs. Baltimore.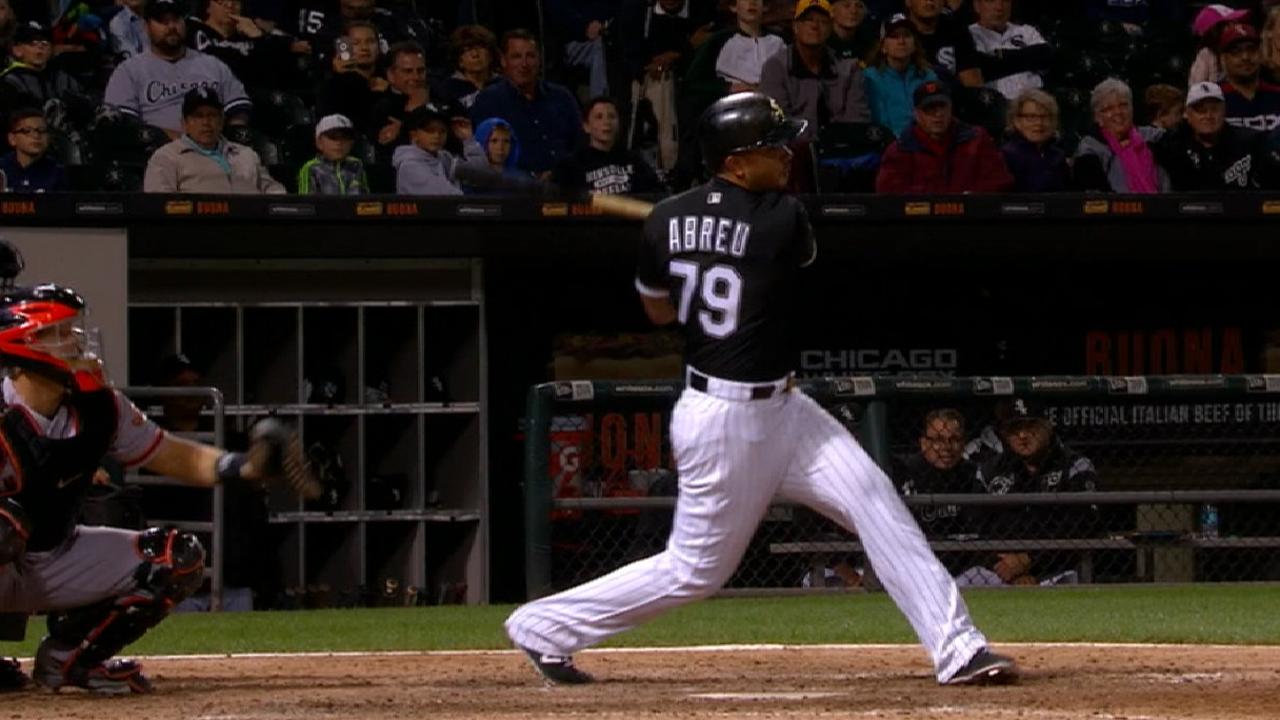 "I hit the ball to the alley and I was just just thinking of the triple," said Abreu, who fouled a ball off his shin just before the triple. "[White Sox manager Rick Renteria] believed in me when I hit the foul ball [off my shin]. He said, 'Hey, are you OK?' I said, 'Yes.' He believed in me in that moment and allowed me to get my at-bat and I was able to get that triple.
"To have the opportunity to hit for the cycle here, in Chicago, for this organization, is something wonderful."
Tim Anderson also went deep, finishing a double short of his own cycle, while Yolmer Sanchez finished a double short as well. Adam Engel, Rob Brantly and Omar Narvaez were the only three White Sox starters who didn't go deep. The six home runs matched the single-game franchise record, the 13th time the White Sox have hit that total.
Giants right-hander Jeff Samardzija, who grew up a White Sox fan and pitched for the club in 2015, got shelled in his first start back at Guaranteed Rate Field in front of a group of friends and family. He allowed four homers, matching a career high, and six runs over 5 2/3 innings. The Giants staff matched a franchise record in allowing six homers for the fifth time ever, and the first time since May 19, 2010.
"Any time you give up four jimmy jacks, that's the difference in the game," Samardzija said. "They put the ball in the air, took advantage of a couple mistakes. Abreu's stayed out over the plate when we were going in. Sanchez's was up a little bit. They took advantage of it."
MOMENTS THAT MATTERED
Yolmer homer: The White Sox third baseman isn't exactly known for his power, but a three-run shot in the fourth inning off Samardzija increased his single-season career-high to 11. It was also Sanchez's sixth homer in his last 15 home games and has recorded a RBI in nine of his last 15 games overall.
"He flew out on a sinker away the first at-bat, then flew out on a cutter in," Samardzija said. "If it had been where we wanted it to be down in the zone, he would have rolled over to second. But it stayed up, and he put a good swing on it."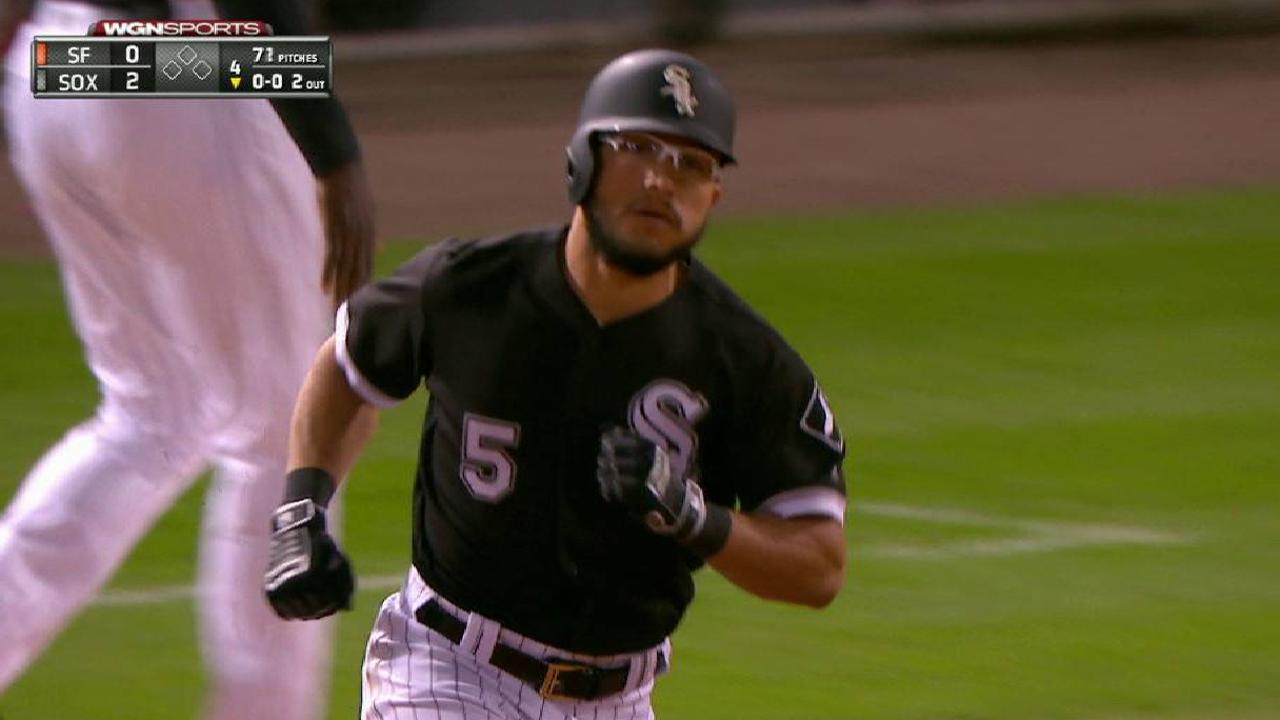 Moncada mashes: White Sox manager Rick Renteria has said that the switch-hitting Moncada, who entered the season as MLB Pipeline's top prospect, has more power from the right side than from the left. It finally showed Saturday, as he knocked his first career homer from the right side of the plate in the seventh inning off Josh Osich. Moncada's fourth homer of the season traveled 396 feet with an exit velocity of 103.4 mph, according to Statcast™.
"You have to keep to your approach, your motivation, your routine and I have to work hard every day," Moncada said through interpreter Billy Russo. "I have to be relentless in my work and in my approach, my preparation. That's the only way I can do better and get the results that I want."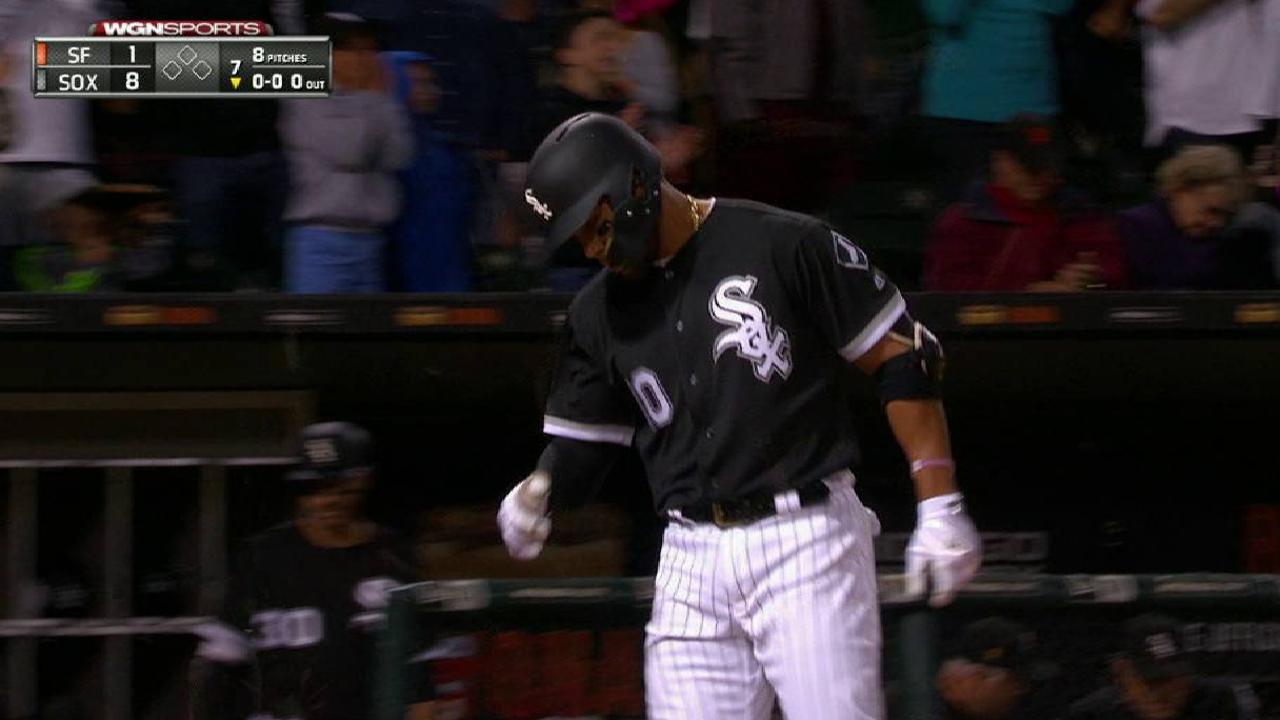 QUOTABLE
"There's no evolving. He's always been an amazing hitter. I got to see it firsthand. Dude was the first guy in the cage every day, first guy at the park. He takes it personally, loves to play the game. I respect Abreu up there amongst some other guys in this league. He works really hard, keeps his head down and plays hard. Great hands. He's a heck of a hitter. You have to tip your cap to him. Can't make that mistake on the plate."-- Samardzija, on Abreu
ALMOST ANOTHER CYCLE
Abreu nearly had company from a pair of teammates in accomplishing the cycle on Saturday evening. Two teammates -- Sanchez and Anderson -- each finished a double shy of the cycle, though only Anderson had an actual plate appearance with a chance to accomplish it. Anderson struck out in the eighth inning, four batters after Abreu's cycle-clinching triple, to end his hopes.
"I am a person who is always cheering for others, for my teammates," Abreu said through interpreter Billy Russo. "In that moment, I was cheering for him to get a double. He couldn't do it, but I am glad he had the night that he had. It was a very good night for him. The most important thing is we won. That's what matters."
WHAT'S NEXT
Giants: Madison Bumgarner (3-7, 3.15) starts for the first time ever against the White Sox in the 11:10 a.m. PT series finale. He's had problems with the long ball lately, allowing five in his last three starts and three on Sept. 3 against St. Louis.
White Sox: Carson Fulmer (1-1, 10.50) makes his second career start in the series finale with the Giants scheduled for a 1:10 p.m. CT first pitch. The White Sox No. 10 prospect, per MLB Pipeline, recorded his first career win on Sept. 2 against the Rays, allowing one run on one hit over two innings in relief.
Watch every out-of-market regular-season game live on MLB.TV.
Scott Merkin has covered the White Sox for MLB.com since 2003. Read his blog, Merk's Works, follow him on Twitter @scottmerkin, on Facebook and listen to his podcast.

Fabian Ardaya is a reporter for MLB.com based in Chicago who covered the Giants on Saturday.

This story was not subject to the approval of Major League Baseball or its clubs.