Price sees value in defensive wiz Vincej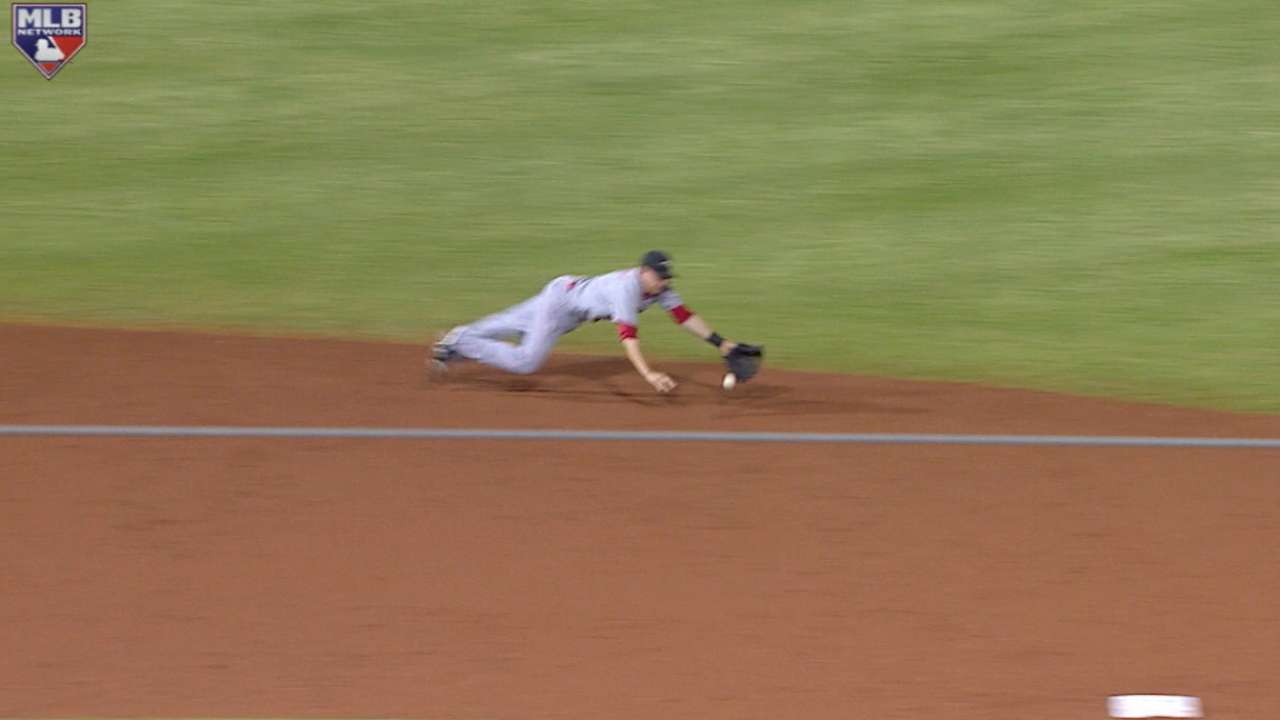 NEW YORK -- A 37th-round Draft pick by the Reds out of Pepperdine University in 2012, shortstop Zach Vincej made the steady and gradual climb through the Minor League system before getting his first big league promotion on Sept. 1.
Vincej (pronounced VINCE-see) had a solid season at Triple-A Louisville, but he wasn't expecting to be among the September callups.
"In the back of your mind, of course [you think about it]. It's your dream and you want it to happen," Vincej said. "For me, it's going through each and every day, playing hard and seeing what happens. When it finally happens, you're kind of shocked. You don't know how to feel or how to act. It's, 'Wow, it's here.' It's an unbelievable feeling. I've been working my whole life for this. It's been amazing."
Vincej, 26, has been known as a defense-first shortstop as a professional. He was a Rawlings Minor League Gold Glove Award winner in 2016 with Double-A Pensacola.
After the season, Vincej showed his bat could be a strength in the Arizona Fall League. He batted .352/.425/.676 with four home runs after hitting .281/.329/.378 with Pensacola. Vincej earned his first invitation to big league Spring Training this year, and manager Bryan Price usually slotted him in as the replacement shortstop in Cactus League games when substitutes filtered in during the middle innings.
"He's very savvy at shortstop, very polished," Price said. "He's always in the right spot. He gets the position. He has the skillset for it and the arm for it. He's a very steady defender. He puts the ball in play [at the plate]. He's a guy I can hit-and-run with. He's that guy who is a very reliable, steady player.
"He's not going to hurt you. He's the kind of guy that finds a way to help you in several ways."
Vincej batted .270/.325/.370 at Louisville with three homers and 38 RBIs in 110 games. He's made two appearances as a pinch-hitter in the big leagues so far, and he feels comfortable, especially after being exposed to the Reds' clubhouse in spring.
"I think it really helped, transition-wise, with all the players," Vincej said. "I'm familiar with everybody. Now it's getting past the overall jitters of playing at the big league level on the big stage. It's been amazing, and the guys have been great to me so far. It's all I can ask for."
Price could not commit to giving Vincej significant playing time with Zack Cozart enjoying a strong season and Jose Peraza as the primary backup. But Cozart will be a free agent after the season, and Peraza is still learning in the big leagues.
Solid defense in the Minors should translate to the Majors, and that could put Vincej in position to be summoned again in the future.
"Nobody wants to be a fallback player," Price said. "He's a guy that is a late-round Draft pick guy that is known as a defensive player. He's competitive with the bat, but the defense continues to be steady and reliable. If we had an injury to Zack or Jose or a shortage in the organization, I'd be comfortable plugging Zach in to play regularly. I know he would hold his own up the middle."
Mark Sheldon has covered the Reds for MLB.com since 2006, and previously covered the Twins from 2001-05. Follow him on Twitter @m_sheldon and Facebook and listen to his podcast. This story was not subject to the approval of Major League Baseball or its clubs.