Superman to the rescue: Pillar saves Blue Jays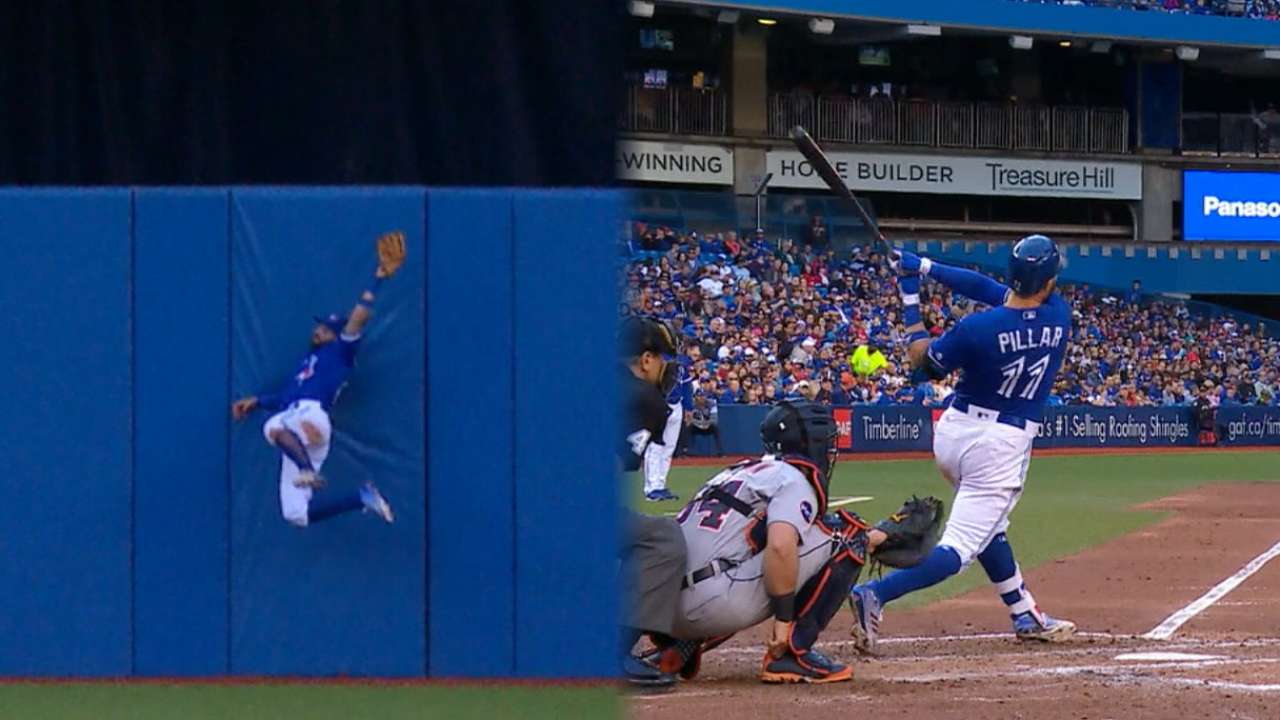 TORONTO -- Kevin Pillar experienced an all-time low on Friday night. Less than 24 hours later, Toronto's center fielder should have been back to cloud nine, after he was cleared for lift off with another spectacular grab at Rogers Centre.
Pillar enjoyed arguably his best all-around game of the season during Toronto's 5-4 victory over the Tigers on Saturday afternoon. He went 4-for-4 at the plate with a home run and two RBIs while adding yet another memorable catch to his lengthy highlight reel.
The breakout afternoon followed a game on Friday night in which he went 0-for-4 and hit into a triple play. He also lost track of a fly ball in that series opener, but was back to his old tricks under a more forgiving sky the following day.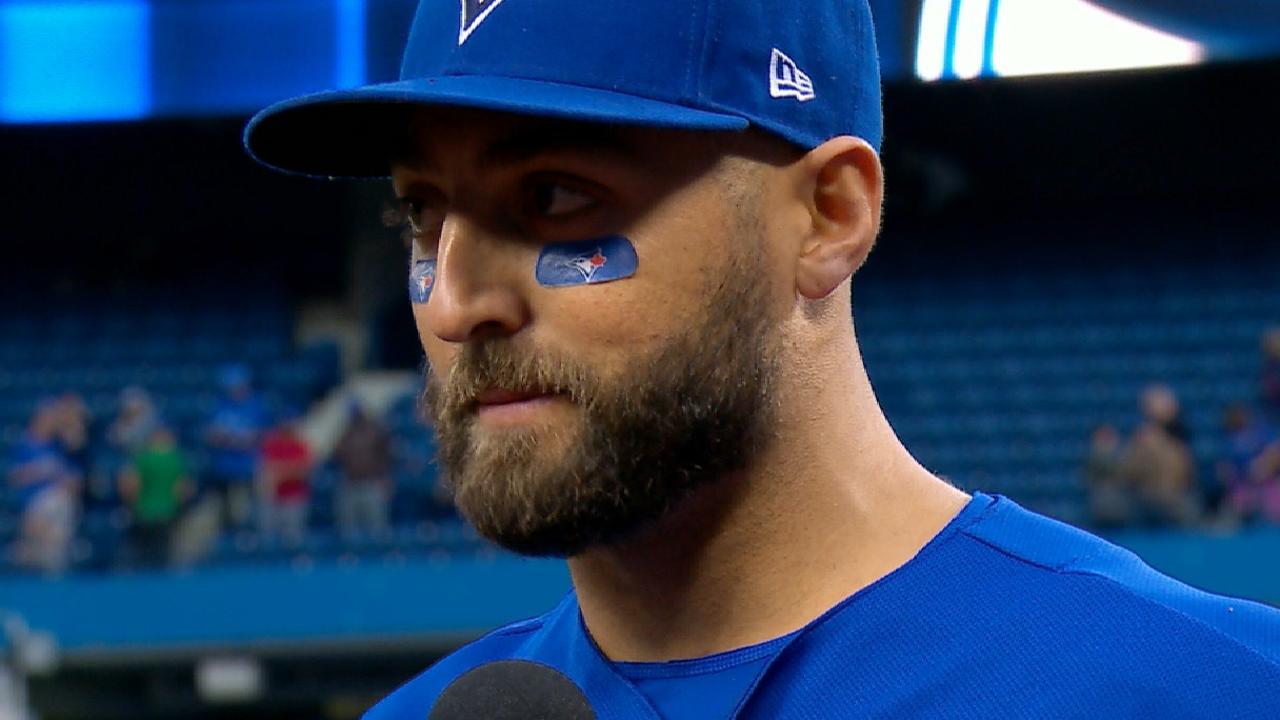 "I wouldn't necessarily say a comeback, but I think in that moment, it was maybe an all-time low," Pillar said. "I'm a guy who can run a little bit and I never envisioned myself hitting into a triple play. But I hit the ball hard and I hit it right at a guy, so stuff happens.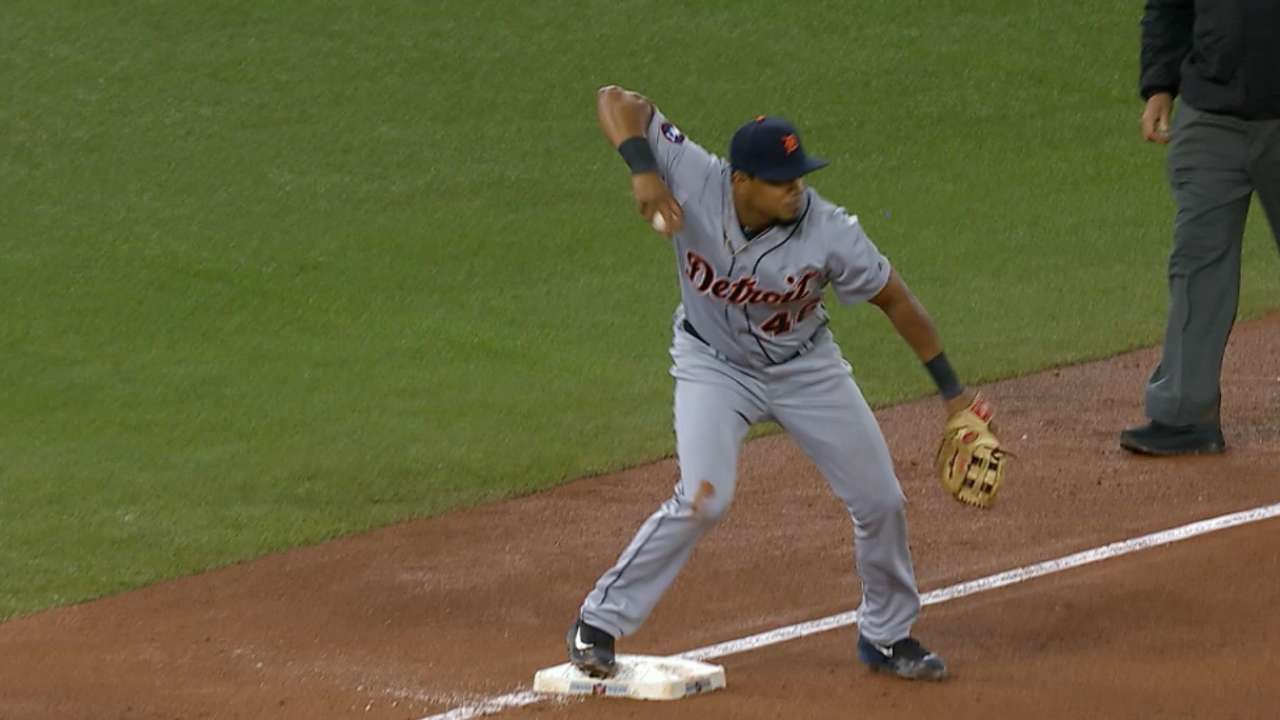 "You're going home, you have four at-bats and you make seven outs. That's a pretty rough day, but the great thing about baseball is you come back and do it again. That's why I don't get too excited about today. I know it was one day and it's something to be proud about, but we're facing a tough pitcher again tomorrow and anything can happen."
Pillar's latest catch occurred in the top of the fifth inning when he made a leaping grab at the wall to take extra bases away from Dixon Machado. According to Statcast™, Machado's blast left his bat at 101.2 mph and came with a hit probability of 73 percent. That proved to be no match for Pillar, as he tracked the ball to the warning track and somehow found a way to hang on as he crashed into the wall.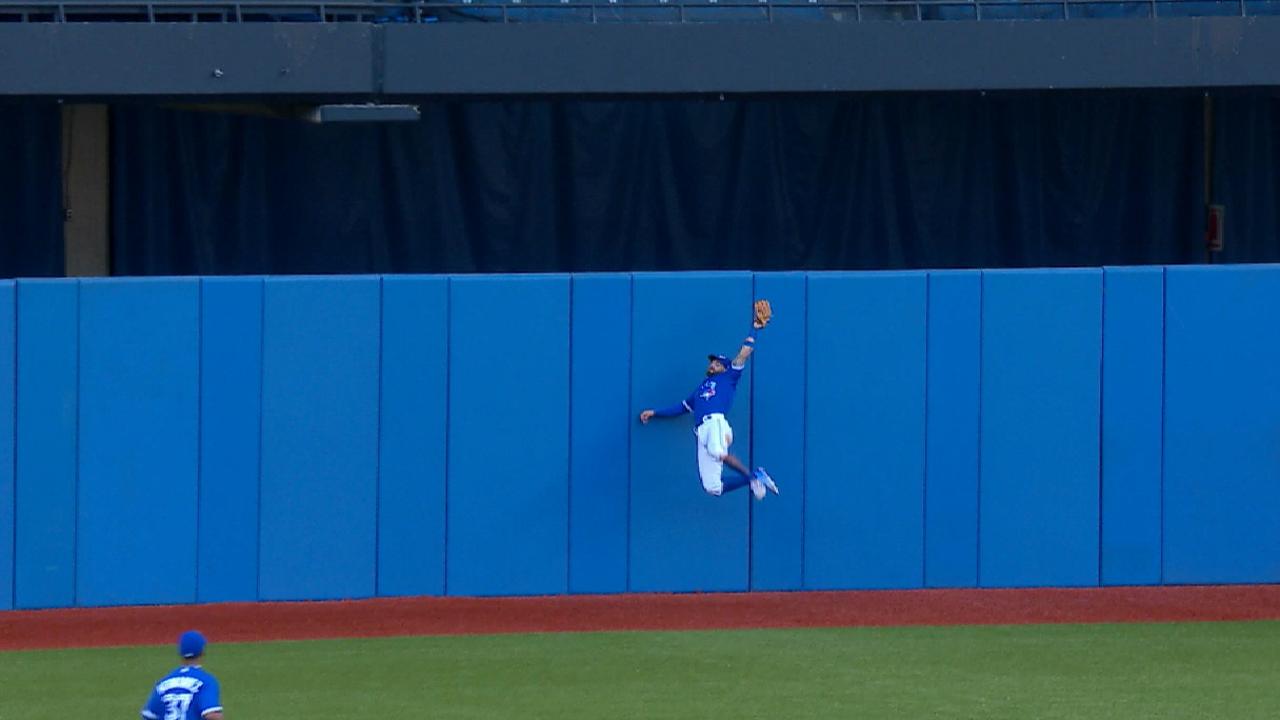 The 28-year-old center fielder was treated to a standing ovation as he ran off the field. He seems to make at least one of these highlight-reel plays per month. A few weeks ago he crashed into the brick wall at Wrigley Field to come up with a similar grab. On his latest catch, the outfielder ran 85 feet to come up with the ball.
Despite everything Pillar puts his body through, he has managed to appear in 137 games this year. After becoming an everyday player in 2015, he's never appeared in fewer than 146 games in a full season.
"I'm still pretty sore from that," Pillar said in reference to the catch at Wrigley on Aug. 20. "[No soreness] from today, but you do whatever you have to do to get ready to play."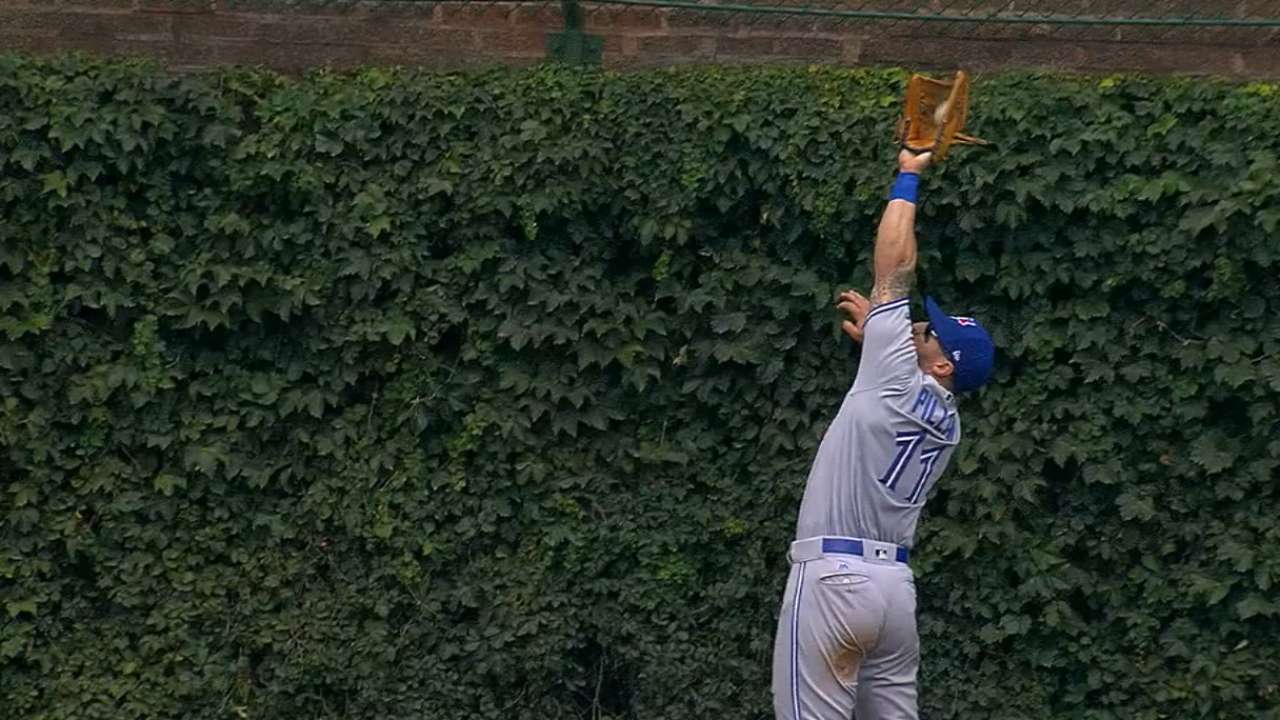 Pillar's contributions on Saturday afternoon were not limited to just center field, as he also hit a go-ahead solo homer in the bottom of the sixth inning. According to Statcast™, Pillar's 15th shot of the year was projected to travel 363 feet and left his bat at 102 mph with a launch angle of 40 degrees. The 15 home runs are a career high.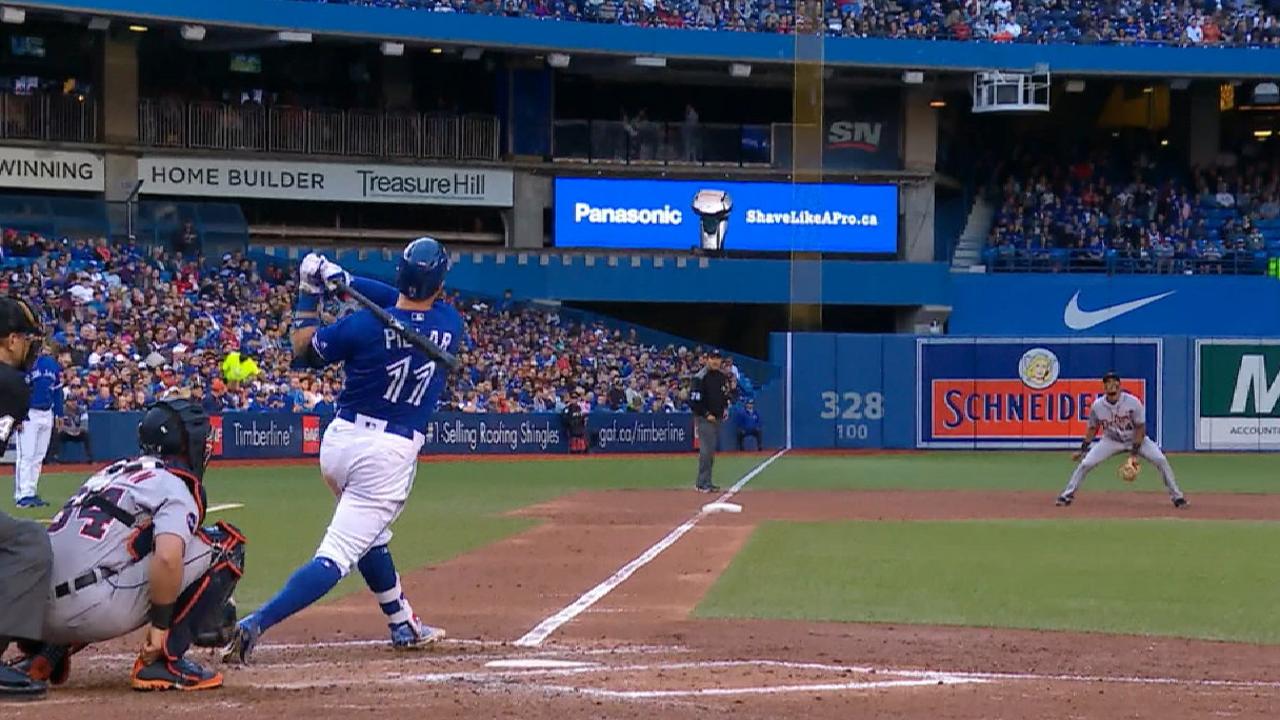 "Kev has been on a nice little roll, he has been swinging the bat well," manager John Gibbons said. "Then of course the big play in center field, like he always does. It's kind of like an old hat to him. He's in a nice groove, he's driving some balls and he played really well on that last road trip too."
Gregor Chisholm has covered the Blue Jays for MLB.com since 2011. Follow him on Twitter @gregorMLB and Facebook, and listen to his podcast. This story was not subject to the approval of Major League Baseball or its clubs.