Cards keep pace in WC with comeback win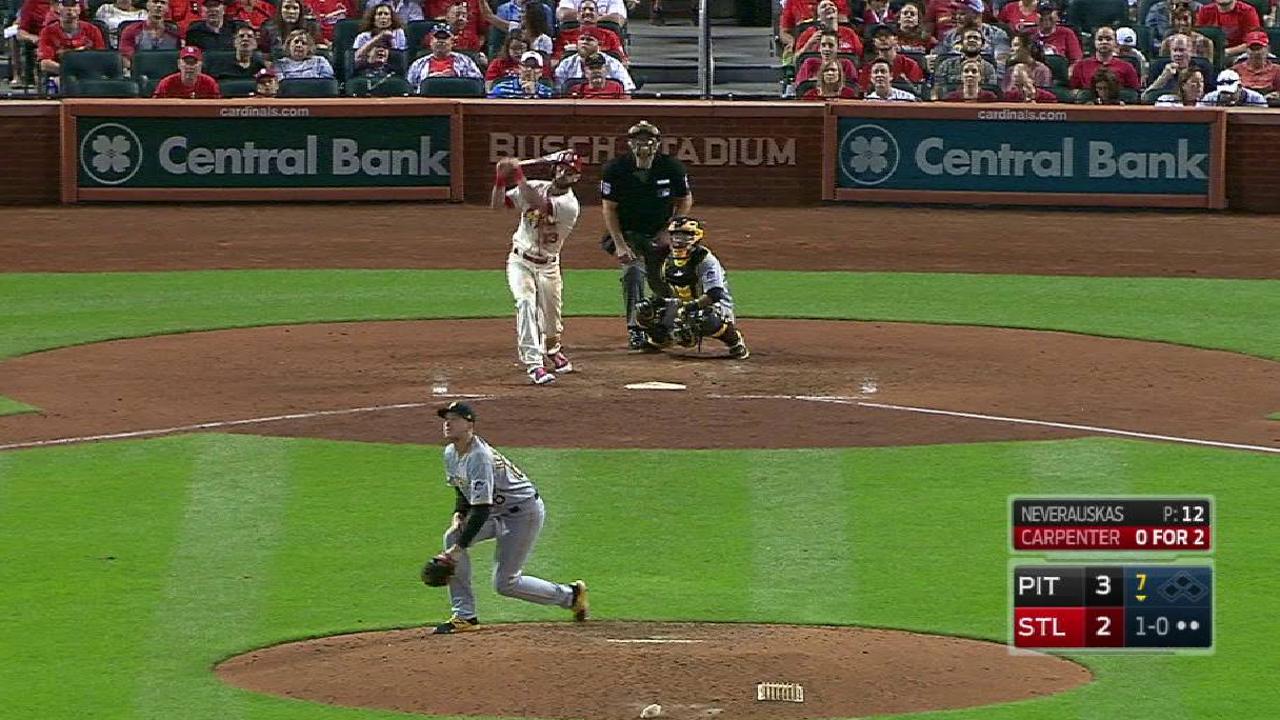 ST. LOUIS -- In a back-and-forth affair, it took a ground-rule double and a groundout for the Cardinals to break through in the eighth and take a much-needed 4-3 win from the Pirates on Saturday night at Busch Stadium.
With the win, the Cardinals were able to keep pace in the postseason race. They are now three games behind the Cubs in the National League Central, tied with the Brewers, and three games back in the Wild Card chase.
"We're going through a special stretch right now," Matt Carpenter said. "It feels like a special year. It feels like a lot of previous years. We've had some really fun Septembers here, and any time you have a chance to play for something at this point in the season, you've just got to be happy with that. We've got something pretty cool brewing."
Cards shortstop Paul DeJong led off the eighth inning with a ground-rule double to right field. After advancing to third on a groundout, he was able to score what would be the game-winning run when Randal Grichuk hit a routine ground ball straight to former Cardinal David Freese. The Pirates third baseman juggled the ball, however, giving DeJong time to get home and give the Cardinals their first lead of the game.
"It was a contact play," DeJong said. "It was down and luckily scooted away from him a couple feet, and that gave me enough time to score. He did a good job of knocking me in."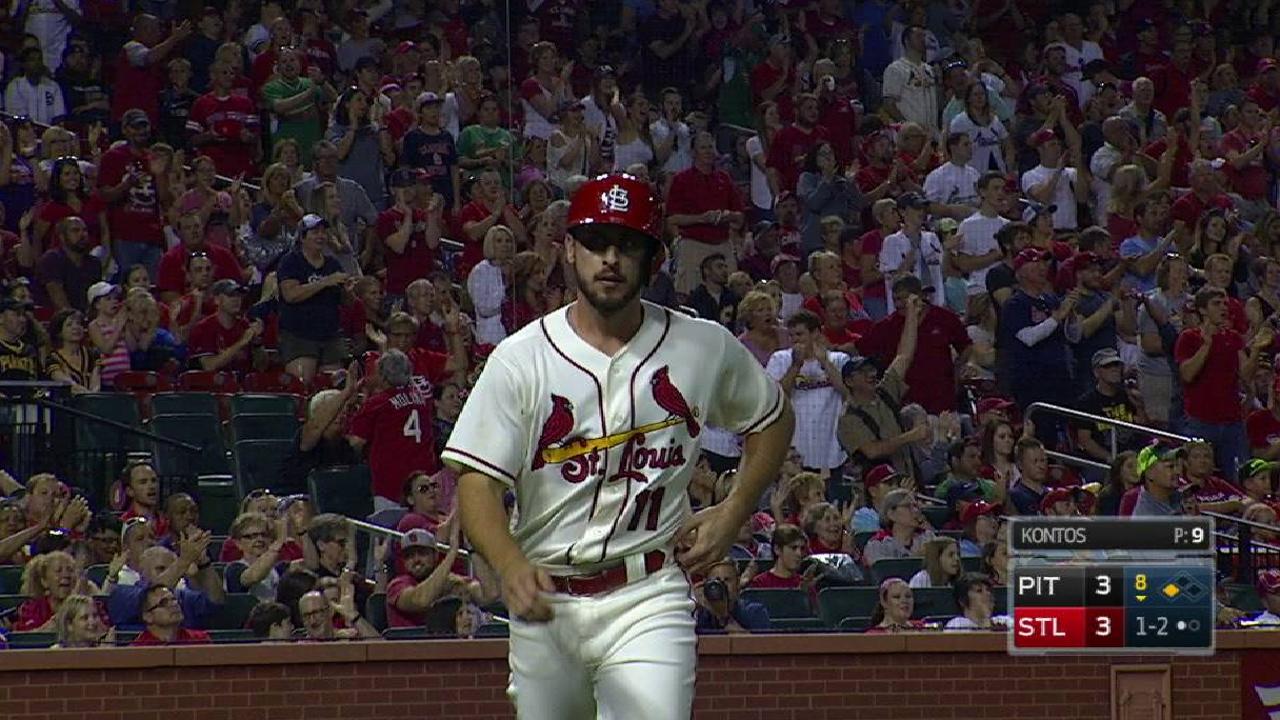 The NL Central foes were tied at 2 for most of the game until Adam Frazier broke the tie with an inside-the-park home run to center field in the seventh; Cardinals outfielder Dexter Fowler sustained a left knee contusion on the play and exited the game.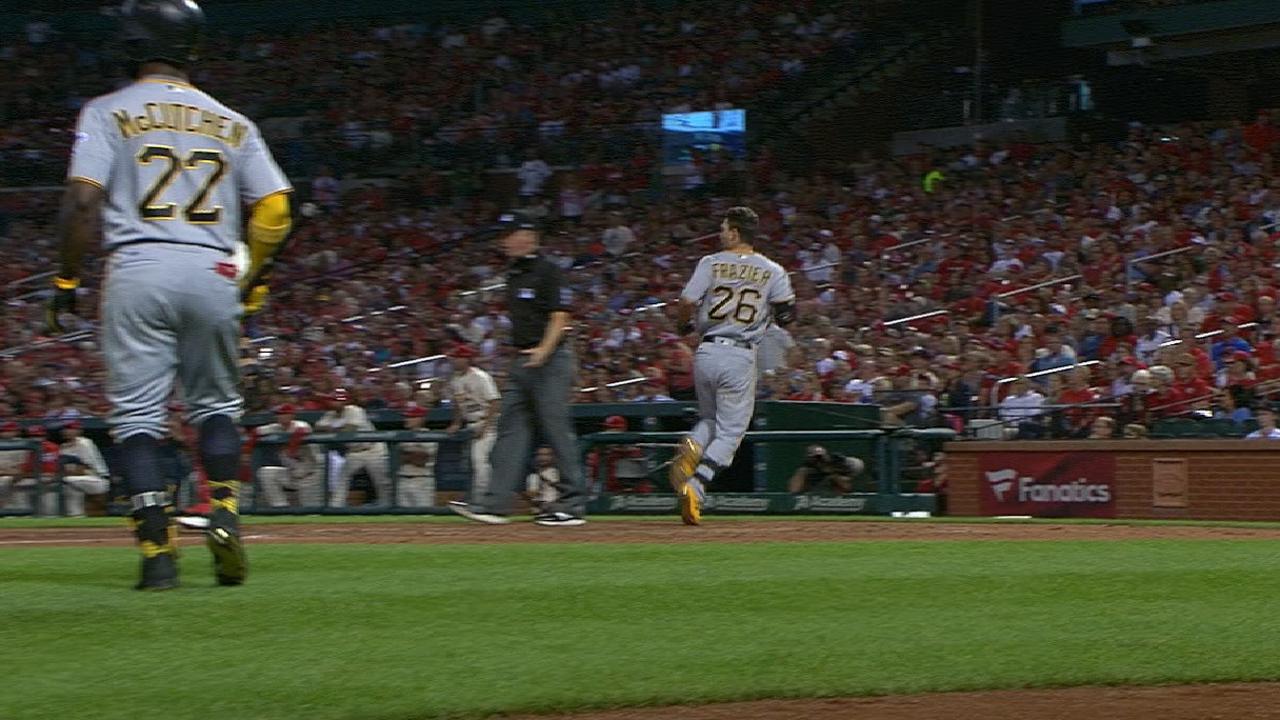 "Contusion is what the medical team said," Cardinals manager Mike Matheny said. "Had an X-ray, came back negative, but we'll probably get another look in the morning."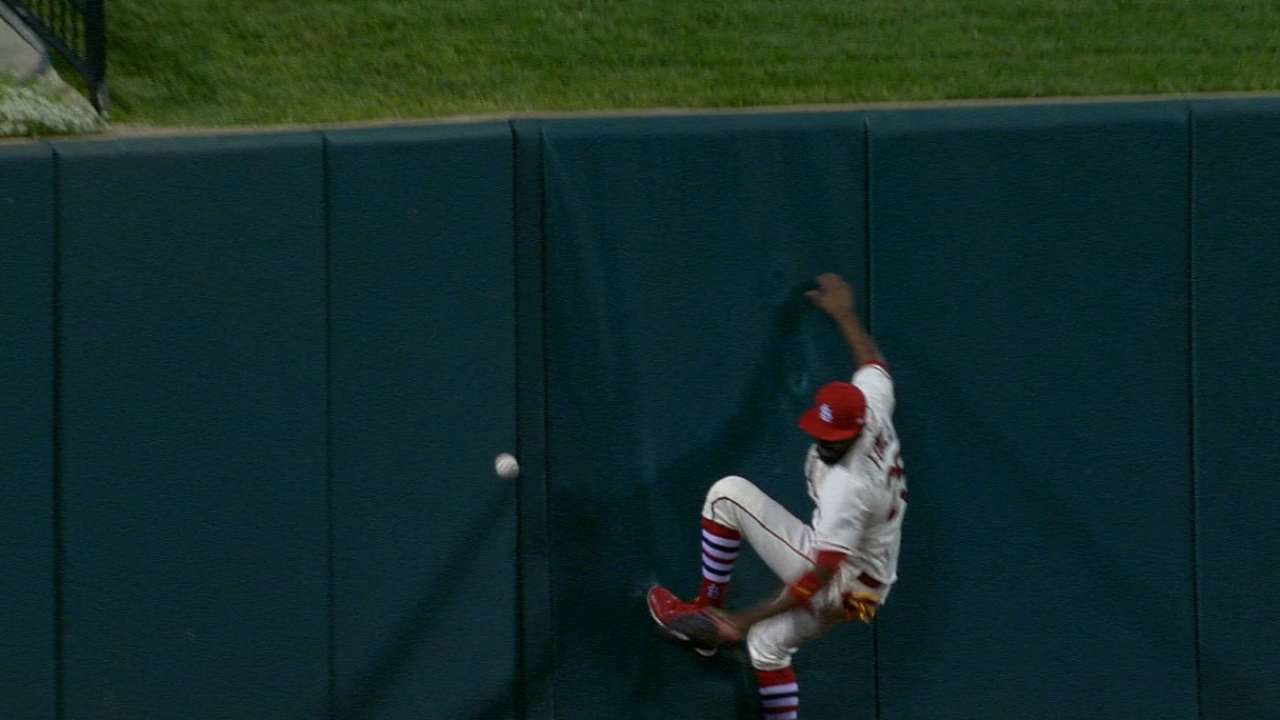 However, the Cardinals evened the game immediately after, as Carpenter blasted a solo homer off Dovydas Neverauskas to tie things back up in the bottom of the seventh.
Carlos Martinez put up a strong performance vs. the Pirates, giving up just two runs on four hits and striking out eight through six innings. He recorded his 200th strikeout of the season on his final pitch of the game.
"Overall, his stuff was great," Matheny said. "Wasn't very efficient early, but figured out a way to get better as he went. We say that a lot about him. That's probably the next level for him, finding that good rhythm that he has as he gets into the game, figuring out how to come out of the bullpen with it."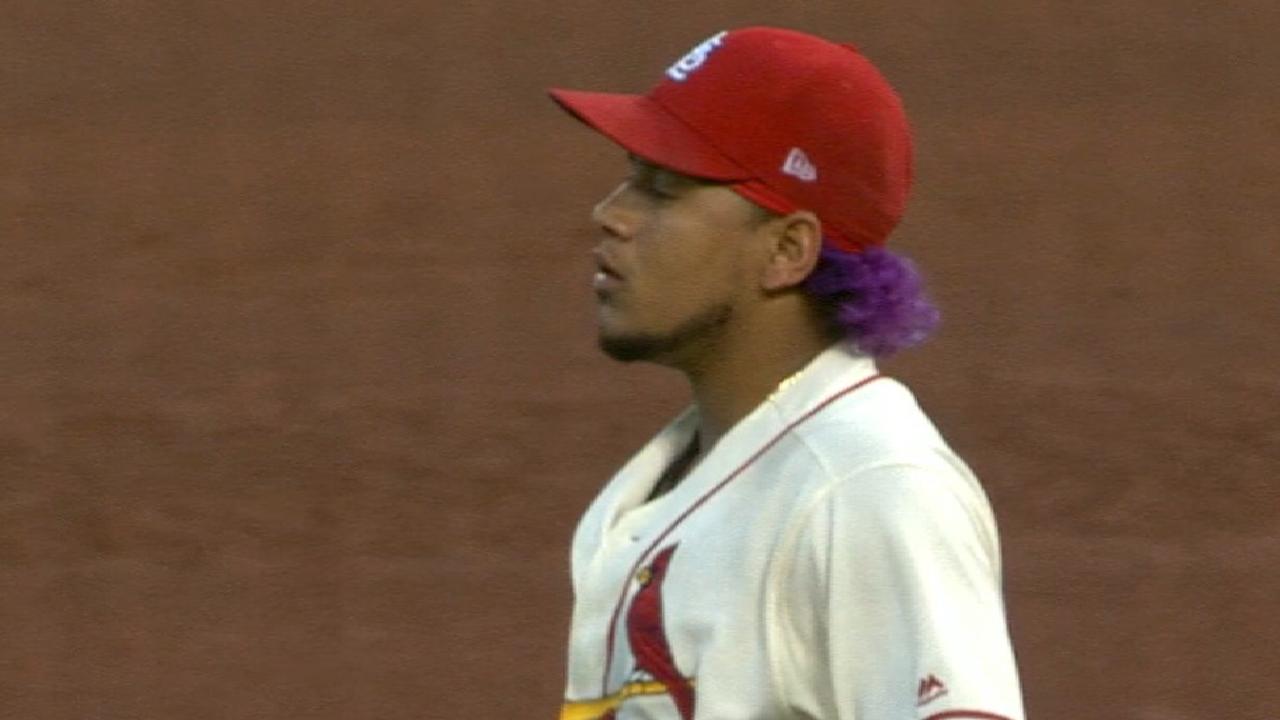 Pirates starter Chad Kuhl had an overall dominant night as well, giving up just two hits through six innings of work and hitting an RBI double, but he issued five walks.
"We fought, we battled. I thought Kuhl gave a strong effort, a gritty effort without having excellent command," Pirates manager Clint Hurdle said. "He pitched pretty well. Inconsistent command, but good stuff when he was in the zone. ... He found another way to compete."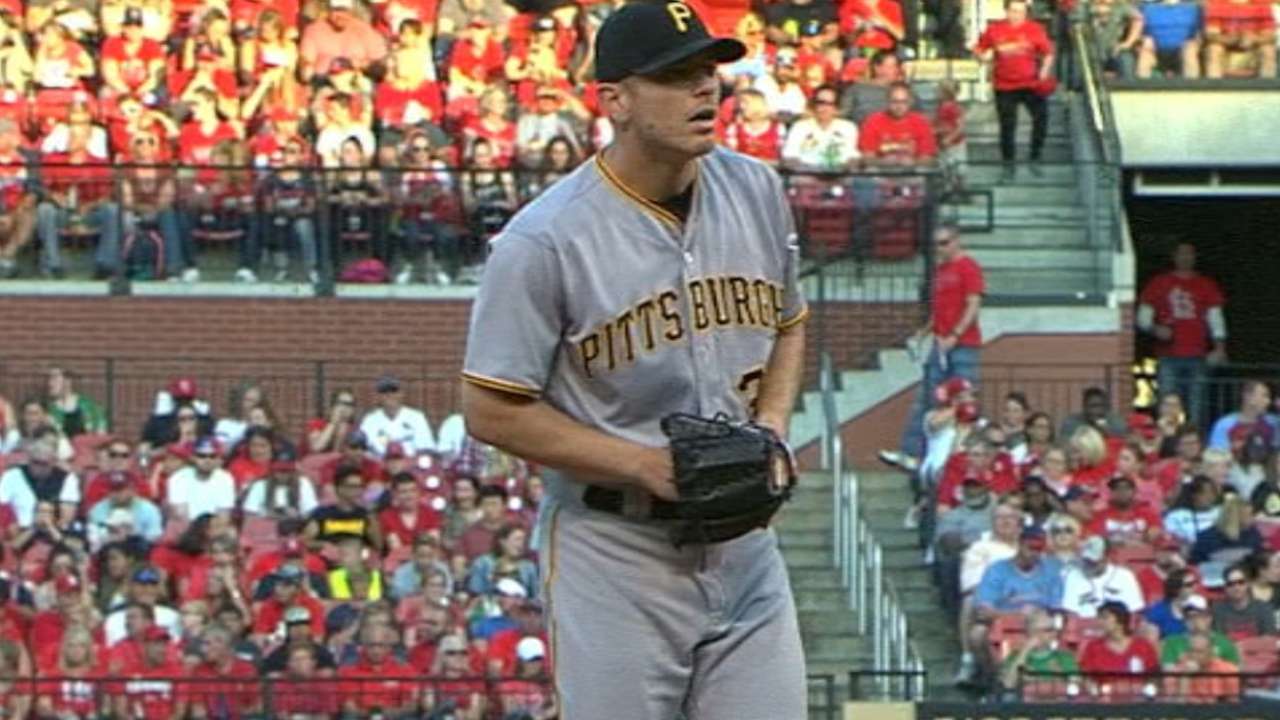 MOMENTS THAT MATTERED
A costly error: Immediately after the Pirates took an early lead, Fowler hit a ground ball straight to Frazier, but Frazier was unable to come up with the ball, allowing a leadoff runner to start the inning. The mistake had huge consequences, as just two pitches later, catcher Yadier Molina slammed his 16th home run of the season to tie the score. The homer was Molina's first since Aug. 22.
"[Molina's] a pro hitter," Kuhl said. "Really the only guy that got me tonight, the only guy that got a couple hits, so you tip your hat. [He's a] really good ball player."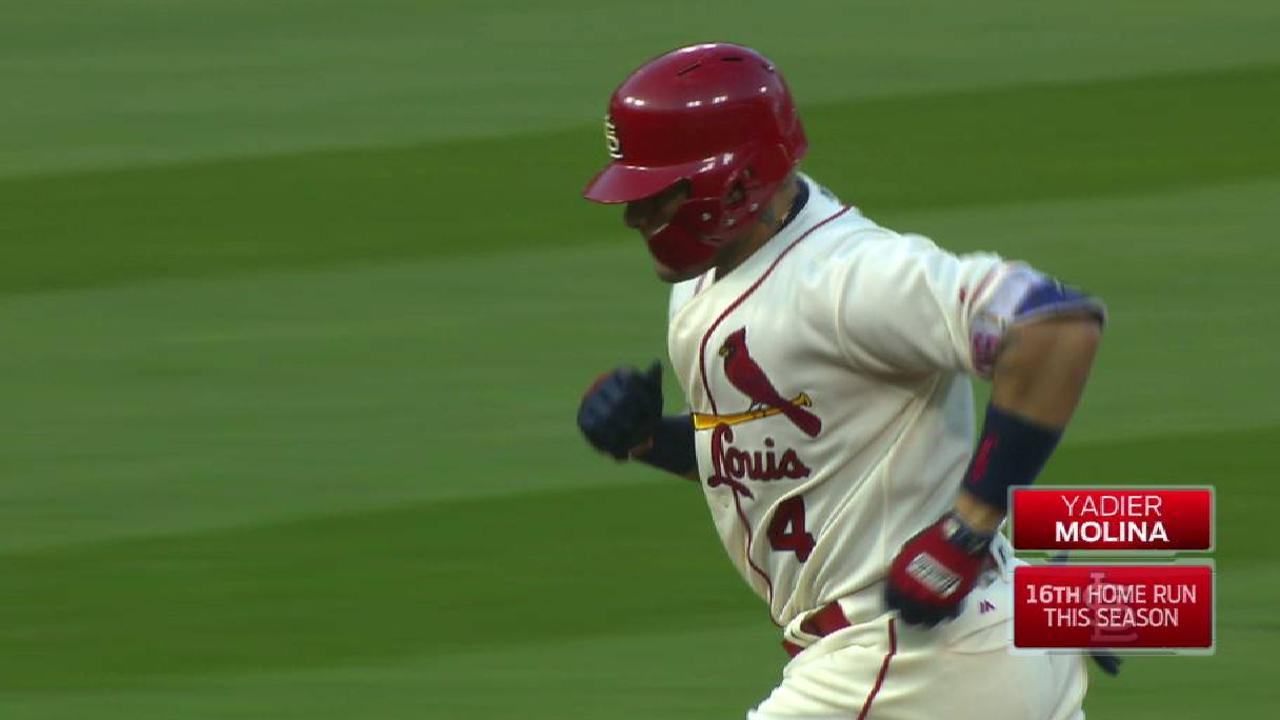 Close the door: In the ninth inning, the Cardinals called upon newly acquired reliever Juan Nicasio to come in for his second consecutive save situation. After giving up a leadoff single to his former team, Nicasio struck out John Jaso after a tough 10-pitch at-bat. Following a quick second out, Nicasio needed 10 more pitches to get the job done, striking out Frazier to end the game.
"It's just how I think we've seen [Nicasio] all season long, even against us. He's trusting his fastball, he's using his offspeed smart," Matheny said. "It just has that extra little life on it. I think that ball's playing up. I think it's jumping out of his hand even harder than what the gun's reading, and he's pitching with a lot of confidence."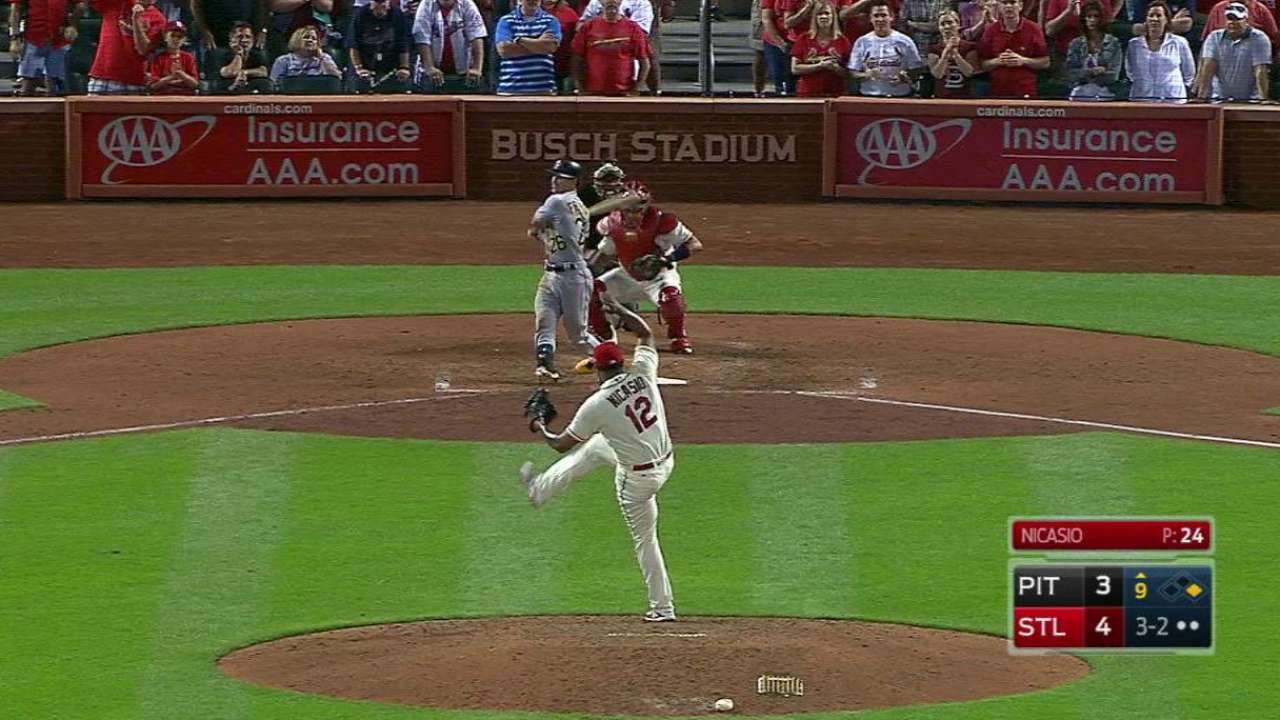 SOUND SMART WITH YOUR FRIENDS
With his K of Kuhl in the sixth, Martinez became the first Cardinals pitcher age 25 or younger with 200 in a season since Steve Carlton fanned 210 as a 24-year-old in 1969.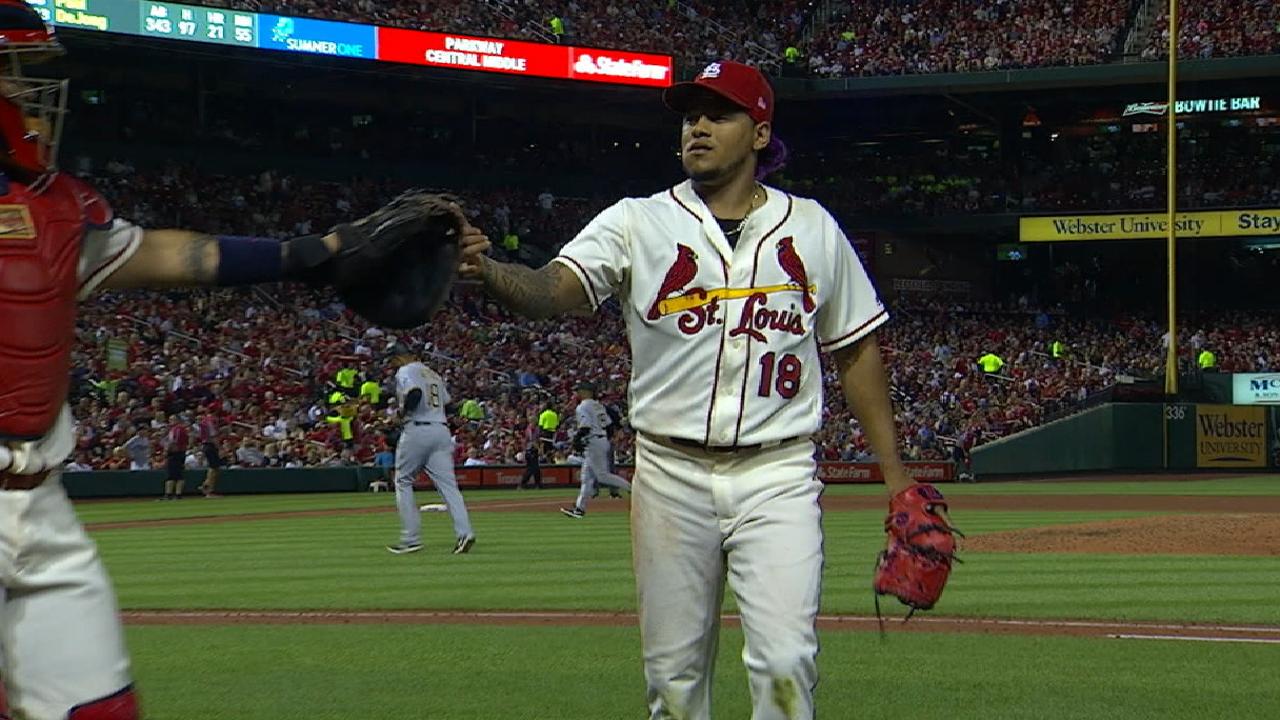 WHAT'S NEXT
Pirates: Right-hander Ivan Nova will take the mound at 2:15 p.m. ET on Sunday for the Pirates' final game in St. Louis this season. Since the All-Star break, Nova is 2-6 with a 6.37 ERA in eight starts. He is also winless in his last six road starts.
Cardinals: Michael Wacha will pitch the series finale against the Pirates on Sunday at Busch Stadium, with first pitch set for 1:15 p.m. CT. Wacha is 3-1 with a 2.55 ERA in six home starts this season.
Watch every out-of-market regular-season game live on MLB.TV.
Alaina Getzenberg is a reporter for MLB.com based in St. Louis and covered the Pirates on Saturday.

Nate Latsch is a contributor to MLB.com based in St. Louis and covered the Cardinals on Saturday.

This story was not subject to the approval of Major League Baseball or its clubs.