Red-hot Chirinos resting sore hamstring
Rangers host Lufkin Little League at Globe Life Park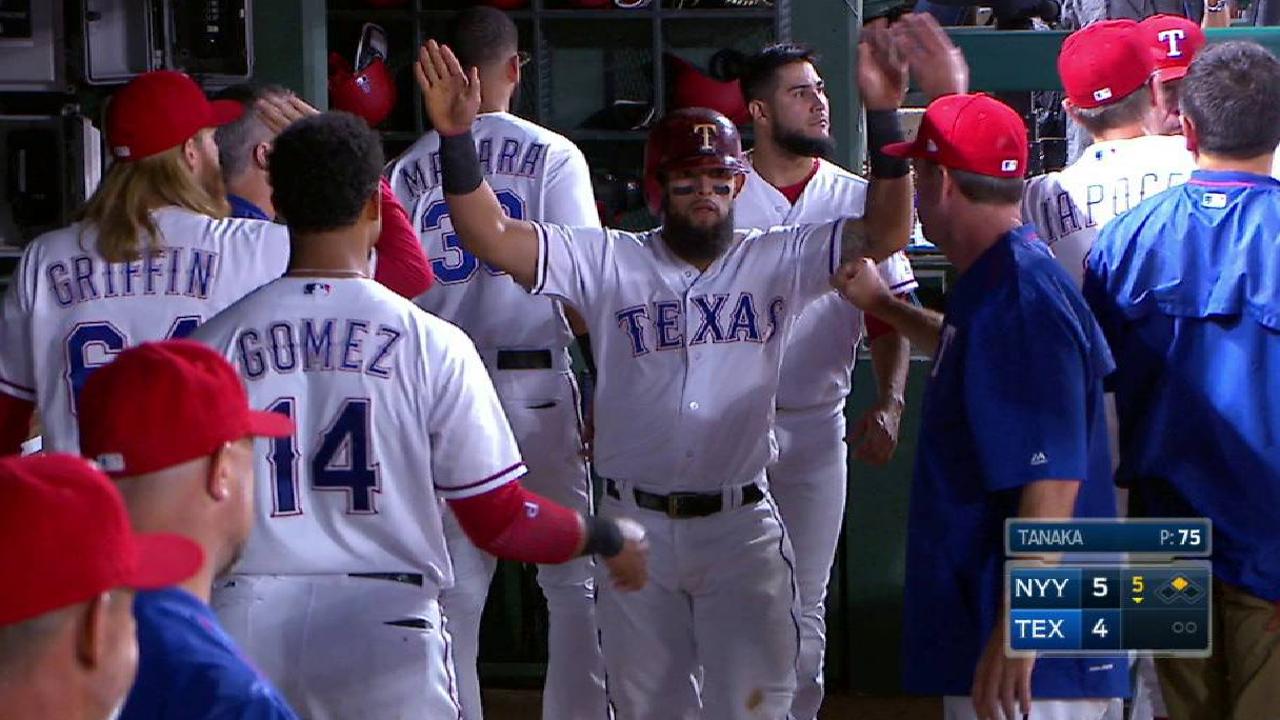 ARLINGTON -- Rangers catcher Robinson Chirinos got a day off on Saturday to rest a sore left hamstring. Manager Jeff Banister is resting one of his hottest hitters.
Chirinos has thrived since Jonathan Lucroy was traded to the Rockies on July 30. Since then, Chirinos has batted .337 with four home runs, 10 RBIs, a .477 on-base percentage and a .581 slugging percentage.
"He is in a good place," Banister said. "He has a good sense of the baseball and the barrel. What he's got going on is selective aggressiveness. He's locked in."
Chirinos has also reached base in 23 consecutive games, the longest such streak on the Rangers this year.
"I'm trying definitely to get a good pitch to hit," Chirinos said. "If they don't give it to me, I'm willing to take my walk. I'm getting better looks at the plate and overall disciplined throughout the whole at-bat. It's been like that the whole year."
Chirinos welcomed the day off, and Banister said he was hoping to stay away from him completely with Brett Nicholas behind the plate. September callup A.J. Jimenez was also available if needed.
Chirinos said he felt the hamstring going from first to third on a Shin-Soo Choo double in the third inning on Friday night. He still finished the game, going 2-for-2 with two walks.
"He's all right," Banister said. "What you see is what you would expect. He's a little sore. It's September. Everybody is a little banged up."
Rangers welcome Lufkin Little League
The Rangers played host to the Lufkin Little League team on Saturday. Lufkin won the United States championship before losing to Japan, 12-2, in the Little League World Series final.
The Rangers reached out to them after the World Series. They were able to tour the clubhouse and get on the field with Banister. Andrew Cashner, who is from the Houston area, took charge as their official guide.
"It was a great time," Banister said. "It's fun to see the excitement and freshness of Little Leaguers. We had them on every TV watching them the whole way through."
Rangers beat
• Rangers pitcher Nick Martinez is from Miami, and he said his family is staying put to ride out Hurricane Irma.
"They are all bunkered up in the house together. … Nobody is alone," Martinez said. "They have my grandma there. She can't travel, so they are bunkered up. They have enough food and water for more than a few days. They should be okay."
• Banister said Keone Kela and Matt Bush both came through Friday's bullpen sessions without any issues, and they took pitchers' fielding practice on Saturday. Banister said it's still unlikely either pitcher would be activated on Sunday, but he wouldn't rule it out.
• Will Middlebrooks got a start at third base on Saturday to celebrate his 29th birthday. Joey Gallo moved to first so Mike Napoli could get a day off, though Napoli pinch-hit in the ninth and struck out. Napoli is 5-for-50 in his past 17 games, but three of his hits were home runs.
T.R. Sullivan has covered the Rangers since 1989, and for MLB.com since 2006. Follow him on Twitter @Sullivan_Ranger and listen to his podcast. This story was not subject to the approval of Major League Baseball or its clubs.