Perez's poise on display in 7th straight win
Lefty doesn't get rattled by early error, keeps Rangers in it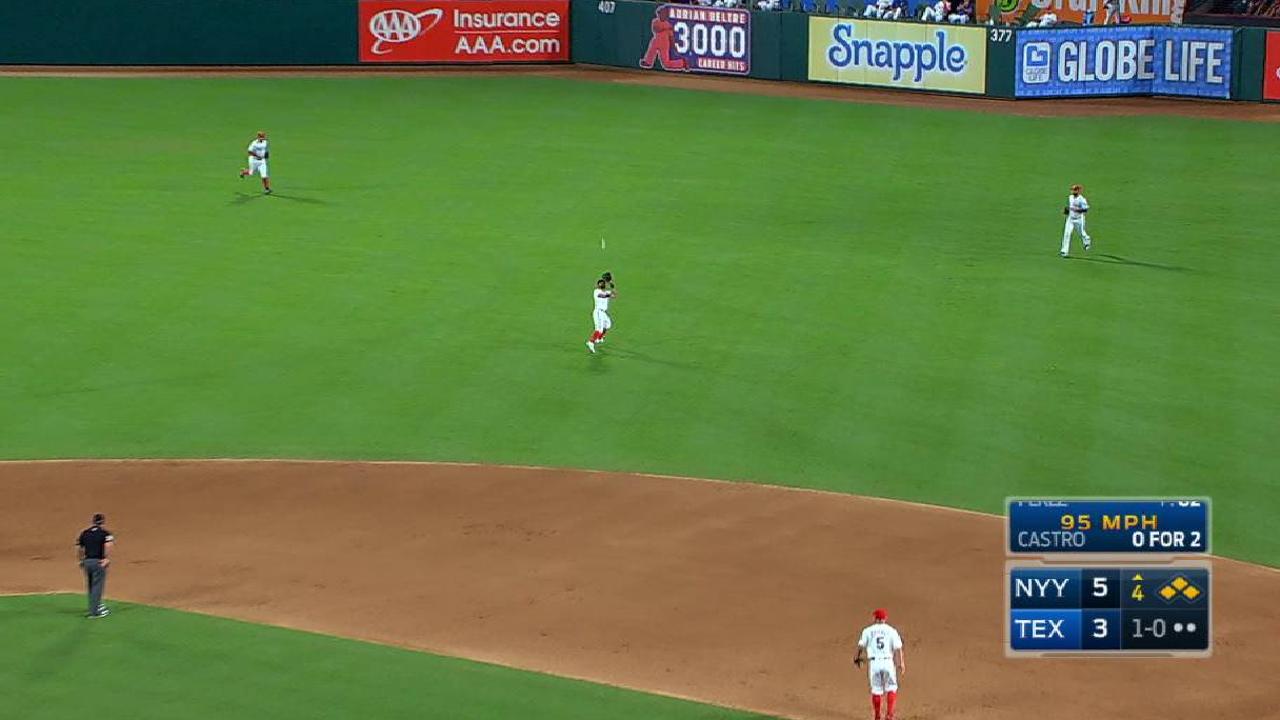 ARLINGTON -- This is what Rangers pitcher Martin Perez was looking for in Spring Training when he said this would be a big year for him, and again at the All-Star break when he said the second half would be better than the first.
This is a young pitcher thriving in the middle of a pennant race and doing what he has long expected of himself. Perez overcame a rocky start and won his seventh straight outing in an 11-5 victory over the Yankees on Friday night.
The winning streak is the longest of his career and he is the first Rangers pitcher to win seven straight starts since Kenny Rogers won eight in a row in 2005.
"Yeah, I believe in myself and I believe in my stuff," Perez said. "I know my teammates, the fans and the organization have been waiting for this. I know what I can do. Just stay focused and see what happens."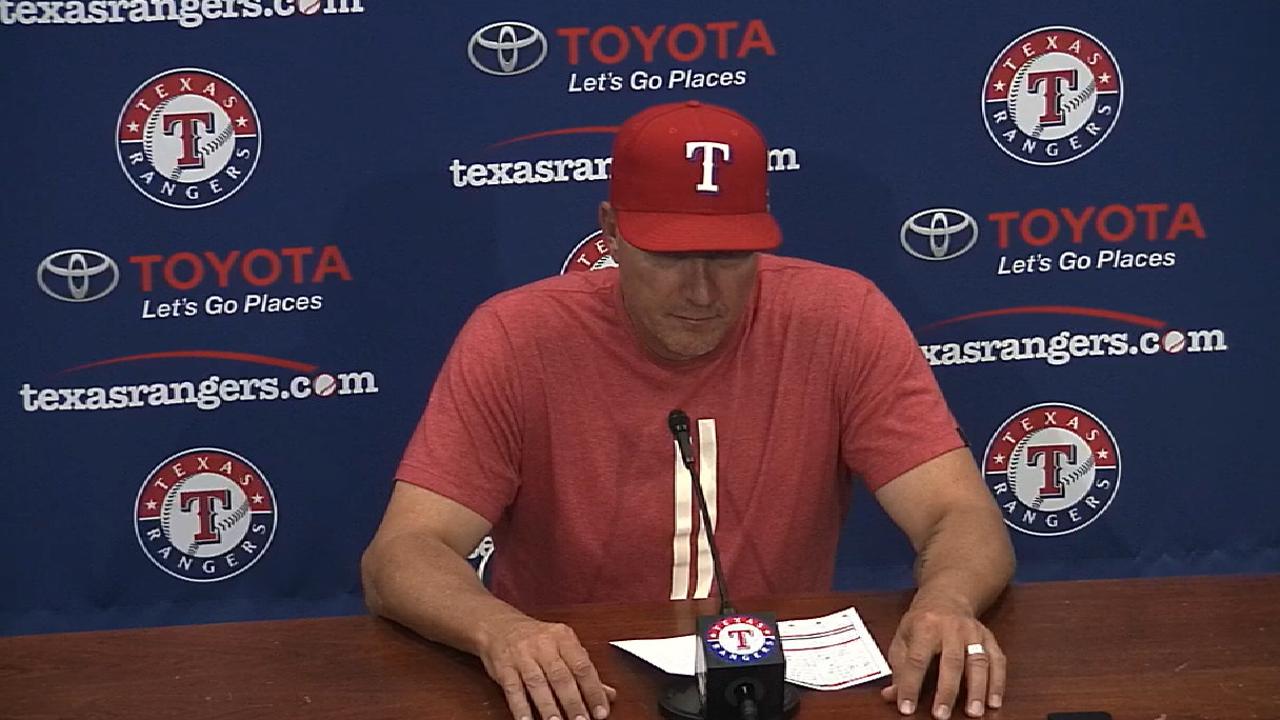 Perez is 7-0 with a 3.15 ERA in his past seven starts while walking just 1.77 batters per nine innings. That's the biggest difference than in the first half. Perez was 4-6 with a 4.60 ERA in 16 starts before the break, when he was walking 3.68 batters per nine innings.
The Rangers may have finally convinced Perez that he is not a strikeout pitcher, but works best when he throws strikes and lets opponents put the ball in play. During the winning streak, Perez is averaging 15.5 pitches per inning, down from 17.5 in the first half.
"I was thinking too much and trying to move the ball too much," Perez said. "I've got natural movement. I know my sinker is my best pitch. I've just got to attack and throw pitches for strikes. If I have to strike out somebody I can, but I don't pitch for strikeouts."
Perez also isn't getting rattled. He allowed four runs in the second, but only one was earned because of an error by second baseman Rougned Odor. His big moment was in the fourth when the Yankees, leading 5-3, had the bases loaded with two outs and he was able to get cleanup hitter Starlin Castro on a weak popup to Odor.
"Huge night for him," Rangers manager Jeff Banister said. "His previous outings have really helped him. There was no panic when he got down. He continued to make pitches and get the outs we needed. He stayed in the fight and kept us close. That's huge, that's something we didn't see earlier in the year, but his last outings have given him the confidence to get out of those situations."
Perez left after hitting Brett Gardner with a pitch with one out in the sixth. That was the last baserunner for the Yankees as relievers Ricardo Rodriguez, Jake Diekman and Tony Barnette combined to retire 10 straight hitters.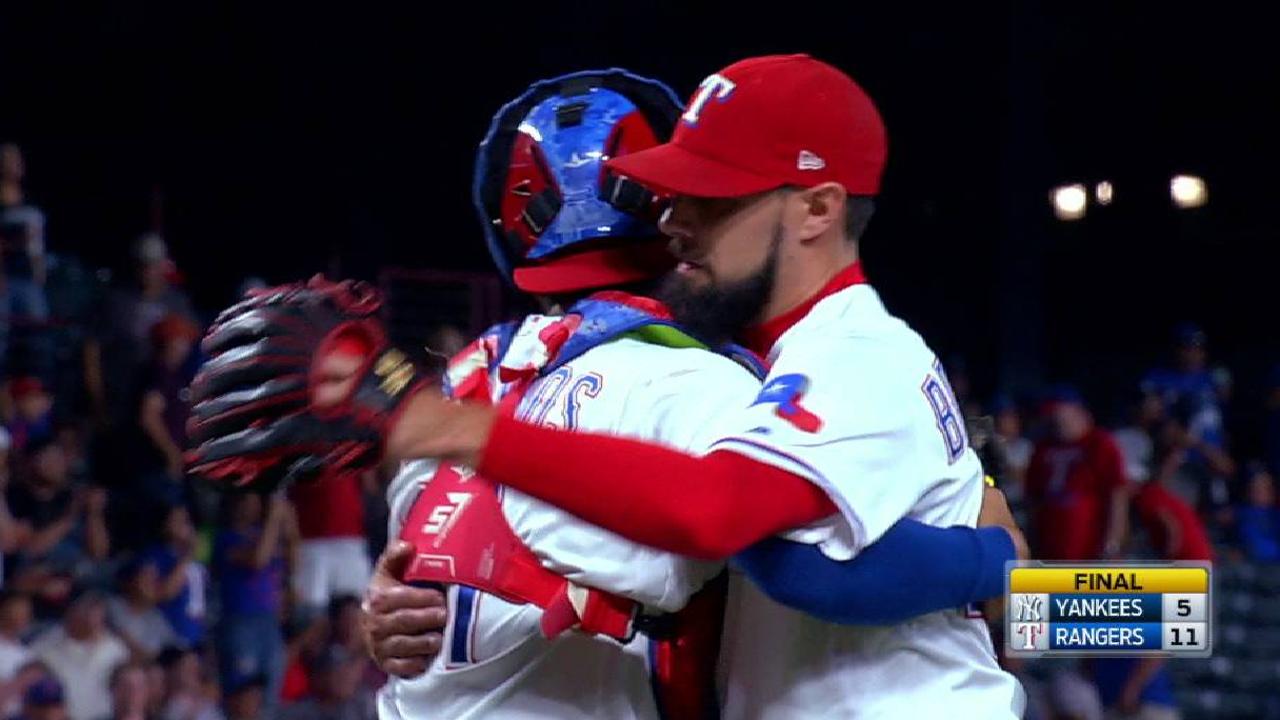 T.R. Sullivan has covered the Rangers since 1989, and for MLB.com since 2006. Follow him on Twitter @Sullivan_Ranger and listen to his podcast. This story was not subject to the approval of Major League Baseball or its clubs.