Miley, O's have little margin for error vs. Tribe
Baltimore trying to get the pitching it needs to compete against potential October foe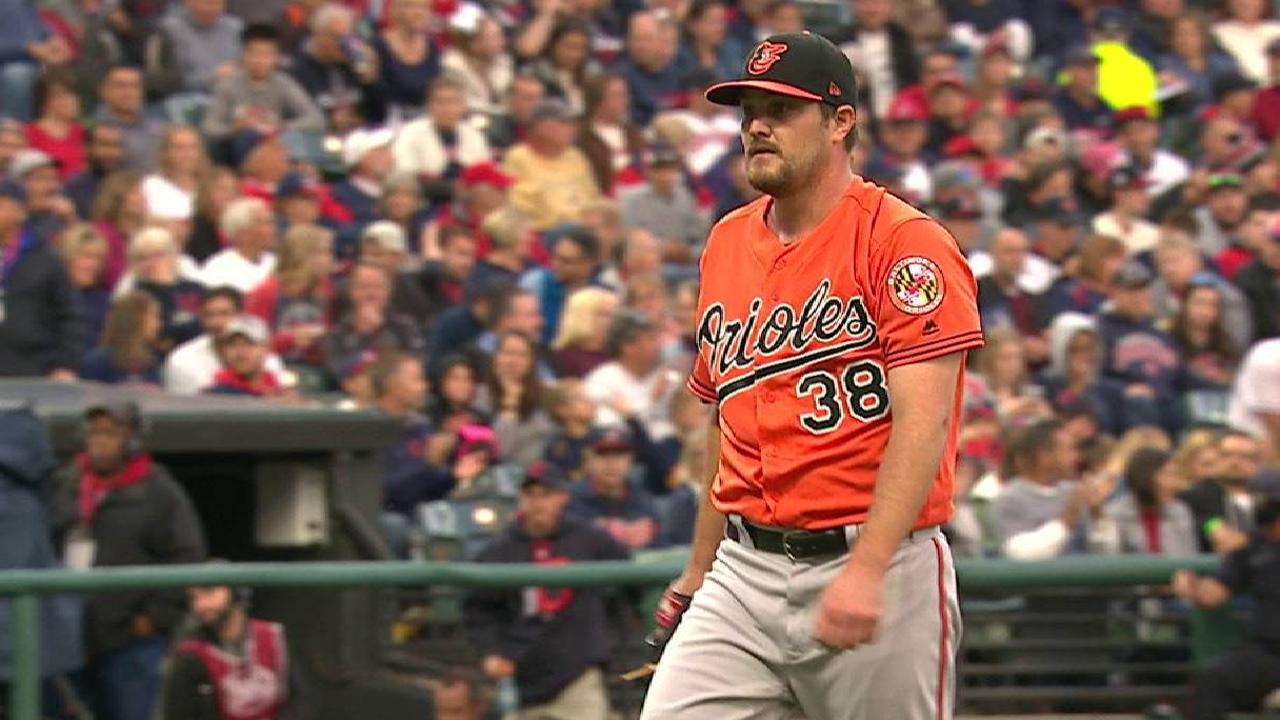 CLEVELAND -- The Orioles ran into the Indians at the worst possible time on Friday night at Progressive Field.
The American League Wild Card hopefuls were shut out, 5-0, by the AL Central-leading Tribe, which extended its franchise-long winning streak to 16 games -- the longest in the Majors since 2002. With the loss, the Orioles dropped three games behind the Twins for the second spot in the AL Wild Card Race.
Wade Miley tried to keep the O's in it, allowing four runs on six hits and three walks while striking out four in 5 2/3 innings. Miley's biggest mistakes came in the first inning, when he issued a leadoff walk to Francisco Lindor and allowed a one-out single to Yandy Diaz before giving up a three-run homer to Edwin Encarnacion to center.
"It gets magnified -- any mistake -- because of how well their guys are pitching," Orioles manager Buck Showalter said.
"Leadoff walks are usually detrimental," Orioles catcher Caleb Joseph said. "He gave up an 0-2 hit to their three-hole hitter, and then the cutter [to Encarnacion] didn't cut. I thought he did a nice job with his curveball and changeup to allow him to get deep into that game."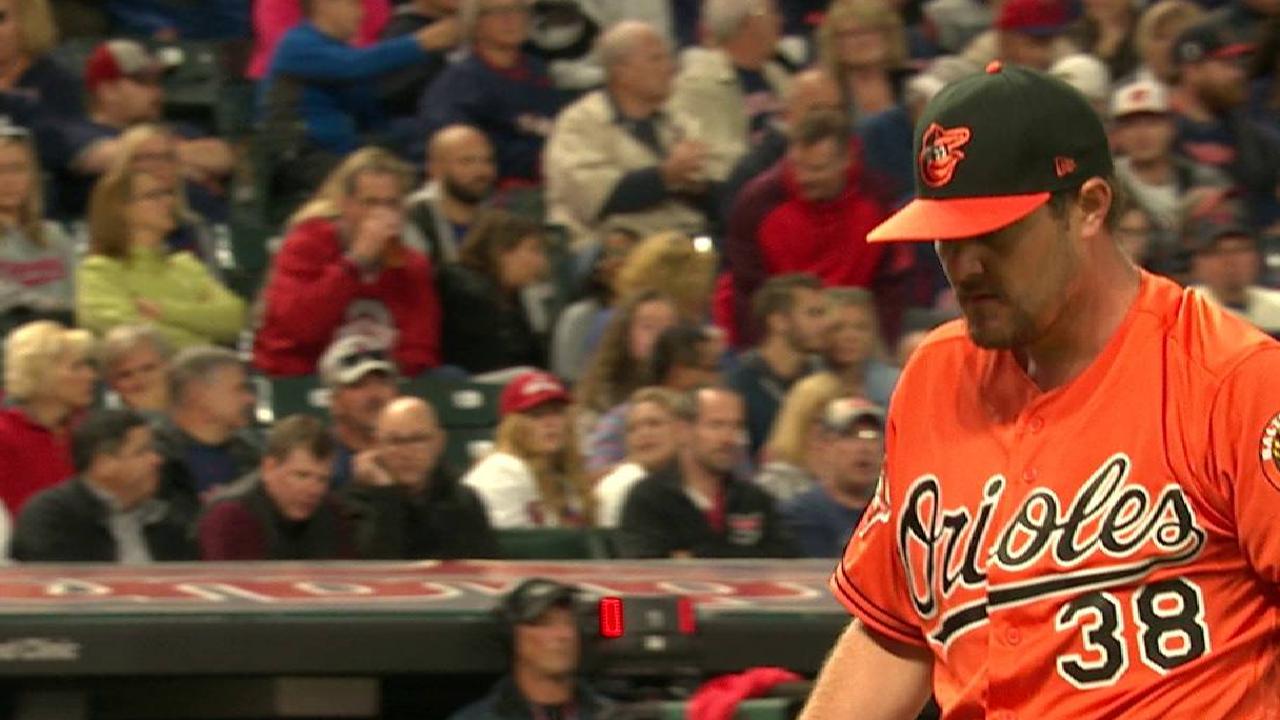 Miley settled down after the first, facing only one batter over the minimum through his next four innings, which included two 6-4-3 double plays and two strikeouts. Miley was eventually pulled from the game in the sixth after Carlos Santana's RBI ground-rule double that landed on the chalk down the right-field line before bouncing into the seats.
"I'm trying to make pitches and give us a chance to win," Miley said. "I tried to do everything in my power to get us as deep in that game as possible and hold it where it was at."
With their postseason hopes still very much alive, the Orioles -- in pursuit of their second straight appearance in the AL Wild Card Game -- are viewing this three-game set with the Indians as a measuring stick for the type of competition they could potentially face in October.
"[The Indians are] leading the league in starting pitching and relief pitching, so you know that runs are going to come at a premium," Showalter said. "Wade pitched pretty well other than the first inning. They played good defense and pitched well. That's a good combination."
Despite being shut out by Mike Clevinger and the Cleveland bullpen on Friday, the Orioles have one of the best offenses in the Majors. But their starting pitching has been their Achilles' heel. Including Friday night's loss, O's starters have a 5.63 ERA, which is last in the AL. In addition, Baltimore's starting staff has allowed the most runs (486) and earned runs (466) in the big leagues this season.
Right-hander Chris Tillman has struggled mightily as a starter, going 1-7 with an 8.08 ERA in 18 starts before recently being moved to the bullpen. Tillman made his first relief appearance on Friday since he was taken out of the rotation, going one-third of an inning and striking out the only batter he faced.
The struggles from the starting staff is the reasoning behind the team's current six-man rotation, as Showalter is looking to give other pitchers opportunities. This includes right-hander Gabriel Ynoa, who will make his first start of the season on Saturday against the Tribe.
"Obviously starting pitching has been a real challenge for us," Showalter said. "We'll continue to mix and match and see if we can find a hot hand in a given situation. Our options are what they are."
William Kosileski is a reporter for MLB.com based in Cleveland who covered the Orioles on Friday. This story was not subject to the approval of Major League Baseball or its clubs.