Garrett has bright moments in return to Majors
Left-hander shows more velocity, retires seven in row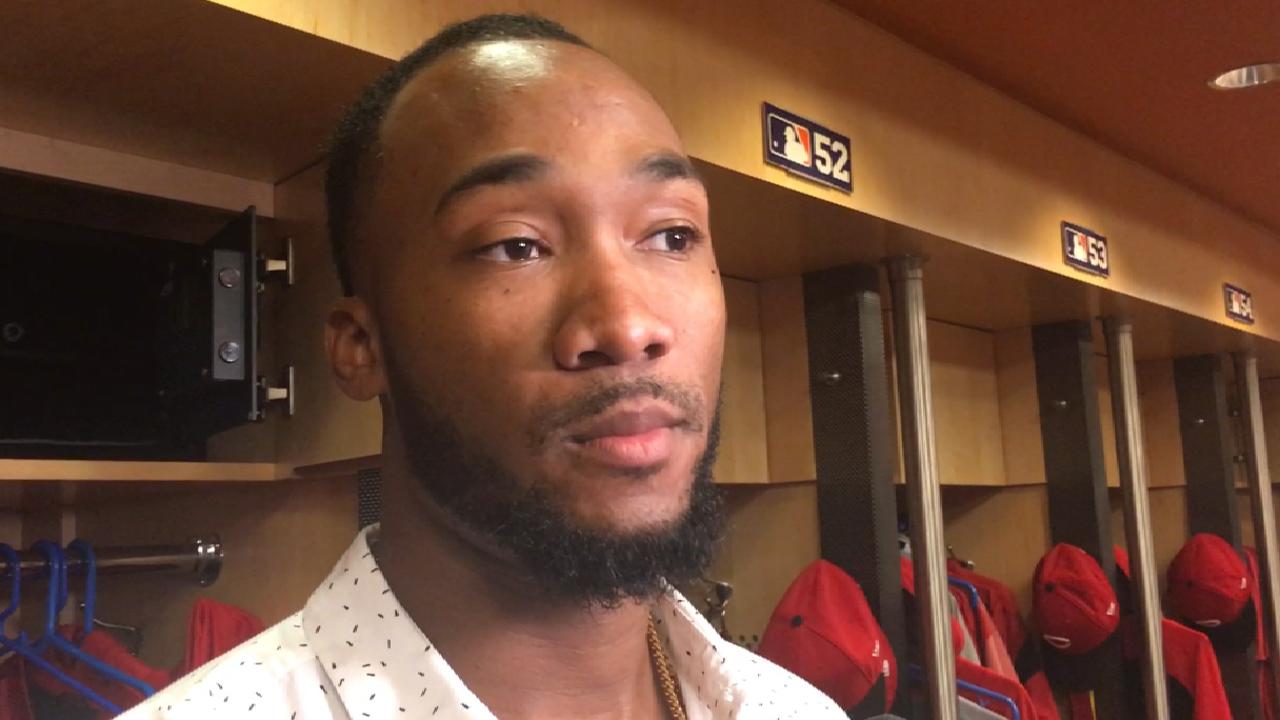 NEW YORK -- When Amir Garrett was sent back to Triple-A Louisville following his last big league start on June 20, the Reds rookie was given some directives to make adjustments.
During a 5-1 Reds' loss to the Mets in his return to the Major Leagues, Garrett demonstrated some of those changes.
"Obviously there were some noticeable differences in his delivery," Reds manager Bryan Price said. "He's been working with [pitching coach] Jeff Fassero in Triple-A to take some of the drift out of his delivery and piece some things together and be a little more stable and consistent with his mechanics. Now he has to keep taking those steps forward, progress and have a strong finish to his season."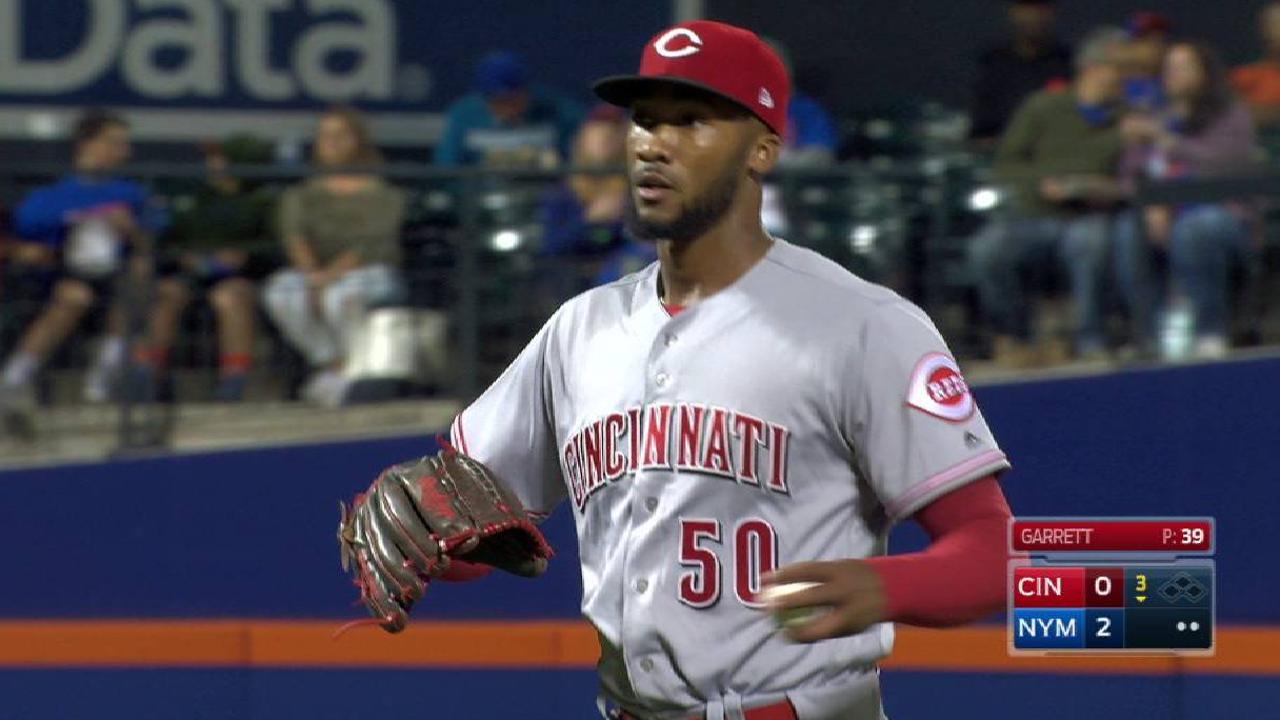 Over five innings, Garrett allowed four earned runs on five hits (three of them homers), two walks and five strikeouts.
Garrett, who pitched seven scoreless innings with 10 strikeouts in his final 2017 start for Louisville, showed increased velocity over his last few outings -- a likely by-product of his delivery tweaks. As he topped out at 97 mph vs. the Mets, that velocity was visible, but so were some of the issues that had plagued his previous two big league stints -- including the long ball.
New York's first two homers occurred on similar pitches. Travis Taijeron in the second inning and Jose Reyes in the third inning both attacked 94-mph fastballs that were up in the strike zone for long balls to left field that made it 2-0.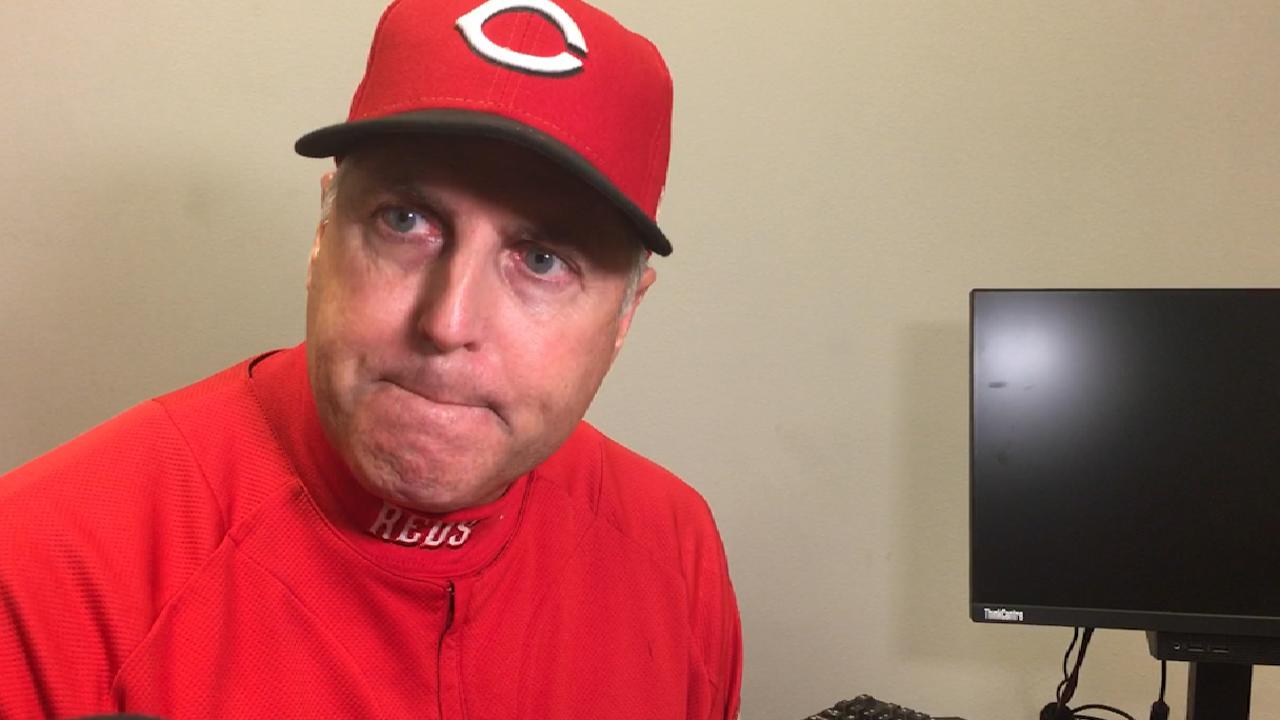 "The solo shots in the beginning of the game were mistake pitches when I got behind in the count," Garrett said.
There were some sharp moments for Garrett as well. Besides the Reyes homer in the third inning, the lefty struck out the side, and he had retired seven in a row at one point. But concern surfaced as Garrett faced Matt Reynolds in the fifth. The pitcher's left leg cramped, which brought out Price and trainer Steve Baumann.
Garrett threw three warm-up pitches and was allowed to continue. After he struck out Reynolds, pitcher Seth Lugo got a hit and Reyes returned to reach down on a 0-2 slider for a two-run homer that made it a 4-0 game.
"It was pulling a little bit, but it wasn't too bad," Garrett said of the calf. "I've got to get the pitcher out there, and Jose Reyes doesn't come up."
For Garrett, it was his 22nd homer allowed in 63 1/3 innings this season. Even after watching video, he wasn't sure how Reyes got to that pitch.
"It was low and off of the plate," Garrett said. "He went down there and he got it. It was a nice swing. That's why these guys are big league hitters. They can get those, but it wasn't a bad pitch."
Garrett is 3-7 with 7.39 ERA in his 13 big league starts. Despite the outcome vs. the Mets, Price felt like this was a competitive start to build on.
"It's hard to assess anything in one game," Price said. "But I do know with his body of work from the first part of the season, the fastball-slider-changeup for strikes combination was lethal until he kind of lost a bit of command. We'll continue to look for that type of progress."
Mark Sheldon has covered the Reds for MLB.com since 2006, and previously covered the Twins from 2001-05. Follow him on Twitter @m_sheldon and Facebook and listen to his podcast. This story was not subject to the approval of Major League Baseball or its clubs.