Blash relieved family in Caribbean is safe
Padres outfielder hears from mom in St. Thomas after Hurricane Irma hits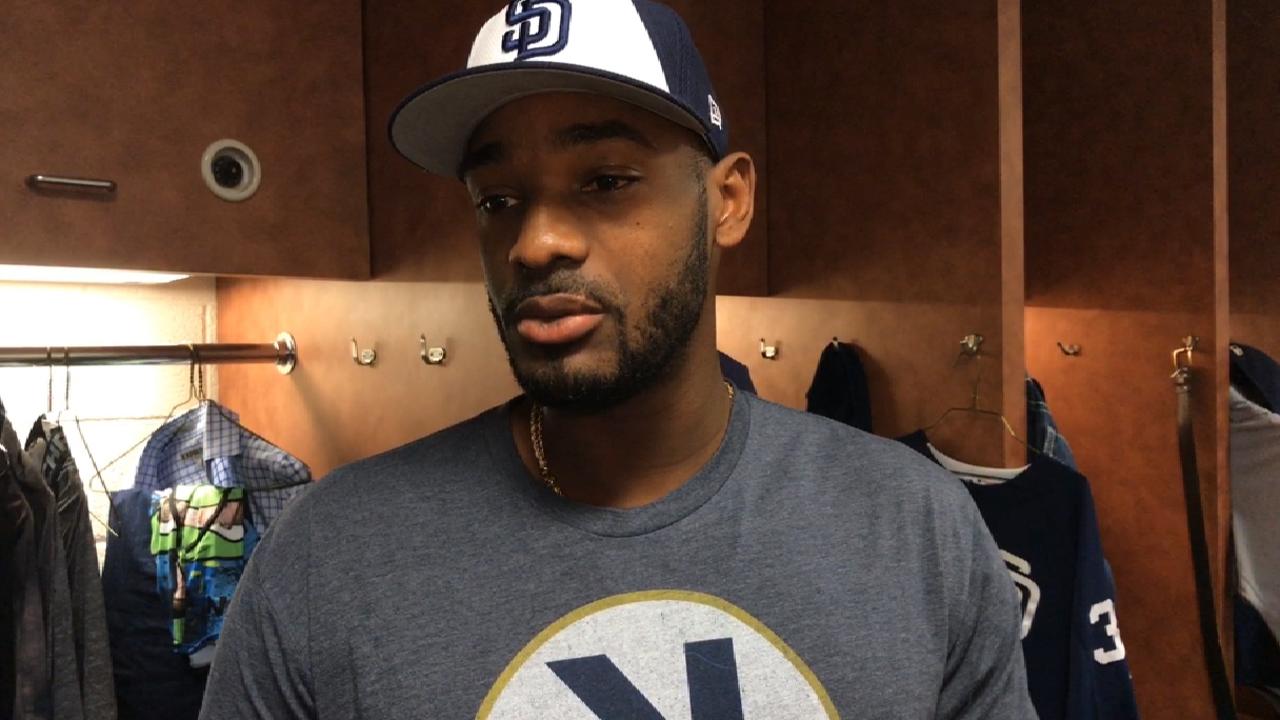 PHOENIX -- Padres outfielder Jabari Blash spent an anxious day on Thursday awaiting word about how his family had weathered the wrath of Hurricane Irma after it blitzed his home island of St. Thomas in the Caribbean.
On Friday, he was able to rest a lot easier.
"They're fine," said Blash, who was in the lineup and playing right field against the D-backs on Friday night after he heard from his mother, Yvette. "It's a big relief. I had a big headache most of [Thursday]."
Irma, a Category 5 hurricane considered to be the strongest and largest in history, is anticipated to make landfall in southern Florida this weekend after wreaking havoc on the small islands that dot the Caribbean. St. Thomas is part of the U.S. Virgin Island chain. It's 32 miles long and has a population of about 52,000. At least 23 deaths have been reported.
"We were shaking when the eye was over us. We heard a noise that almost sounded like the noise a movie makes when an alien ship is landing," freelance journalist Kelsey Nowakowski told FOX News about what she experienced as the storm struck St. Thomas.
Property damage is widespread, said Blash, who also has a grandmother, cousins and close friends on the island.
"Oh, everywhere," he said. "Right now, they're just clearing the roads so people can have access to their homes. Where we live there are just trees and the trees are no longer in the ground. They're all over the roads. They're just clearing the roads so people can start rebuilding."
Natural disasters have rocked the southeastern U.S. -- and the Major League Baseball community -- the past few weeks. Hurricane Harvey ravaged the Houston area and the gulf shore of Texas, also leaving a wide path of destruction. Now, Irma is expected to cause similar devastation in Florida where many ballplayers make their homes.
"I can't even imagine the feeling of helplessness [Blash] has had to attack the last few days," Padres manager Andy Green said. "He texted me this morning and that was a relief. He gave me some stories about his mom and the hurricane. I'm very glad they're OK.
"We've got a lot of guys who have homes in Florida and are very anxious about their families and homes. We're not unique in that regard. A lot of people are anxious about this storm."
Barry M. Bloom is a national reporter for MLB.com and writes an MLBlog, Boomskie on Baseball. Follow @boomskie on Twitter. This story was not subject to the approval of Major League Baseball or its clubs.