Souza day to day with bruised knee
Outfielder has no structural damage after running into side wall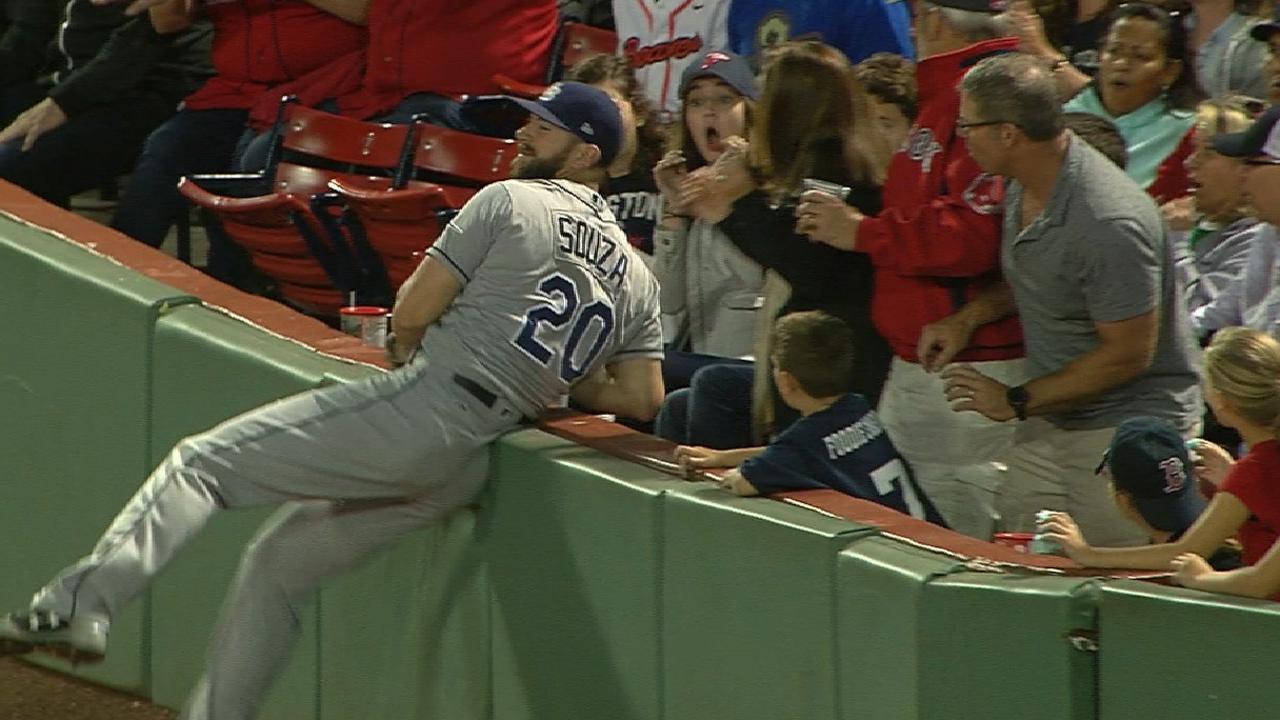 BOSTON -- About the only good news stemming from the Rays' 9-3 loss to the Red Sox on Friday night came from the medical department: Steven Souza Jr. had only a bruised left knee.
However, according to Rays manager Kevin Cash, it's doubtful Souza will be in the lineup for Saturday night's game.
Souza went hard into the side wall in right field in the fourth inning trying to take away a base hit from Christian Vazquez. Unfortunately for the Rays' right fielder, he couldn't make the catch and he went down after running into the wall, prompting Rays trainers and Cash to tend to him. He had to leave the game with his arms draped around the trainers' shoulders.
"Just trying to make a play, and I tried to regain my balance and get my feet back underneath me," Souza said. "I looked up, and the wall was right in front of me and my knee just slammed into the wall."
Souza said he feared the worst.
"Yeah, I mean as soon as I hit, I had a pretty sharp pain in my kneecap," Souza said. "I felt a little more positive when [head athletic trainer Ron Porterfield] did tests for any ligament damage and there was nothing. When you go into a wall with that kind of impact, you get a little nervous."
Souza will undergo further testing Saturday, as he did not see a doctor or have X-rays Friday night. However, the Rays did feel as though the knee was structurally sound and stable after a preliminary examination by Porterfield.
"The good thing from Ronnie touching it and moving it, it didn't appear to be structural damage, but obviously he's going to be pretty sore," Cash said. "He did put enough weight on it coming off the field that we're optimistic that if something was really wrong in there, he probably wouldn't have been able to put weight on it."
Souza has been a huge part of the Rays' offense this season, hitting .246 with 29 home runs and 77 RBIs. He has also been a standout on defense while remaining healthy for the better part of the season, something he hasn't been able to do in past seasons for the Rays.
"I've prided myself this year on being out there as much as I can," Souza said. "Hopefully tomorrow we get some good news and it's nothing serious, and I can get back out there as quick as I can. I want to be out there every day, and this is definitely a hurdle for that."
Souza had treatment on his knee and wore a brace after the game. When asked if his knee felt better, he replied: "I feel OK. That's kind of where I'll leave it. I feel OK right now."
Bill Chastain has covered the Rays for MLB.com since 2004. This story was not subject to the approval of Major League Baseball or its clubs.