Tapia making most of bench role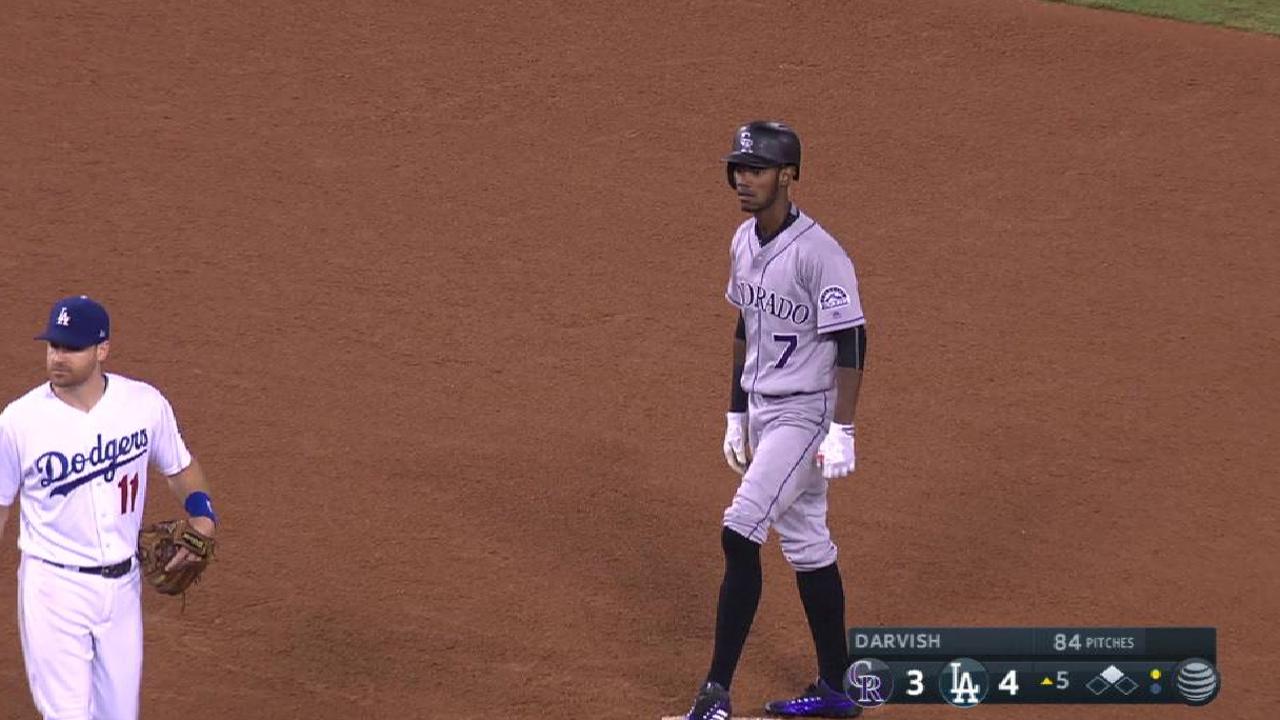 LOS ANGELES -- Lost in the shuffle of an offense full of All-Stars and Silver Sluggers, Rockies rookie outfielder Raimel Tapia has carved himself a critical role in the team's National League Wild Card pursuit.
He showed off the importance of that role in the fifth inning on Friday night, lifting a two-run, pinch-hit double just out of the reach of Dodgers center fielder Joc Pederson to ignite a decisive four-run rally in a 5-4 win at Dodger Stadium.
"His time is coming at some point in the near future in the big leagues," Rockies manager Bud Black said. "That was good to see."
While Tapia's time as a regular contributor is still down the road, the 23-year-old is set to serve as a key left-handed bat off the bench down the stretch. He pushed his average up to .279 and collected two RBIs as a pinch-hitter for a team-high third time this season.
Tapia's double came in his first at-bat since being recalled Thursday, and it came against the Dodgers' Yu Darvish, who had allowed just one run on two hits until that point.
"I just come to the ballpark with the mentality of playing," Tapia said through a team translator. "Whether or not I'm starting, I know I'm playing at some point."
Tapia's double jump-started a fifth inning that included four doubles for the Rockies. Charlie Blackmon and DJ LeMahieu followed him with RBI doubles, as the team tied a franchise record with four doubles in the inning, chasing Darvish after 4 1/3.
"August was tough in a lot of ways for a number of guys, most notably hitting with runners in scoring position," Black said. "To get a win like this, it's gratifying in telling us what we can do -- being able to come back against a starting pitcher like that."
Black again exhibited his willingness to go to his bullpen early by having Tapia pinch-hit for starting pitcher German Marquez. With a young pitching staff in a race for the postseason, that strategy is unlikely to change on most nights, opening up that crucial spot for players like Tapia off the bench.
"All of these young guys have done a nice job filling that role," Black said. "They're getting valuable experience being here in September."
Thursday's callup marked Tapia's sixth stint of the season with the Rockies, and having Black's praise has been a major factor.
"It's very important when you have your manager expressing that publicly," Tapia said. "He's talked to all of us young players about how much confidence he has in us. We've just got to keep working hard and know that we're going to get our shot."
Ryan Posner is a contributor to MLB.com based in Los Angeles. This story was not subject to the approval of Major League Baseball or its clubs.