Hildenberger becoming key relief arm for Twins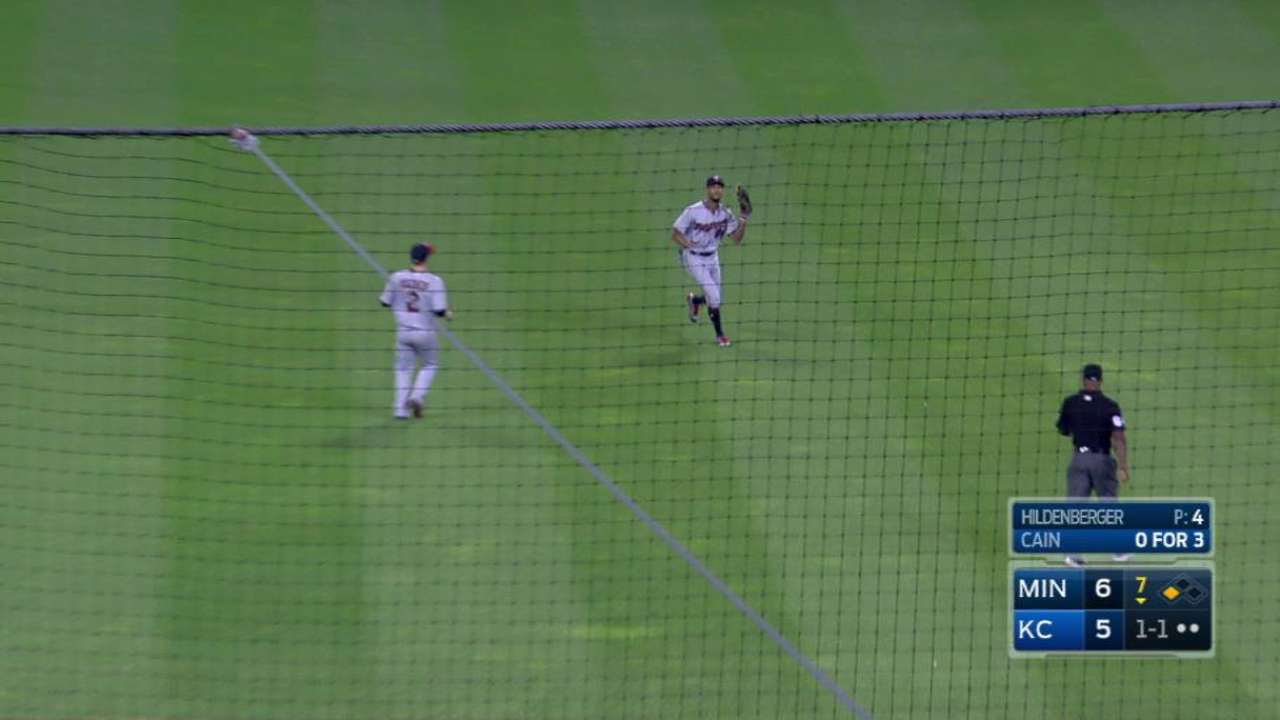 KANSAS CITY -- Despite being a rookie side-armer with a fastball that averages roughly 88 mph, Trevor Hildenberger has earned the trust of manager Paul Molitor, who has frequently used him in tight spots as the Twins continue to remain legitimate postseason contenders.
Hildenberger has been a secret weapon of sorts for the Twins, as hitters can't seem to square him up with his funky delivery, which was on display yet again in a crucial situation in an 8-5 win against the Royals on Friday night.
Hildenberger came in with two runners on and nobody out in the seventh with the Twins clinging to a one-run lead. But Hildenberger got the red-hot Whit Merrifield to ground into a double play before getting Lorenzo Cain to fly out to end the scoring threat. After the Twins scored two insurance runs in the eighth, Hildenberger recorded a 1-2-3 eighth, including another double play, this one from Salvador Perez.
"That was a big stymie of their momentum and turned it back in our favor," Molitor said. "It's a hot hand. We've been riding it. We've got to be careful because he's had some stretches where he's pitched a lot, even though he's economical with his pitch count."
Hildenberger's ability to induce grounders has been a key reason why Molitor has turned to him with runners on, as he's posted a groundball percentage of nearly 60 percent, and three of the last seven batters he's faced have grounded into double plays.
"It's been nice," Hildenberger said. "The groundballs are not finding holes right now. Sometimes that evens out, but I'm enjoying the groundballs right at people."
Hildenberger's best pitch remains his changeup, and he's been adept at strikeouts despite his lack of velocity, getting 35 in 35 1/3 innings, while walking only four and giving up two homers on the year en route to a 2.29 ERA in his first 29 big-league outings.
Hildenberger is third on the club in average exit velocity against, as hitters have an average exit velocity of 85.2 mph against him. Only Matt Belisle (84.6 mph) and Jose Berrios (85 mph) have been better than him in inducing weak contact.
"He comes up big every time we need him," Twins right-hander Ervin Santana said. "He does his job quietly and nobody talks about him. But he just comes here and does his job, and that's what's amazing about him."
Hildenberger, though, said he's aware of adjustments hitters are making on him, noting that both Eric Hosmer and Merrifield sat on changeups in recent at-bats, including a single from Merrifield on a 0-2 pitch on Thursday. So he said it's key to continue to develop going forward once hitters see his unusual delivery more and more.
"There will be adjustments coming," Hildenberger said. "My changeup is my best pitch, but it's got out there, especially with the Royals. We'll have to make adjustments once the league makes adjustments to me. Once the league sees me more, it'll be less mysterious and I'm not looking forward to that day, but I'll adjust."
Rhett Bollinger has covered the Twins for MLB.com since 2011. Follow him on Twitter @RhettBollinger and Facebook. This story was not subject to the approval of Major League Baseball or its clubs.