Braves relieved, lifted by Flowers' early return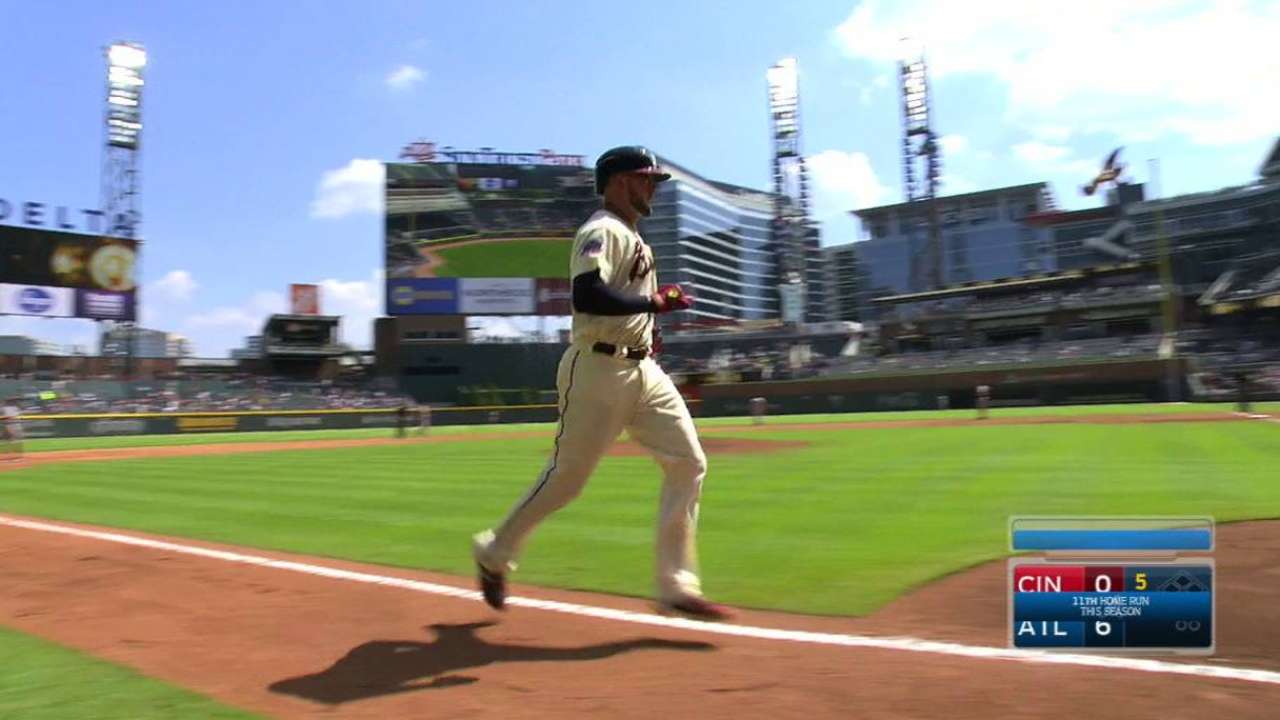 ATLANTA -- Less than two weeks after fearing he had fractured his left hand, veteran catcher Tyler Flowers returned to the Braves' lineup for Friday night's game against the Marlins at SunTrust Park.
"I was essentially barehanding [a 94-mph fastball] with the ball dropping in front of you," Flowers said. "So it was pretty square. Then after that trying to hit, the way it felt, I really had no doubt it was broken. When I found out it wasn't, I was definitely surprised. You always want to finish the season healthy."
Flowers suffered a badly bruised left hand when he was struck by a Jim Johnson pitch that was fouled during the eighth inning of an Aug. 28 loss in Philadelphia. Initial X-rays were negative and a MRI exam performed the next day in Atlanta confirmed the Braves catcher was fortunate to avoid a fracture.
Still, the Braves remained concerned about the possibility of a lengthy absence until Flowers began swinging a bat in pain-free fashion again on Tuesday. The steady and somewhat unexpected progress was encouraging enough for the club to activate the veteran catcher from the disabled list on Friday, the first day he was eligible for activation.
"[It healed] a lot quicker than expected or anticipated," Flowers said. "My range of motion and everything came back pretty quick. It was still tender to the touch until just a couple days ago."
Flowers' glove will now include a padding attachment to protect the palm of his left hand for the remainder of the season. To protect the injured region while batting, the Atlanta native will use a bat with a larger knob.
Braves manager Brian Snitker said the team will carry four catchers for the time being. Tony Sanchez became the club's third catcher when he was acquired via the Aug. 31 trade that sent Brandon Phillips to the Angels. At the time of the trade, the Braves were still concerned Flowers might be sidelined for a significant period of time.
While Flowers returned, right fielder Nick Markakis missed his second consecutive start Friday. Markakis feared he might have fractured his right wrist when he made a diving catch during the fifth inning of Wednesday night's game against the Rangers. X-rays were negative and he was cleared to serve as a pinch-runner this weekend. There's a chance he'll return to Atlanta's lineup Tuesday.
Mark Bowman has covered the Braves for MLB.com since 2001. This story was not subject to the approval of Major League Baseball or its clubs.