Where does Martinez rank on '18 draft boards?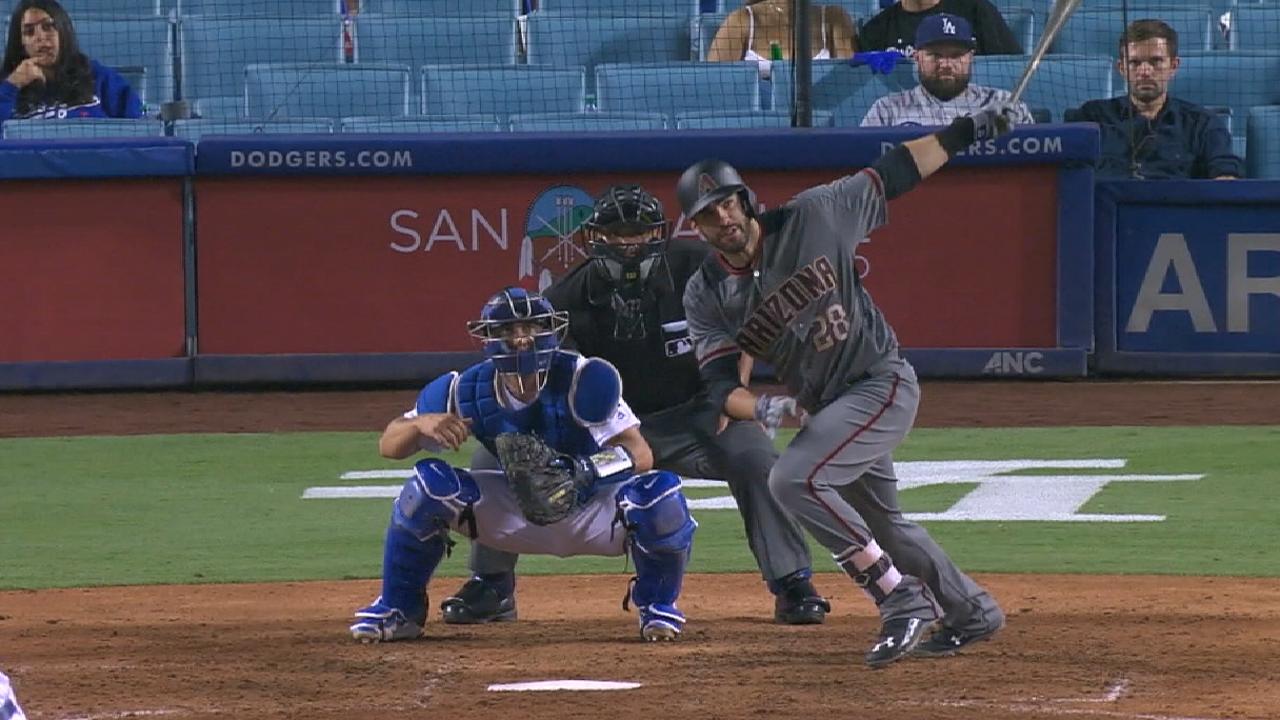 The following is a transcript of a segment from this week's Fantasy411 podcast, hosted by MLB.com lead fantasy writer Fred Zinkie and national editor Matthew Leach. To hear the rest of Zinkie and Leach's J.D. Martinez discussion, subscribe to the Fantasy411 podcast by clicking here.
On this week's podcast, Zinkie and Leach break down Martinez and how he perfectly fits in at Chase Field. We'll pick up the discussion with Leach identifying where Martinez ranks in the draft boards for 2018.
Leach: We'll start with one of the broader, long-term ones, and that was about J.D. Martinez, who is having an amazing year. We talked about him some when he was traded, and it was clear going there, it's clear now that Arizona is a really good fit for his skill set. For a guy who gets a ball in the air, hits for power, it's a really good place to be a power hitter. If you look at his stats, he's having a ridiculous year, and maybe more than obviously because he's only played 99 games. Thirty-four home runs in 99 games, you give him the 130-140 that some guys have played at this point, and you're talking about a guy who is second only to Giancarlo Stanton in home runs, and in fact, is well ahead of anybody other than Stanton. If you just do some simple math and you give him 44, 45, 46, then he is running away from Chris Davis, Aaron Judge, guys in the AL. So how high do you have him now that he's been doing this for a while in Phoenix after he was doing it in Detroit? As we look into 2018, how high do you have him on your draft board?
Zinkie: I think he's climbing and I think he's climbing pretty fast. Now, the X-factor with Martinez will be where he plays next season because he's a free agent after this year. But assuming, usually free agents in the prime of their careers find pretty good teams to join. Usually they don't join the rebuilding-type teams because they don't want to pay them, so he'll probably be on a pretty good team next year. The park effect I think will matter. I think the way he's going, this would've been easily a 45-homer season for him had he played the whole year. He had a 38-homer season in 2015. I start to wonder when I look at him in comparison to say Joey Votto and Freddie Freeman and Anthony Rizzo -- like, what's the difference? And if there is a difference, I think it's fairly small, so I'm not sure I'm ready to put him with those players, but those are kind of the players who I feel like on early rankings are falling in the early teens -- say early second-round picks, maybe the end of the first round, probably early second-round picks. So I feel like Martinez may climb into the second round next year.
• Fantasy411 pod: Subscribe now, celebrate in September
Leach: It's two things: One, I don't think anybody would be shocked if -- for example -- the Giants decided they needed this guy as they look to retool for next year. And that ballpark would give me some real pause on him. But if he's back in Phoenix, if he's in a place where the park suits his skills and where the lineup doesn't just crush him, yeah, I think that's reasonable. I would say the one thing that would give me pause as I look at drafting Martinez high is that he, even at the end of this year, will finish this year with one 125-games played season in his career, and that's got to give you a little worry. I don't think of him as one of those guys who's always hurt. He doesn't go from a sore calf to a sore quad to a sore knee in that kind of way. But he's got one season where he played 158 games and hit 38 home runs, and over the entire rest of his career, he's never played more than 123 games, which is about what he's going to get to this year. So I think when you're talking about guys like Votto and Rizzo, that's the one thing that gives me pause.
And the other thing is that he's been a really inconsistent hitter for batting average. You look over his career and some of this is before he sort of broke through, but he has some .240 and some .250 early in his career. It's .248 since coming to Arizona. Admittedly, that's only 42 games. But to me, the thing about Rizzo in particular, and even about Freeman, who has not quite been the same since coming back, and to some extent, even above Votto, though Votto is very much what he is and he's a known quantity. But Rizzo is so safe, and I think the upside for Martinez is extremely high, but I also think there's more risk than with somebody like Rizzo, and so I think that's the one thing that would give me pause. And if I was looking -- for example at those two guys -- that might tilt me.
Zinkie: Yeah, I understand that, and I'm glad that you mentioned the injury piece, because I think of Martinez as someone who's sitting somewhere right now between durable and injury prone. I looked back, and part of his low games played early in his career was just rural. In 2014, 2015, he was not on the DL at all, 2016, he was for a while. This season, he was for a while. So he's kind of in the middle for me. He's kind of like Freeman, to be honest. Like Freeman last season was healthy. The year before, missed a bunch of time. This season, missed a bunch of time. So kind of for Freeman, two of the last three years. I think that's true. I think Votto's plate skills are so awesome that to me, Votto is a little ahead of him, and Rizzo, the durability, the lineup is a little ahead. If I was drafting right now, I think I'd probably have those two ahead and then probably Freeman and Martinez. I can see Freeman and Martinez being a little comparable, though. Freeman maybe a little more batting average, but Martinez, maybe a little bit more raw power than Freeman.
To get the help you need to win your league in 2017, subscribe to the Fantasy411 podcast by clicking here.