O's activate Hardy for stretch run, DFA Faulkner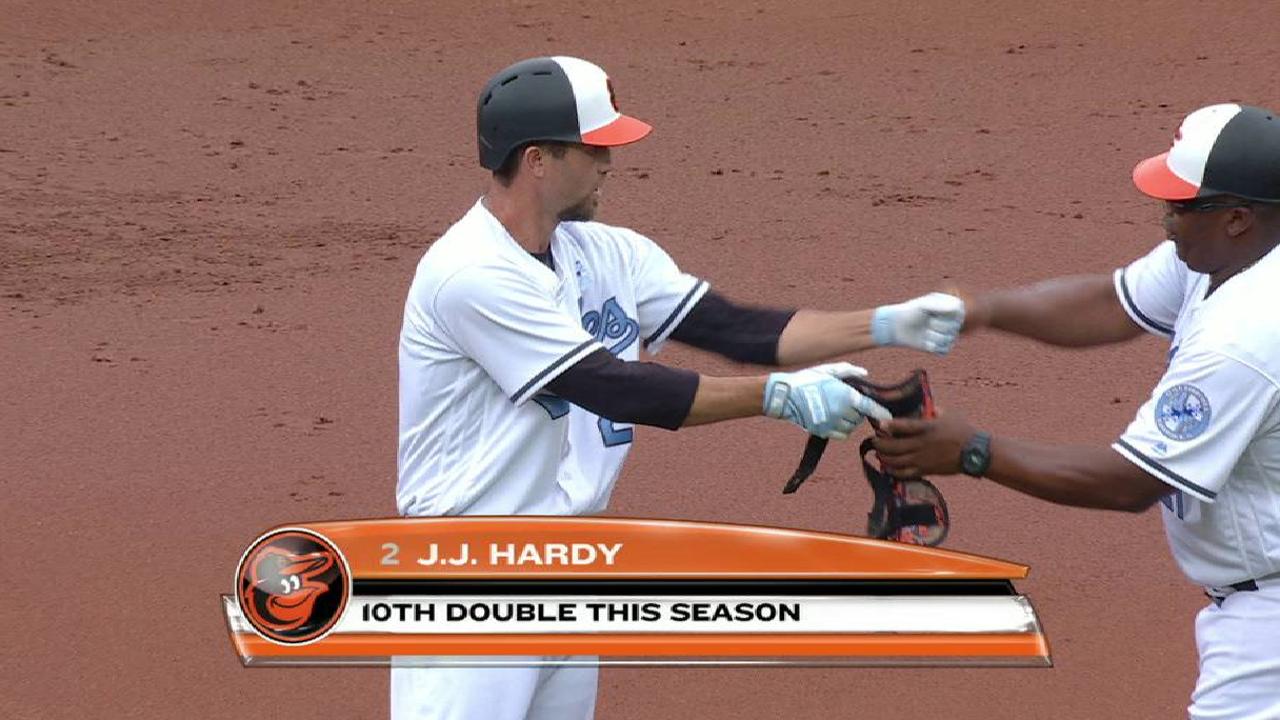 CLEVELAND -- With the Orioles entering Friday only two games behind the Twins for the second American League Wild Card spot, the club got a reinforcement that may help down the stretch. Baltimore activated shortstop J.J. Hardy from the disabled list prior to its game on Friday against the Indians at Progressive Field.
Hardy was placed on the DL with a right wrist fracture on June 19 after being hit by a pitch the previous day by the Cardinals' Lance Lynn. As a result of Hardy's return to the 40-man roster, the O's designated left-hander Andrew Faulkner for assignment.
"I've been around the team for most of [my injury], and it's been fun watching them play," Hardy said. "They've been doing a great job. But then the times I was away, it was hard. But now that I'm back and able to be a part of it, and maybe get in the game, it definitely feels good."
The veteran shortstop played in nine rehab games with Triple-A Norfolk, where he had five hits -- including a homer and a double -- in 22 at-bats. Hardy hit .211/.248/.308 with three homers, 11 doubles and 21 RBIs in 64 games with the Orioles this season.
"It's good [to have him back]," Orioles manager Buck Showalter. "Obviously, any time you add a guy we've been missing for this long, it gives us really good options. We'll see how he progresses. He took BP and did a lot of work today just to make sure, but he is ready to go. As ready as he's going to be."
Hardy's return to the Orioles has been a long time coming, as the shortstop had shoulder and elbow issues in his lengthy rehab stint.
"Yeah, my body is feeling good," Hardy said. "Arm is feeling good. There was a few different issues when I was coming back. I mean, the wrist was better before my shoulder was better, and then my elbow started acting up. I had a few things, but that's all healed now."
Although Hardy may be able to help the Orioles from a depth perspective, his impact may be minimal with Tim Beckham -- acquired at the July 31 non-waiver Trade Deadline -- locking up the starting spot at shortstop. In 35 games with the O's, Beckham has posted a slash line of .359/.391/.588 with seven homers, 10 doubles, two triples and 20 RBIs.
"Amazing. Absolutely amazing," Hardy said of Beckham's play. "We've played against him for the last few years, and I've seen a lot of improvements just playing against him. For him to get the opportunity to play every day over here at shortstop, what he's done has been pretty impressive."
Despite the uncertainty surrounding Hardy's role on the team going forward, Showalter is confident that the veteran will make an impact one way or another.
"There's a real competitive fire that burns in there," Showalter said. "You don't do the things he's done over a career without having that. ... He knows that there are certain things that are bigger than him and there's not many people here that can take an opposite approach more than J.J. His resume speaks for itself."
Castillo scratched
• Welington Castillo was scratched from the lineup before Friday's game for an undisclosed reason. Castillo was scheduled to catch and hit eighth, but was replaced by Caleb Joseph, who hit ninth. Right fielder Seth Smith was bumped up to the eight-hole as a result.
William Kosileski is a reporter for MLB.com based in Cleveland. This story was not subject to the approval of Major League Baseball or its clubs.