After meeting Tony Hawk, Myers homers, stays hot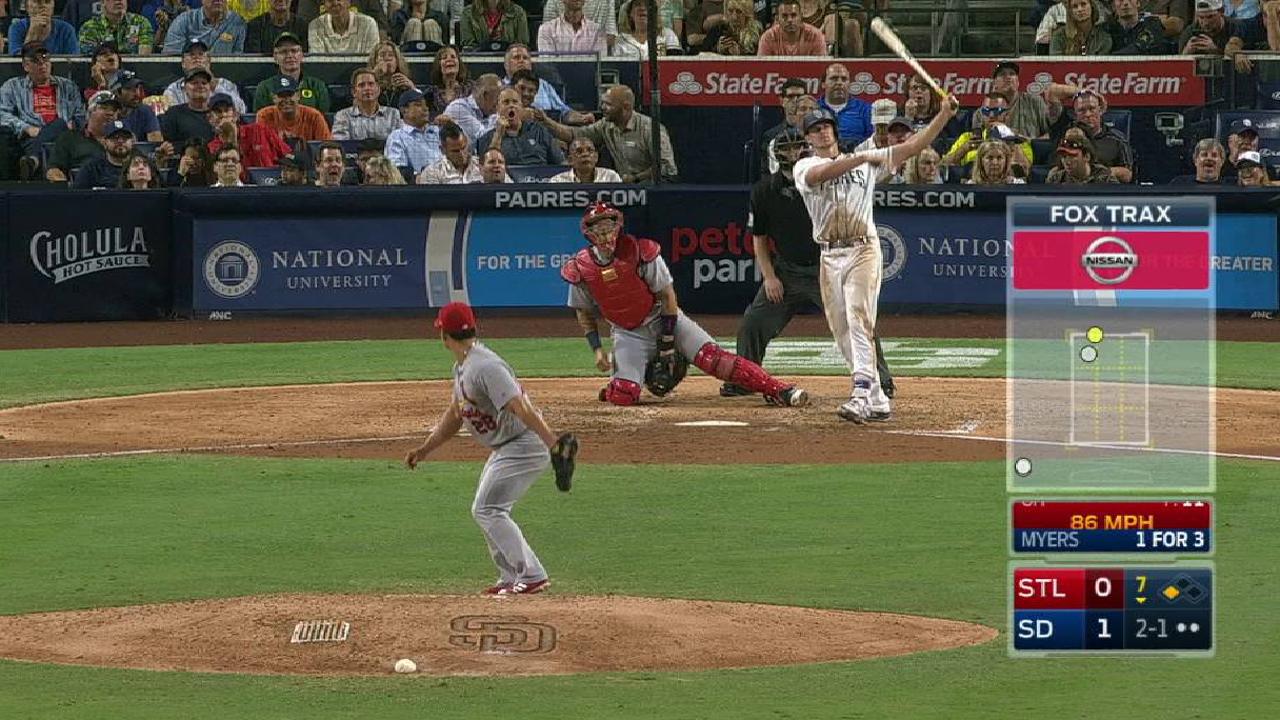 SAN DIEGO -- Wil Myers got some new lumber before the Padres' game against the Cardinals on Thursday night. It came in the form of an autographed skateboard from legendary skateboarder Tony Hawk, one of his childhood heroes.
Then, Myers returned to his old lumber to smash a pivotal two-run, seventh-inning homer into the second deck in left field, sending the Padres to a 3-0 victory at Petco Park.
Indeed, it was a big night for Myers, who homered for the first time since Aug. 12. The Padres first baseman is eyeing a strong finish, after a woeful July and August in which he batted just .188/.290/.369.
Wil Myers just met Tony Hawk. They traded a baseball bat for a skateboard. Fair. pic.twitter.com/rM9uC7D4ea

— AJ Cassavell (@AJCassavell) September 8, 2017
"This has been the toughest year for me that I've had, even including the injured years," Myers said. "This has been something that's been very tough on me. To come out, finish strong, put up some decent numbers [in September] would be great for me."
So far, so good. Myers is hitting .400 (10-for-25) in seven games this month, with three extra-base hits and a pair of walks.
Before the season, Myers set a goal of 40 homers and 40 steals. Those were always lofty numbers to shoot for. In Myers' eyes, that was the point.
Still, despite his struggles, Myers has posted strong stats this season. Aside from Myers, only Angels star Mike Trout has 25 homers and 18 steals. Myers is on the verge of becoming the second Padre in history with consecutive 20-20 seasons, joining Ryan Klesko in 2000 and '01. And with four more home runs, Myers would set a career high.
"It's good to see him get into a ball," manager Andy Green said. "I know that makes him relax. I'm not sure which comes first -- him relaxing, or the home run, then he relaxes. Either way, good swing there."
Two days ago, Green said he felt Myers had simplified his approach at the plate, and that he was no longer "trying to hit 700-foot home runs."
Myers said the difference stemmed from his work in the batting cages.
"I've been more relaxed for the past week or so ... trying to stay through the middle of the field," Myers said. "That's one thing I've really gotten away from this year, is just staying through the middle of the field. With my cage work in BP, that's the only thing I'm trying to do."
This isn't the first time Myers has appeared poised to break out of a prolonged slump. In each of those instances, he's regressed shortly thereafter.
In that regard, Myers wasn't prepared to make any grand statements. He merely noted that he feels as though he's made some progress over the past week.
"I'm working on getting back to what I was early in the year," Myers said. "I feel like it's coming a little bit. There's been some improvement. It's just been frustrating, not being able to find what I'm looking for. But I feel like I'm on the right track."
AJ Cassavell covers the Padres for MLB.com. Follow him on Twitter @ajcassavell. This story was not subject to the approval of Major League Baseball or its clubs.