Lester grinds through 6 innings, finishes strong
Cubs lefty throws 111 pitches, allows just 1 run in 2nd start back from DL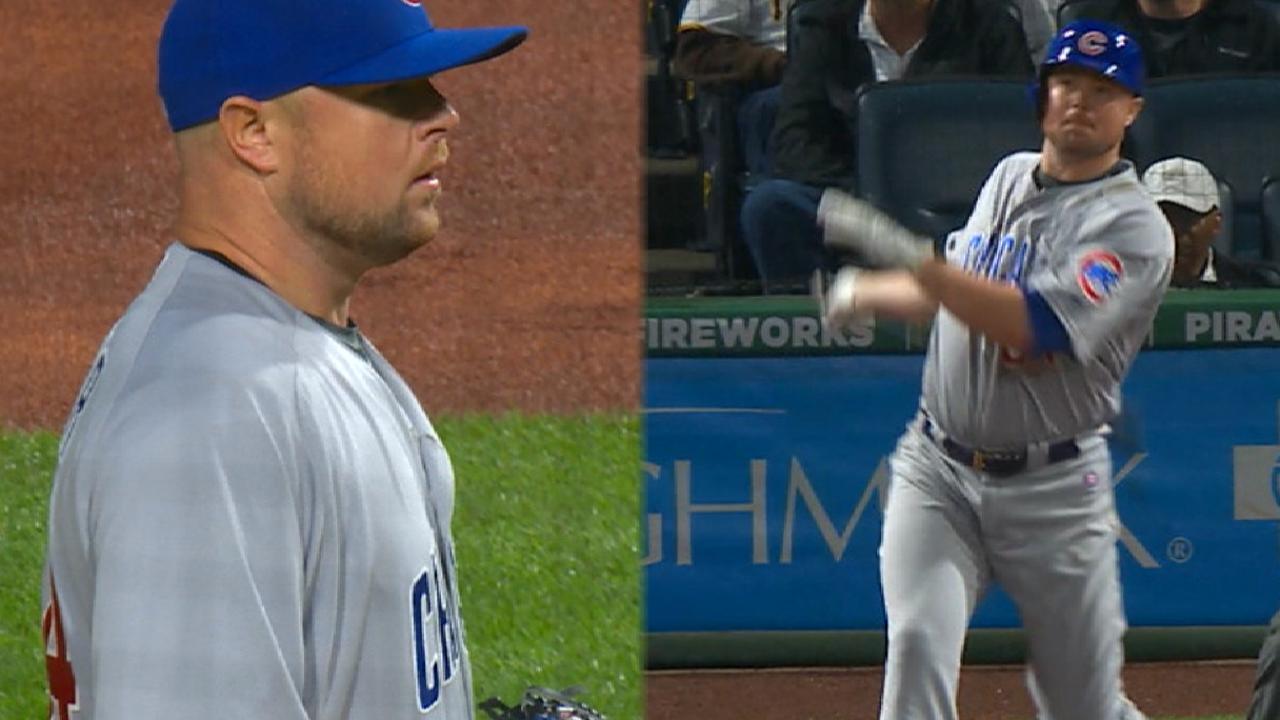 PITTSBURGH -- As he has much of the season, Chicago Cubs left-hander Jon Lester teetered here and tottered there. But the Pirates never knocked the veteran left-hander off his feet.
One start removed from a stint on the disabled list, Lester threw 111 pitches in six innings Thursday at PNC Park. He walked four, gave up five hits and some well-struck outs. He also held the Pirates to one run and struck out five in an 8-2 Cubs win.
"I don't know if it's rust and not being able to finish guys off, or just one of those nights, or what, but we'll figure it out," said Lester, who also added an RBI double. "But at the end of the day, one run and grinding through six and we won. So you've got to look at that and can't overanalyze things too much."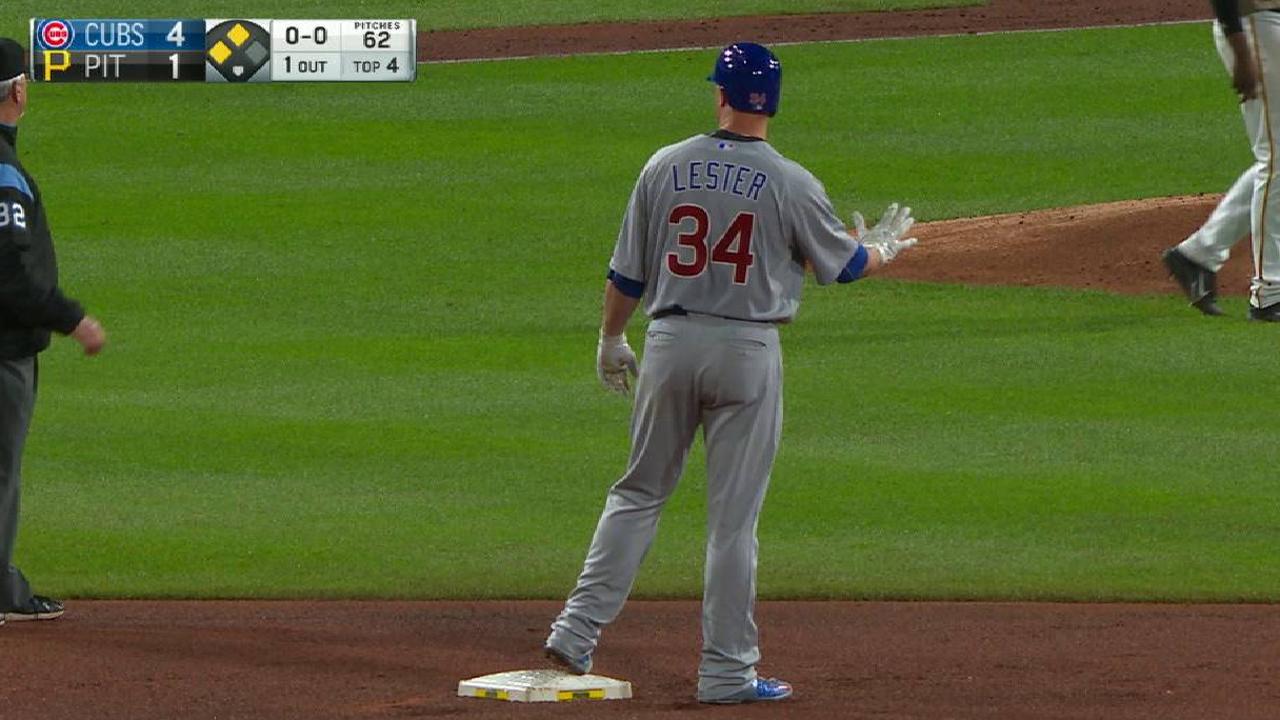 Coming off a superb 2016 season (19-5, 2.44 ERA), Lester has struggled, statistically and medically. He is 10-7, but coming into the game his ERA had expanded from 3.19 in late May to 4.46.
Lester went on the 10-day DL in mid-August, with what the team called "shoulder fatigue." He returned last Saturday, needing 92 pitches to get through five innings and giving up three home runs to Atlanta.
He was better against the Bucs.
"My stuff actually is good," Lester said. "I held my stuff the entire game. Velocity was fine. Had a better sinker than I've had in a long time. We were able to mix and match that with the backdoor cutter."
Lester saved his two best innings for last, retiring six straight in the fifth and sixth.
"He had 85 pitches after four innings, and all of a sudden he started making better pitches," Cubs manager Joe Maddon said. "Of course in a perfect world I wouldn't want [111 pitches]. One-hundred to 105 was like a perfect world. But we were playing one hitter at a time and he got 'em all out. And he really permitted us to use the bullpen how we wanted to. Him giving us that extra inning meant a lot."
Lester got into trouble in each of the first four innings. In the first, after giving up a single and a walk with one out, he struck out Josh Bell and Jordan Luplow. The next inning, after a leadoff walk to Sean Rodriguez, shortstop Javier Baez started a nifty double play by flipping the ball with his glove hand to second baseman Ben Zobrist.
Jordy Mercer followed that with a double and pitcher Jameson Taillon singled to center field. Ian Happ, who grew up in Mt. Lebanon, Pa., charged the ball and fired home to the third-base side of the plate. Catcher Rene Rivera snagged the throw and tagged Mercer out.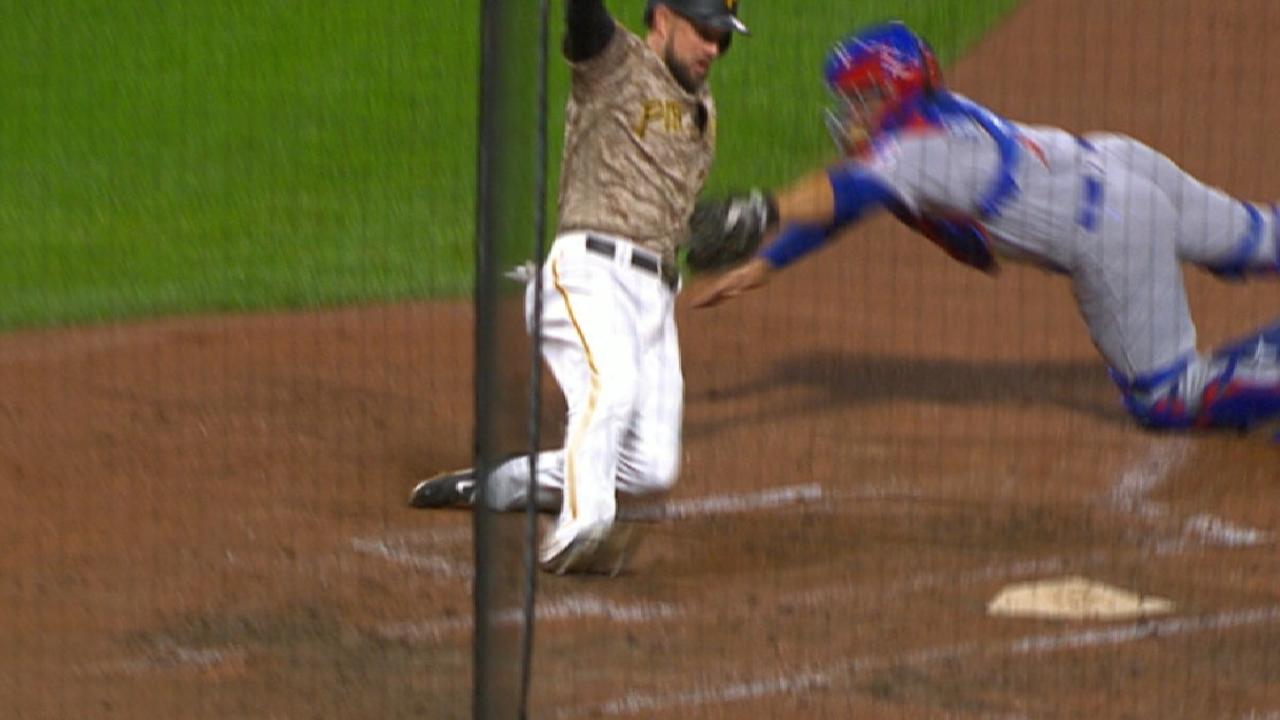 "A couple of good defensive plays helped us," Lester said. "That obviously makes my job easier."
The Pirates reached Lester in the third after he walked the first two hitters. But the only run scored on Bell's groundout and there was no other damage. In the fourth, Starling Marte grounded out with runners on the corners to end the inning.
"If you watch him often, that's why he's so good," Maddon said of Lester. "He oftentimes does pitch out of trouble. He just has this other gear and he makes pitches, and he did it tonight without his sharpest command. He knows what he's doing. I thought him and Rene worked really well together, and I think his veteranship and his savvy got him through that."
Bob Cohn is a contributor to MLB.com based in Pittsburgh. This story was not subject to the approval of Major League Baseball or its clubs.