Washington nearing division finish line at home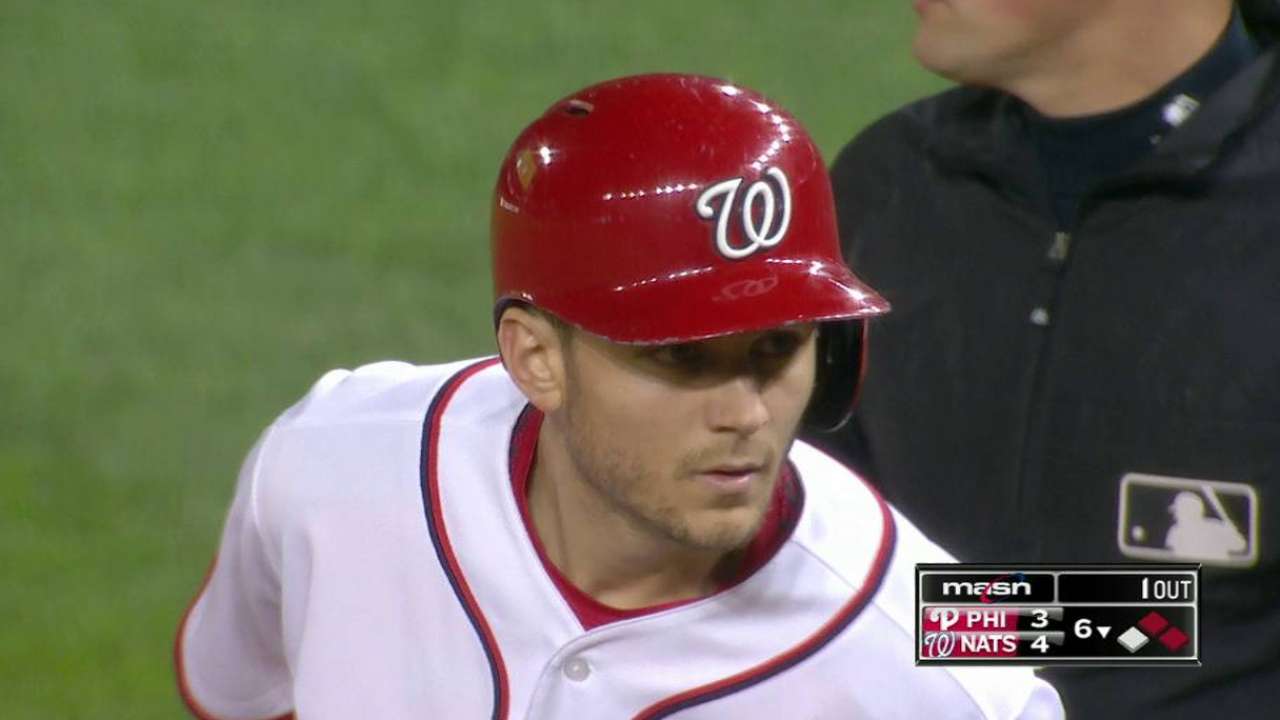 WASHINGTON -- Rolls of plastic tarp hang above the lockers in the Nationals clubhouse, preparation already underway for the upcoming celebration. After the Nationals' 4-3 victory against the Phillies, a TV in the front of the clubhouse was fixed on the game between the Marlins and Braves.
Washington began its longest homestand of the season Thursday night on the verge of securing the first goal the Nationals set way back at the start of Spring Training. And with a victory against Philadelphia, combined with Miami's walk-off 6-5 defeat in Atlanta, the Nationals' magic number is four to secure the National League East division for a second consecutive season.
"That number keeps shrinking and that's a good thing," shortstop Trea Turner said. "You want it to go to zero as fast as it can."
The Nationals have cruised toward the NL East title for much of this season, spending the past 154 days in first place. Their current 19-game edge in the division is the biggest they have owned all season. Washington is almost certain to clinch its fourth division title in the past six seasons during this 10-game, 11-day homestand and it could come as soon as this weekend's series with the Phillies. Of the team's previous three division titles, only one (2012) has come in front of its hometown crowd, an upcoming memory that could be special for the fans at Nationals Park.
However, manager Dusty Baker does not worry about his team looking too far ahead. Even after a 4 a.m. arrival time back to D.C. from Miami in the wee hours of Thursday morning, and as the Nationals can see the finish line -- almost literally hanging over their lockers -- they still managed to pull out a victory Thursday.
Plus they still will have other goals to play for through the rest of the regular season. The victory brought the Nationals within 6 1/2 games of the Dodgers for home-field advantage in the NL, with Los Angeles still playing Thursday night.
"You don't think about it," right-hander Tanner Roark said. "You just go out each day and try to stay healthy, play the game hard, and you'll win. You take one day at a time and everything will work out."
Jamal Collier covers the Nationals for MLB.com. Follow him on Twitter at @jamalcollier. This story was not subject to the approval of Major League Baseball or its clubs.