Back continues to cause Gonzalez issues
Veteran receives second epidural treatment since June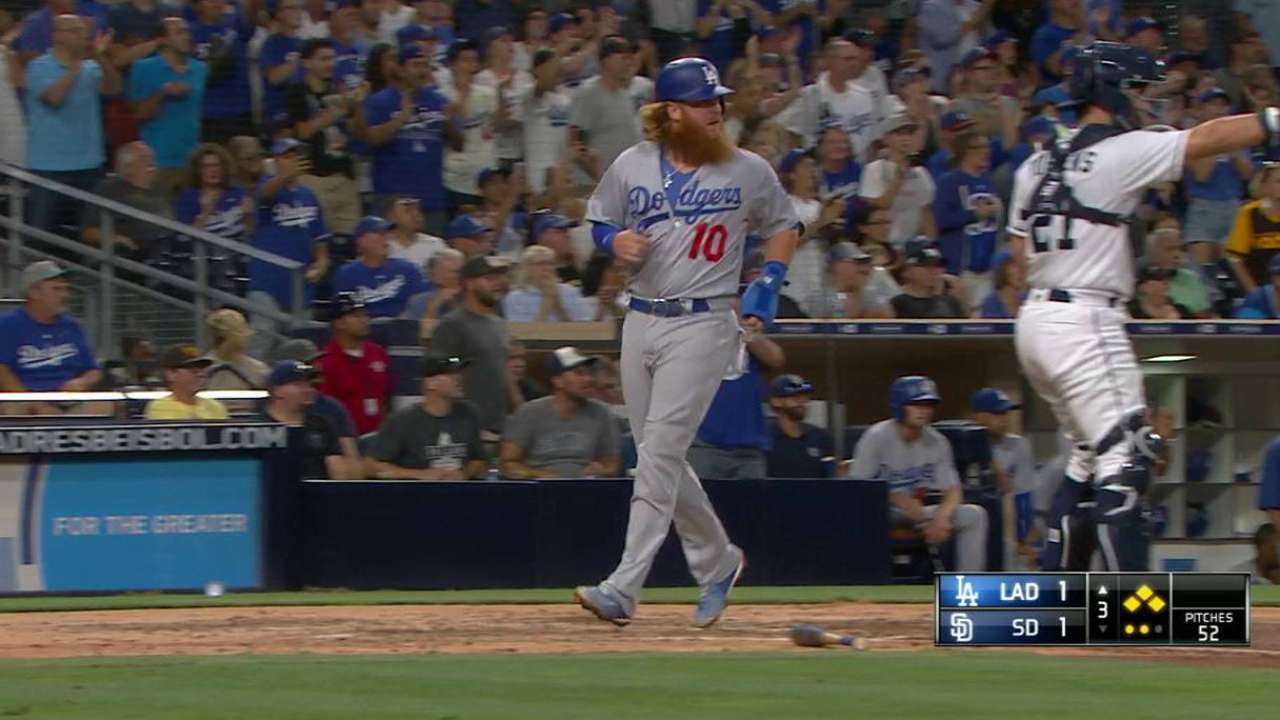 LOS ANGELES -- Adrian Gonzalez's back continues to give the 35-year-old issues this season.
For the second time in nearly three months, the Dodgers' first baseman was given an epidural for his back pain. Gonzalez missed 54 games on the disabled list earlier this season because of his back injury and received an epidural in June. Since returning from the DL on Aug. 18, he's batting .226 with one homer in 13 starts.
The five-time All-Star also had an epidural in 2016 for a pinched nerve, and his back issues have lingered throughout this season.
Manager Dave Roberts said Gonzalez will be down for the next three days and mentioned earlier in the week that it is possible Gonzalez could be out for the postseason. Gonzalez has had a down year, batting .248 with two homers and two 29 RBIs in 64 games and landed on the DL for the first time in his career in May with elbow soreness that caused him to miss 12 games.
"I think he's done it a couple times this year," Roberts said about Gonzalez receiving an epidural. "It's helped get him over the hump, so hopefully this formula, the treatment, the rest and all of that will help and get him back on the field."
Seager to return Friday
The Dodgers will get their All-Star shortstop, Corey Seager, back in the lineup on Friday, after he's been dealing with an elbow injury in the last week.
Seager has been relegated to pinch-hit duty and hasn't started at shortstop since Aug. 27, resting a nagging elbow injury that has bothered him for 2-3 weeks. The Dodgers had Seager start a throwing program when the club returned to Los Angeles on Monday and Seager has progressed well enough to get back in the lineup.
Roberts said Seager could have played during the club's recent slump, but the Dodgers preferred to be cautious with the injury and let him rest for the postseason.
"No one is going to make excuses," Roberts said about injuries. "Everyone goes through it. But there is a little bit of, yeah we gave [Justin Turner] a rest -- could we have run Corey out there with his elbow? Possibly. But I think at what cost is the discussion we had and the question. So it's just not worth it to us."
Worth noting
• The Dodgers will continue to roll with a six-man rotation through their next series against the Giants, meaning ace Clayton Kershaw will have an extra day of rest and won't pitch against the Nationals next weekend.
"When you're talking about Clayton, or Max Scherzer or a Zack Greinke," Roberts said about not throwing his ace vs. the Nats. "Guys that are those elite pitchers, that have elite stuff, play the cat-and-mouse game and make adjustments. I don't know if it matters as much, but I do know we're not trying to manipulate our rotation to avoid or make sure we see certain guys."
Joshua Thornton is a reporter for MLB.com based in Los Angeles. This story was not subject to the approval of Major League Baseball or its clubs.