Inbox: Will Jose Altuve win AL MVP Award?
Beat reporter Brian McTaggart answers Astros fans' questions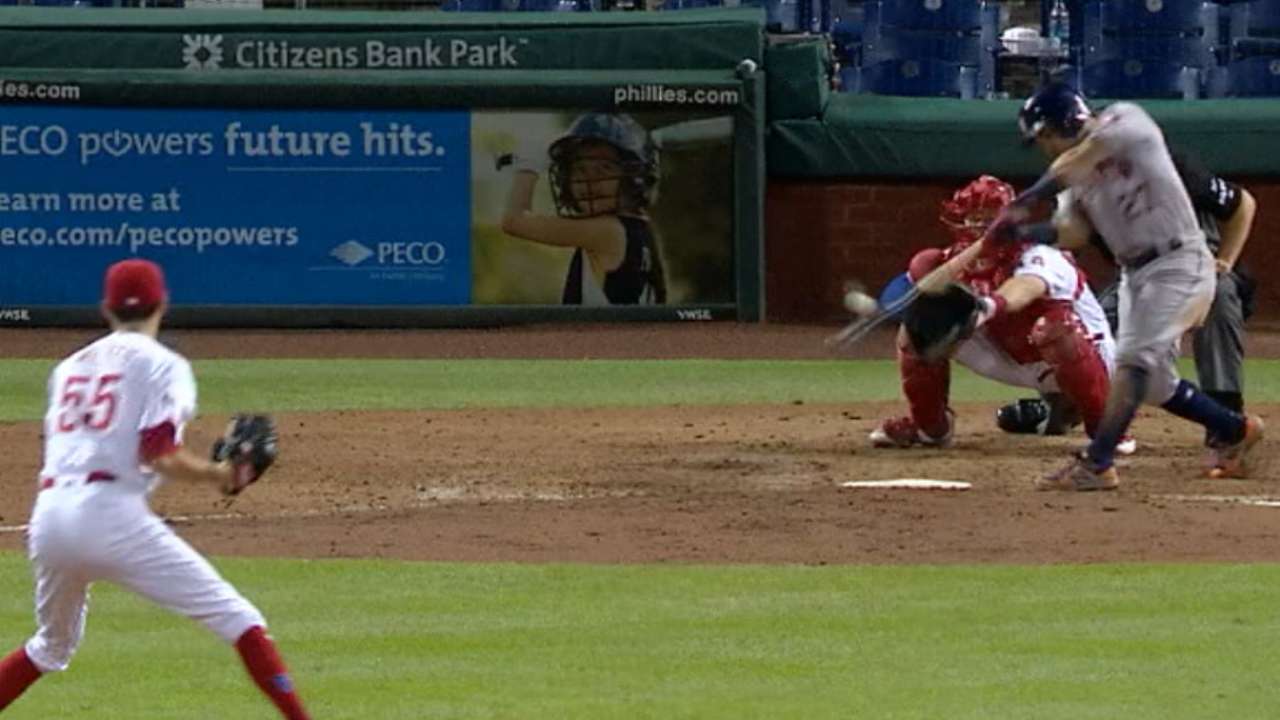 HOUSTON -- What a difference a week makes. After an August swoon, the Astros have trimmed their magic number to clinch the American League West to nine games, thanks to a seven-game winning streak. Along the way, they acquired Justin Verlander and Cameron Maybin, both of whom have been terrific, and welcomed back Carlos Correa and Lance McCullers Jr. from injuries.
Things are indeed looking up for the Astros, who could clinch the division at the end of their current road trip, which consists of four games in Oakland, beginning Friday, and three in Anaheim against the Angels, who trail the Astros by 14 1/2 games in the AL West.
So let's open up the Inbox and see what's on your mind:
• Submit a question to the Astros Inbox
Does Jose Altuve win the MVP, or will he get snubbed?
-- Cameron B., Cypress, Texas
There are three weeks to go, but he's the favorite at this point. He's going to win his fourth batting title by a wide margin and leads the Major Leagues in WAR (7.3 by www.baseball-reference.com). He also leads the AL in on-base percentage (.412), hits (183) and stolen bases (31). Altuve has been consistently great all season -- and terrific on the road, where he's hitting better than .400.
The Angels' Mike Trout will get a lot of support, of course, and for good reason. He did miss about six weeks with a thumb injury, but there's a case to be made he's the best player in baseball. Trout can do things Altuve can't, but there's no better hitter in the game than Altuve. Considering the Astros have had the best record in the AL all season, he's the favorite.
With McCullers returning to the rotation, is Brad Peacock likely to be moved to the bullpen? He has proven to be a very capable starter this year. Would he most likely take on a middle-relief role for the postseason if he is moved?
-- Marty T., Houston
Yes, Peacock likely will make his final start of the season Saturday against the A's then move back to the bullpen, where he pitched so well early in the season. Charlie Morton and Collin McHugh have both pitched well and still stay in the rotation, but Peacock has more experience in the bullpen. He could be a weapon there.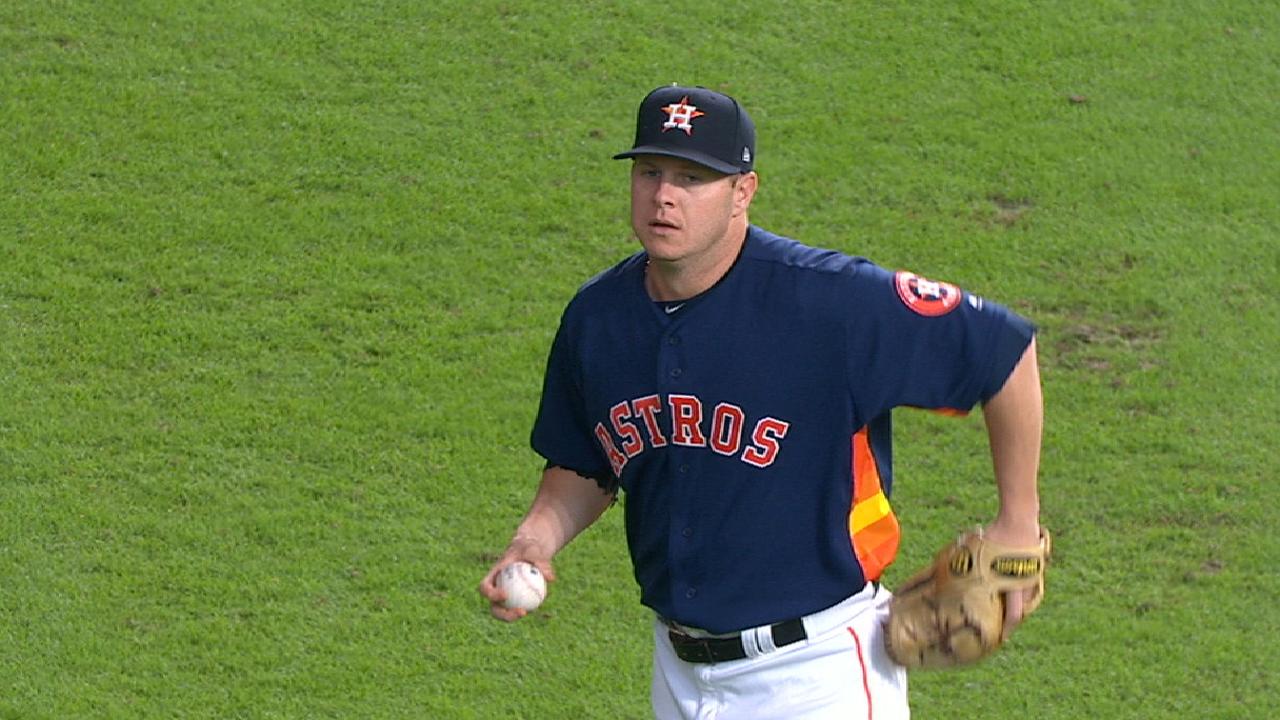 What do you think Marwin Gonzalez's role in the lineup will be during the postseason. With entrenched starters hopefully out there every night, is there room for him to get consistent ABs? Seems like when the infield is healthy, he's used only to spot guys on their nights off.
-- Jonathan K., Houston
Gonzalez has earned the right to start in the playoffs and will get starts at first base or left field, depending on the matchups. I would suspect Alex Bregman (third base), Correa (shortstop) and Altuve (second base) would start every game, but Gonzalez is versatile enough that manager A.J. Hinch can move him around. He could also serve as the designated hitter, so there are plenty of ways to get him at-bats. If he doesn't start a game, that's a big weapon to have on the bench.
Do you think Carlos Beltran is off the playoff roster since he has not been hitting well?
-- Ian M., Houston
No, Beltran is on the playoff roster. Look, he signed here to win a championship and is getting paid a lot of money. Yes, it looks like he's at the end of his career, but he's one of the best playoff performers in MLB history. He's going to get some playing time, but Hinch is going to have to find the right spots to use him. He's been a positive influence on this team in so many ways, it would be unfair to leave him off the playoff roster.
Hypothetical situation: It's the last day of the regular season and a win gets us home-field advantage over the Indians, but it's Keuchel's turn to pitch. How do you balance the importance of home-field advantage vs. having him ready to start Game 1 of a five-game series?
-- Robert S., Houston
Good question. I think the addition of Verlander makes this decision easier. I think the Astros must do everything they can to get home-field advantage in the playoffs, even though they have a better road record this year. If it's Keuchel's day to pitch and they need to win the game to get home-field advantage, you give him the ball and sort out the rest later. Now that Verlander is on board and the pitching staff is healthy, they have enough depth to like their chances in a five-game series even if Keuchel doesn't start Game 1 or 2.
What does the Astros' postseason bullpen look like?
-- Ryan M., Tomball, Texas
It depends on how many starters they carry. In the 2015 ALDS against the Royals, the Astros carried 11 pitchers. Before we get to the bullpen, you have Verlander, Keuchel, McCullers and Morton or McHugh in the rotation. Does Hinch leave one of them off the roster? One of them could be added before the ALCS, which is a best-of-seven series. So let's say they go with four starters, then the bullpen locks are Ken Giles, Will Harris, Chris Devenski, Luke Gregerson, Peacock, Joe Musgrove and -- like it or not -- Francisco Liriano, who would be their only lefty. That leaves out Mike Fiers, Tony Sipp and the fifth starter, but it will depend on who they play and the matchups, ultimately.
Brian McTaggart has covered the Astros since 2004, and for MLB.com since 2009. Follow @brianmctaggart on Twitter and listen to his podcast. This story was not subject to the approval of Major League Baseball or its clubs.