Tribe giving Ramirez day or two to rest wrist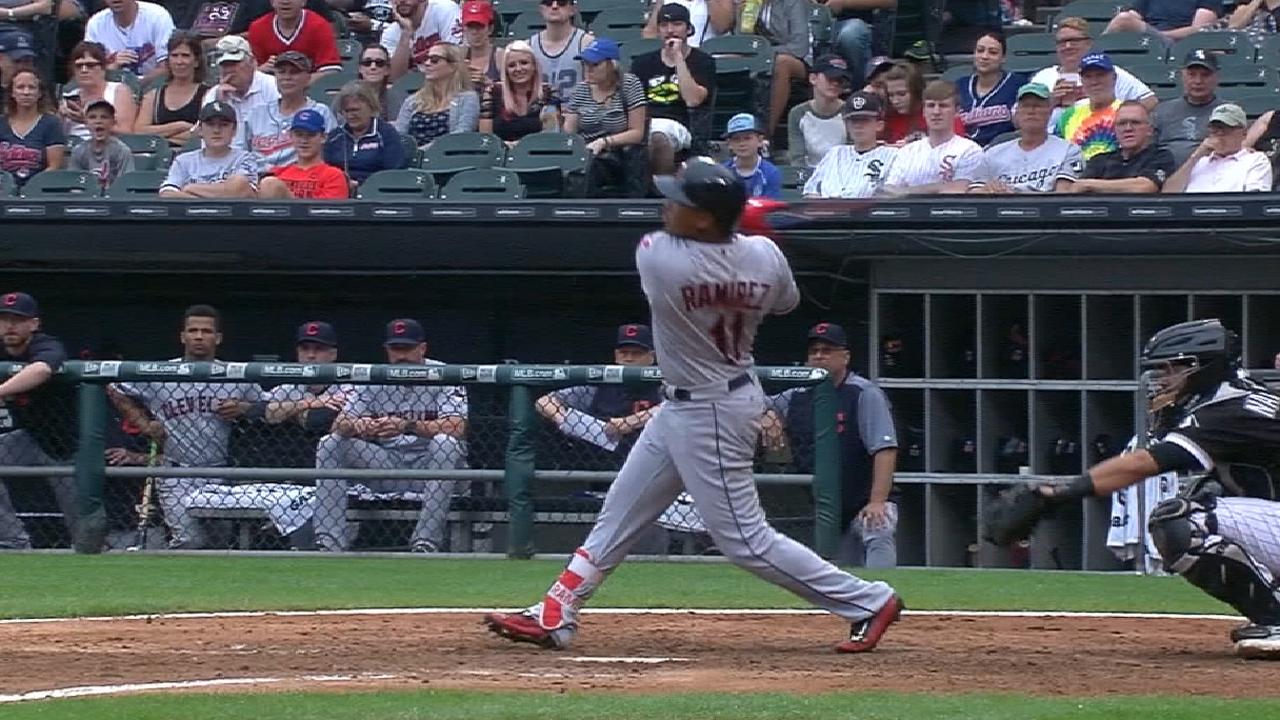 CHICAGO -- There may not be anyone more comfortable at the plate right now than Jose Ramirez. However, the fuel to the Indians' franchise record-tying winning streak won't be in the lineup Thursday night as the club seeks its 15th in a row at Guaranteed Rate Field against the White Sox.
Ramirez was left out of Cleveland's lineup and could miss "a day or two" as he deals with an ailing right wrist, manager Terry Francona said.
"A couple nights ago, he checked his swing [and] his right wrist kind of just aggravated a little bit," Francona said. "He felt it last night. I just thought it would make sense to kind of just give him a day or two. I told him to just let the trainers work on it. They're not worried about it, and it's not in a bad spot.
"He's played a lot, so it might be a day, might be a day or two. We'll see."
The 24-year-old versatile infielder, who is the reigning American League Player of the Week, has seen a breakout 2016 evolve into an even more dominant 2017 -- he's set career highs in doubles (47), triples (six) and homers (25) and has seen his OPS rise more than 100 points while leading the AL in extra-base hits.
Ramirez knocked a pair of homers in Tuesday's 9-4 win over the White Sox, becoming one of three players since 1900 to record 15 extra-base hits in a nine-game span. The others were Mel Ott in 1929 and Tony Oliva in 1969.
Ramirez's production has been critical for Cleveland this season, even before the club's current torrid stretch, giving Francona the incentive to make sure he is 100 percent as the club looks for a return trip to the World Series.
"Sometimes, it doesn't make sense to fight it," Francona said. "Let him try to ice it or heat it and play, let him feel good."
Miller to throw at Progressive Field
The Indians' bullpen -- which is tops in baseball with a 2.92 ERA entering Thursday -- could have reinforcements soon.
Andrew Miller threw a pair of side sessions on Monday and Wednesday in Cleveland, and he is scheduled to throw a bullpen session off the Progressive Field mound Friday, Francona said.
"He's doing really well," Francona said. "He'll get out there earlier and throw it on the stadium mound just to get him a little bit more a sense of reality. That's the plan."
Miller, who has a 1.65 ERA in 48 appearances with two saves this season, has been dealing with nagging patellar tendinitis in his right knee. This is his second DL stint due to the injury this season, with him being activated on Aug. 18 only to go back to the DL on Aug. 22.
Salazar to the bullpen
Right-hander Danny Salazar will be joining the Indians' bullpen starting on Sunday as he looks to rediscover his command, Francona said.
Salazar's return from the 10-day disabled list (right elbow inflammation) was short, as his start Tuesday turned erratic quickly. He was charged with four earned runs in two-thirds of an inning. While health was not an issue, Francona said Salazar had "no feel" for his pitches.
Salazar was presented with the option of throwing a simulated game to try to correct the issue but opted for the bullpen instead, Francona said.
Fabian Ardaya is a reporter for MLB.com based in Chicago. This story was not subject to the approval of Major League Baseball or its clubs.