Albies, Swanson contribute key hits in victory
Braves' young middle infielders show emerging talent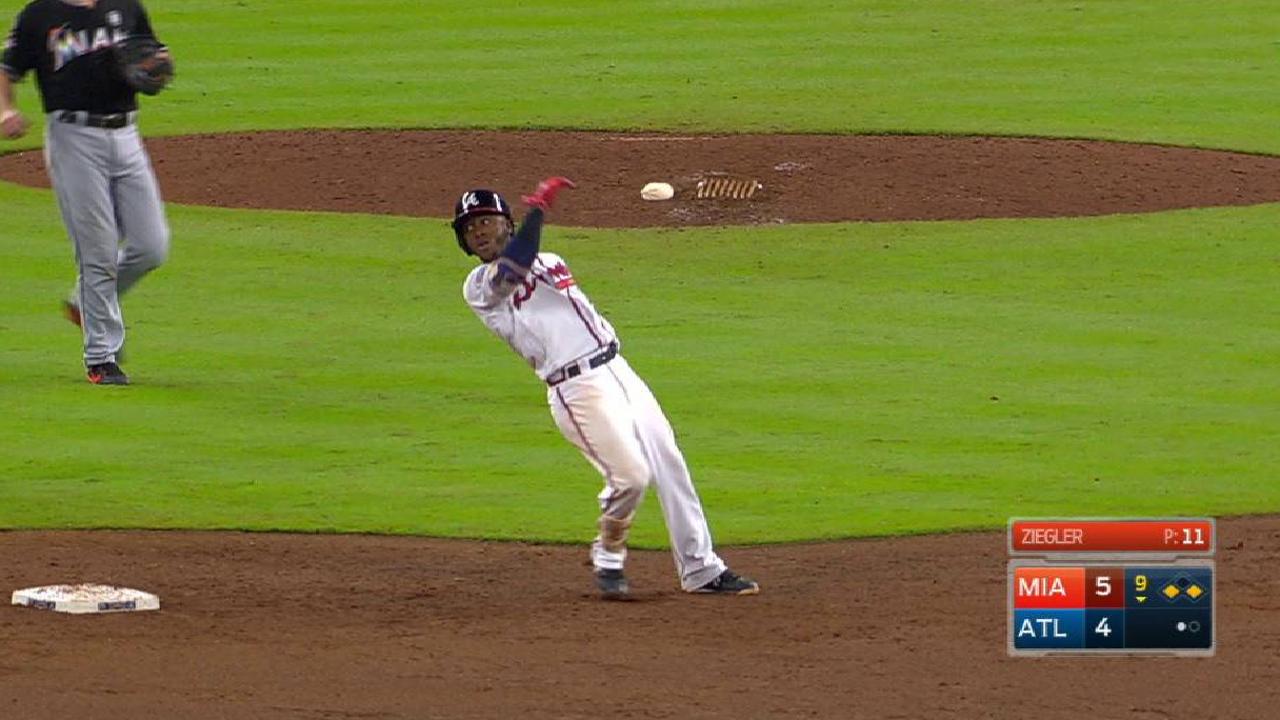 ATLANTA -- Dansby Swanson and Ozzie Albies have shared a unique bond since they came to their first Major League Spring Training together, already anointed as Atlanta's double-play duo of the future.
Given the opportunity to form this much-anticipated combo more than a year after first being acquainted, Swanson and Albies are tasting consistent success and showing why they could be assets in Atlanta for many years to come. Both provided key contributions to the 6-5 win the Braves claimed over the Marlins on Thursday night at SunTrust Park.
"It's pretty cool," Braves catcher Kurt Suzuki said. "That's kind of the present and the future right there. Obviously, everybody talks about them."
Suzuki delivered the two-out, ninth-inning single that gave the Braves their seventh walk-off win of the season. But he might not have been given a chance to provide this big hit had Albies not fueled the two-run ninth-inning rally with a one-out double -- the sixth he has recorded while showing off his tremendous speed through the first 129 at-bats of his career.
"That's how he plays, it's just crash and burn, go all-out after it," Swanson said. "I'd rather him be over-aggressive than not aggressive at all. He's a joy."
United as the young rising stars brought to the Braves' big league camp before the 2016 season, Swanson and Albies spent a portion of last summer playing together for Double-A Mississippi and were reunited for a few days in July, when the former was demoted a few days before the latter received his promotion to Triple-A Gwinnett.
Provided their first chance to play together in Atlanta on Aug. 9, both of the talented rookies struggled offensively for approximately a week and then began thriving.
Swanson has batted .381/.474/.476 over 76 plate appearances dating back to Aug. 19. Albies has hit .356/.415/.534 over 83 plate appearances within the same 19-game span.
"It just seems that when he does well, I do well, too," Swanson said. "You kind of piggyback off each other and it's kind of neat. It's not like 'who is going to get more hits tonight,' or anything like that, but we definitely feed off that kind of energy between the two of us."
Swanson provided Thursday night's spark when he produced an infield single ahead of Jace Peterson's two-run single in the second inning. The 23-year-old shortstop added an eighth-inning single to give him nine multi-hit performances within his past 23 games. He totaled just 13 through the 95 games he played before he was optioned to Gwinnett on July 27 with a .213 batting average and .599 OPS.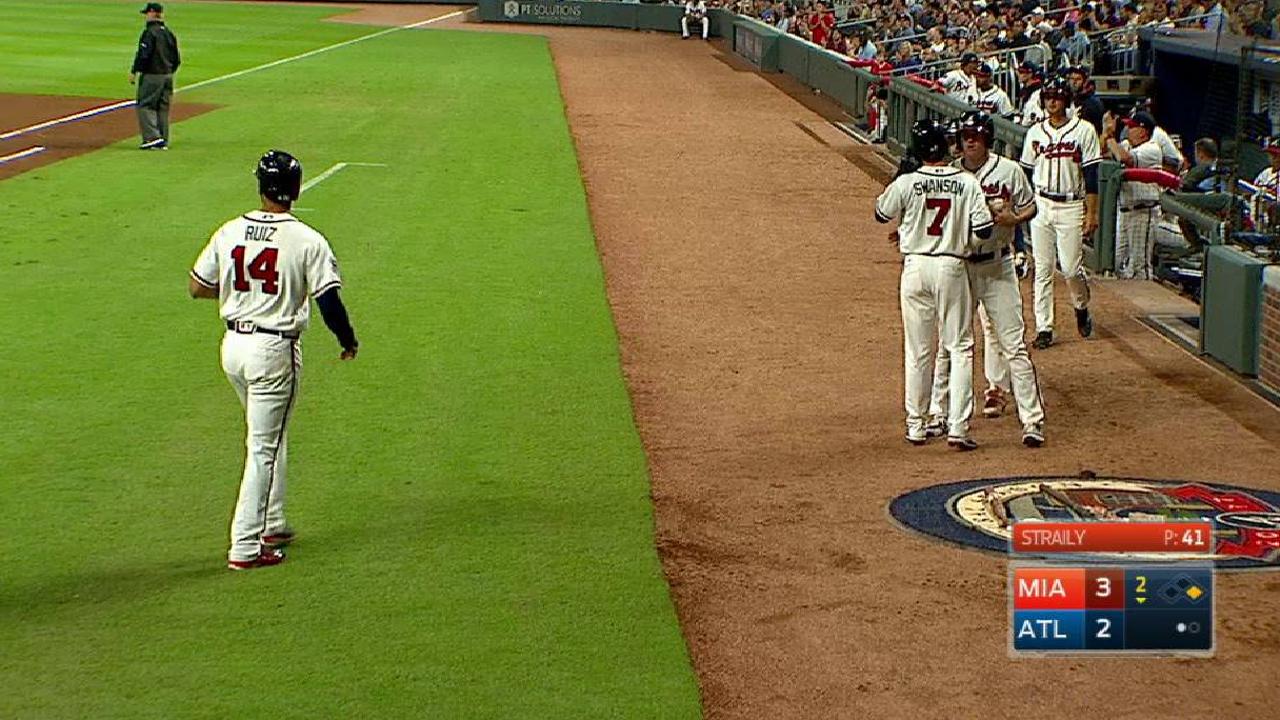 Albies hit .170 with a .555 OPS through his first 14 games, but has batted .341 with a .980 OPS over the 21 games that followed. His ninth-inning contribution to this latest victory came after he committed an error that allowed the Marlins to claim a lead in the eighth inning.
"He's playing his butt off," Suzuki said. "This is baseball. Mistakes are going to happen. He's a confident kid. He knows his talents and abilities and I was hoping he was going to come up in a big spot because with his competitiveness, you knew he was going to do something special."
Mark Bowman has covered the Braves for MLB.com since 2001. This story was not subject to the approval of Major League Baseball or its clubs.