MLB.com Columnist
Tracy Ringolsby
Challenging season not keeping Bochy down
The Giants are in unfamiliar territory, and it's not any fun.
It's the first week of September, but the Giants can't see the postseason from where they are. San Francisco's elimination number for a National League Wild Card spot was two heading into Thursday, but there are only so many miracles like Howard University, a 45-point underdog that shocked the college football world by beating UNLV, 43-40, last weekend.
A franchise that's won three World Series championships in the past seven seasons, the Giants find themselves with a 55-87 record (.387), their worst winning percentage since 1985 (.383) and their third worst since 1902. Only Philadelphia has a worse winning percentage (.381) than San Francisco this season.
"I don't think anybody saw this coming," said manager Bruce Bochy. "Really, there is no logic to it. … You depend on your guys having their normal years, maybe get a surprise or two. We haven't had that, to be honest."
The Giants have had some key injuries, however.
"A lot of clubs have injuries," said Bochy, avoiding looking for excuses for a team that came into the season with a .531 winning percentage in this century.
San Francisco has advanced to the postseason six times since 2002, including going to four World Series, losing to Anaheim in seven games in '02 and winning it all in '10, '12 and '14.
The Giants did, however, have injuries that have impacted key players, including their 1-2 punch in the rotation, Madison Bumgarner and Johnny Cueto, and closer Mark Melancon, whom they signed in the offseason to a four-year, $62 million contract.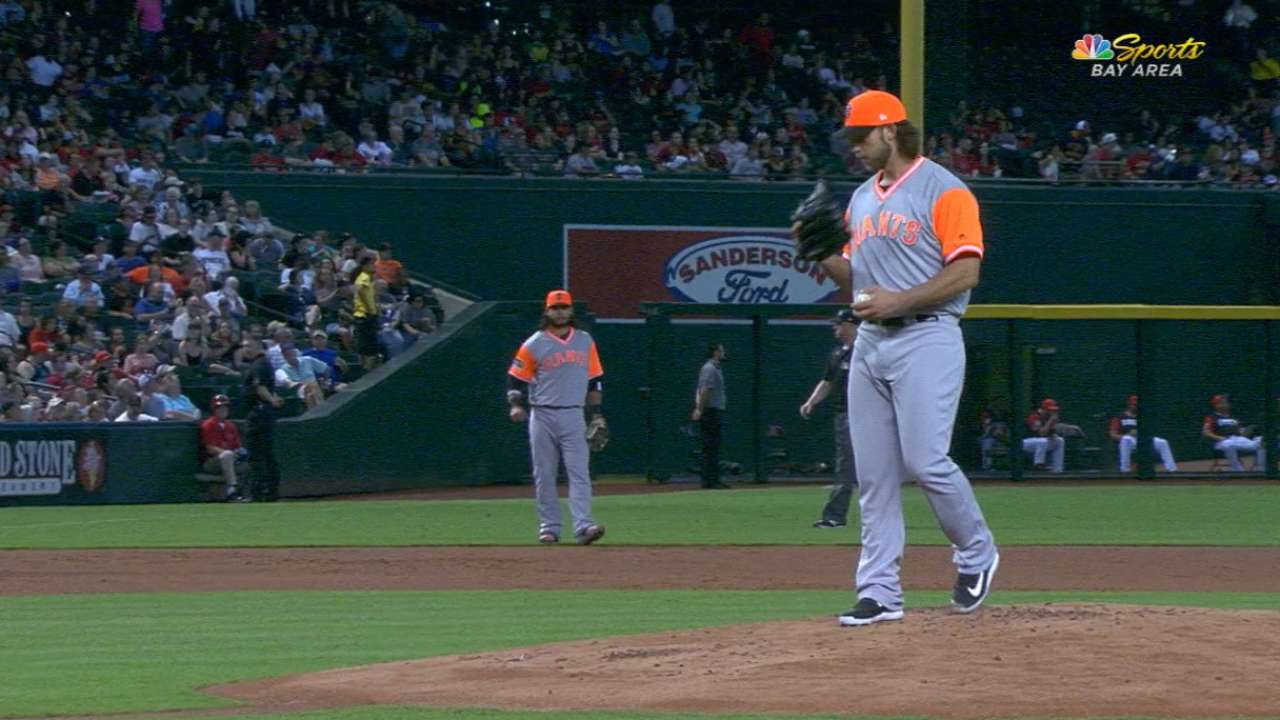 "We have had some big ones," Bochy said, "with our top two guys in the rotation, our closer and a few concussions. It's been one of those seasons. What could go wrong has gone wrong. We have to learn from this, use it as a teachable moment for every one of us. It's been challenging."
Challenging?
"This is almost like climbing out of the Grand Canyon," said Bochy. "That's how deep a valley we have been in all year. We keep think we're coming out of it, and we slip back."
Bumgarner suffered a left shoulder injury in a dirt-bike accident during an off-day in Colorado on April 20, and he went three months between starts. The left-hander, who won 80 games in the past five seasons, will be facing the White Sox in his 15th start on Sunday. He hadn't made fewer than 31 in any of the past six seasons.
Cueto, who made 98 starts and won 49 games the past three seasons, is 7-7 over 21 starts in a season that has been marred by blister problems and tightness in his right forearm.
Melancon, who has saved 147 games with a 1.80 ERA over the past four seasons, has converted 11 out of 16 saves this year, with a 4.50 ERA. The 32-year-old will now have offseason surgery to alleviate tightness in his right forearm, which forced him to be placed on the disabled list twice this season -- the first two times of his big league career.
"One thing I do know is the rotation is harder to fill when you have an injury than any other spot on the field," Bochy said, "but it's really been all facets of the game where we've had our struggles. … We're not a power-hitting club, and it's a historic time with home runs and we have a definite lack of power. That has caught up with us. We just haven't had the clutch hitting that we've had in the past. If you don't have power, you better have clutch hitting, which we had in the past."
Not this year, though.
"You're almost embarrassed, and I hate to use that word," said Bochy. "But to be where we are in the standings … I take pride in what I can do to help this club, and nothing has worked this year."
The offense also never got in sync. The Giants rank last in the NL in slugging percentage (.380) and home runs (112), 14th in runs scored (563) and on-base percentage (.309) and 13th in batting average (.248).
And let's not forget that two-day hospital stay for Bochy back in April, when he underwent an ablation to correct a heart-rhythm problem, which came after having two stents implanted in February 2015 and being hospitalized for an undisclosed problem in Miami last season.
"My health is fine," he said. "It's amazing with modern medicine how they can fix things. Now if that became an Issue, I wouldn't risk my life, but this is what I love to do and my health is fine."
In other words, the disappointments of 2017 have not dissuaded Bochy. He is looking forward to '18.
"I'm getting older, and I'm getting asked that a lot more," Bochy said when retirement came up. "I certainly don't want to go out like this. I want to have one more shot at winning another championship. That's my only goal. I mean, if I retire, what would I do? Well, I would want to manage a team somewhere. That's how much I love what I do. It's the passion I have for this job."
It's why even in the bad times, Bochy can look ahead and envision the good times.
Tracy Ringolsby is a columnist for MLB.com. This story was not subject to the approval of Major League Baseball or its clubs.