Inbox: What are Blue Jays' plans for Osuna?
Beat reporter Gregor Chisholm answers questions from fans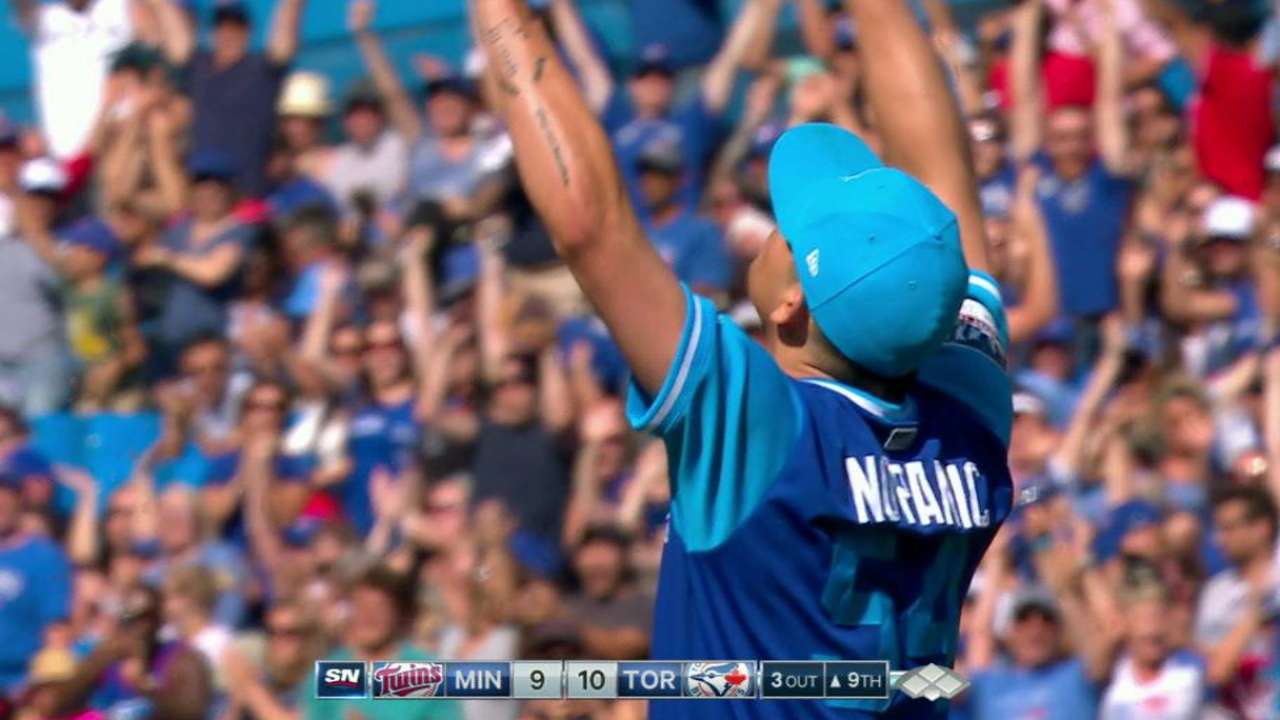 What would you do with Roberto Osuna? Remove him as closer, trade him in the offseason or make him a starter? Ten blown saves is the difference between contending and missing the playoffs.
-- Adam T., Kamloops, British Columbia
The Blue Jays aren't going to make the postseason, so I don't really see the point in removing Osuna from the closer's role at this point. It might make sense to use him in a low-leverage situation or two to get back on track, but I certainly wouldn't take his job away on a permanent basis. Toronto should make sure he's not overused, but the club has to let Osuna work through his issues.
By now, most of us know the numbers. Osuna's 10 blown saves lead the Majors, and they are the third most in franchise history. That's obviously not good at all, but in a situation like this, people have a short memory. Less than two months ago, Osuna was an American League All-Star and one of the most dominant relievers in the game. He's still only 22 years old, and in recent outings, he has been hitting 95-96 mph on his four-seam fastball, so his skills haven't suddenly vanished.
Control has been a problem for Osuna, which suggests a mechanical issue. There also has been questionable pitch selection after he fell in love with his cutter, but these are all correctable mistakes. Selling high on a closer sometimes makes sense, but dealing Osuna for a diminished return does not. As for starting, that was recently answered in another Inbox, and while some things have changed since then, the main points remain.
• Submit a question to the Blue Jays Inbox
When should we expect to see Vladimir Guerrero Jr. in Toronto?
-- Richard H., Barrie, Ontario
Lots of people seem to think Guerrero will arrive next year as a September callup, but I don't think it's going to happen until 2019. the Blue Jays' current front office does not seem to be as reactionary as the previous one when it comes to young prospects, and I think that's smart. Too many bad things can happen when Minor Leaguers are rushed, and Toronto would be wise to make sure no steps are skipped in Guerrero's development.
Another thing to keep in mind is if Guerrero came up next season, where would he play? Third baseman Josh Donaldson is under contract for another season and first base -- where Guerrero hasn't even played -- is locked down with Justin Smoak. I'm not suggesting Guerrero is blocked, because when he's ready, the Blue Jays will make room. But there's no need to force the issue -- especially when it would start the clock on his MLB service time. Expect Guerrero to spend most of next year at Double-A New Hampshire, with a stint at Triple-A Buffalo late in the season.
Where's Anthony Alford and why wasn't he called up on Sept. 1?
-- Katherine C., Port Elgin, Ontario
Alford's omission wasn't a total shock, but it was at least mildly surprising. He's already on the 40-man roster and made his big league debut earlier this season, so the issue wasn't contractual but rather a numbers game. The Blue Jays remain adamant about playing Steve Pearce, Kevin Pillar and Jose Bautista regularly down the stretch, and that leaves enough time for one additional outfielder. Teoscar Hernandez is further along in his development, and that's why he was chosen over Alford.
Who do you think got snubbed as a September callup? I was really hoping to see Ryan Borucki.
-- Rick B., Toronto
In addition to Alford, my list would include Borucki and catcher Danny Jansen. Borucki recently put the finishing touches on a great season in the Minors that saw him post a 2.93 ERA over 150 1/3 combined innings. Jansen isn't on the Blue Jays' 40-man roster, but he needs to be added this offseason to avoid the Rule 5 Draft, and he showed a lot of promise by hitting .323/.400/.484 across three levels. Learning a big league pitching staff on the fly would have been the big challenge here, and it's probably one reason Toronto didn't make this move even though there was a path to playing time behind the plate while Russell Martin is on the disabled list.
The Blue Jays are in last place -- why continue to play Darwin Barney, Ezequiel Carrera and Bautista? Why not play younger players and look to future?
-- Victor D., Hagerstown, Md.
I understand the premise, but continuing to play Bautista is not a move I would criticize. Bautista was the face of this franchise for almost a decade, and more than anyone else, he is responsible for making this organization relevant again. The next three weeks are not going to make or break Hernandez's career, and Bautista has earned the right to end the season on his own terms. This final month allows fans to pay respect to an icon of the Toronto sports scene, because it's all but a foregone conclusion he will not be back in 2018. Carrera is only a part-time player now anyways, while Barney won't be playing as often with Richard Urena getting a pretty regular look up the middle.
Gregor Chisholm has covered the Blue Jays for MLB.com since 2011. Follow him on Twitter @gregorMLB and Facebook, and listen to his podcast. This story was not subject to the approval of Major League Baseball or its clubs.