Prospect Manning blossoming with Whitecaps
Tigers' top 2016 Draft pick learning, gaining confidence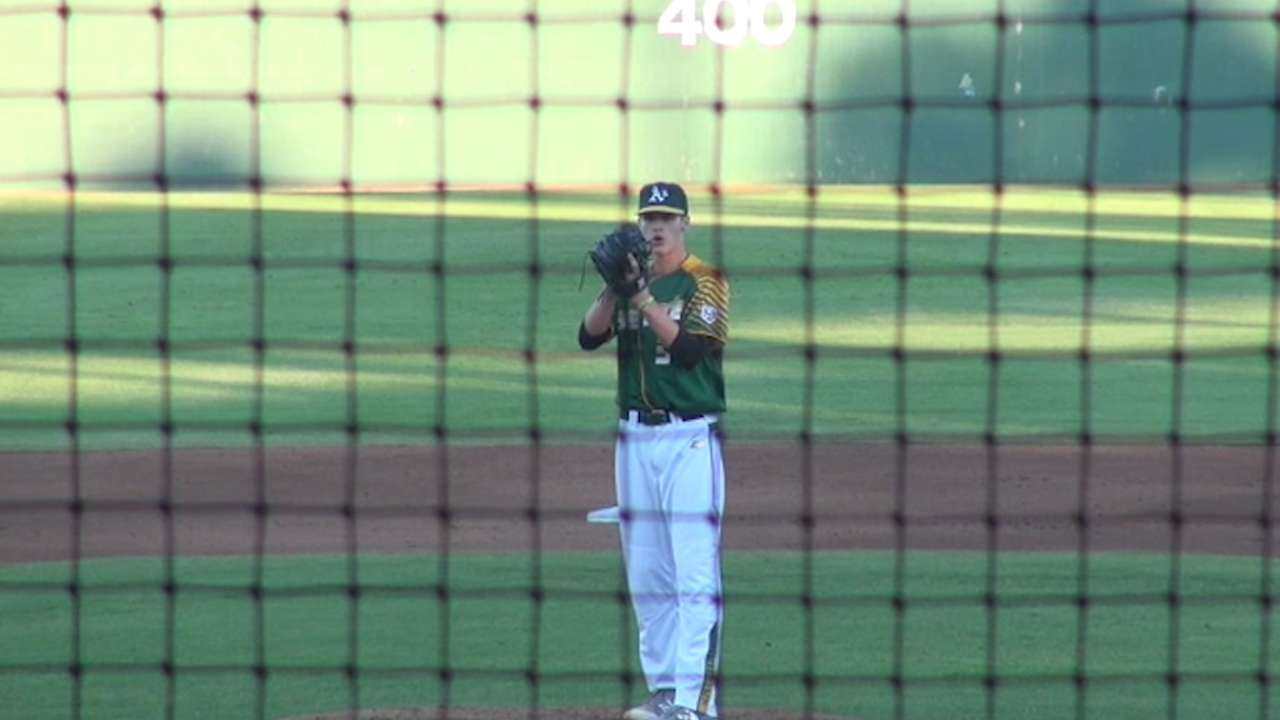 COMSTOCK PARK, Mich. -- Mike Rabelo stared away as his starting pitcher loaded the bases with one out in the sixth inning. And he wanted his pitcher to notice.
The pitcher was Matt Manning, the Tigers' No. 2 prospect according to MLBPipeline.com and their top pick from the 2016 Draft, one of the more gifted teenage arms in baseball. But at that point on Aug. 26, the only part of his identity that mattered was ownership of the jam on the basepaths at Fifth Third Ballpark in a 0-0 game. This was Rabelo's chance to give Manning a push.
If Manning wanted a chance to go six innings in a game for the first time since joining Class A West Michigan in early August, here it was.
"I tried to make sure that when he looked over to the dugout, because they all do, I wanted him to almost look at me like we weren't even paying attention," said Rabelo, the Whitecaps' first-year manager and the 2017 Midwest League Manager of the Year. "I didn't want him to think, 'Oh man, they're going to bring in [a reliever].' Just let him know, 'Hey, dude, this is your game.'
"He got out of it, he ended up getting a win, and it worked out great. But we wanted him to see that if you're going to be starting, you're going to be in jams late in the game, and as a front-line starter, you're going to work through those. And he did a great job."
Manning recalled how he worked through it, striking out Jesus Sanchez, a Midwest League All-Star and the fourth-ranked prospect in the Rays' system.
"We went first-pitch changeup to him and then got him off balance a little bit," Manning said. "And [then we] dropped in a curveball, tried to get him upstairs to chase, and then I think we went fastball away."
Said Whitecaps catcher Austin Athmann: "He got that confidence of getting the first-pitch breaking ball over the plate, and then after that, he just kind of went about it like there was no one on base.
"... I talked to him in the dugout after, and he just kind of had a sigh of relief. He said, 'Hey, I feel comfortable.' And it looked like he gained that confidence: 'I can pitch in this league right now, and I can do really well in this league.'"
The next week, Manning delivered five more scoreless innings with nine strikeouts in a rain-shortened shutout of Fort Wayne. As the Whitecaps head into the Midwest League playoffs, their young right-hander -- parachuted into a postseason race a month ago -- is lined up for a winner-take-all Game 3 (if necessary) on Friday night at Fifth Third Ballpark.
For Manning, a former high school basketball standout who passed on a chance to play two sports at Loyola Marymount, those strikeouts are like setting up a defender with a step for a fallaway jumper. As a scan of his online highlight reel shows, he had plenty of those.
Replicating that feeling on the mound is one reason Manning hasn't missed basketball. It's also a reason he has made the transition so easily.
"Competitivewise, I think it's helped me, taking the hitters on like one-on-one, little mind stuff," Manning said. "But it's a lot more mentally challenging than basketball. But it's also helped me learn to put things away and just go after the next pitch.
"... I'm pitching, and it's a full-time thing, kind of like playing a little basketball game out there, but it's lower intensity, more mental. I think training your brain to handle it all, training your arm to handle it all, that's the biggest part."
The Tigers believed they were getting more than a great athlete when they selected Manning with the ninth overall pick in the 2016 Draft; they were getting a live arm with a clean slate. While the 6-foot-6 Manning can fire a mid-90s fastball, he has only been doing so for a few years, having converted to pitcher in his final couple of seasons in high school. He carried neither the wear nor the habits of someone who'd been pitching since Little League. Yet Manning had the instincts to learn and repeat his mechanics as he went along.
Manning weighed less than 190 pounds when he was drafted; he's up to 207 now, turning his basketball frame into a pitcher's. He embraced the routine of competing every five days and preparing the other four. He's learning all the time.
"Put it this way: I wouldn't even know he's in the clubhouse when he's not pitching," Rabelo said. "He is real quiet, goes about his business, extremely nice kid. He's just trying to soak it all in. He's been as advertised. He's young, does his job, keeps to himself. He's been great."
It took last week's Justin Verlander trade with the Astros to dislodge Manning from the top spot among Tigers prospects, as he was unseated by pitcher Franklin Perez. Add in Double-A Erie's Beau Burrows, College World Series hero Alex Faedo and Kyle Funkhouser, and Detroit believes it has the parts to rebuild a strong rotation in a few years.
Manning will take longer than the others to reach the Majors, but he also might have the greatest upside.
"I think this is good for him," Rabelo said. "I hope he pitches forever. And you know what, he's going to be pitching in games a lot bigger, a lot more stressful, a lot more on the line than just the Midwest League playoffs. This kid has potential to be a front-end guy, and he's going to be pitching in some pretty big games for the Detroit Tigers."
"I haven't looked back once since I got drafted," Manning said. "I think I'm where I'm supposed to be right now, and [I'm] just rolling with it."
Jason Beck has covered the Tigers for MLB.com since 2002. Read Beck's Blog, follow him on Twitter @beckjason and Facebook. This story was not subject to the approval of Major League Baseball or its clubs.