'Surreal' experience for O's Hays in MLB debut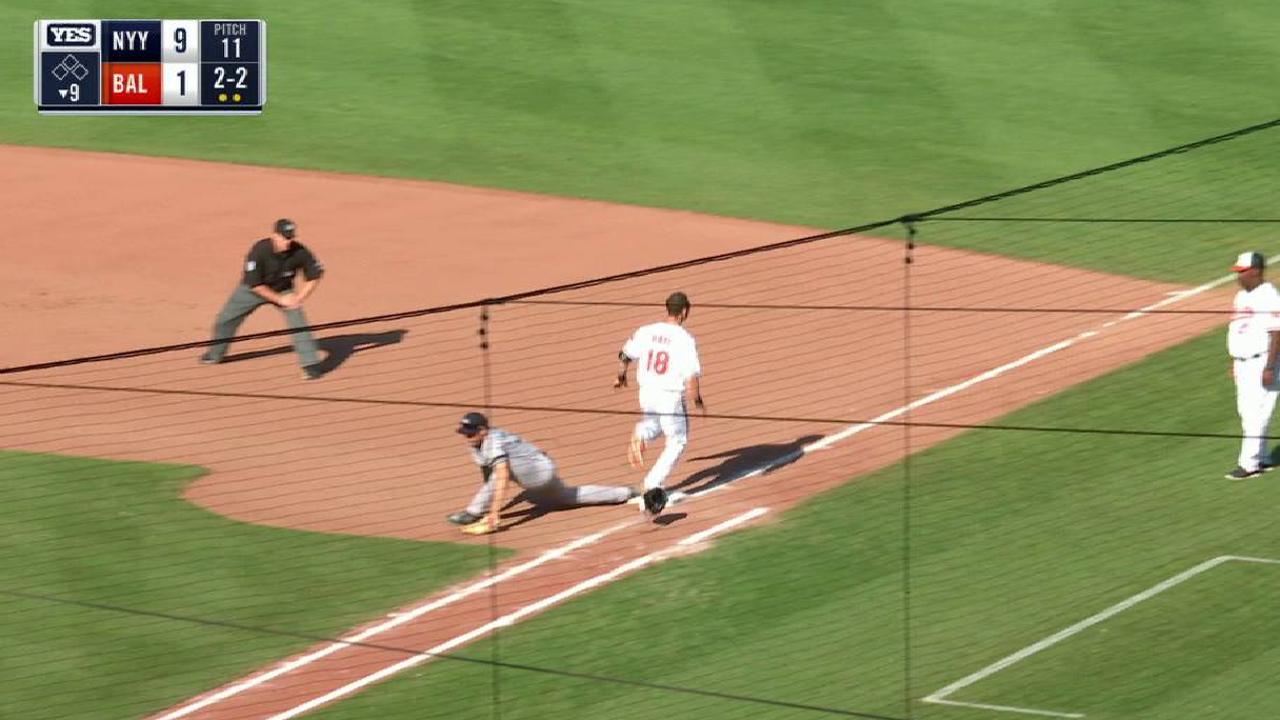 BALTIMORE -- In the ninth inning of a game they would lose by eight runs, the Orioles debuted their hottest Minor League prospect. Austin Hays trotted out to right field and after an uneventful half-inning, got his first Major League at-bat.
The 22-year-old right-handed hitter battled Yankees reliever Ben Heller, and on the seventh pitch, Hays grounded out to short to end a 9-1 Orioles loss.
"It was very surreal to be able to step into a big league box for the first time," Hays said. "That's better than I ever could have imagined. I wish the circumstances would have been different and could have gotten a W today."
Hays, who batted a combined .329 with 32 home runs and 95 RBIs in 128 games equally divided between Double-A Bowie and Class A Advanced Frederick, is rated as the O's No. 2 prospect by MLBPipeline.com.
It would be expected that Hays, who was the Orioles' third-round Draft pick in 2016, would be nervous for his first game, and he admitted he was.
"I was just getting in the box, it was a pitcher with a ball and I had a bat. Just keep it simple and see who comes out on top," Hays said.
It was nearly 5 p.m. ET when Hays stepped up to hit, and shadows engulfed much of the field, but he said that wasn't an issue.
"It wasn't too bad. It wasn't as bad as what it looked from the dugout," Hays said.
With the Orioles in the race for the second American League Wild Card spot, Hays can't be expected to play too often. The Orioles are facing a run of right-handed pitchers, and he's unlikely to start and may not play unless the game is lopsided.
"I was just keeping my legs loose and staying ready for anything," Hays said.
Orioles manager Buck Showalter, who was happy to add Hays, said he was satisfied with what little he saw.
"As advertised. He's up there slashing," Showalter said. "It's a good start for him. I was watching him in the outfield, just watching him move around. There's familiarity. He seemed to handle the emotion of this first at-bat well. That's a [guy] throwing 97 [mph] out of the shadows. I thought he presented himself well."
Hays hopes it's the start of a long big league career.
"It was awesome. Being able to look in and realize where I was standing, it was great," he said.
Rich Dubroff is a contributor to MLB.com based in Baltimore and covered the Orioles on Thursday. This story was not subject to the approval of Major League Baseball or its clubs.