Rays' defense dazzles with smart positioning
Addition of Hechavarria has also helped fielding become major asset for Tampa Bay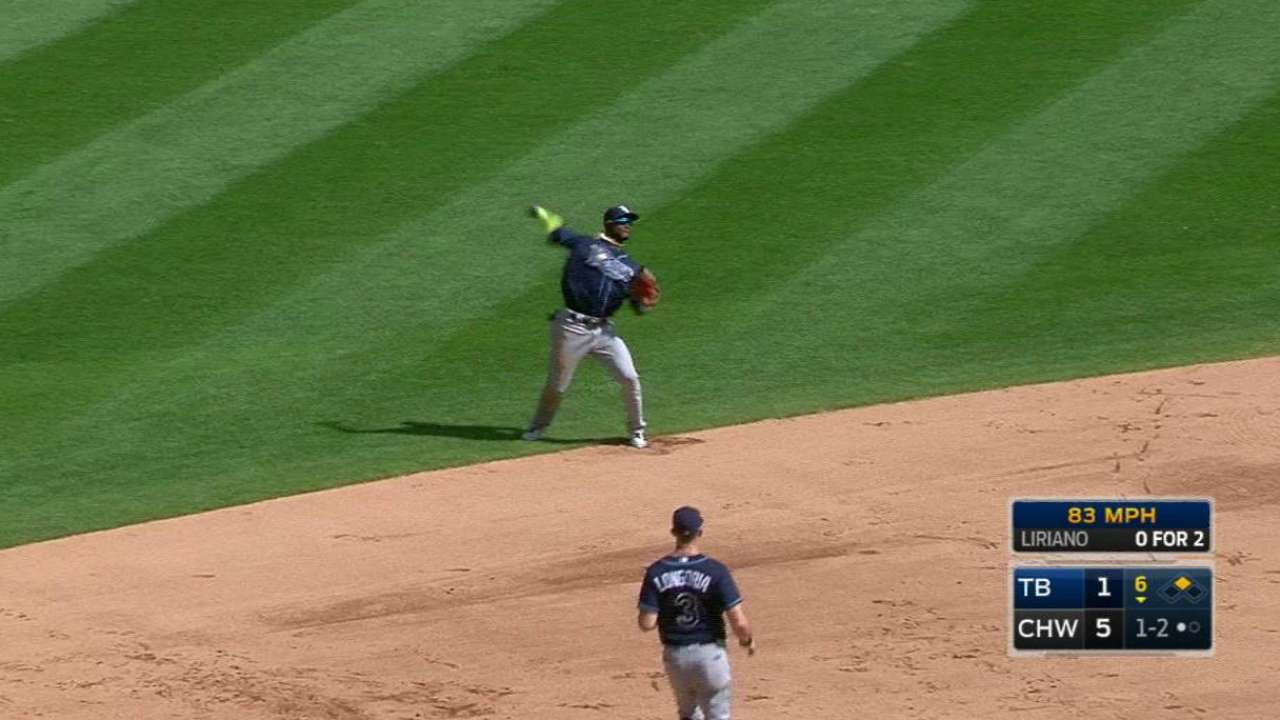 ST. PETERSBURG -- The Rays have one of the best defenses in baseball according to multiple metrics, including a second-place ranking in defensive efficiency rating, reflecting a combination of smart positioning and great range.
A longtime proponent of the shift, Tampa Bay remains among the most active users of the tactic. The Rays will at times start an at-bat in one shift and shuffle their infielders again depending on how a hitter's spray chart changes with two strikes. The detail-driven positioning has resulted in a .273 batting average for opponents putting the ball in play with a shift on, the third-best mark in the Majors.
Third-base coach Charlie Montoyo, who oversees the Rays' defensive positioning, said the shift is more complicated than seeing a power hitter come up and sending an extra man to his pull side. The hitter isn't the only variable to think about.
"It switches from pitcher to pitcher -- that's what's also funny about it," Montoyo said. "The changeup guys, they're going to be more likely to pull and stuff like that, so it's different for different pitchers. It's not the same for everybody. There's some big guys that are going to pull everything anyway. But most of the guys, we go by [who's pitching]."
Montoyo used reliever Dan Jennings as an example. When Tampa Bay brought him in Tuesday against the Twins to face Eddie Rosario, the defense played in a normal alignment because Jennings utilizes fastballs on the outer part of the plate. Those are liable to be hit the opposite way, and a shift would open up that side of the field.
When Rosario came up two innings later with Alex Colome on the mound, the shift was on. Rosario rolled over toward where a second baseman would normally play, but instead shortstop Adeiny Hechavarria was there in the shift. He turned a game-ending double play.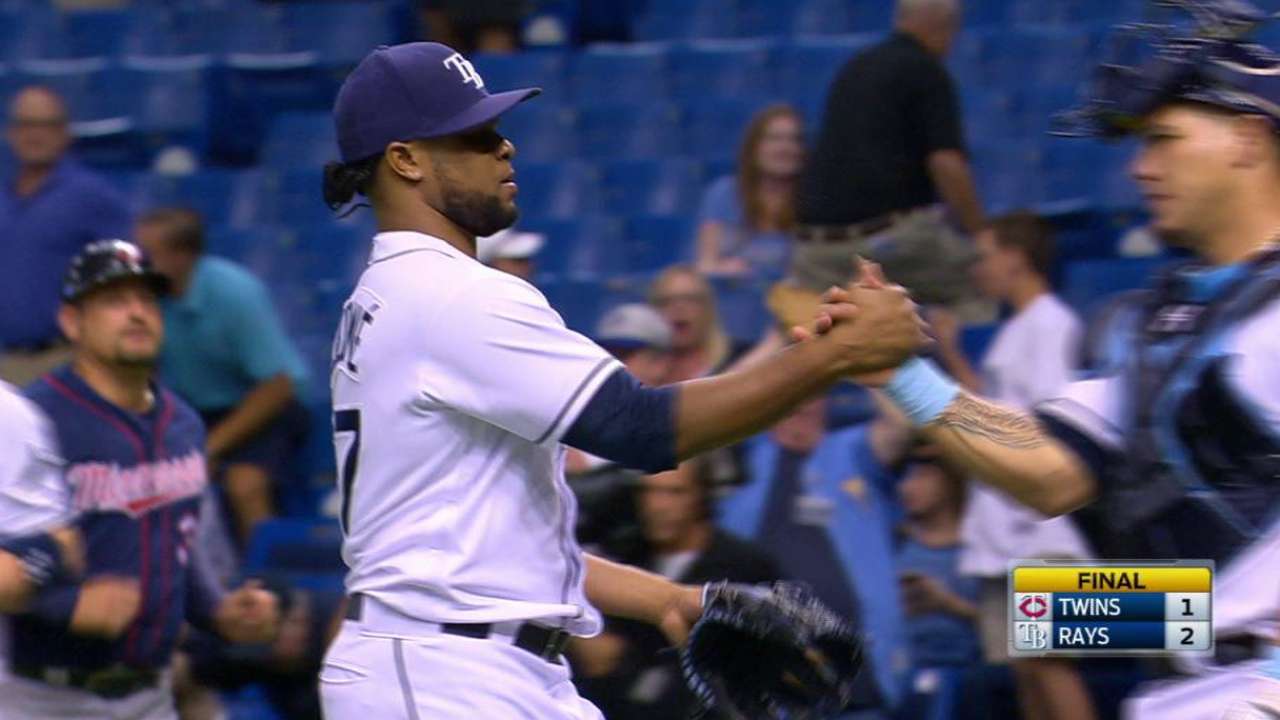 That play, even in perfect positioning, wasn't routine. That's when it helps to have special gloves in the field.
"If you've got a good shortstop like Hechavarria, he makes everything look easy," Montoyo said. "That play … he was in the right spot because we wanted him there, but he was still good enough to catch it and then come back to the bag and turn a double play. Not everybody can do that. We're very lucky to have some good infielders."
The infield was upgraded with the addition of Hechavarria from the Marlins in late June. Before that, the defense was solid, but it was prone to moments of chaos, fielders throwing the ball all over and runners moving up multiple bases on errors. Adding Hechavarria into the mix and regaining center fielder Kevin Kiermaier after a long disabled-list stint has made the defense an asset, one that helped the Rays stay afloat during a 13-15 August in which the offense went cold.
"Our defense has done a really, really good job," manager Kevin Cash said. "As much as the pitching has kept us in ballgames, our defense has done the same. We had stretches there early throughout the season where defense showed up and hurt us a little bit. I really can't say that's taken place for basically the second half."
Evan Longoria leads American League third basemen with 13 Defensive Runs Saved. Kiermaier has saved 15 runs in center field, which is second in the Majors despite him playing significantly fewer innings than the leaders. Steven Souza Jr., Corey Dickerson and Logan Morrison have impressed at their respective positions, as well. But the impact of Hechavarria is hard to overshadow.
"Hechavarria, I mean just seeing him these past two months, I'd never seen something like that day in and day out," Kiermaier said. "Where I can close my eyes when the ball's hit right to him, because I know he's going to make the play."
Longoria said a challenge with this year's club is that when one facet of the team is running well, another has often been in a slump. The Rays have recently rediscovered their offense, hitting a home run in 17 straight games, tying a franchise record for a single season.
With Tampa Bay's defense fortified and its offense clicking again, there would be no better time for everything to start working together than during a September postseason hunt.
Connor Mount is a reporter for MLB.com based in St. Petersburg. This story was not subject to the approval of Major League Baseball or its clubs.