'Stick,' the one who stuck, was a gem
Michael's judgment, personality, talent vital to team over decades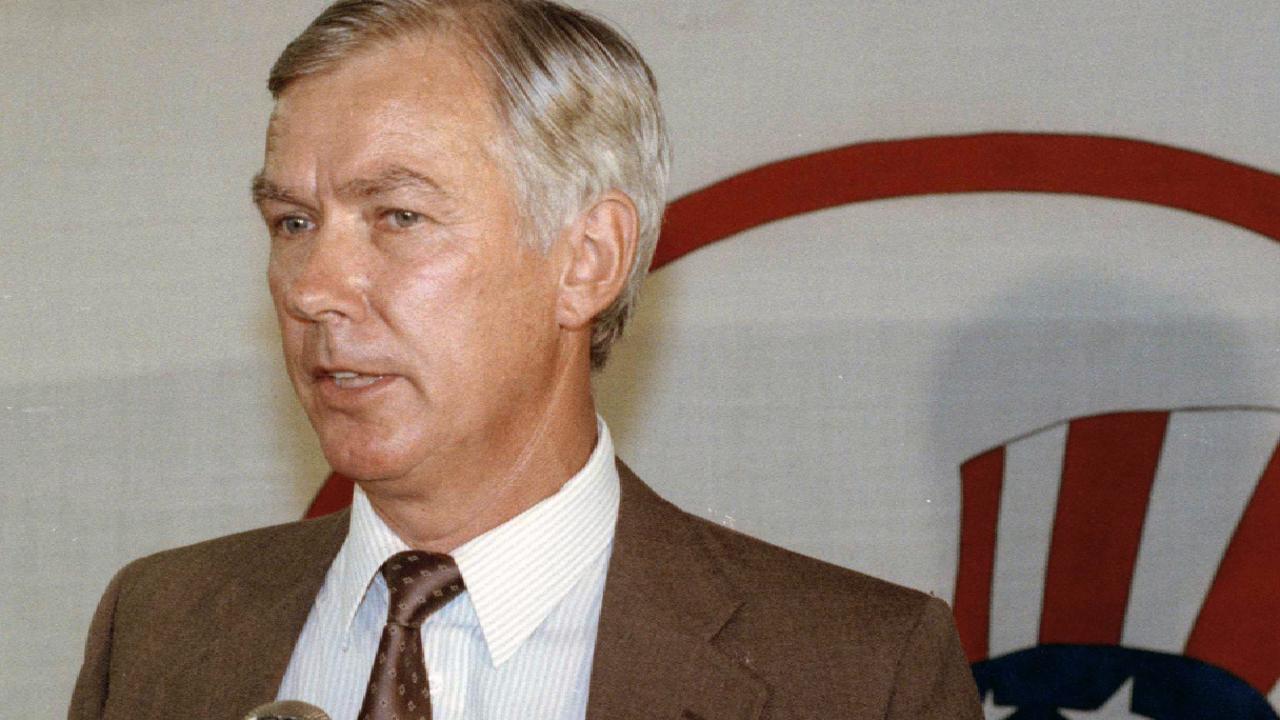 A patient and pleasant man known for his soft hands, light bat and baseball savvy, as well as a nickname as distinctive as any in the game, has passed away. Gene Michael, known throughout baseball as "Stick" and acclaimed as the primary architect of the championship teams that put the Yankees back on top of the baseball world in the 1990s, died Thursday. He was 79.
Michael's death leaves the game without one of its most popular figures as well as one of the best sources of wonderful anecdotes from within the Yankees' inner sanctum during an extended period of weekly folly, fury and hushed fun. Michael always appreciated the lighter side of the game -- on the field, in the dugout, on charter flights and in the office. He was a prankster, and on occasion the target of other pranksters. Michael knew where the skeletons were hidden, too, but he was a decent and discrete man who preferred calm waters, even in the ever-agitated sea of ship magnate and Yankees owner George Steinbrenner.
Michael was a tall and slender athlete, hence his nickname. "They don't call me Stick for my bat," he readily acknowledged as a player. In later life, after his full head of hair had turned white, he could have been renamed "Q-Tip." But "Stick" stuck, so much so that when, as the Yanks' general manager, he signed free agent Daryl Boston, the veteran outfielder said he never had heard Michael identified as Gene.
• Gene "Stick" Michael dies at 79
A shortstop by trade, Michael played three other positions, including three innings as a pitcher for the Yankees in 1968, during his 10 seasons in the big leagues from 1966-75. Then he filled multiple positions during his decades with the club.
Michael became the most trusted among the many advisors Steinbrenner employed, serving the owner twice as manager and as general manager and also as a coach, Minor League manager, special advisor, scout, super scout, eye in the sky, occasional punching bag and full-time sounding board.
At its best, the relationship between Steinbrenner and Michael was strangely reciprocal. Michael was obligated to listen to the Boss, and Steinbrenner came to understand the wisdom of listening to his favorite son. He bounced his ideas off Michael; of all the dozens the owner identified as "my baseball people," Michael was the one who had his ear.
In the 1990s, Michael was intent on retaining the young talent the club had developed and not trading it away for more established players, as had been Steinbrenner's practice. And when he did trade a younger player -- 28-year-old Roberto Kelly, for instance -- he acquired a special talent, such as Paul O'Neill. Without Michael, O'Neill might have remained with the Reds in 1993. Furthermore, without Stick's "let's hang on to what we've got" philosophy, the Yankees might have traded an unproven right-handed pitcher named Mariano Rivera to the Tigers for David Wells in 1995 or to the Mariners for Felix Fermin in the spring of '96. In a broader sense, the Yanks' 1990s might have been barren if not for Stick's genius.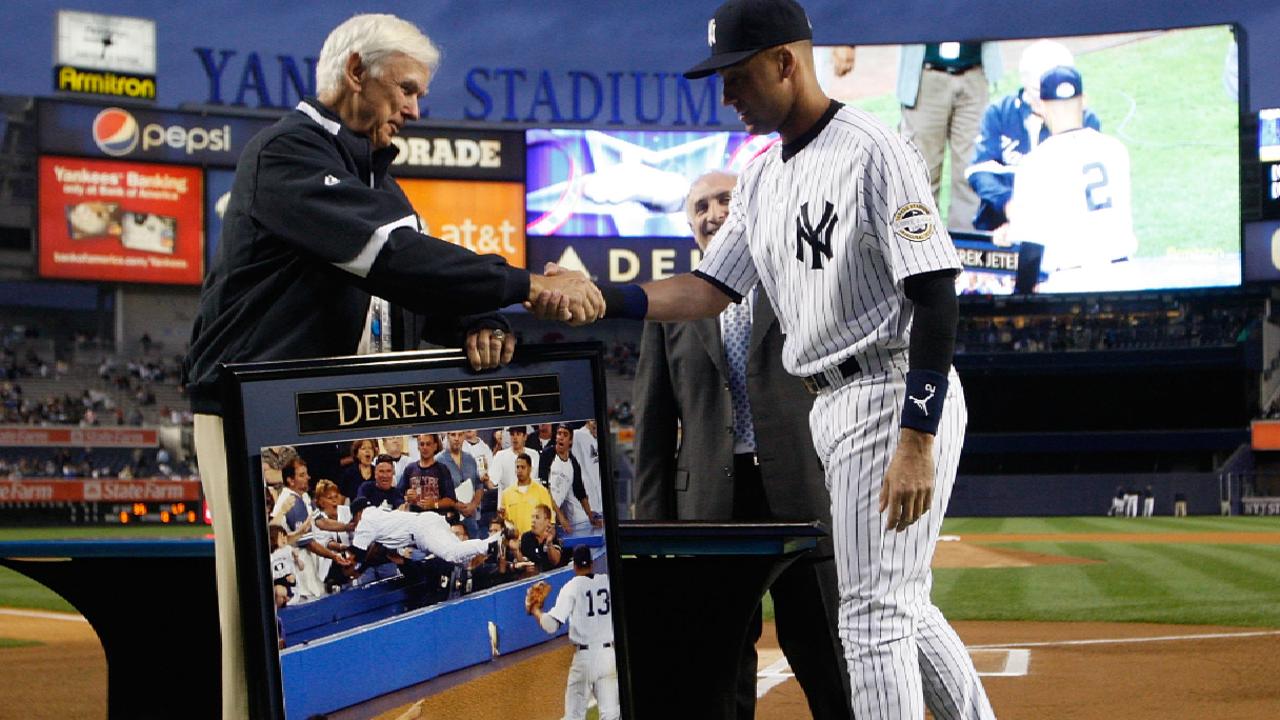 Credit for the Yankees' run of success from 1996 and well into the 21st century went to managers Joe Torre and Joe Girardi, pitching coach Mel Stottlemyre and other coaches, the players, and, of course, the ghosts regularly summoned by Derek Jeter. The ultimate credit went to the impatient and impulsive owner whose money and manner were the fuel that powered the club's engine. But Steinbrenner was a double-edged sword -- see the early-1980s deals that imported Dale Murray and Bob Sykes for, respectively, Fred McGriff and Willie McGee.
Those sorts of deals didn't happen beginning in 1990, when Steinbrenner began serving a suspension. The Boss' final move, and one of his best ever, before stepping aside was to appoint Michael general manager. Michael did the steering during the critical development period that spawned five World Series championships, four of them from 1996-2000. He handled the risk-reward ratio expertly and proved to be a brilliant architect.
Michael recognized the talents and mettle of Jeter, Bernie Williams and Jorge Posada and that they would mesh nicely with the fire of O'Neill. He saw potential in Rivera. He knew that Yankees teams that had won championships over the decades almost always had a quantity of quality left-handed starting pitchers. So he brought in Jimmy Key and kept Andy Pettitte. Moreover, Michael was a stable personality at a time when the Yanks needed it most.
Steinbrenner recognized the value of Stick -- at least partially because he believed that he created him -- and even credited him on occasion.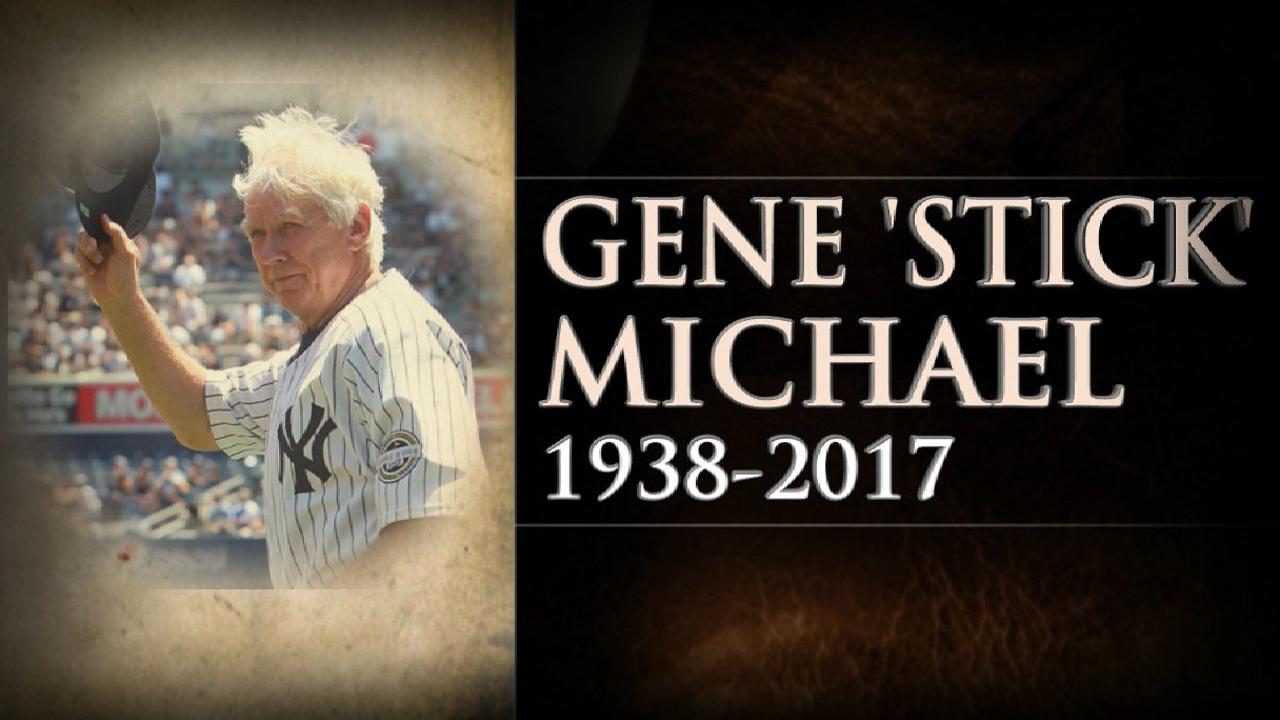 Eugene Richard Michael was born in Kent, Ohio, on June 2, 1938. He shared a birthday with Yankees second baseman Horace Clarke, born two years later. The two formed the team's double-play combination from 1968-73.
Signed by the Pirates as an amateur in 1959, Michael sipped from a cup of coffee with them in '66 at age 28 and appeared in 98 games the following year after he had been traded for his Dodgers shortstop predecessor, Maury Wills. He and Dick Schofield were the Dodgers' shortstops in 1967, but in late November, two days after the Dodgers had obtained '65 American League Most Valuable Player Award winner Zoilo Versalles, they sold Michael to the Yankees. Thus began a long relationship that was interrupted only in 1975, when Stick appeared in 56 games for the Tigers, the following season when he was on Boston's roster until May 4 (though he never played) and in 1986 and '87, when he was manager of the Cubs. The composite winning percentage of the Yanks and Cubs teams he managed in 406 games in parts of four seasons was .507.
A switch-hitter, Michael batted .229 with 15 home runs and 226 RBIs in 2,806 career at-bats. His career-high single-season average was .272, in 1969, the first year in which his number of at-bats exceeded 400. Michael batted .260 in 177 at-bats in '74, but his yearly averages never were higher than .233 otherwise.
Only some of Michael's baseball savvy was evident when he was in uniform. His skill as a talent evaluator was an unknown asset until he took off the uniform for the last time and returned to the Bronx. Michael's Yankees manager from 1968-73 was Ralph Houk, who quickly learned to value the on-field presence of his shortstop. Houk identified Stick as a "two-out shortstop" and a player "you can depend on to make the right play." Michael's soft offense wasn't an issue for The Major. Indeed, it was Houk, then manager of the Tigers, who wanted Michael on his bench in '75 after the Yanks released Stick.
During Houk's time, the front office annually brought up or brought in a new shortstop candidate, and Michael routinely beat back the challenger. He was the Opening Day shortstop in 1968, '70, '71 and '73. Michael replaced Tom Tresh at the position in '69, held off Frank Baker in '70 and '71 and displaced Jerry Kenney in '72. Not until '74, Houk's first year away from the Yankees, did Michael's innings in the field diminish. At age 36, he had lost the job to Jim Mason, who batted .250.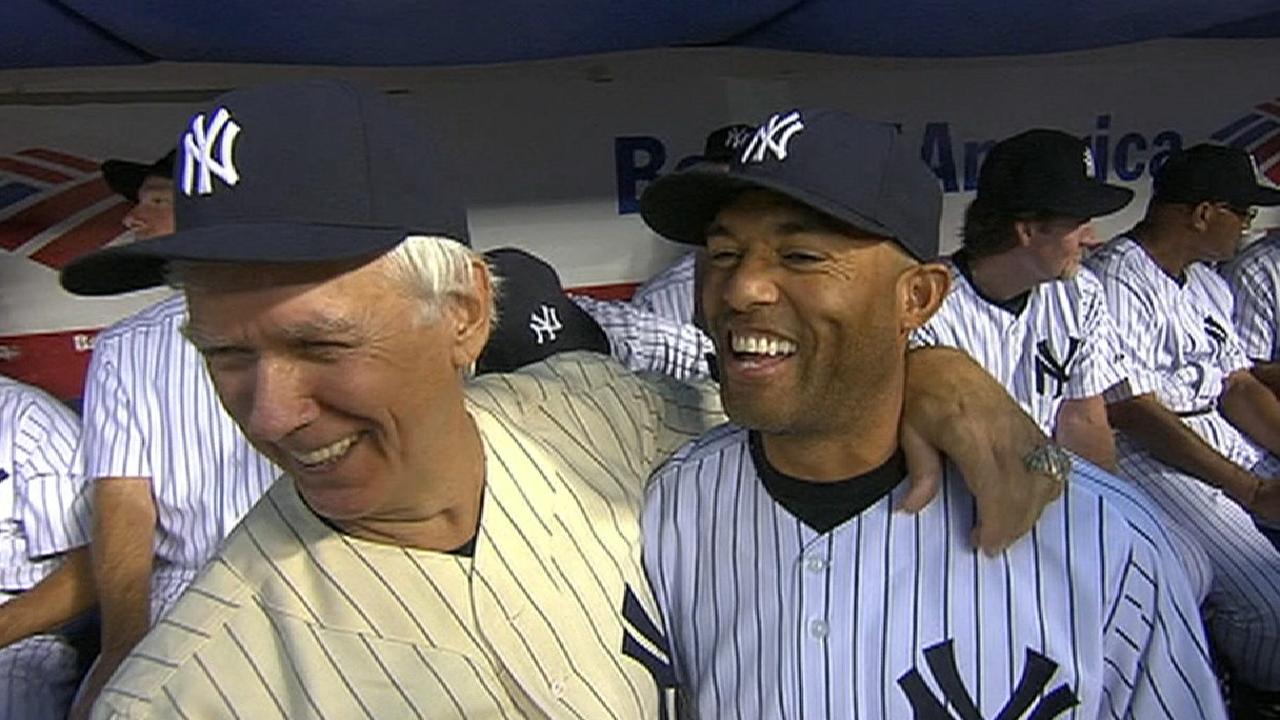 As a player, Michael developed strong friendships with Thurman Munson, Bobby Murcer and Sparky Lyle. When he returned to the Yankees as a coach, he developed a strong relationship with Catfish Hunter. Michael was popular with his colleagues, the newspaper beat reporters who covered the team and the public.
Michael was an active fundraiser for charities in New Jersey, where he lived year-round, sponsoring an annual dinner and participating in offseason charity basketball games. The 6-foot-2 Michael had played basketball at Kent State, and during one winter early in his professional baseball career, he played for the Columbus Comets of the North American Basketball Association. Michael also managed the Yanks' Triple-A Columbus Clippers affiliate.
When Michael spoke of his basketball skills, he liked to say, "Ya know, I was a pretty good shooter. I could stick it."
Michael might have been nicknamed Slick. Stick knew how to play the angles, whether they were parts of card games, pulling the hidden-ball trick or dealing with Steinbrenner. As a coach, he was a regular in nightly poker games on the road. The participants would gather in the hotel suite of traveling secretary Bill Kane and play into the wee hours whenever possible. One variation of poker became known as "Stick's game." The guys played liar's poker at lunch in hotel coffee shops. Michael loved the action.
The hidden-ball trick was another matter. Michael was the recognized master of it, nabbing five runners in his 10 seasons, usually by telling his mark that the base needed to be adjusted. He caught two napping baserunners during a six-week period in 1970. "I don't try it too often," Stick said after defusing a ninth-inning rally against the Angels on July 27 that year.
It was Michael's interaction with Steinbrenner that was more critical to the Yankees. Michael was in his first tour as GM in 1980 and Dick Howser was the first-year manager, and consequently was a target for the owner. Michael spared Howser as much direct contact with Steinbrenner as he could, and Howser came to identify the GM as "the buffer."
When the owner forced Howser to resign in November, Michael was appointed manager. He lasted until September of the following year. He had no buffer, and by late August, Steinbrenner's relentless badgering finally pushed him to the edge. Michael used a routine pregame meeting with reporters as a forum to challenge Steinbrenner. "Leave me alone or fire me," he said.
The job was Michael's for 10 more days, during which Steinbrenner wordlessly baited him, ordering roster changes -- none of them too meaningful -- and never advising his manager of them. With the Yankees assured of a place in the postseason, Michael was replaced by Bob Lemon on Sept. 6. His reaction to the dismissal was to refuse calls from the Boss for as long as he could. Steinbrenner finally caught up with Michael and put him in a front-office position, famously saying to his favorite son, "Stick, why do you want to be on the field being second-guessed? I want you to come sit up here with us and be a second-guesser."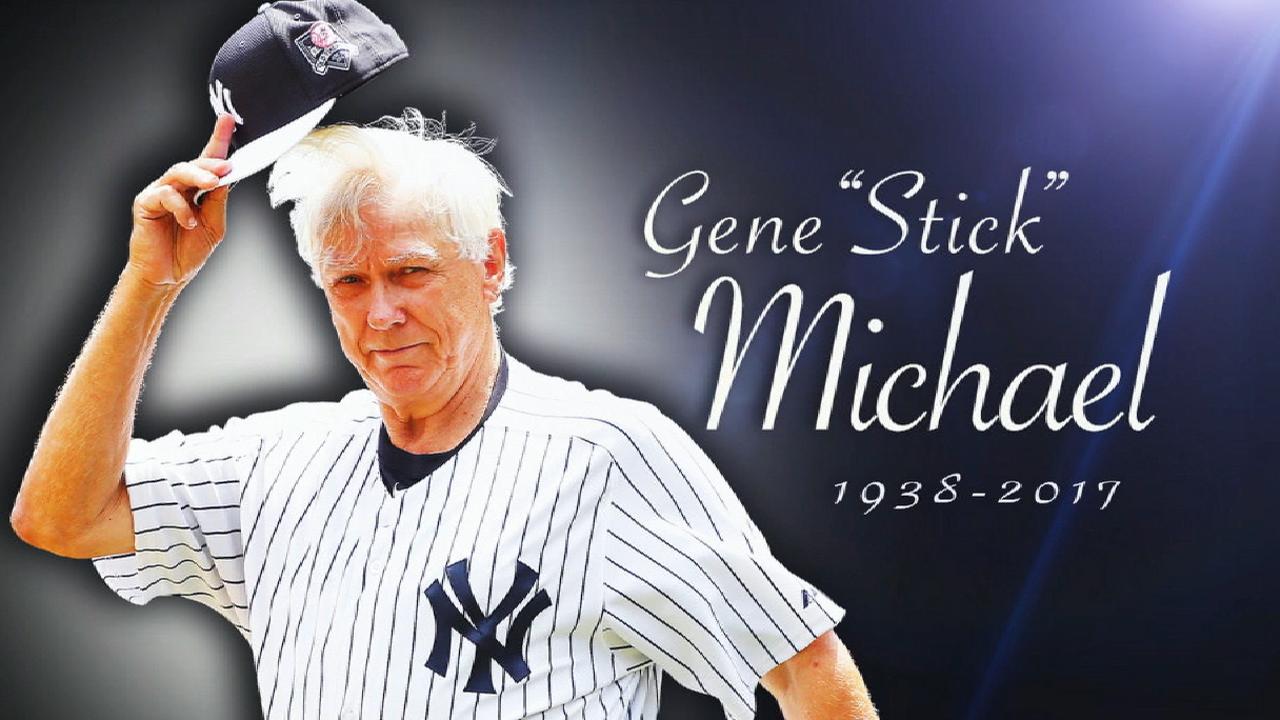 Their relationship had its downs and ups from the beginning. Steinbrenner's group purchased the Yankees from CBS in January 1973. One of the first memorable Boss episodes occurred in early June, and Michael was prominently involved.
Teammates were well aware of the shortstop's squeamishness. If it crawled, hopped or slithered, Michael wasn't fond of it. On this day, teammate Hal Lanier found Michael's glove in the dugout and shoved a cold hot dog into one of the fingers. Michael slid his hand into the glove as he jogged to his position and immediately removed the glove, tossing it aside in animated fashion and in the general direction of Steinbrenner, who was seated in the field-level seats.
The owner, still unfamiliar with the players, took out a pen and paper and jotted down No. 17, Michael's uniform number. He later demanded that No. 17 be disciplined and questioned Houk about the cavalier attitude of the players. Houk, Michael and the owner often told of the episode in later years, Houk and Michael through smiles and laughs, Steinbrenner through tight lips and a forced smile. He wanted discipline even in retrospect.
But Steinbrenner always had a place in his heart for his first shortstop. Years later, Michael survived another episode that probably would have prompted the dismissal of someone else. He was coaching third base on the night of Aug. 2, 1985. Bobby Meacham and Dale Berra, runners on second and first, respectively, attempted to score on a base hit by Rickey Henderson. Both disregarded Michael's stop sign and -- on one play, one throw and two tags by White Sox catcher Carlton Fisk -- both were called out.
Steinbrenner characteristically fumed. He would have had the head, not to mention the job, of any other coach. But the Boss couldn't exile the baseball man he had created, so Stick was safe.
Exile was unlikely in the years that followed. Indeed, when the Red Sox -- of all organizations -- sought permission from Steinbrenner to speak with Michael about becoming their GM in 2003, a stern "no" was the response. The Boss later said, "We need Stick Michael to stick around."
Marty Noble is a contributor to MLB.com. This story was not subject to the approval of Major League Baseball or its clubs.