Carrasco on complete game: 'I had everything'
Manager Francona, catcher Perez marvel at Cookie's mastery in 97-pitch gem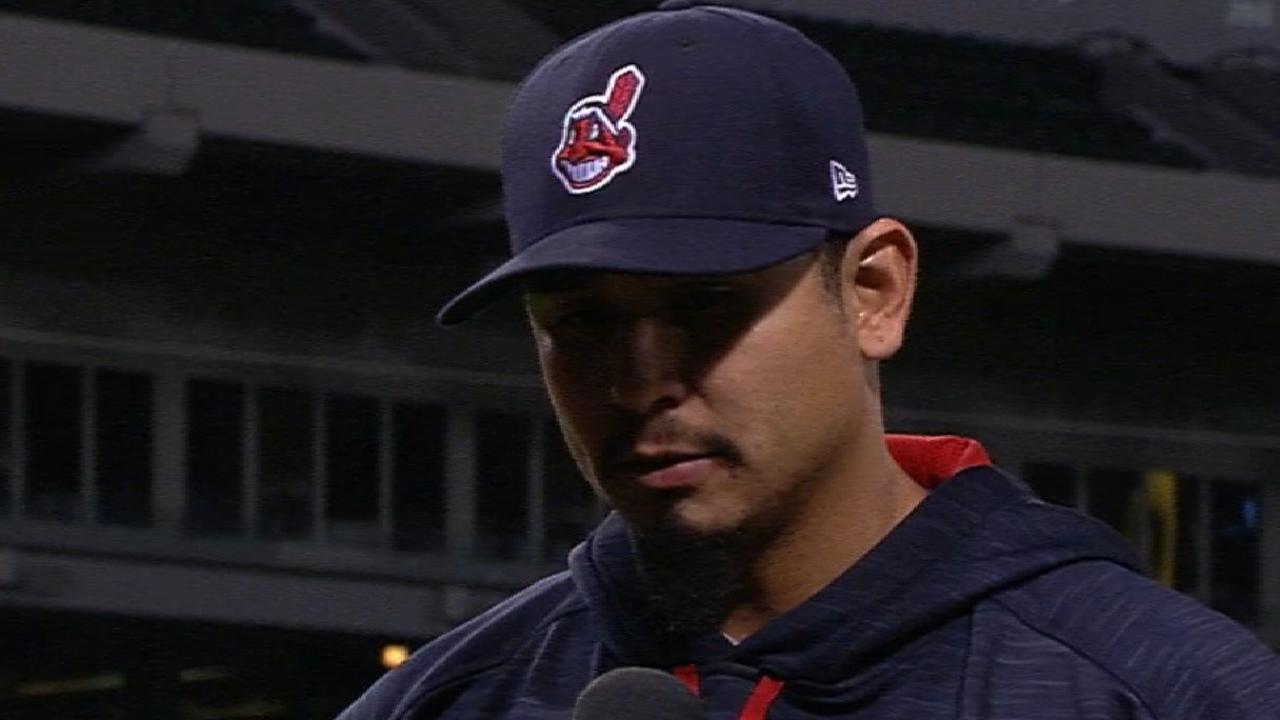 CHICAGO -- Carlos Carrasco was as close to perfect Wednesday night as he's ever been, standing just one out away from a shutout and having faced the minimum. Then he served up a first-pitch fastball for an Adam Engel homer with two outs in the ninth, and had to "settle" for a 5-1 complete-game victory.
The Indians right-hander had everything going in a masterful performance at Guaranteed Rate Field, allowing just the run on three hits while striking out nine and walking none. Had he not served up the homer to Engel, he likely would have had the second "Maddux" of his career -- a shutout in less than 100 pitches, as the 30-year-old finished with 97 pitches on his ledger, 76 of which were strikes.
"Carrasco was ... my goodness," Indians manager Terry Francona said. "I mean, you talk about throwing strikes and quality pitches. That was really impressive. I don't know if he threw maybe 20 balls the whole game. That's pretty impressive."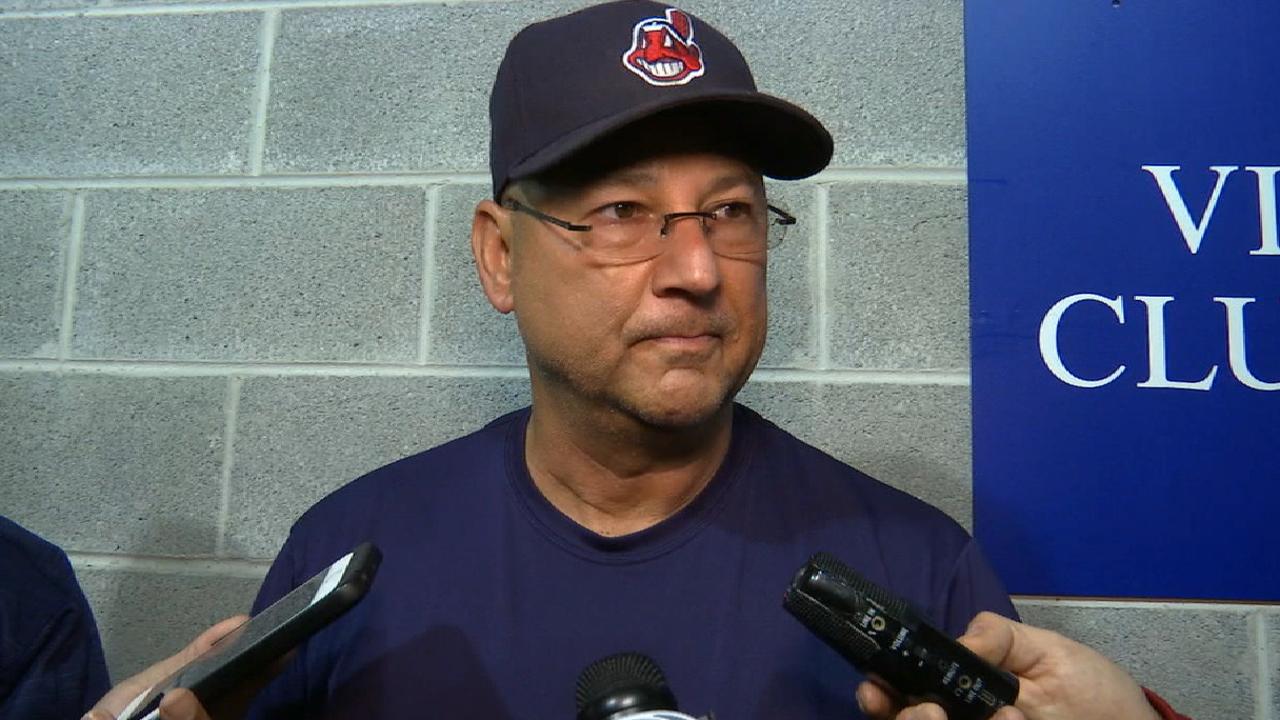 Including the Engel homer, Carrasco allowed just two "hard-hit" balls, which are batted balls with an exit velocity of 95 mph or greater, according to Statcast™. After each of the two other base hits he allowed -- an Avisail Garcia grounded single and a Kevan Smith bloop hit -- Carrasco quickly induced a double play.
He excelled at spotting each of his pitches for strikes, varying up counts by throwing early breaking balls to keep a hyper-aggressive White Sox lineup off-balance, Indians catcher Roberto Perez said. As a result, Chicago wound up taking 21 pitches for strikes, including 10 curveballs, according to Statcast™.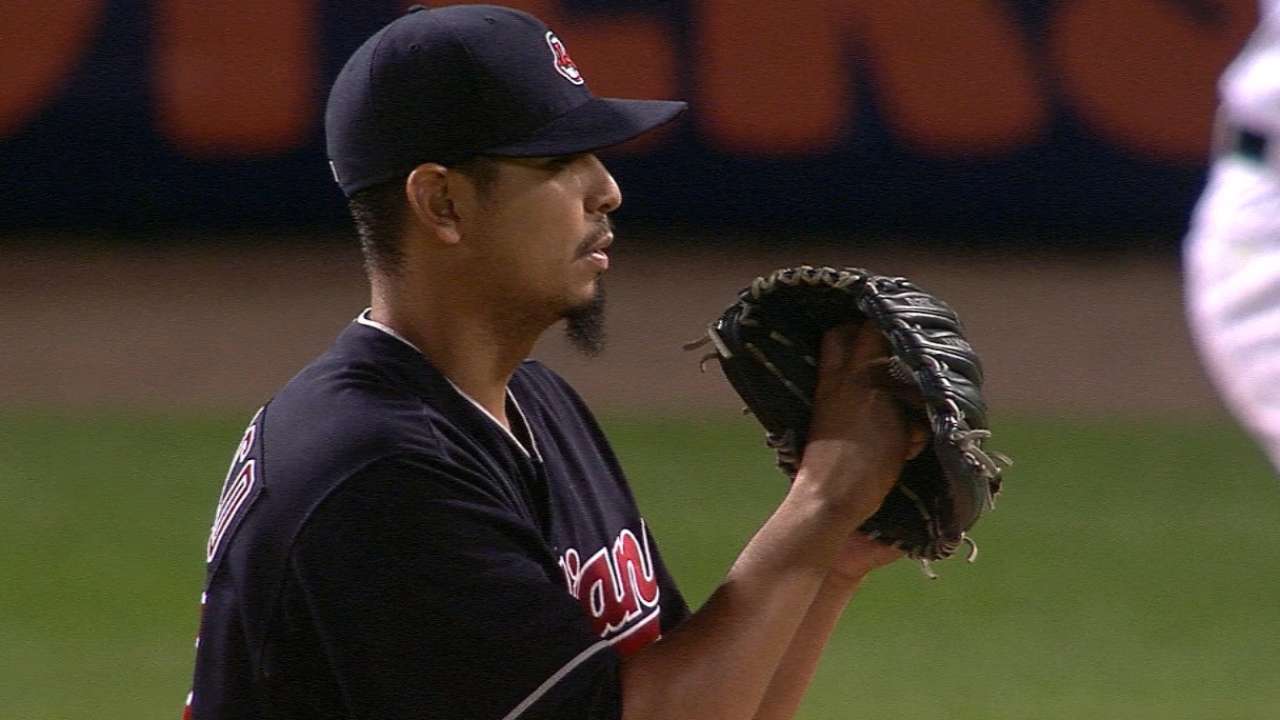 Once Carrasco got ahead in the count, he got the White Sox to chase. He drew 14 swings and misses according to Statcast™, including eight on his curveball and three on his slider.
"I had everything, from the first pitch," Carrasco said. "Fastballs, curveballs, sliders, I could throw them in any count. Everything was good today."
"His breaking ball [was working]," Perez said. "He was able to throw all his pitches for a strike early on, and then was putting guys away with sliders. He pounded the strike zone, got ahead of pretty much everybody. He was awesome tonight, the best I've seen Cookie."
Carrasco continued his trend of road dominance. All eight of his career complete games have come on the road, and for his career, his ERA is more an a run better when he's away from Progressive Field. Regardless of the ballpark, however, Carrasco's stuff was going to play well on Wednesday night.
"I think there's games -- maybe not a ton over the course of a year -- where you have everything, where it just falls into place," Francona said. "You have a lot of other games where you have some of it, and you've got to kind of figure out and maneuver your way through a lineup. Tonight, everything was working for him."
The rotation has been the backbone of the Indians' franchise-record-tying 14-game win streak. Even with Danny Salazar allowing four runs in two-thirds of an inning Tuesday, the Indians' rotation has now gone 12-0 with a 1.86 ERA during the streak.
"I saw [Corey] Kluber pitch, [Josh] Tomlin, [Trevor] Bauer, and it's kind of like a bit of a competition between us," Carrasco said. "But we never talk about it. I'm just trying to do every day better and better so the other guys can see that. That's why we've had that success."
Fabian Ardaya is a reporter for MLB.com based in Chicago who covered the Indians on Wednesday. This story was not subject to the approval of Major League Baseball or its clubs.