Widespread Panik: Joe sets Giants' hit record
2B collects 12 knocks in 3-game set, leads Bochy to compare swing to Gwynn's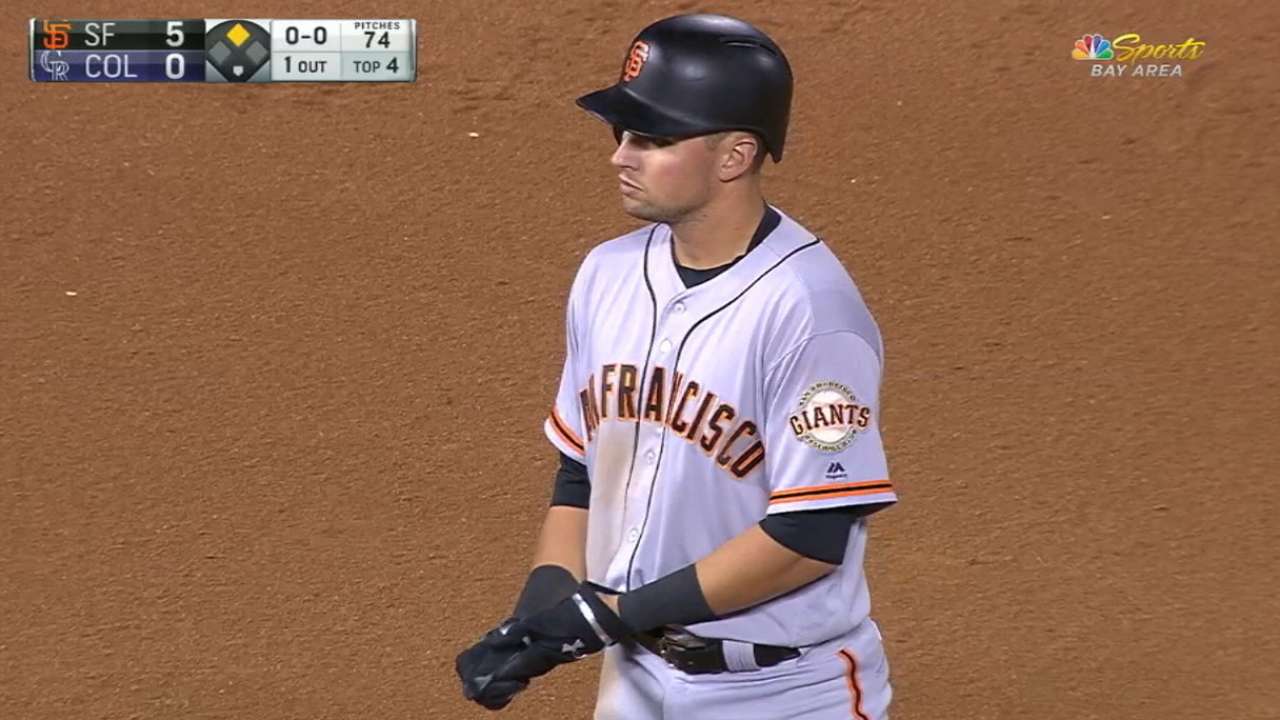 DENVER -- Joe Panik knows what it's like to be compared to Hall of Famers.
On Wednesday, he learned what it's like to surpass them.
Panik established a franchise record with 12 hits in the Giants' three-game series against the Rockies, which concluded with a 5-for-6 performance by the second baseman in San Francisco's 11-3 victory at Coors Field.
Panik stroked a ninth-inning single to eclipse Hall of Famers Bill Terry (1929) and Freddie Lindstrom (1928) and unheralded infielder Mike Benjamin (1995), who each collected 11 hits in a three-game set.
"Anytime you can put yourself in Giants history -- the amount of Hall of Famers and special baseball players that played over the years -- to be mentioned with them and have a record is definitely incredible," Panik said.
DON'T PANIK!

New franchise record: 12 hits in a 3-game series. Way to go, Joe! #SFGiants pic.twitter.com/ublADBkfWV

— San Francisco Giants (@SFGiants) September 7, 2017
The last Major League player with 12 or more hits in a three-game series was the Red Sox's Jerry Remy, who went 12-for-19 against the Mariners from Sept. 3-5, 1981.
Before being linked to Terry and Lindstrom, Panik had experience with being linked to an all-time great. With his diving stop of Eric Hosmer's ground ball and his subsequent scoop to Brandon Crawford to start a third-inning double play in Game 7 of the 2014 World Series at Kansas City, Panik was likened to legendary Giants center fielder Willie Mays, whose catch of Vic Wertz's drive set the tone in the 1954 Fall Classic.
This time, Panik moved his manager, Bruce Bochy, to do something he almost never does. Bochy cited Tony Gwynn, the Hall of Famer and eight-time National League batting champion, in describing the form Panik maintained in his 12-for-15 binge against the Rockies that included three doubles, a home run and five RBIs.
"It's a simple swing, a short swing," Bochy said. "I compare it a little bit [to] Tony Gwynn, the greatest base-hit guy I've ever seen. This series that [Panik] had, that's what he reminded me of. Everything he hit, he hit on the barrel and found holes. And when he didn't, he hit it out or hit a gapper. It was quite a display of hitting. But it did remind me of Tony."
Panik, whose five hits matched a career high previously reached Sept. 9, 2014, against Arizona, echoed the description of "being in the zone" that's common to successful athletes as he conveyed his feeling in the batter's box.
"Everything's slow and it's allowing me to see the ball really well," Panik said. "I feel like I'm in control of the at-bat."
Panik certainly remained in control of the bat, period. He began choking up on his bat to gain more control of it after the Giants' previous series against St. Louis, when he went 2-for-15.
Chris Haft has covered the Giants since 2005, and for MLB.com since 2007. Follow him on Twitter at @sfgiantsbeat and listen to his podcast. This story was not subject to the approval of Major League Baseball or its clubs.