Boyd gets 'building block' after facing Royals
Left-hander takes a step forward in audition for rotation spot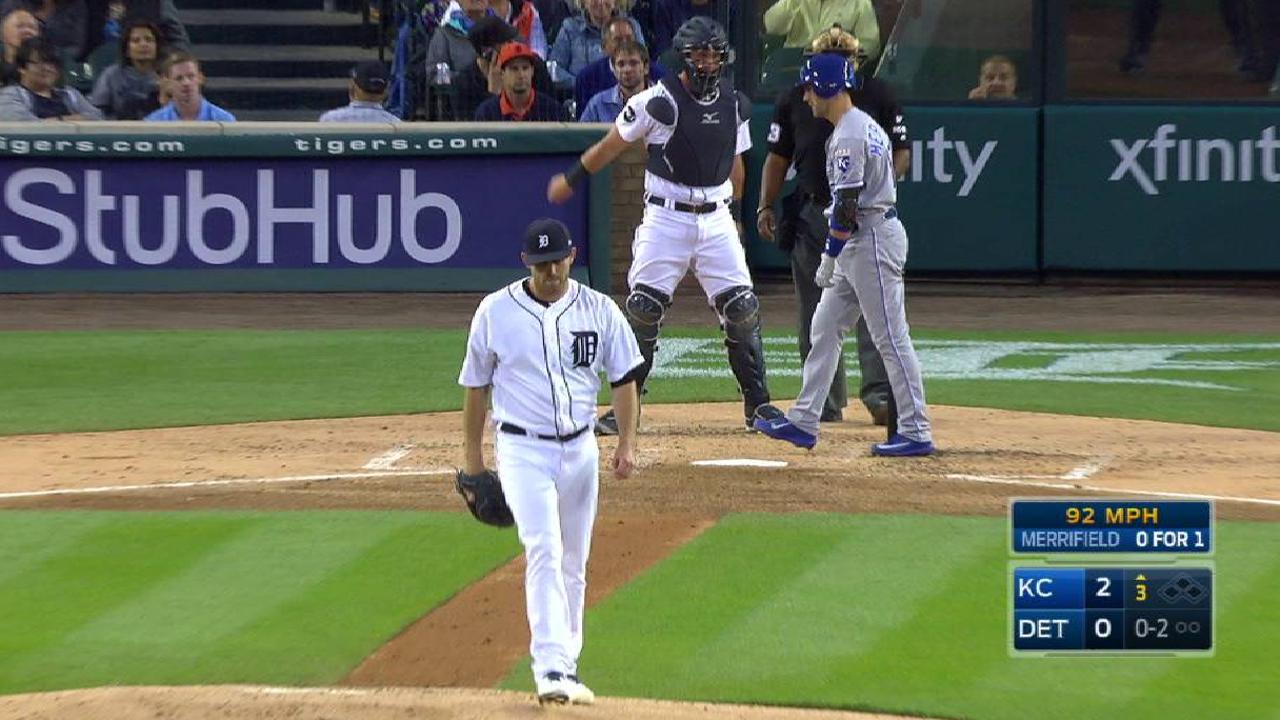 DETROIT -- Hard as it was to believe after a 13-2 loss to the Royals, the Tigers had a tie game after six innings. And Matthew Boyd had a pitching duel with Jason Hammel.
It was barely recognizable by the time the Royals were done with their late-inning surge, most of it off the Tigers' bullpen. Yet it was a step forward for Boyd, who hasn't posted a quality start or a win since July 29, but took one of the former into the seventh inning Wednesday.
"It's a building block," Boyd said. "You can definitely say that."
At this point in the season, with the Tigers 21 games under .500 and embarking on a rebuilding project with a rotation in flux, building blocks are what they have. With Michael Fulmer and Jordan Zimmermann shelved for doctor's appointments to examine injuries, and Anibal Sanchez iffy for his next outing with a bruised right calf, Boyd is one of the few seasoned starters they have. At the same time, he needs to progress in order to enter next season with a claim to a rotation spot.
Wednesday was progress in his third start since tweaking his delivery. He paid for an elevated fastball with two strikes to Salvador Perez, who drove it into the Royals' bullpen beyond left-center field for a second-inning solo homer. Three batters later, a two-seamer over the middle of the plate became an Alcides Escobar RBI triple for a 2-0 Royals lead.
"The pitch to Perez and the pitch to Escobar were the ones that really stung," Boyd said.
From there, however, Boyd settled in, retiring nine of his next 10 batters and getting swings-and-misses he'd been lacking early. With two runners on and two outs in the fifth, he needed just three pitches to strike out Melky Cabrera chasing a high fastball. An inning later, he came back to Perez with a full-count changeup that he chased off the plate.
Boyd entered the seventh inning -- also for the first time since July 29 -- with his pitch count relatively low at 87 and the bottom of the Royals' order due up. He was at least going to get two batters before the lineup reset and manager Brad Ausmus had Warwick Saupold waiting. But those two batters sunk him.
Boyd fell behind Escobar again but worked back into the count with back-to-back foul balls before another elevated fastball became a double off the right-field wall. A lefty-lefty matchup with Alex Gordon tilted on a 2-0 count, but Boyd got back to even with a 3-1 slider at the knees that Gordon swung at and missed.
With a full count, Boyd went back to the slider but put it off the plate. Gordon lunged at it and flared a soft line drive into short left field that plated Escobar.
"Hat's off to him," Boyd said.
The lead was gone, and after Whit Merrifield's double off Saupold, so was the quality start.
One thing Boyd has not received lately is a whole lot of support. The Tigers have scored five runs over his last three starts combined. His bullpen didn't help keep a close game, either, from three consecutive Royals hits once Saupold replaced him to a seven-run eighth inning off rookie relievers Joe Jimenez and Zac Reininger.
With the rotation depleted and 3 1/2 weeks left in the season, Boyd has plenty of chances to keep building.
Jason Beck has covered the Tigers for MLB.com since 2002. Read Beck's Blog, follow him on Twitter @beckjason and Facebook. This story was not subject to the approval of Major League Baseball or its clubs.