Williams' case strong for a future in Philly
Rookie hits ninth homer on Wednesday against Mets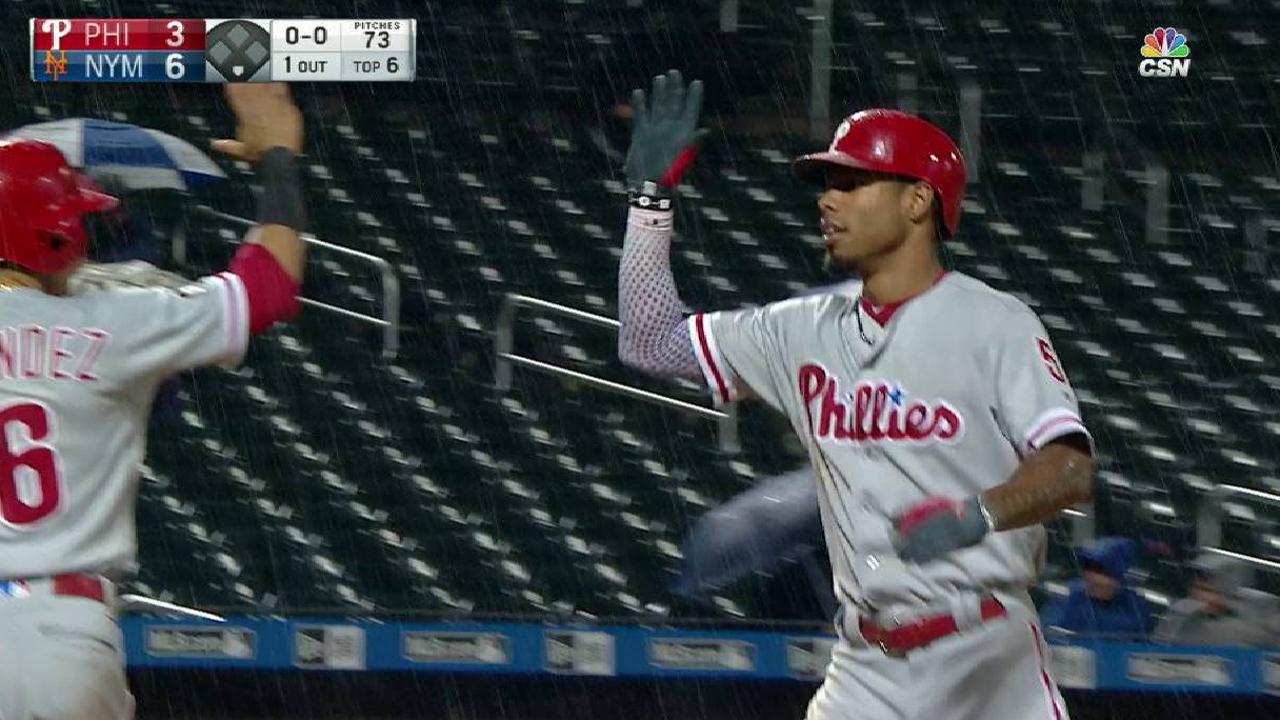 NEW YORK -- Before J.P. Crawford got called up Monday and Rhys Hoskins got called up last month, Nick Williams got the call in June, and he has been a fixture in the Phillies' outfield ever since.
With less than a month remaining in the regular season, Williams has made his case to be an everyday fixture in the Phillies' lineup next season. The 23-year-old ripped a two-run home run in Wednesday night's 6-3 loss to the Mets at Citi Field, which was called in the sixth inning because of rain. It was Williams' ninth homer of the season.
"Everyone wants to hit .300, but I feel like I've been doing pretty decently," Williams said of his rookie campaign.
Williams is hitting .274 with 12 doubles, four triples, nine home runs, 40 RBIs and an .816 OPS in 249 plate appearances. He has slashed .268/.328/.446 over 61 plate appearances against lefties. With 17 walks, Williams is walking at a slightly higher rate with the Phillies (6.8 percent of his plate appearances) than he did with Triple-A Lehigh Valley (4.2 percent), which is somewhat encouraging, while his strikeout rate (27.3 percent) is about the same as Triple-A.
"He needs work on plate discipline like most hitters," Phillies manager Pete Mackanin said. "But the good thing about him is that when the pitcher makes a mistake, he doesn't miss many mistakes. That's the key to being a successful hitter. When you get a good pitch to hit, you don't miss it. And he doesn't miss a lot of them."
Williams said he feels like he has been missing too many mistakes lately, which could account for a recent slide. He slashed .293/.359/.500 in 47 games through Aug. 24 but just .133/.161/.267 in eight games from Aug. 25 through Sept. 1. He has rebounded in the past week, though, hitting .318 (7-for-22) with two doubles, a triple and home run, 10 RBIs and a .984 OPS over his past five games.
"I just need to relax more," Williams said. "I don't know if it's a young player's thing, but sometimes I put too much pressure on myself to get a big hit in a situation. Just breathe, you know?"
It's easier said than done. Got to keep hitting to stick in the big leagues, right?
"That plays a part, especially when you're struggling as a team," Williams said. "Sometimes you try to do way too much. Next year I just want to continue to have fun and just be myself -- the whole time."
Todd Zolecki has covered the Phillies since 2003, and for MLB.com since 2009. Follow him on Twitter and listen to his podcast. This story was not subject to the approval of Major League Baseball or its clubs.