Inbox: What do O's do about Machado, Schoop?
Beat reporter Brittany Ghiroli answers questions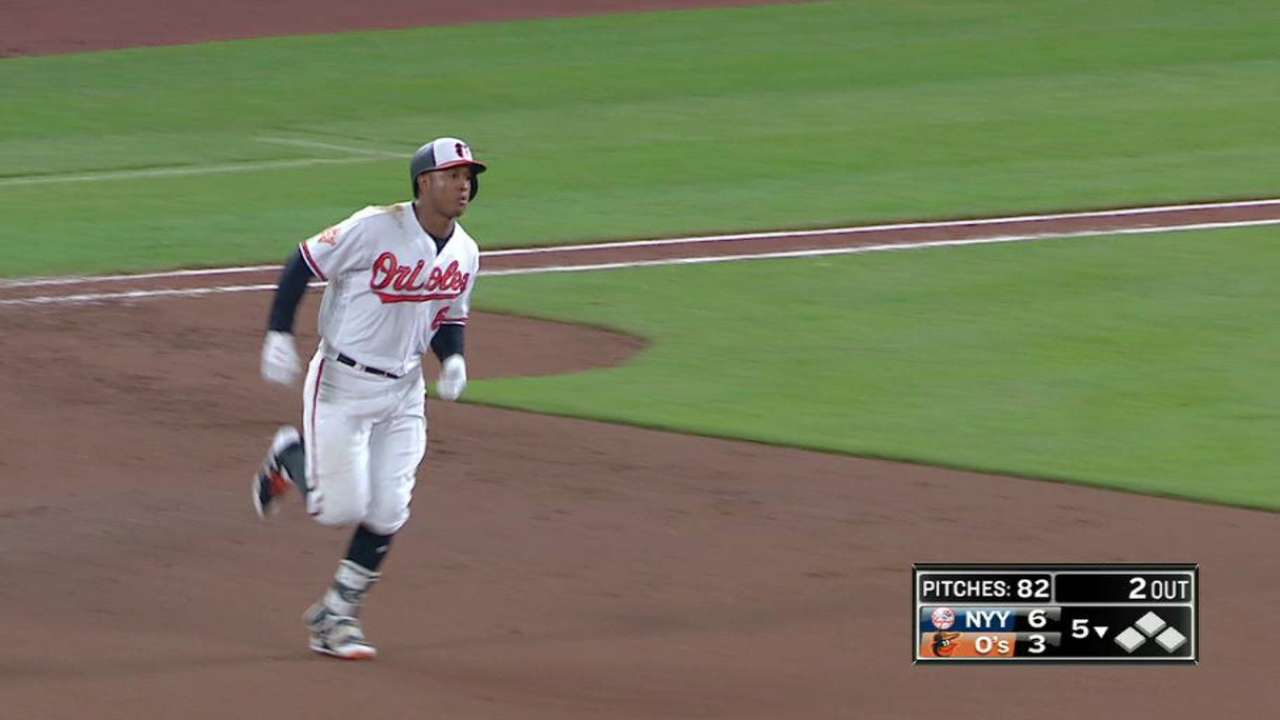 BALTIMORE -- As the off-days whittle down and the stakes get higher, let's dive into your latest questions this Wednesday as the O's prepare to kick off a pivotal three-city road trip ...
What are the chances both Manny Machado and Jonathan Schoop are in the 2020 Opening Day lineup?
-- Steve D., Lowell, Mass.
Both? Slim. One? Maybe.
While the O's -- and everyone in baseball -- has long known it's going take a ton of money to keep Machado long-term (perhaps a record-breaking deal), Schoop's ascent could get pricey as well. The Orioles' All-Star, Schoop is making just $3.475 million this year with two more arbitration-eligible years before free agency. Say he keeps this up -- this being more than 30 homers and 100 RBIs -- and he could get really expensive really quick.
Orioles executive vice president of baseball operations Dan Duquette did say that the club discussed a potential extension with Schoop last winter. They'd be wise to continue those discussions (though his stock is noticeably higher) this offseason. There have been been previous talks with Machado's camp in winters past, though nothing has ever reached anything beyond the preliminary stage.
• Submit a question to the Orioles Inbox
Unfortunately, the team already committed some big money to Chris Davis, and that could have an impact on what the Orioles are able to do with both of these guys. The tough call will be this: If you can't sign Machado or Schoop, do you consider trading them instead?
Do you think Chris Tillman will stay in the rotation, or would he also join Ubaldo [Jimenez] in the 'pen?
-- Justin W. (on Twitter)
It's tough to take out Tillman with no real other options no matter how much he (and others) are struggling. I mean, it's September. If the Orioles felt like they had guys down below or better options elsewhere, they would've gone that route by now.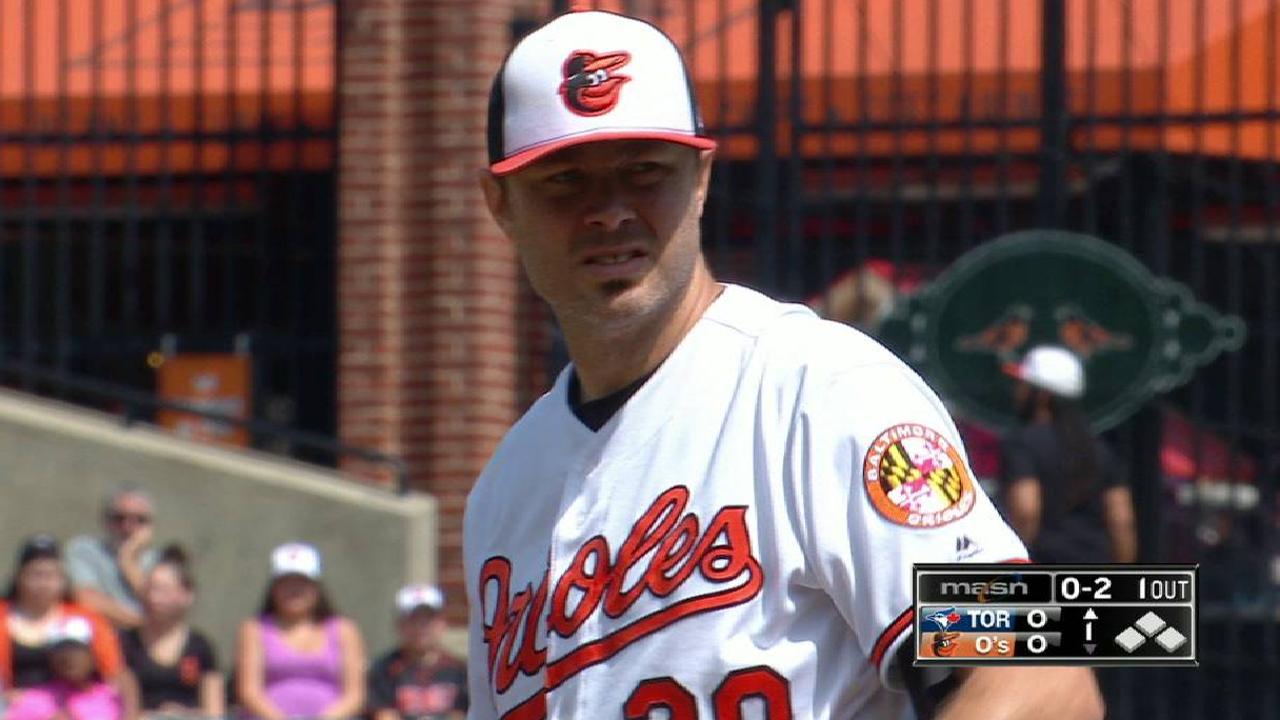 They did move Jimenez to the bullpen (he pitched in relief on Tuesday night), though he's certainly not the only guy who underperformed this season. Jeremy Hellickson couldn't get out of the third inning Tuesday night, and even ace Dylan Bundy had a short start. Jimenez has actually had more quality starts than Tillman.
Personally, I'd start to give other guys looks, though there hasn't been any indicator the Orioles will take another starter out of his spot. Why not have Gabriel Ynoa go a few innings to start a game? Or Mike Wright? The O's aren't getting deep into games from their current starters, and they have expanded rosters. In my opinion, it sends a bad message to keep running guys out who are struggling. Bundy having a bad start once in a while is one thing. Consistently putting the team in a hole and taxing the 'pen is another.
What happens when J.J. Hardy comes back? [Tim] Beckham has been solid at short.
-- Dan M., Baltimore
Yes, he has. You can't sit Beckham with how well he's done, but Hardy is waiting until he feels like he can help the team before he's added back from the disabled list. I think in a perfect world you give both guys some at-bats at designated hitter and go off matchups when needed, though you have to ultimately defer to the hotter hand, which is Beckham. It would be one thing if the O's were out of postseason contention, but they aren't. You have to play to win every night, and I'd expect manager Buck Showalter to put his best foot forward at shortstop.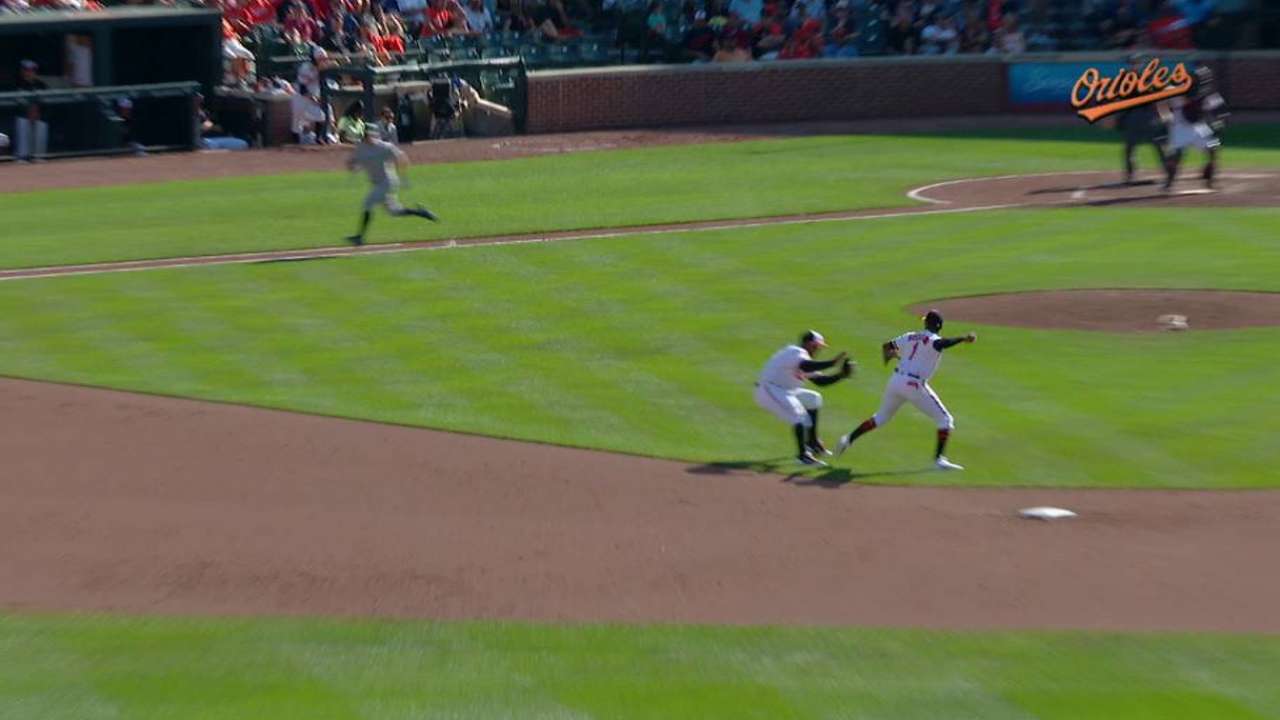 What's the plan for Austin Hays? I don't know much about him.
-- Nancy P., Columbia, Md.
Hays has dominated in the Minor Leagues this season and while his callup on Tuesday was a bit of a shock, it's certainly warranted. The O's will get a guy who hit 32 homers with 95 RBIs, who can back up center field and has experience in the corners.
And Hays will be able watch and be around the big leagues without the added pressure of being expected to contribute every day. The Orioles need a corner outfielder, and Hays is high on the radar heading into next spring. The final month should be a good experience for Hays, helping him cap a fantastic season and perhaps making his path easier to make the 2018 Opening Day roster.
Brittany Ghiroli has covered the Orioles for MLB.com since 2010. Follow her on Facebook and Twitter @britt_ghiroli, and listen to her podcast. This story was not subject to the approval of Major League Baseball or its clubs.