Diaz awaits word from family in Puerto Rico
Mariners' closer balances baseball with real-world concerns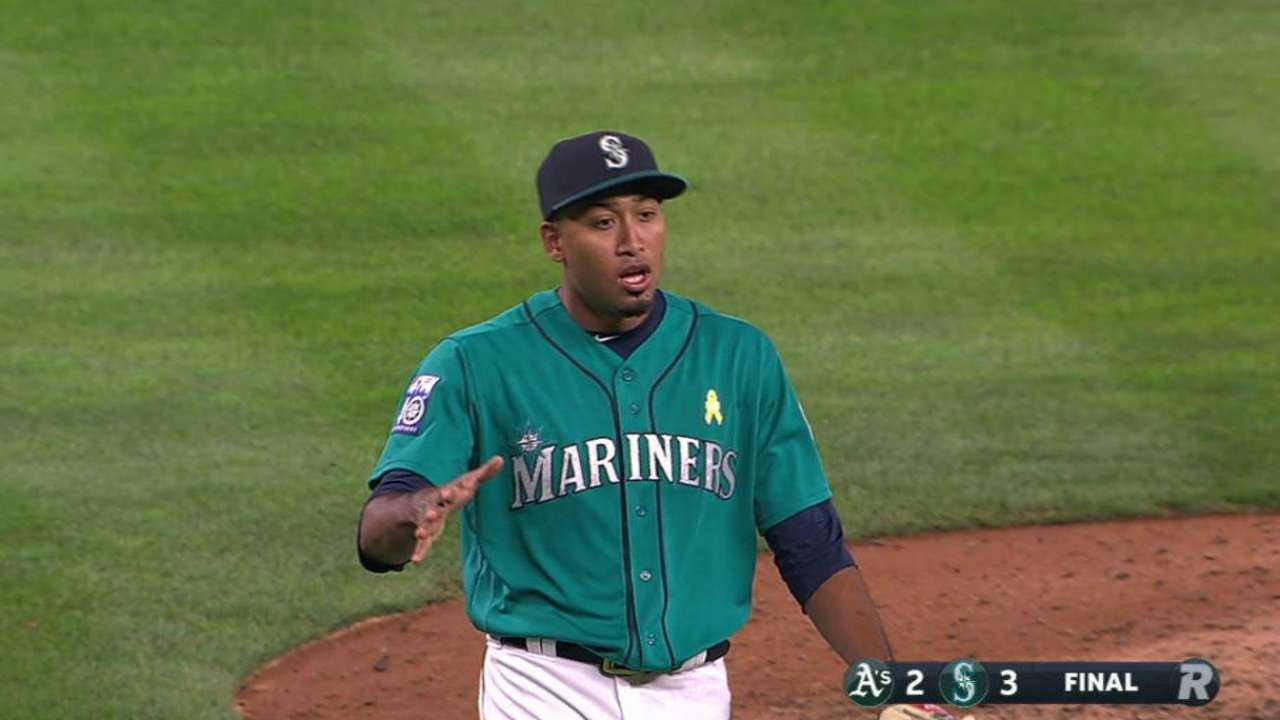 SEATTLE -- Edwin Diaz's mind was on his job as Mariners closer on Wednesday, but his heart was tugging toward family and friends in his homeland of Puerto Rico.
With Hurricane Irma bearing down on the island where he grew up, Diaz talked to his sister on Tuesday and was told things were OK and the family was hunkered down and ready to ride out the storm. Since then, all communication has been cut off, as phone lines apparently went down in the winds and rain preceding the Category 5 storm that is cutting through the Caribbean Islands.
"I think they are good," the 23-year-old Diaz said prior to Wednesday's series finale with the Astros. "They've lost all communication, but I think they're in a safe spot. I'll wait until they call me and say they're OK."
Diaz tried calling again on Wednesday, but got only a silent phone line, which has to be an eerie feeling when your entire family is somewhere on the other end of that lost connection 3,700 miles away.
"It's tough, but you have to keep your mentality here," he said. "You have to do your job. If I get in the game tonight, I have to do my job. I know they will be good and we'll be fine."
But Diaz's brave front can't completely hide his concerns. He sent out a simple message on his Twitter account, saying "Dios proteja a nuestra isla," Which translates to "God protect our island."
His concerns naturally center on his family, with all his relatives remaining behind in Puerto Rico except a brother, who is playing in the Reds' Minor League system, and his wife and baby, who are with him in Seattle.
"The rest of my entire family is in Puerto Rico," he said.
And he worries about his homeland. He was 4 when Hurricane Georges cut through Puerto Rico in 1998, causing eight deaths and significant damage. He was too young to remember that now, but he knows the potential impact of Irma and is watching TV and trying to follow what's happening on social media.
"Puerto Rico is a great island," he said. "I love being in Puerto Rico. But let's see what happens. I heard it's destroyed a couple other islands, like St. Bart's and St. Martin. Let's see what happens in Puerto Rico."
Diaz isn't the only Mariner with connections to Puerto Rico. Hitting coach Edgar Martinez grew up there, and his mom and many relatives remain on the island. And rookie reliever Emilio Pagan, who grew up in South Carolina, has several uncles and cousins on his dad's side of the family living there. He got to know them when he played winter ball in Puerto Rico and when he represented the country in the World Baseball Classic.
"My dad said he talked to them a couple days ago and they were as safe as they could be, but they didn't have time to get off the island," Pagan said. "Hopefully it misses them, but at this point, it doesn't look like it's going to, so I'm just keeping them in my prayers and hoping for the best. It's scary, and they're definitely all in our thoughts right now."
Diaz wound up taking the loss on Wednesday when he gave up a two-run homer to Cameron Maybin in the ninth inning of a 5-3 setback to the Astros. The home run came on a 100-mph fastball from the 23-year-old. Manager Scott Servais acknowledged these aren't easy times for many players around the game.
"There's a lot going on," Servais said. "I counted today and we have 10 players on our team with ties to Florida, and that's not counting the Puerto Rican and Dominican guys we have that are affected by some of this stuff.
"But we've seen what Houston has gone through. It's part of it. These guys are human beings, they have families. But you come to work, put the uniform and hat on and go out and do your job and deal with the other stuff afterward. But certainly guys are talking about it."
Greg Johns has covered the Mariners since 1997, and for MLB.com since 2011. Follow him on Twitter @GregJohnsMLB. This story was not subject to the approval of Major League Baseball or its clubs.