South Florida natives help with hurricane prep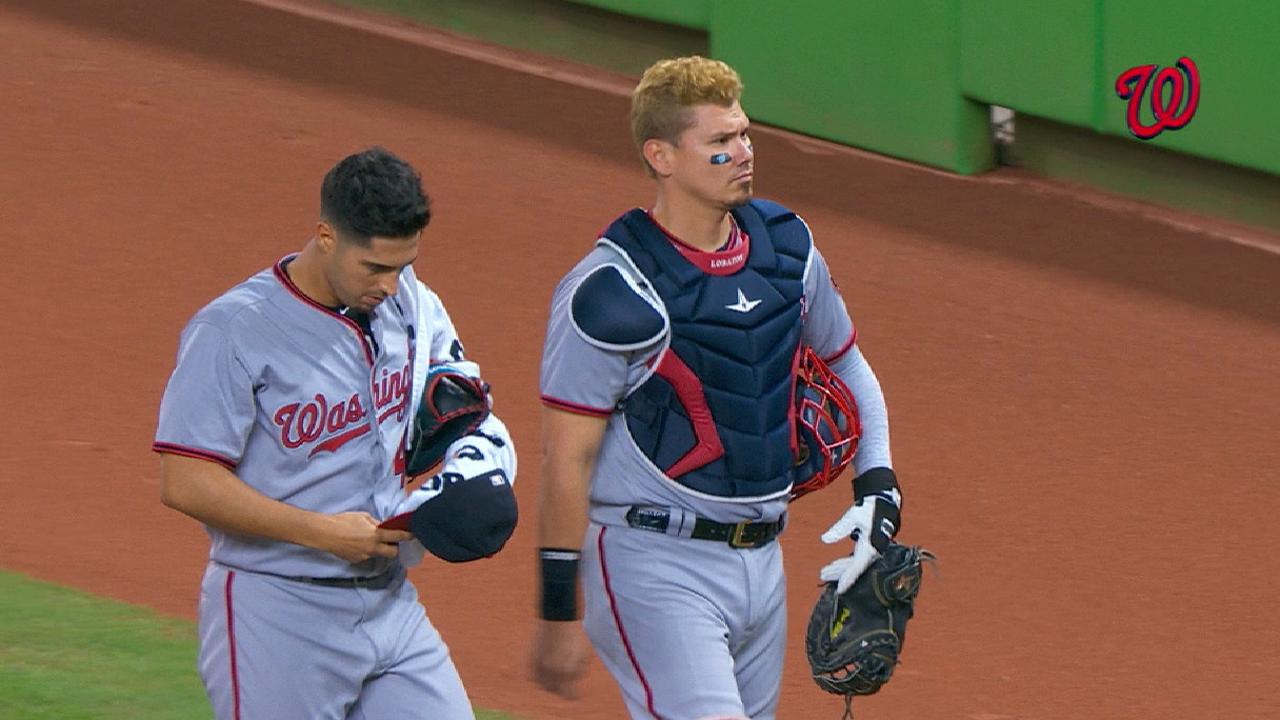 MIAMI -- While Michael A. Taylor has been chasing down fly balls at Marlins Park, his mind has been racing elsewhere.
Taylor's family has been boarding its windows, stocking up on supplies and preparing for the worst. Hurricane Irma is taking aim at South Florida and the rest of the state this weekend, and it could become the first Category 5 hurricane to make landfall in the Sunshine State in more than 25 years.
Born in raised in Fort Lauderdale, about 30 miles north of Miami, Taylor feels bad he's leaving his loved ones behind as the Nationals finish up a three-game series in Miami and head back to D.C.
"The toughest part is that I'm leaving," Taylor said. "I wish I was here to help my family and take care of all that stuff. I'll try to do as much as I can while I'm here and then just pray for them when we leave and the storm comes."
Added Taylor, who said he'll try to stay in contact as best as he can: "It's just one of those things that there's not much you can do besides prepare as much as you can and then hope for the best."
Taylor isn't the only Nats player worrying. Gio Gonzalez, a Hialeah native and Wednesday night's starter, and Trea Turner, a Boynton Beach native, also have many ties to the area.
Nats manager Dusty Baker could tell the storm was weighing on his local guys, much like he saw with Houston natives Anthony Rendon and Matt Albers when the club played the Astros just before Hurricane Harvey hit Texas last month.
"I can tell, especially for guys that are from here and live around here," Baker said.
Baker said some of his friends couldn't make it to the ballpark this week.
"They didn't come to the game. The players that I had that live in the area, they were boarding up windows and hurricane-proofing it -- if there is such a thing -- their homes and condos," Baker said. "Yeah, I could tell by the reaction of the people here that have been here a long time that this is more serious than ever."
Worth noting
• Max Scherzer will make his next start as scheduled after he was hit in the left calf on a liner in his last outing. He threw a bullpen on Wednesday and is set to start on Friday against the Phillies.
• Baker doesn't know how long the club will stick with the current six-man rotation or if it was a one-time occurrence to give his starters more rest. He wants to limit their innings but also keep them sharp.
• Baker talked to reliever Koda Glover over the phone on Wednesday. Glover will receive a second opinion on his right shoulder in Texas, and then Baker wants him to fly to D.C. to be with the team even if he isn't active.
Patrick Pinak is a reporter for MLB.com based in Miami. This story was not subject to the approval of Major League Baseball or its clubs.