Tekulve retiring as Pirates TV analyst
Right-hander Nova scheduled to rejoin rotation Sunday in St. Louis
PITTSBURGH -- After spending the last decade on the air as a Pirates pregame and postgame analyst, Kent Tekulve has decided to retire from his broadcast duties.
Tekulve, a former Pirates reliever who recorded the final outs in Game 7 of the 1979 World Series, announced the decision on the AT&T SportsNet postgame show Tuesday night. The network confirmed the news in an announcement on Wednesday. The man affectionately known as "Teke" still plans to remain close to the team, likely serving as a guest instructor in Spring Training.
"These past 10 years being connected with the Pirates pre and postgame shows through FSN/ROOT Sports/AT&T have not only allowed me to stay connected to my team and the game but have also allowed me to reconnect with all of the Pirate fans in the Tri-State area after many years of being out of the public eye," Tekulve said in a statement. "Their support of the shows and during my recent health issue was overwhelming."
Tekulve, 70, underwent a heart transplant in 2014. He began working with the Pirates' broadcast partners in 2008. AT&T SportsNet plans to recognize Tekulve by celebrating his career during each Sunday telecast the rest of the season, beginning with Sunday's game against the Cardinals in St. Louis.
"I have very much enjoyed being able to pass along to the fans some of the knowledge of the game that I acquired during my playing days," Tekulve said. "I could have never imagined, when as a 9-year-old I received my first baseball uniform and fell in love with the game of baseball that 61 years later I would still have the opportunity to be involved with it on a daily basis."
Nova ready to return
Right-hander Ivan Nova is scheduled to rejoin the Pirates' rotation on Sunday, manager Clint Hurdle said. Nova had his last start skipped due to fatigue, with Steven Brault taking his place in Tuesday's 4-3 win over the Cubs at PNC Park.
Nova recently said he hopes to make four more starts, which would give him a career-high 31 for the year. After a strong start to the season, Nova has put together a 6.38 ERA and a 1.69 WHIP in nine second-half starts.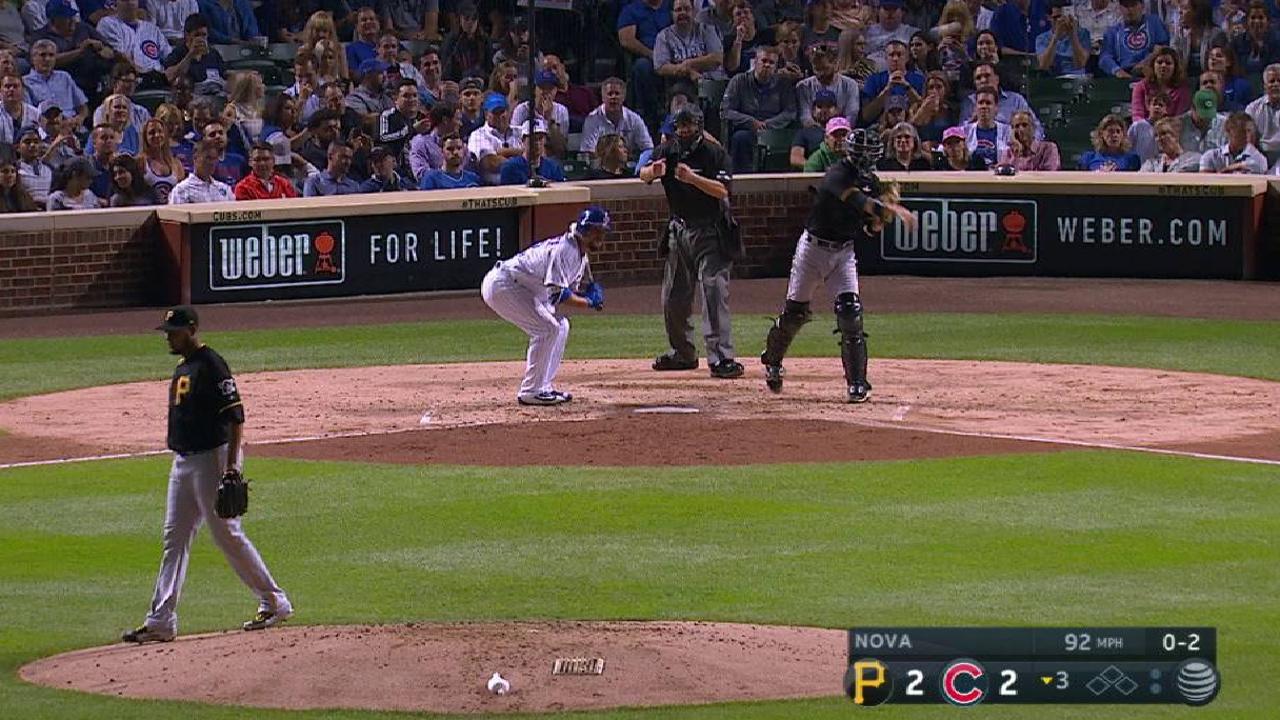 The Pirates would like to work Brault back into the rotation and plan to get Tyler Glasnow in the mix eventually. There aren't any starters begging for a replacement, however; Jameson Taillon threw six scoreless innings in his last start, while Trevor Williams and Chad Kuhl both worked seven shutout innings last time out.
"Each one of them put their foot down and made a statement," Hurdle said. "They'd like to keep pitching."
Trainer's room
Gregory Polanco, Adam Frazier and George Kontos should return soon. All three completed their necessary rehabilitation work, head athletic trainer Todd Tomczyk said, which means they could be activated over the coming days.
Frazier has been out since Aug. 28 with a strained right hamstring. Kontos has been sidelined by a right groin strain since Aug. 20. Polanco is on the disabled list for the third time this season due to a strained left hamstring but wants to get back on the field before the end of the season.
"Finishing strong mentally is probably the driving force for most of these guys right now," Tomczyk said.
Catcher Francisco Cervelli (left quadriceps irritation) has hit "kind of a plateau" in his rehab, Tomczyk said. He is hitting and doing some light running but not fully able to squat, delaying his return.
Adam Berry has covered the Pirates for MLB.com since 2015. Follow him on Twitter and Facebook and read his blog. This story was not subject to the approval of Major League Baseball or its clubs.