Chapman in line to regain closer job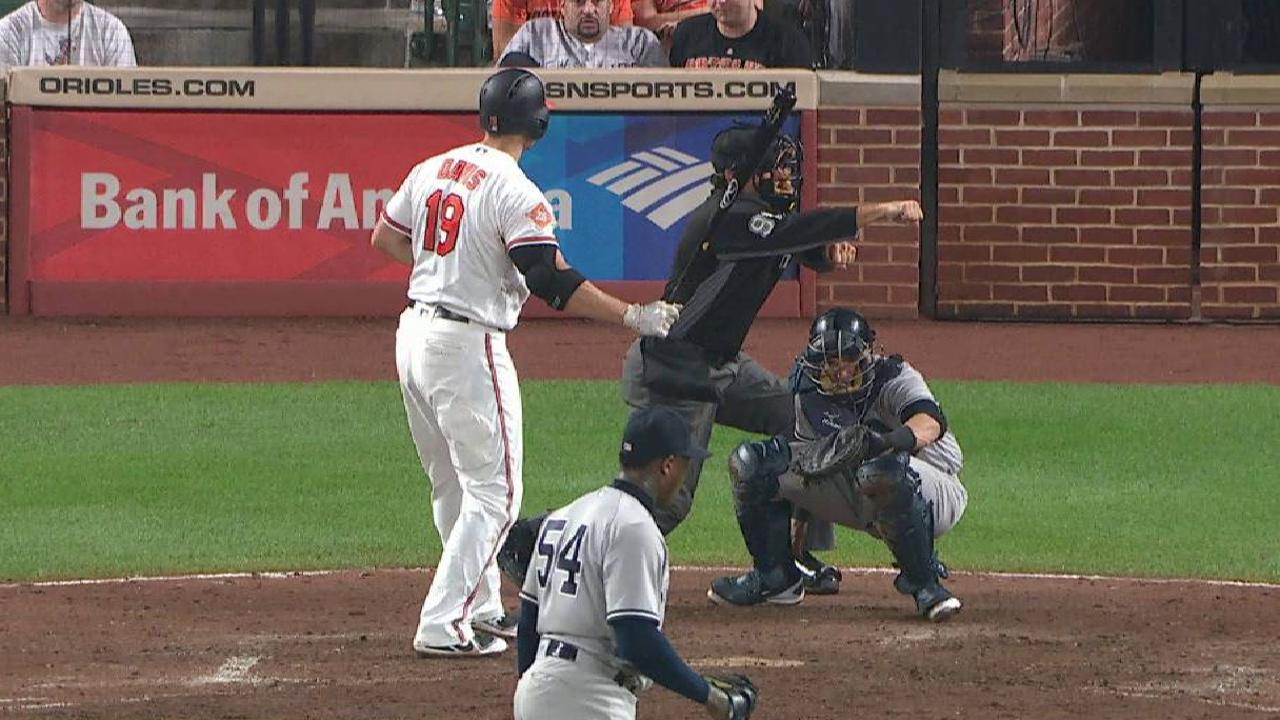 BALTIMORE -- Aroldis Chapman appears to have reclaimed his position as the Yankees' closer, with manager Joe Girardi saying on Wednesday that a pair of dominant appearances are encouraging the idea that the left-hander's struggles may be behind him.
Protecting a one-run lead, Chapman pitched a clean eighth inning in Tuesday's 7-6 loss to the Orioles, inducing a pair of groundouts before blowing a 101.1-mph fastball past Chris Davis for a called third strike. Baltimore celebrated when Dellin Betances served up a walk-off, two-out homer to Manny Machado in the ninth inning.
Girardi said that he was considering using Chapman to close on Wednesday evening, had the Yankees' game at Camden Yards not been postponed due to inclement weather.
"I think it's something that you definitely think about," Girardi said. "I've said that I really believe Chapman is going to play an important role down this stretch. We need him, so it's going to be important."
Issued the largest contract ever given to a free-agent reliever this past offseason, a five-year, $86 million pact, Chapman was removed from the closer role after a string of four poor outings in mid-August.
Chapman said after Tuesday's game that he is regaining his confidence. He huddled with pitching coach Larry Rothschild to reduce the amount of cut on his fastball, and he has held opponents to a run and three hits over his last five appearances (4 2/3 innings), striking out six against one walk.
His nine fastballs in Tuesday's 11-pitch appearance averaged 101.4 mph, maxing out at 102.6 mph.
"I've been a closer for a long time in my career, but that's not the focus here," Chapman said through an interpreter. "For me, I just need to be ready to pitch wherever they need me. The other guys that are closing games right now are very good pitchers, Dellin and [David] Robertson. As of right now, what matters is winning. Wherever they need me to pitch, I'll be ready."
Girardi said that he has not seen a major mechanical change in Chapman's delivery, but Chapman has been getting ahead in the count and throwing strikes more often, leading to shorter at-bats.
"I'm sure a lot of people would love to have my problem, to have those three guys at the back end and figure out which one you're going to try to close with," Girardi said. "It's something we'll continue to talk about, but the best thing from all of this is Chappy has thrown the ball really well the last two times. I would say [Tuesday] night has probably been as good as we've seen in a while and that's a really good thing."
Bryan Hoch has covered the Yankees for MLB.com since 2007. This story was not subject to the approval of Major League Baseball or its clubs.