Gio solid, Zimmerman homers to sweep Fish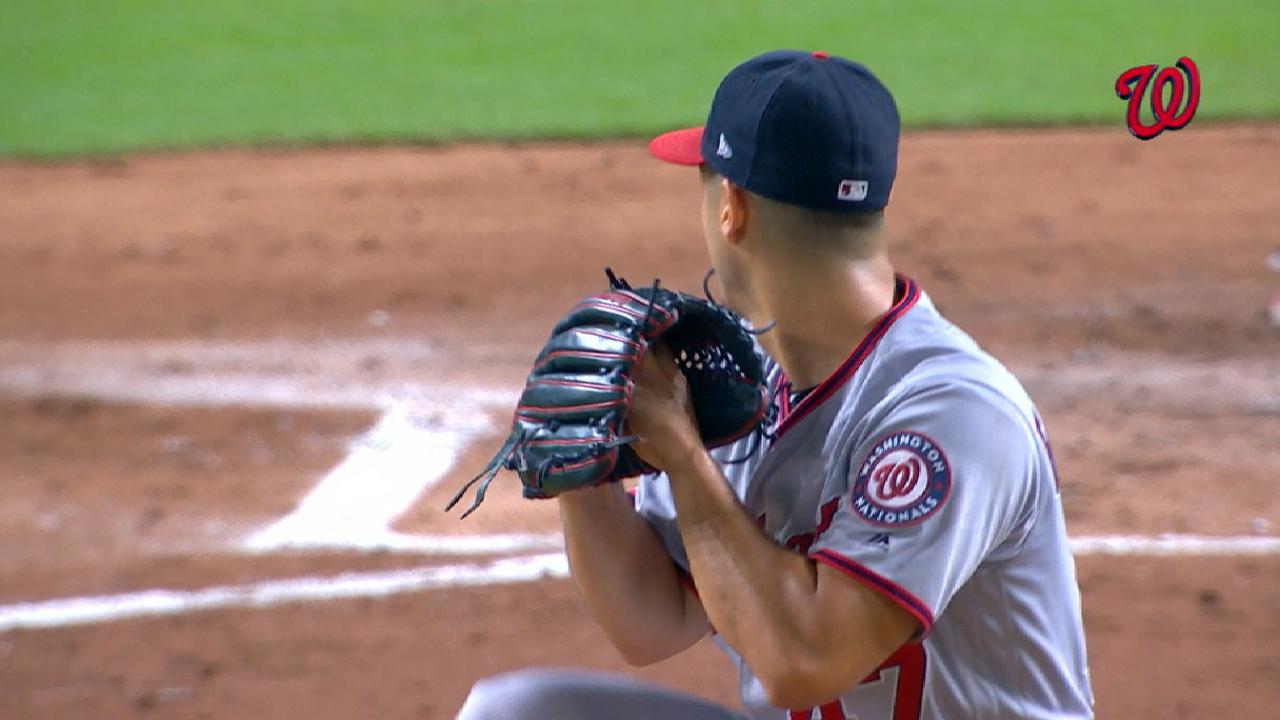 MIAMI -- Gio Gonzalez appears quite at home facing the Marlins. The left-hander tossed five shutout innings, while Ryan Zimmerman belted a homer and drove in two runs, as Washington defeated Miami, 8-1, on Wednesday night to complete a three-game sweep.
Gonzalez's latest victory over the Marlins moved the Nationals closer to clinching the National League East. Their magic number is now six -- meaning any combination of Washington wins and Miami losses. A South Florida native, Gonzalez improved to 4-0 with a 1.09 ERA on the season against Miami, and 10-3 (1.85 ERA) in his career.
"That team is very respected in their lineup," Gonzalez said. "I was just trying to follow up right behind what [Stephen Strasburg] did and Max [Scherzer] and just keep the rhythm going on our side."
The Marlins have now dropped nine of 10, and they scored four runs in the three-game series.
"It's been a while now, it's been 10 days of this," Marlins manager Don Mattingly said. "I wish I had an answer for it. I honestly don't. You see teams go into little spells where you don't score runs and the offense doesn't click, and momentum goes in that direction. But it's getting extended, and I don't have an answer for it."
Zimmerman and Michael A. Taylor each hit solo home runs.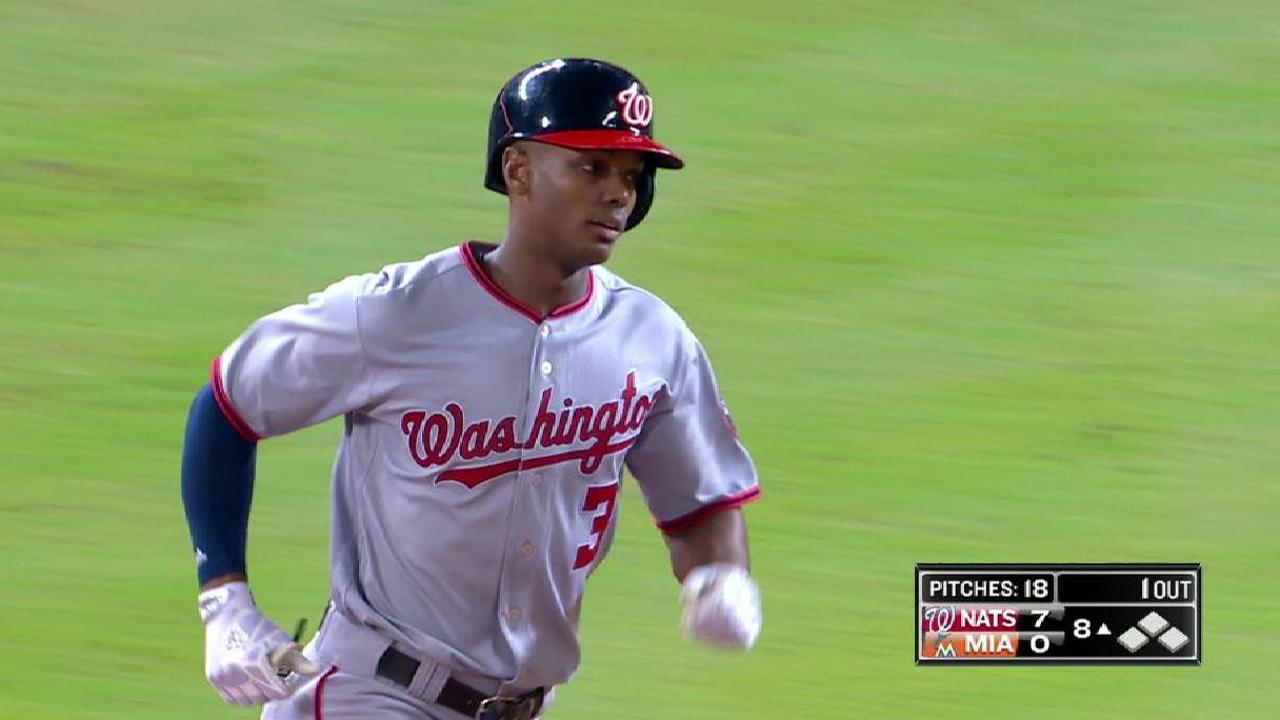 Zimmerman knocked an RBI single and Howie Kendrick delivered a run-scoring double to tag Marlins left-hander Dillon Peters for two runs in the first inning of his second Major League start.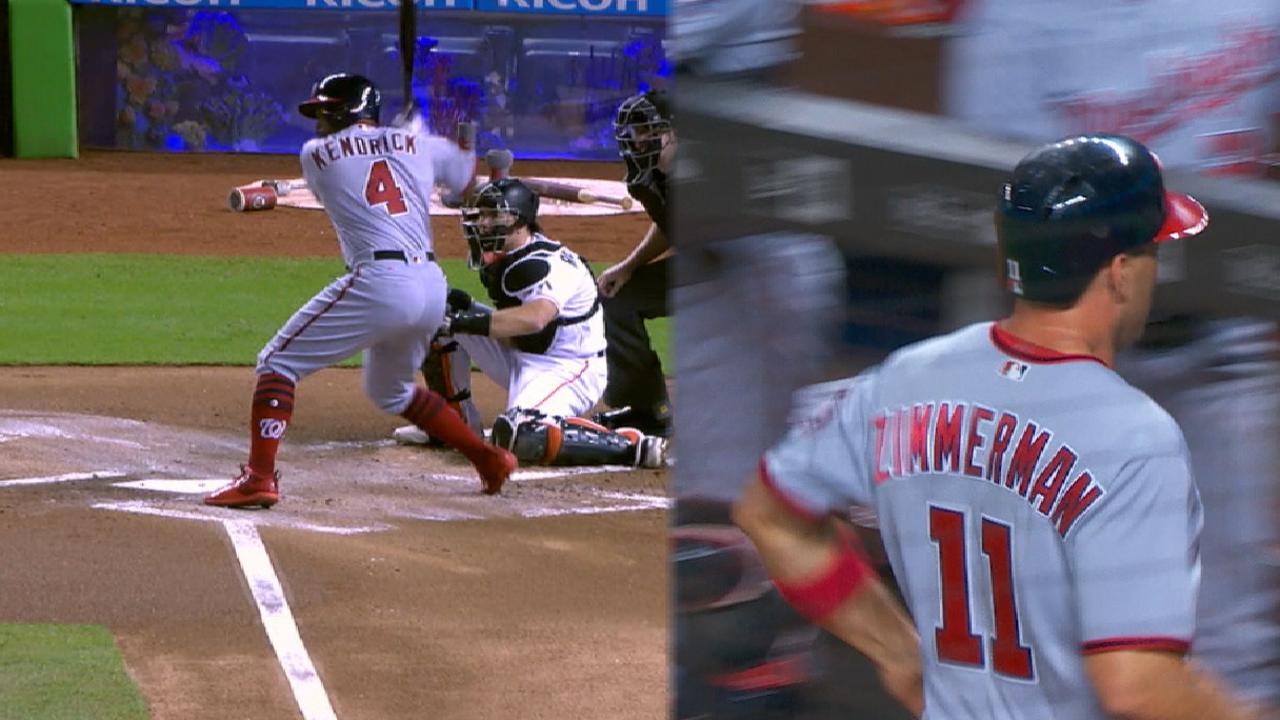 Zimmerman was a key part of the 17 runs Washington scored over the three-game sweep, a good sign as October approaches.
"It's just one of those things where we need to finish strong," Zimmerman said. "You want to end this month playing your best, having everyone healthy and kind of be rolling into October."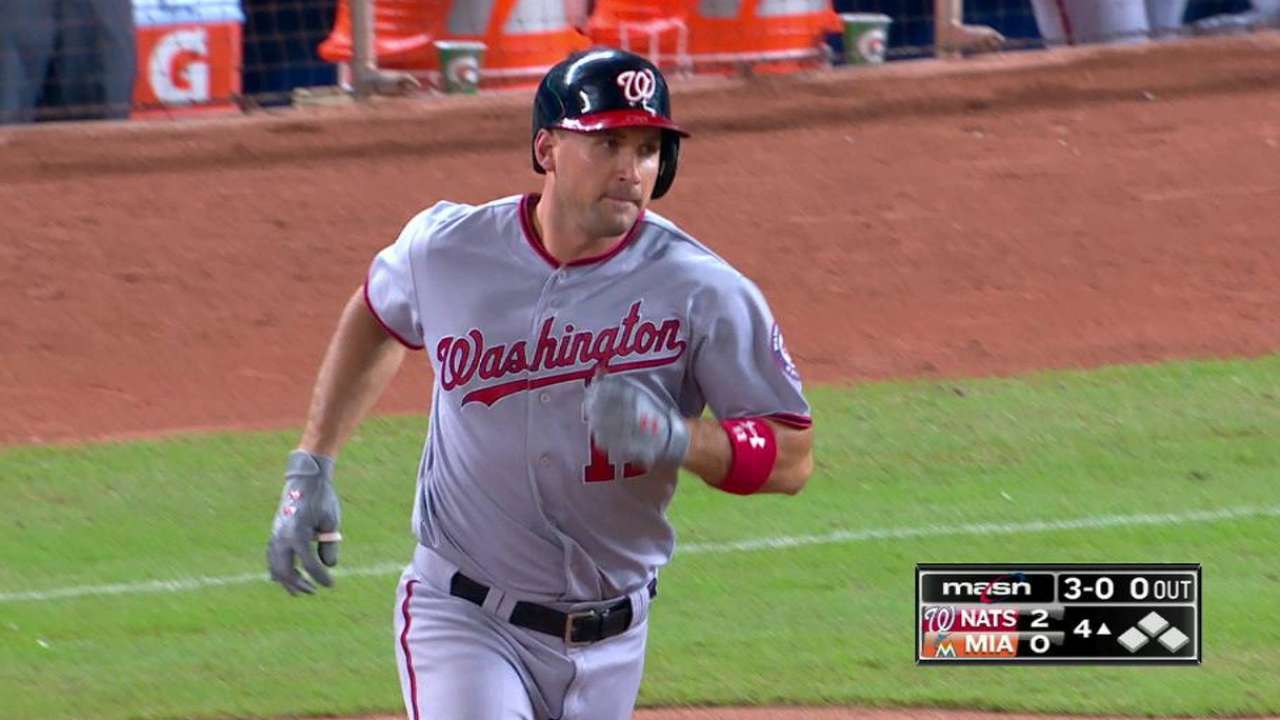 Peters, ranked by MLBPipeline.com as Miami's No. 4 prospect, gave up three runs on six hits in five innings with two walks and six strikeouts. In his MLB debut on Sept. 1 against the Phillies, the lefty threw seven shutout innings, striking out eight.
"They were coming out ready to swing at the fastball," Peters said. "I was leaving a lot over the middle of the plate in those first two innings. That's why those first two runs crossed in the first inning. Better execution, and just stay out of the middle of the plate."
MOMENTS THAT MATTERED
Kendrick's debate: Was it a bunt foul or a hit by pitch? The play in question involved Kendrick's bunt attempt versus Vance Worley in the sixth inning with two on and no outs. Worley's pitch sailed inside and the ball ended up hitting Kendrick, but there was confusion as to whether the pitch clipped his bat. At first, the Marlins acted like the ball was live, throwing the ball around for a potential double play. Then first-base umpire Paul Emmel ruled it foul. The umps, however, met and decided Kendrick was hit by the pitch, loading the bases. Washington scored three runs in the inning, breaking open a six-run lead.
"I couldn't really tell. The ball looked like it hit the bat," Nats manager Dusty Baker said. "[J.T.] Realmuto said, 'Man, what kind of muscles did he have? That ball looked like it hit something hard and then rolled.' Usually, the ball just falls straight down. That was a big play for us. That was a play that kind of broke the game open for us."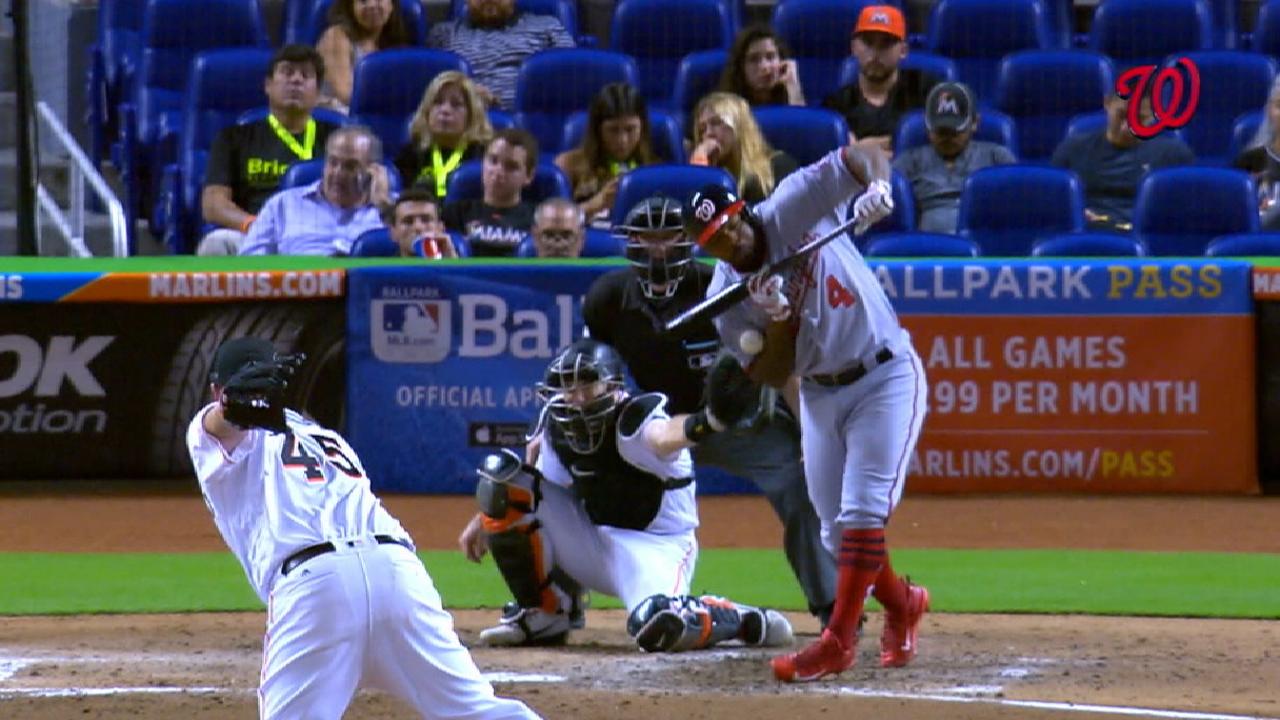 Gonzalez escapes jams Gonzalez wiggled out of trouble in the fourth inning after loading the bases with no outs. He sandwiched a Christian Yelich single with walks to Giancarlo Stanton and Marcell Ozuna before Realmuto lined out to short. The threat dissolved when Tyler Moore and Brian Anderson each struck out.
"He was Houdini," Baker said. "He got out of some trouble with some big hitters coming up there. He made the pitches when he had to."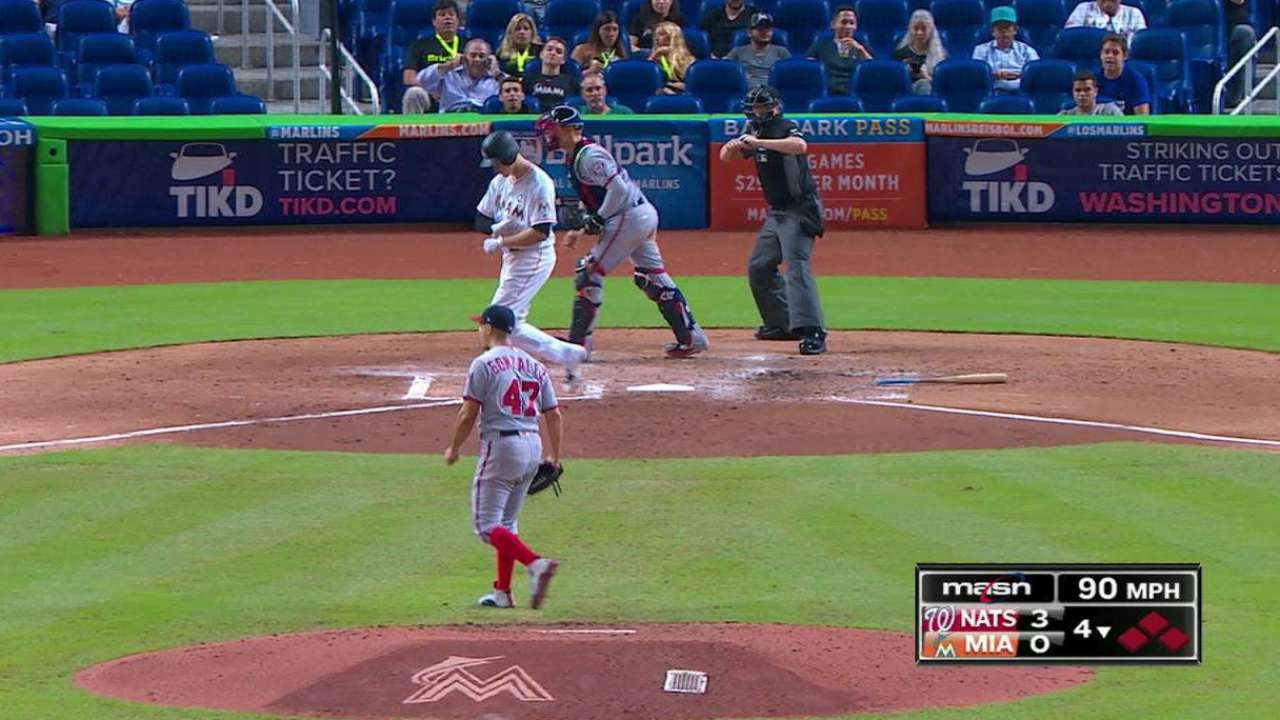 Down by 3, the Marlins appeared to be in business again in the fifth inning with runners on first and second with one out for Stanton. Pinch-hitter Ichiro Suzuki singled and Dee Gordon dropped a bunt single. With one swing, Stanton -- who has a MLB-leading 53 homers -- could have pulled Miami even. But Gonzalez threw an 83.3-mph changeup on a 2-0 count and got Stanton to roll over to short, starting a 6-4-3 double play.
"We do have the bases loaded, and J.T.'s ball right at [Trea] Turner," Mattingly said. "That has a chance to flip that game, and it's right at him. It could be a ball that's in the seam and gets three right there, and we've got a new game. We don't get it there."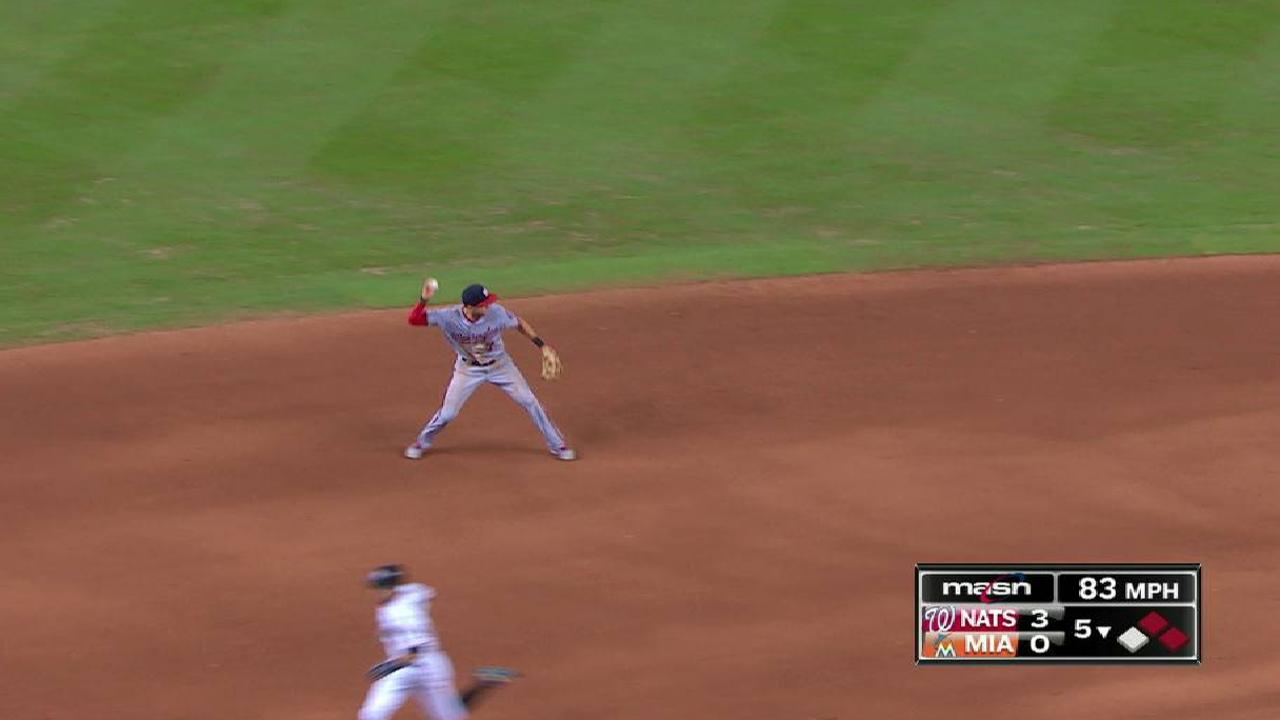 QUOTABLE
"Yes, you want fans here. Absolutely. But at the same time, we'd rather you be more cautious and safe and prepare for what's coming. So I think as far as that, there's a lot on my mind. Not only myself, but a lot of players have some family here. It's weird to see a night game and get going in Miami knowing what's coming. As far as that, I was just trying to take emotion out of the game." -- Gonzalez, on pitching in Miami while the city awaits Hurricane Irma
"It was pretty flat. Honestly, the last couple of days, it's been pretty surreal around here. Last night going home, seeing people stacked at the gas stations. It's definitely been a little different. I've never been in this area when people are preparing for something like this. Obviously, people are concerned and are getting ready for that. So it's a little different." -- Mattingly, on the team playing while South Florida prepares for Hurricane Irma
SOUND SMART WITH YOUR FRIENDS
Escaping trouble is nothing new for Gonzalez, who is limiting opponents to a .137 mark with runners in scoring position, best among qualified starting pitchers.
REPLAY REVIEW
A footrace to first base was about to go to Gordon, but Gonzalez had other ideas. With two outs in the third inning, Gordon tapped a broken-bat grounder to first. Zimmerman handled and made the flip to Gonzalez, who approached first about the same time as Gordon. Gordon was positioned to touch the base first, but Gonzalez instead tagged Miami's speedster for the third out. The Marlins challenged the call, and after a review of 33 seconds, the ruling was confirmed.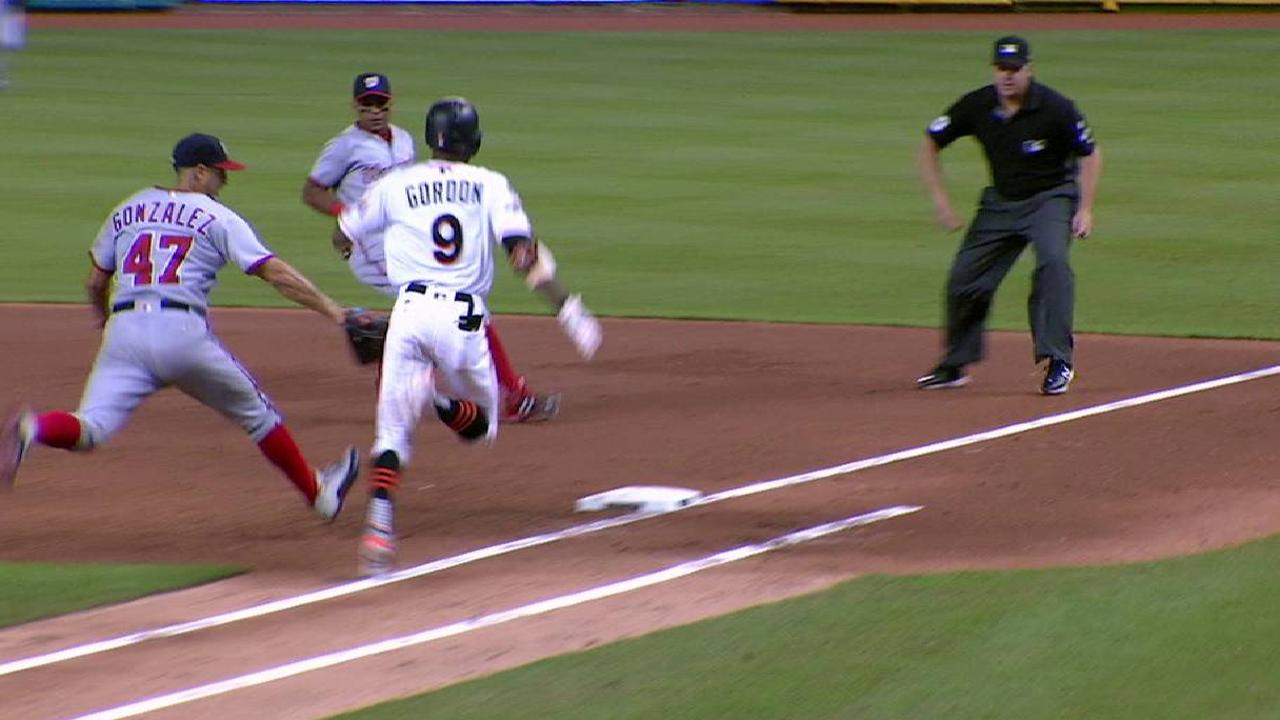 QUICK RELEASE REALMUTO
It wasn't the most conventional 1-2-3 inning you will see, but Peters and the Marlins will take it. Thanks to the quick release and strong throwing arm of catcher Realmuto, the Nationals were retired after three batters in the second despite Taylor and Jose Lobaton each singling to open the inning. But in a double-steal attempt, Realmuto threw Taylor out at third base. According to Statcast™, Realmuto's pop time was 1.38 seconds.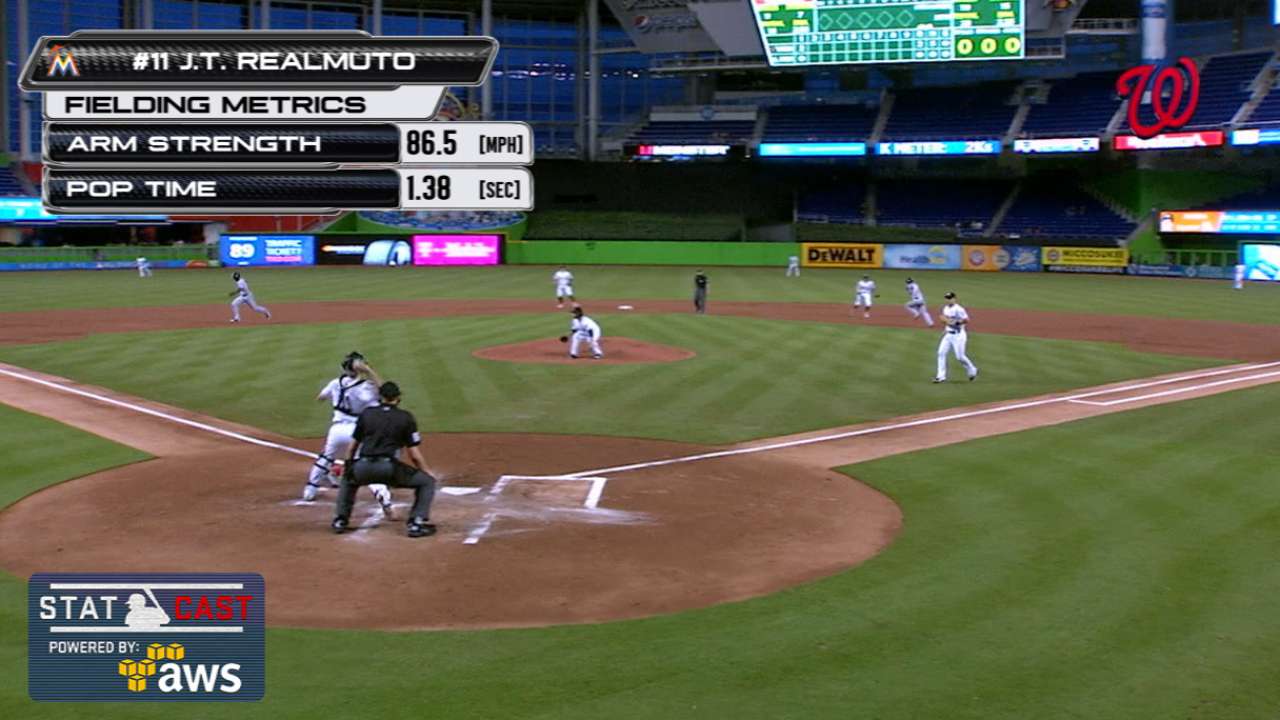 In the three seasons Statcast™ has tracked pop times, there have been just three instances under 1.4 seconds to third base -- all from Realmuto this year. Miami's backstop actually had a time of 1.37 seconds against the Nationals and Taylor on June 20, however, Taylor was safe on the play. Realmuto's throw of 86.5 mph was his best on any caught-stealing in 2017. To cap the inning, Realmuto picked Lobaton off second.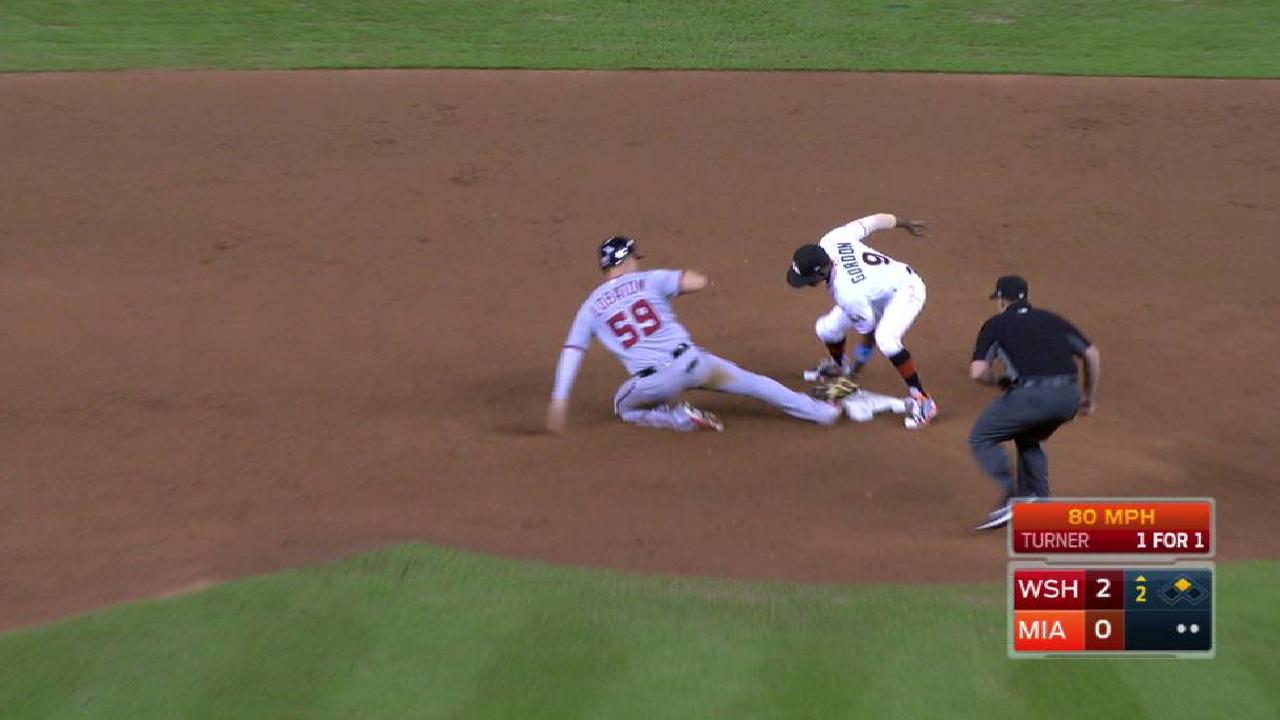 WHAT'S NEXT
Nationals: Washington returns home for a four-game series against the Phillies. Tanner Roark (11-9, 4.48 ERA) will open it up at 7:05 p.m. ET on Thursday. He's 5-3 with a 3.05 ERA in nine starts since the All-Star break.
Marlins: Miami heads on the road at a time South Florida is taking precautions for Hurricane Irma. The Marlins open a four-game series against the Braves at 7:35 p.m. ET at SunTrust Park. Dan Straily (9-8, 3.91 ERA) will counter rookie left-hander Sean Newcomb (2-8, 4.31 ERA).
Watch every out-of-market regular-season game live on MLB.TV.
Joe Frisaro has covered the Marlins for MLB.com since 2002. Follow him on Twitter @JoeFrisaro and listen to his podcast.

Patrick Pinak is a reporter for MLB.com based in Miami and covered the Nationals on Wednesday.

This story was not subject to the approval of Major League Baseball or its clubs.