O's walk-off hero offers Manny happy returns
AL Player of the Month for August extends torrid run, hits 3rd game-winning HR in 19 days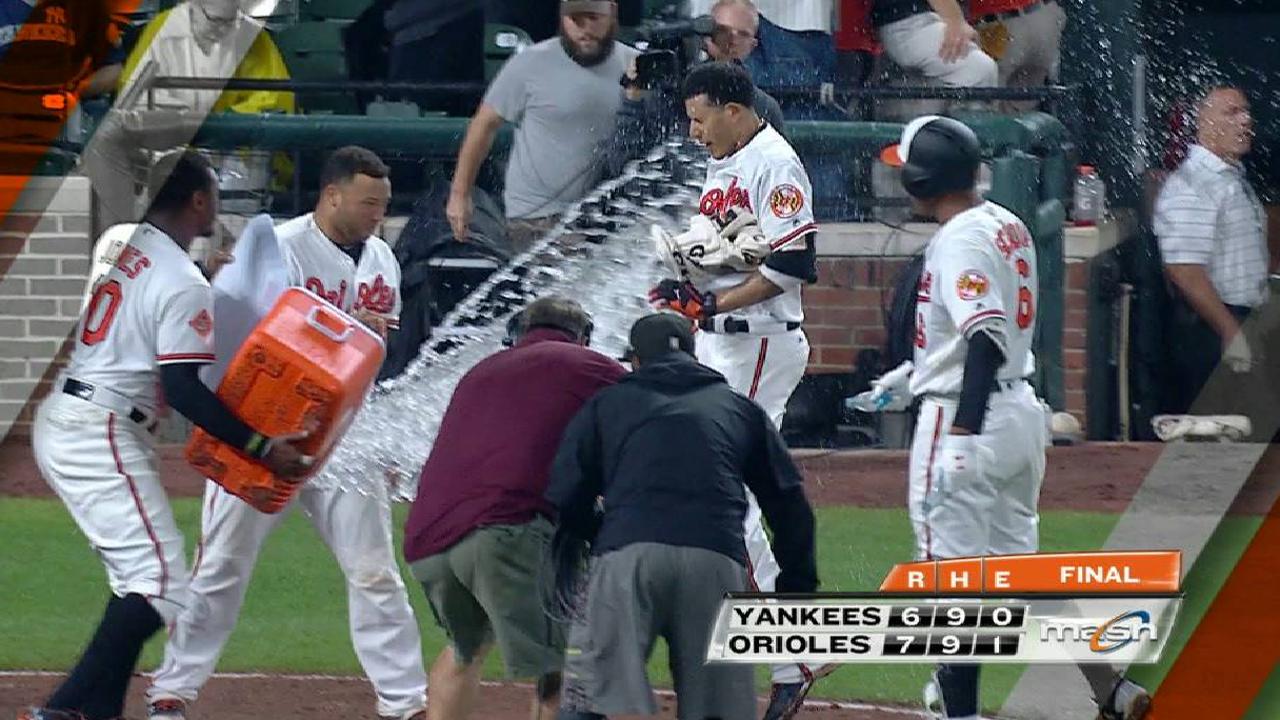 BALTIMORE -- As Manny Machado goes, so go the Orioles.
It seems to be that way anyway, as the red-hot O's third baseman has put his team on his back over the past three weeks. So it was no surprise in Baltimore's 7-6 series-evening, walk-off win over the Yankees on Tuesday night that Machado was -- once again -- the hero. His two-run homer marked his third walk-off shot in the past 19 days, making him the first player since Sammy Sosa in 1996 with that many game-winning homers in that short of a span.
"He's at another level. He's a premier talent," Mark Trumbo, who went deep himself in the sixth, said of Machado's run. "This season is going to be one he can use in the future to build off of. He's proven that even if he has a little bit of a struggle, that talent is in there. It's going to come out. It's a character builder, and he's played exceptionally."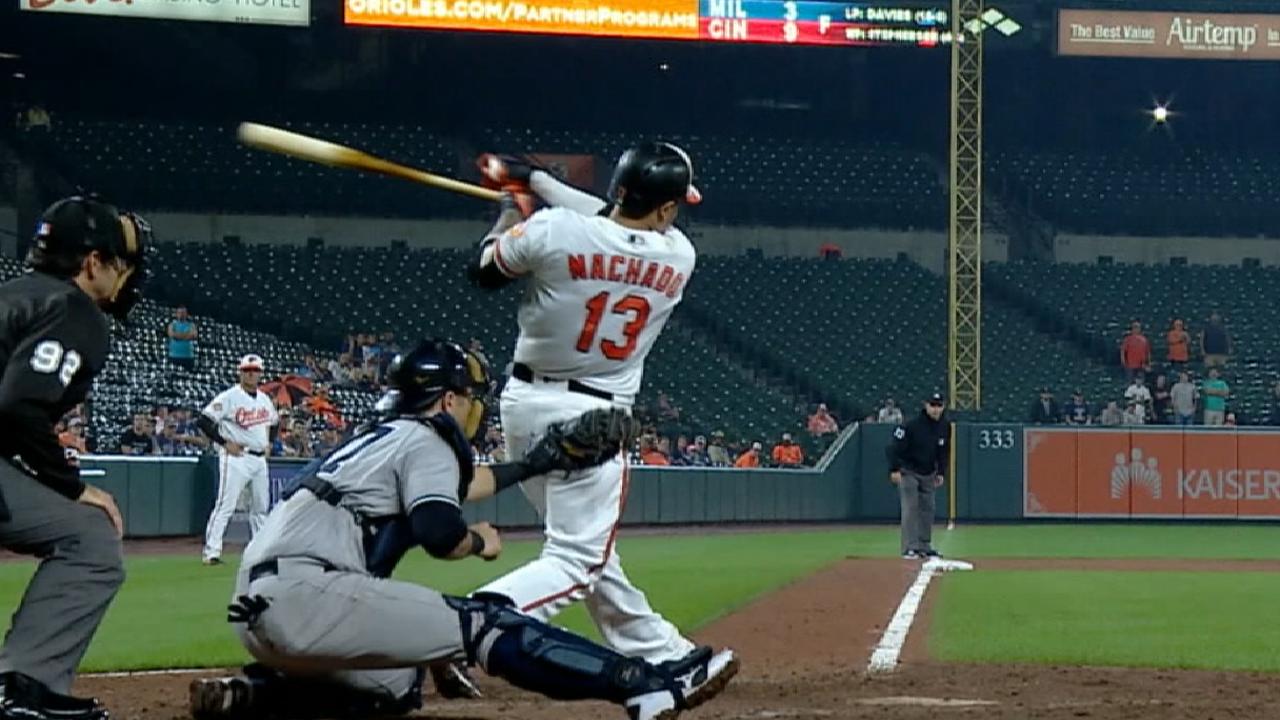 Machado now has a team-leading 32 RBIs in the seventh inning or later. The reigning American League Player of the Month started Baltimore's comeback with a 425-foot blast off Yankees starter CC Sabathia in the bottom of the third inning that landed in the O's bullpen. The homer, which had an exit velocity of 106 mph according to Statcast™, made it 6-2 and was Machado's 31st homer of the year.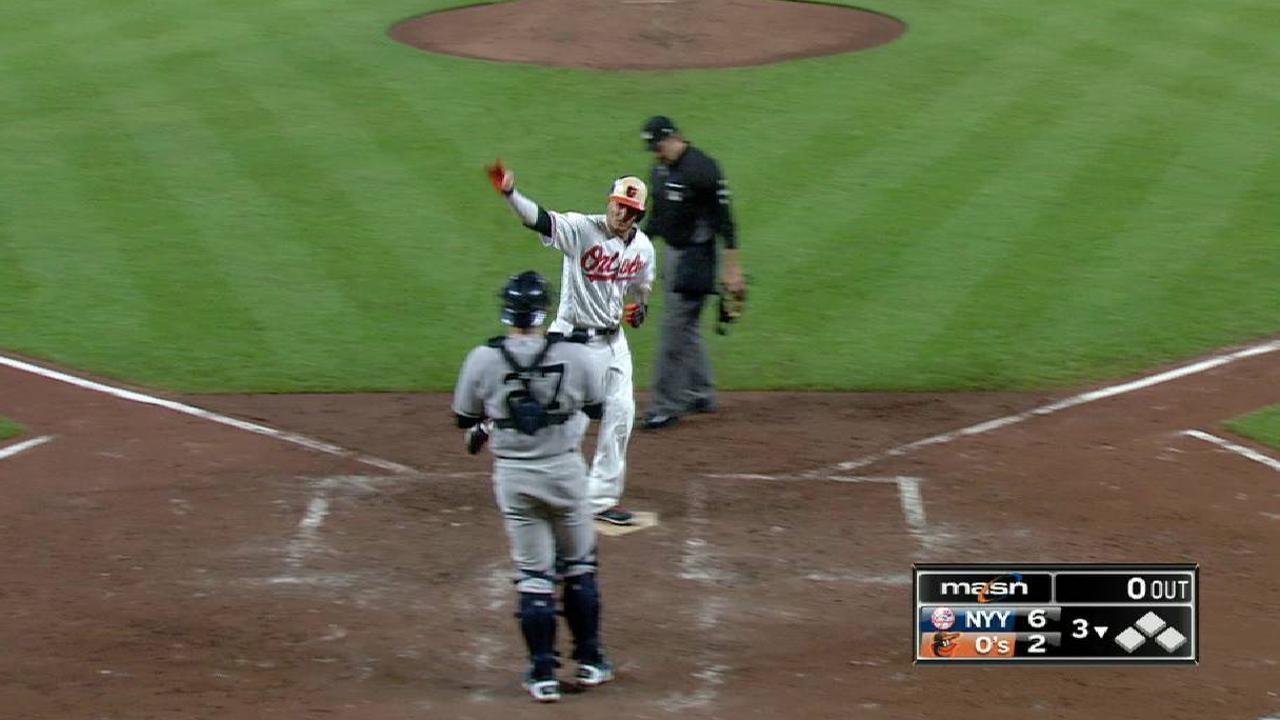 But it was the two-run ninth-inning blast -- off of Yankees closer Dellin Betances -- that sealed the deal, giving Machado his sixth walk-off hit this season, five of which have been home runs.
"Manny's been swinging as well as anyone in the league, you look at his August numbers and how good they've been," Yankees manager Joe Girardi said. "It's unfortunate. I thought the 3-1 pitch was a good pitch to [Tim] Beckham. We didn't get the call and then Manny makes us pay."
Machado isn't just picking on the Yankees. Since Aug. 1, he has 14 home runs and 38 RBIs.
"You know what? You prepare every day out there," Machado said. "You do all your routines before games, BP, in the gym, try to keep it the same, so we prepare for situations like that, prepare for big rooms.
"It's all about preparation what we're doing, and everyone plays this game. Everyone knows how to play it, and we go out there and enjoy ourselves, and we're ready to play once [7 p.m.] rolls around."
While Machado prefers to defer to the team, it's fair to wonder just how good he can be.
"I don't get into ranking players versus other people. Manny has a chance to have a great career and he's off to a really good start," Orioles manager Buck Showalter said. "But it's been an honor to watch some really great players play at a very high level. It's something that's very hard to do. Very few people can do it. Manny has a chance to fit into that group. Off to a pretty good start, huh?"
Brittany Ghiroli has covered the Orioles for MLB.com since 2010. Follow her on Facebook and Twitter @britt_ghiroli, and listen to her podcast. This story was not subject to the approval of Major League Baseball or its clubs.