Odorizzi cruises until Mauer spoils no-hitter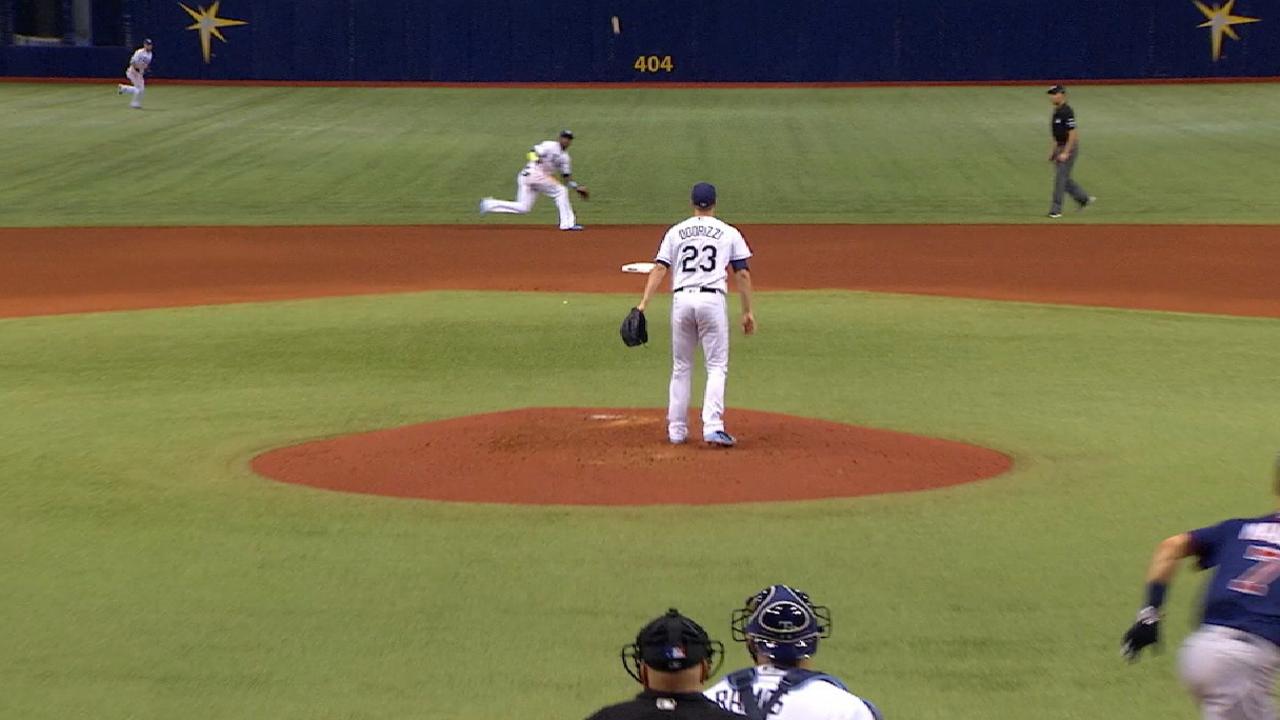 ST. PETERSBURG -- A zero hung in the Minnesota hit column 19 outs into Tuesday's 2-1 loss to the Rays. If anyone on the Twins was going to put a damper on Rays starter Jake Odorizzi's bid for a no-hitter, it was likely to be Minnesota's Joe Mauer.
With Odorizzi having faced the minimum number of hitters through 6 1/3 innings, Mauer broke up the no-hit bid with a single up the middle that clipped the second-base bag and popped straight into the air.
"That was tough. That was kind of a weird one," Rays first baseman Lucas Duda said. "Hitting the bag, that's pretty lucky. But the guy hitting, he's a good hitter, he probably deserves a good bounce or two every now and then. It's just how it goes."
"Just wasn't meant to be," Odorizzi said. "The bases have been there since they created the game, so it's just how it happens."
The hit extended Mauer's consecutive hit streak to 14 games. Mauer has reached safely in his last 25 games against the Rays and is a career .386 hitter at Tropicana Field. Given that sure-handed shortstop Adeiny Hechavarria was tracking the grounder, the Rays thought they had a chance to make an out of what became a hit.
"We were confident from our angle that he was going to make the play," Rays manager Kevin Cash said. "I mean my gosh, he's anywhere in the vicinity we're pretty confident he's going to make the play."
Instead, the play went into the books as yet another no-hitter spoiled by Mauer. The Twins' first baseman is one of just two players in baseball history to break up three no-hitters in the ninth inning. The only other player to accomplish that was Yankees infielder Horace Clarke, who did it all in one month in 1970. Mauer laced one-out singles against Detroit's Anibal Sanchez in 2013 and Texas' Neftali Feliz, who was trying to finish off a team effort, in 2010. His one-out double broke up Gavin Floyd's no-hitter bid for the White Sox in 2008.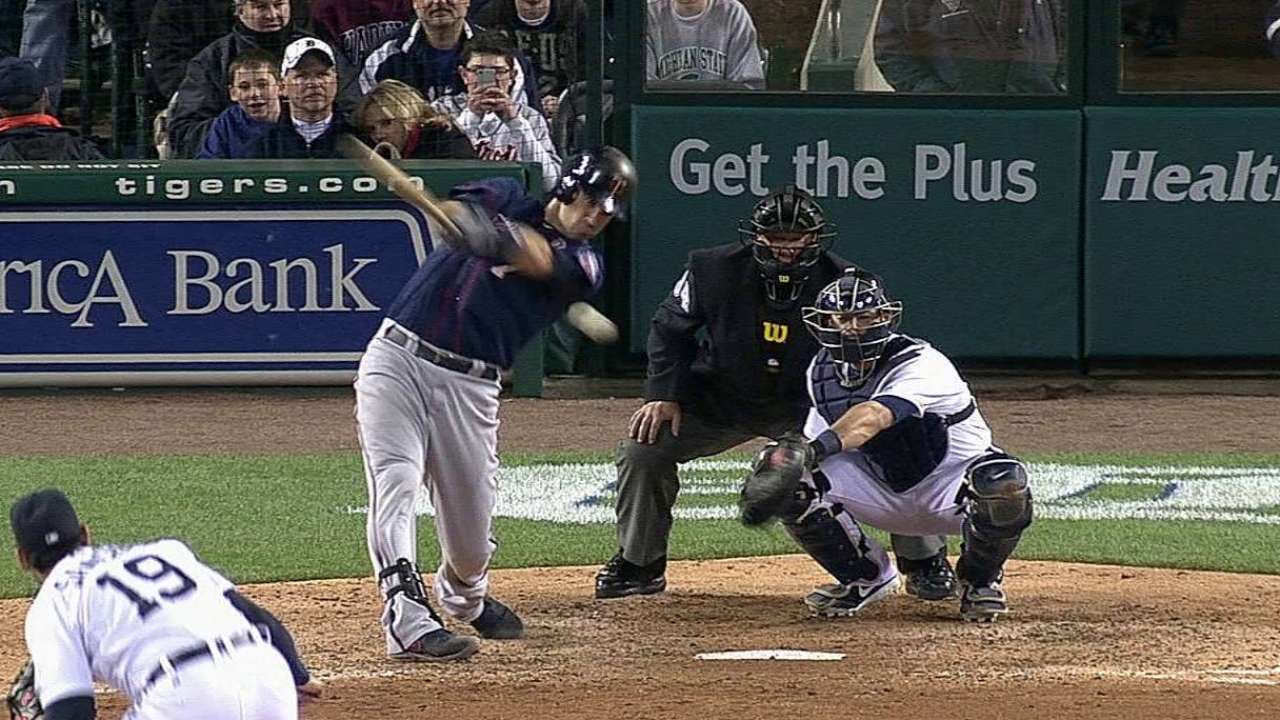 "I just try to keep it simple and have a good at-bat," Mauer said. "It's tough. As a hitter you try to eliminate pitches, but when a guy is throwing four of them for strikes it makes for a tough night. I just try to have good at-bats and try to wear them out if you can."
Mauer has pieced together plenty of quality at-bats in the past couple of weeks, batting .418 during a hitting streak that is two games shy of a career high.
He will surely be leaned on in the coming weeks as well, as the 34-year-old is one of just five regular hitters over the age of 28 for the Twins. Minnesota's youth comes with a lack of playoff experience, and the three-time playoff participant Mauer will likely be the face the Twins turn to for guidance in the season's biggest moments.
As Tampa Bay prepares for a playoff push of its own, the effectiveness from all the options in Odorizzi's toolbox Tuesday was a welcome sign. Odorizzi's pitches had an extra oomph, his fastball topping out at 94.5 mph and his curveball having extra bite. That caught the eye of his skipper.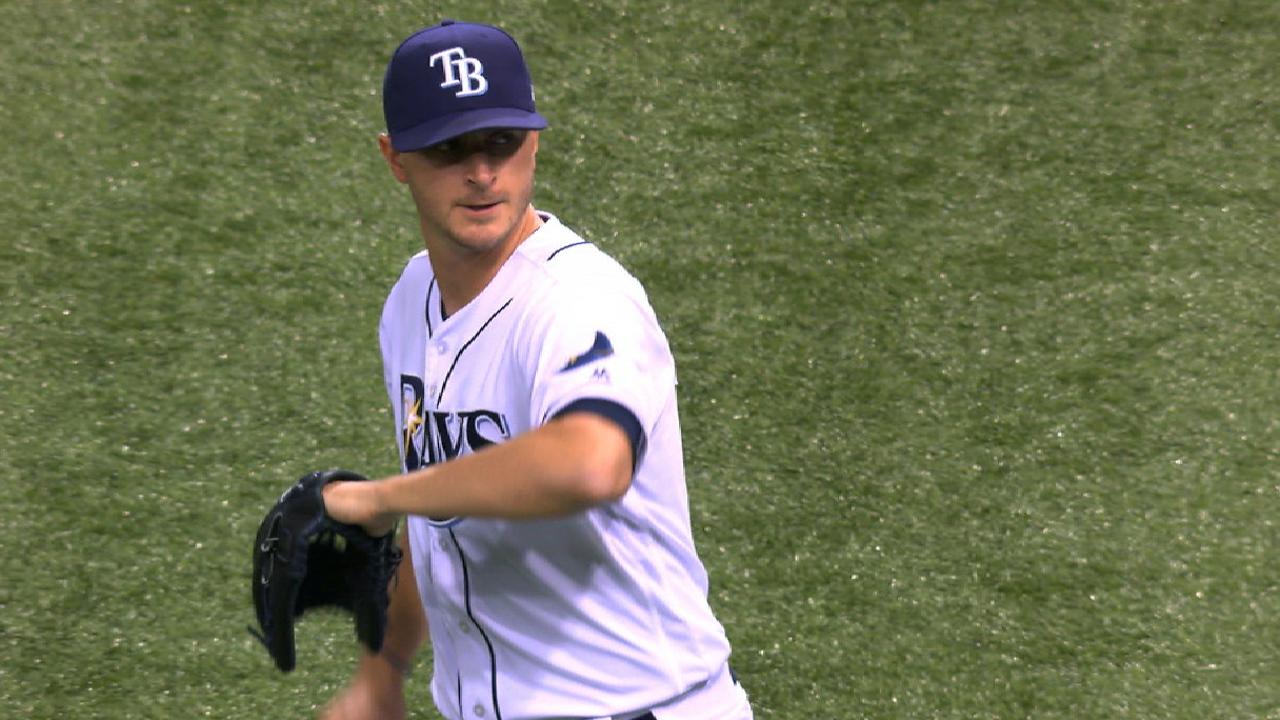 "Pitch-mix-wise, I thought tonight may be his best curveball that I've seen him have and his best fastball," Cash said. "He threw some good cutters mixed in there, but the curveball I think was a weapon for him. Normally, it's kind of just a get-me-over pitch. He utilized that more than I had seen recently, and his fastball was ticked up."
Odorizzi has struggled for much of the year. He allowed a home run in a franchise-record 15 consecutive games and decided to pitch exclusively from the stretch to simplify his mechanics. He busted the home run streak, but still weathered a difficult August during which he posted a 6.45 ERA.
"Jake and I have had some very good, honest conversations and I think he'd be the first to tell you that this past month of August did not go the way he envisioned, and what we need out of him," Cash said. "Today was a huge step: Turn the page from August, we're into September now, and get on a roll."
Cash wants to see the consistency Odorizzi provides when things are clicking, when he is able to pitch deep enough into games to set the Rays up to compete. With the American League Wild Card race tightening and the clock ticking down to the end of the season, Odorizzi needs to find a way to come close to duplicating Tuesday's effort.
For now, he's satisfied with the win over the Twins, which clinched a series victory.
"It's nice to see some adjustments are reaping some benefits," Odorizzi said. "I just need to replicate my mentality, everything. In the next start, hopefully it just keeps snowballing and that's the start that kind of gets me going. It would be a good time to get going the rest of the month when we are trying to compete for a playoff spot."
Connor Mount is a reporter for MLB.com based in St. Petersburg. This story was not subject to the approval of Major League Baseball or its clubs.