Cubs haunted by walk, bad luck in fateful 8th
After Hendricks' strong start, Edwards issues leadoff free pass, laments 'bloopers'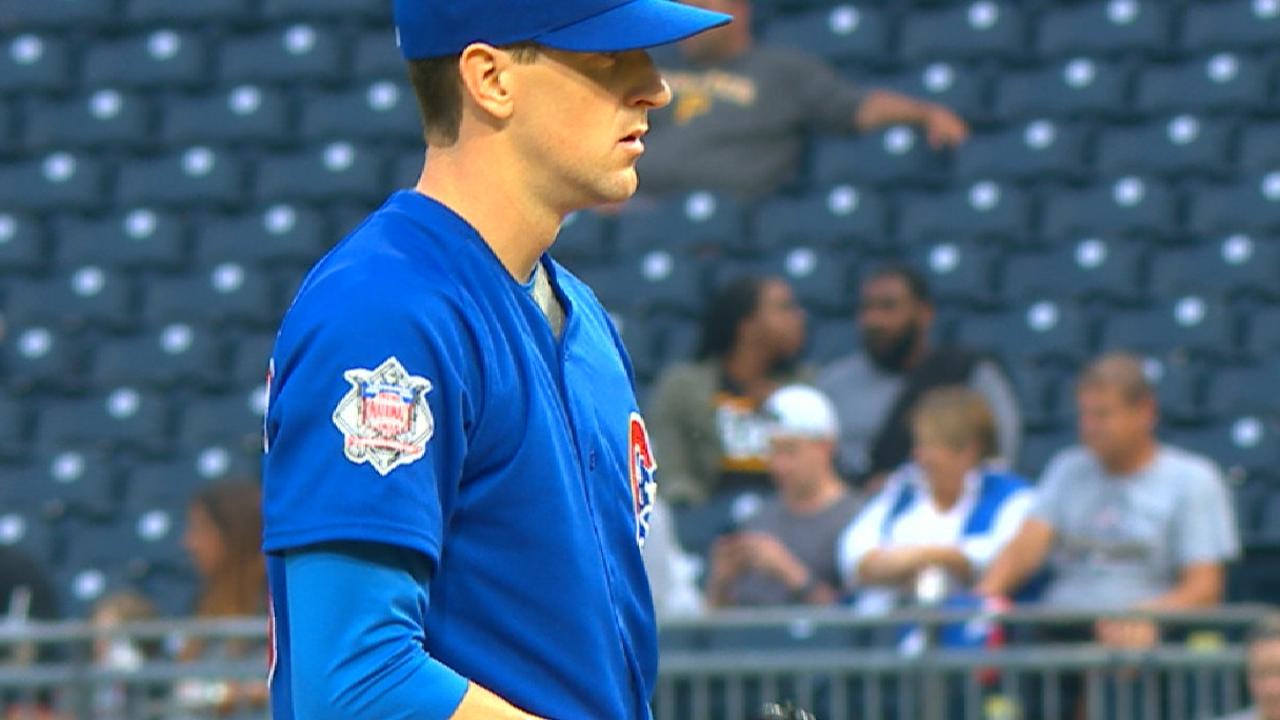 PITTSBURGH -- The Cubs' bullpen ranks high in several categories, but there are no guarantees when it comes to leadoff walks, wild pitches or softly hit singles.
Such was the Cubs' undoing at PNC Park on Tuesday night, as the Pirates rallied for two runs in the eighth inning off reliever Carl Edwards Jr. to send Chicago to a 4-3 defeat, its third straight loss.
Edwards came on in the seventh after starter Kyle Hendricks delivered another tidy outing, giving up two runs on five hits with no walks and a pair of strikeouts. He departed after 101 pitches with two outs and a runner on first base, and Edwards struck out Jordy Mercer.
Then came the eighth.
"It's the bloopers," Edwards said. "Stuff happens. You can't go out there and throw perfect every day, and I don't look forward to throwing perfect every day."
Edwards didn't pitch badly, although walking the leadoff batter -- in this case, John Jaso -- is a recipe for disaster, especially with a one-run lead, late. Starling Marte then poked a soft single that advanced a hustling Jaso to third. Rookie Max Moroff then blooped a single over shortstop that scored Jaso and tied the game.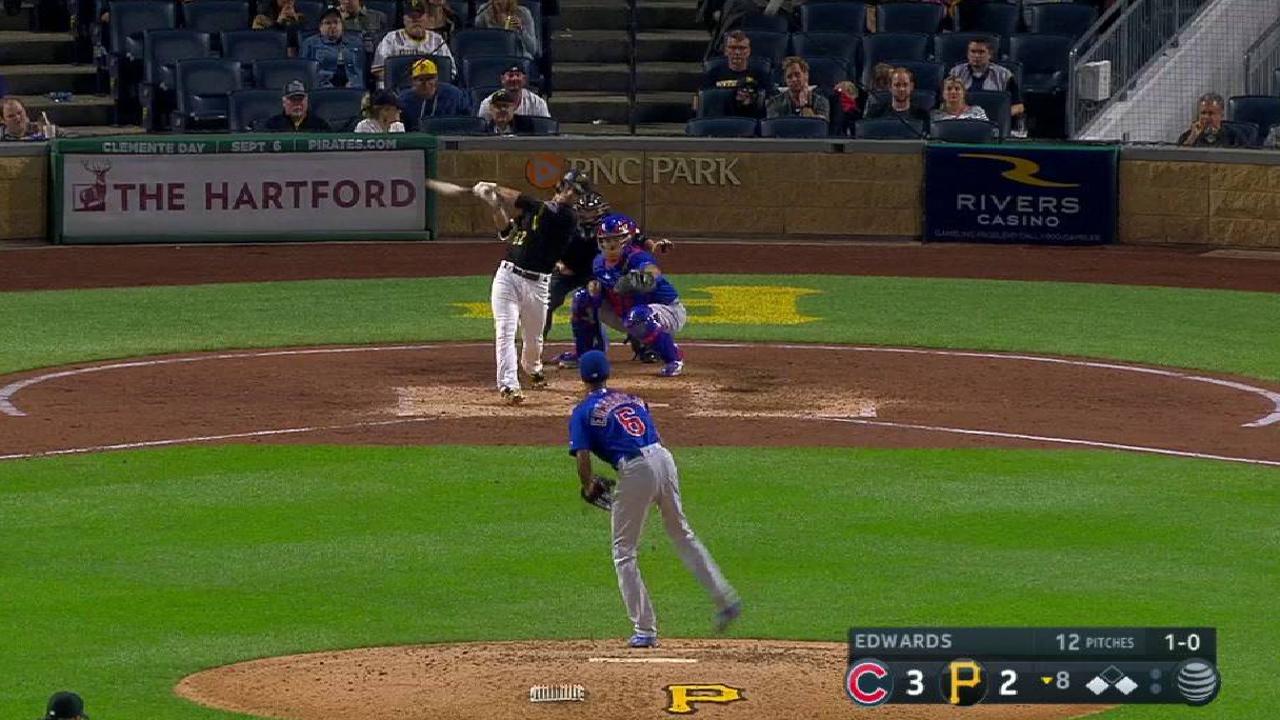 Marte was thrown out trying to get to third, and with Andrew McCutchen up, Moroff scooted to second on a wild pitch. Edwards intentionally walked Josh Bell, but David Freese hit a legitimate line-drive single to center field, scoring Moroff. Bell was also thrown out at third to end the inning, but the two runs were enough.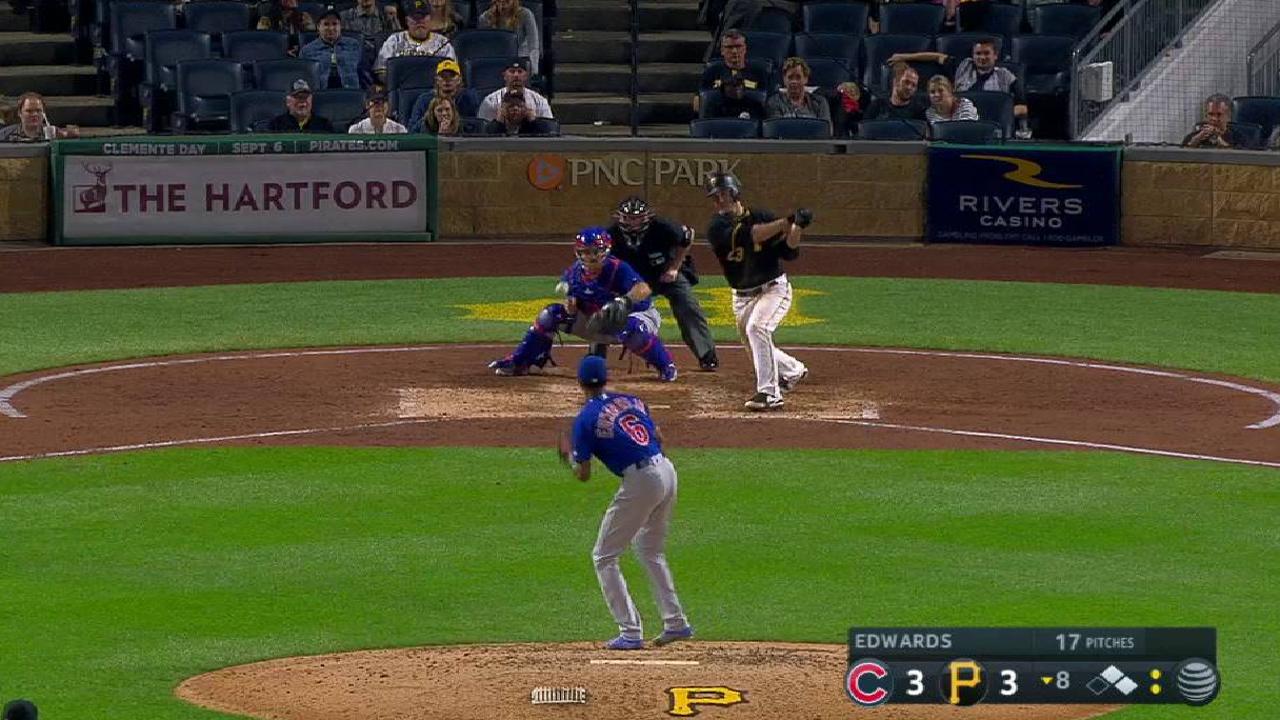 "Like I said, it's the bloopers," Edwards reiterated. "I don't even care about the walk, but if it wasn't the bloopers it would be a different story."
"[Edwards] had great stuff, there's no issue about that, but the [leadoff] walk did hurt," Cubs manager Joe Maddon said.
Maddon also pointed to his team stranding eight runners in the first four innings against rookie starter Steven Brault. The Cubs scored just three runs off Brault, who yielded eight hits and walked two, allowing the Bucs to stay close.
"That always bothers you, when you leave that many runners on," Maddon said.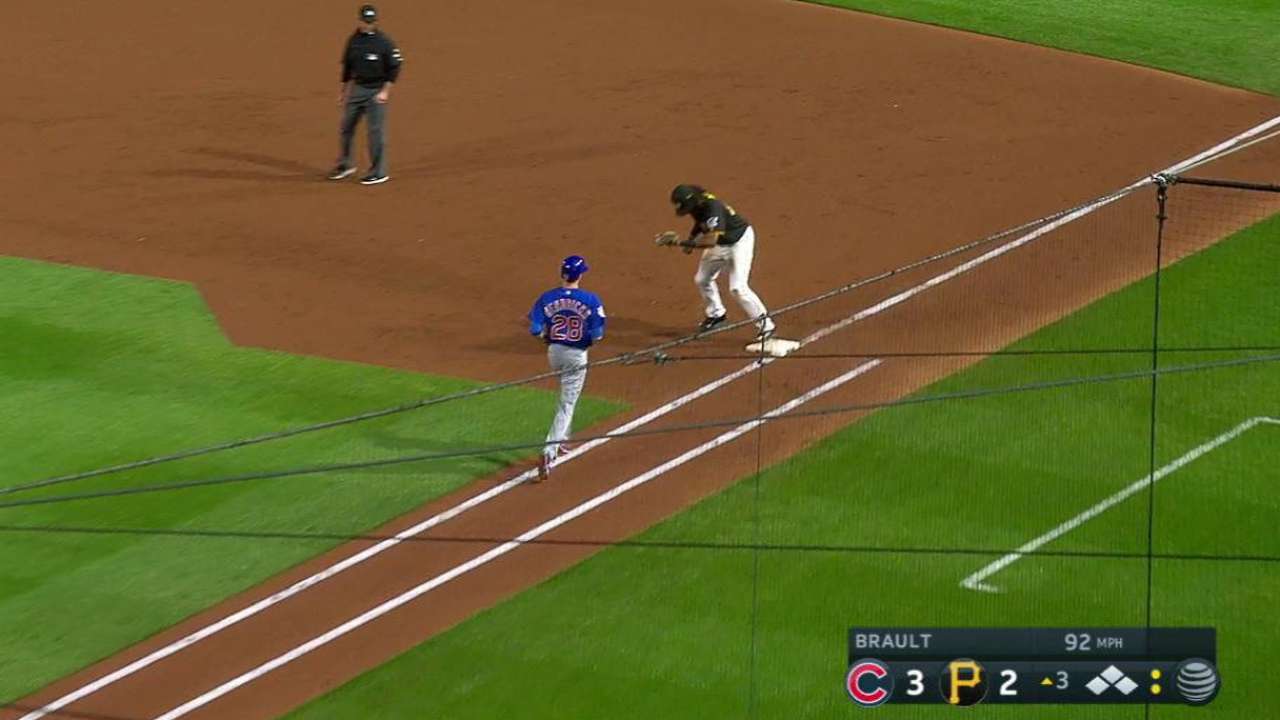 Hendricks, still on a pitch count after returning from the disabled list in late July, said he "definitely" could have pitched longer, but he did not quibble with the move.
"I knew I was gonna be out of there," he said.
"I feel really strongly about [Edwards] in that situation," Maddon said. "That's who he is, and he had a couple of days off. He didn't have his best day, and they beat us."
Maddon also felt Edwards' pain over the quality of some of the hits.
"Two softies," Maddon said. "Good hitting by Marte, softie by Moroff and all of a sudden we're in trouble."
Edwards still could have escaped, "but Freese hits the ball up the middle, and that's it," Maddon said.
Bob Cohn is a contributor to MLB.com based in Pittsburgh. This story was not subject to the approval of Major League Baseball or its clubs.