Despaigne building case to start in 2018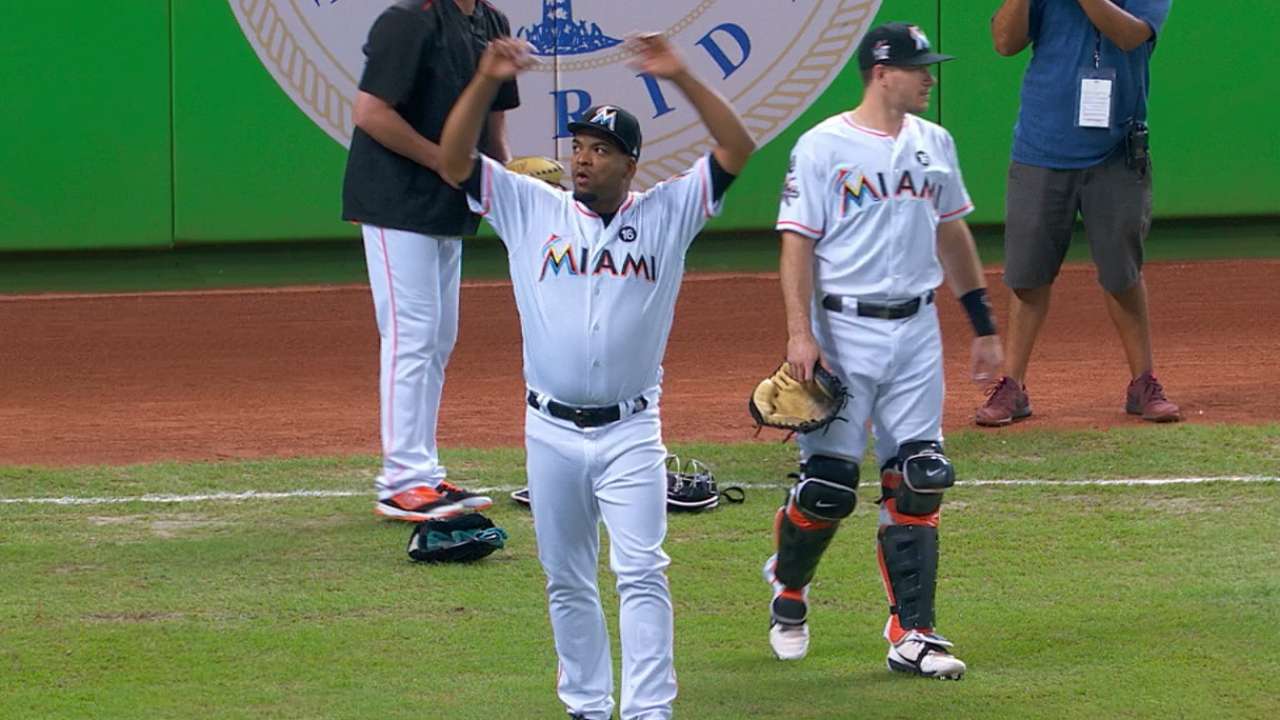 MIAMI -- The Marlins aren't piling up many wins right now, but they're getting some answers with their personnel. Right-hander Odrisamer Despaigne, for instance, continues to make a case to be part of the pitching staff.
The 30-year-old allowed just one run over a season-high seven innings in the Marlins' 2-1 loss to the Nationals on Tuesday night at Marlins Park.
"Right now, we're wanting to find out if this guy is going to be a starter," Marlins manager Don Mattingly said. "Obviously, with our situation, we're looking for starting pitching."
With 24 games remaining, the Marlins (67-71) have lost eight of nine and are running out of time in their chase for the second National League Wild Card spot.
In terms of the bigger picture, Despaigne is showcasing himself.
"I feel good," Despaigne said. "I'm just trying to help the team out, trying to help us win. We're going against one of the better teams out there, and we're trying to right the ship. I want to be a part of it and help us get back on the winning side."
Despaigne possesses the pitch assortment to be an asset in many ways. According to Baseball Savant's game feed, of his 95 pitches, he recorded 20 called strikes and three swinging strikes.
The right-hander's four-seam fastball, which he threw 27 times, had an average speed of 92.1 mph. His hardest-thrown pitch was 94.4 mph.
Despaigne worked with five different pitches: 27 four-seam fastballs, 28 cut fastballs, 22 sliders, 13 changeups and five curveballs.
Muy bien, @despa40! 👏

He's held the opposition to just a run over seven fine innings.#LetsGoFish pic.twitter.com/trntnvVk92

— Miami Marlins (@Marlins) September 6, 2017
"They're a good team, they have a strong lineup," Despaigne said. "I was able to get myself going today. I was able to locate my pitches. I just got in a good rhythm."
Despaigne sustained an oblique injury in Spring Training and opened the season at Triple-A New Orleans. Tuesday marked his 13th appearance with the Marlins, and he dropped his ERA to 3.57 in 35 1/3 innings.
Mattingly has used Despaigne in several roles. He has started four times and has pitched in every inning, even recording his first career save.
Former Marlins right-hander David Phelps, who was traded to Seattle in July, was also versatile in handling any assignment. But Mattingly said the club is hopeful Despaigne's future is as a starter.
"Phelps' role really ended up being a one-inning role," Mattingly said. "I don't know if you'll see that, necessarily. Out of the 'pen, Despaigne has a number of different values. He can be a long guy. He can be a guy who bridges you or comes into the game early."
Joe Frisaro has covered the Marlins for MLB.com since 2002. Follow him on Twitter @JoeFrisaro and listen to his podcast. This story was not subject to the approval of Major League Baseball or its clubs.