Cramps not slowing down dealing Strasburg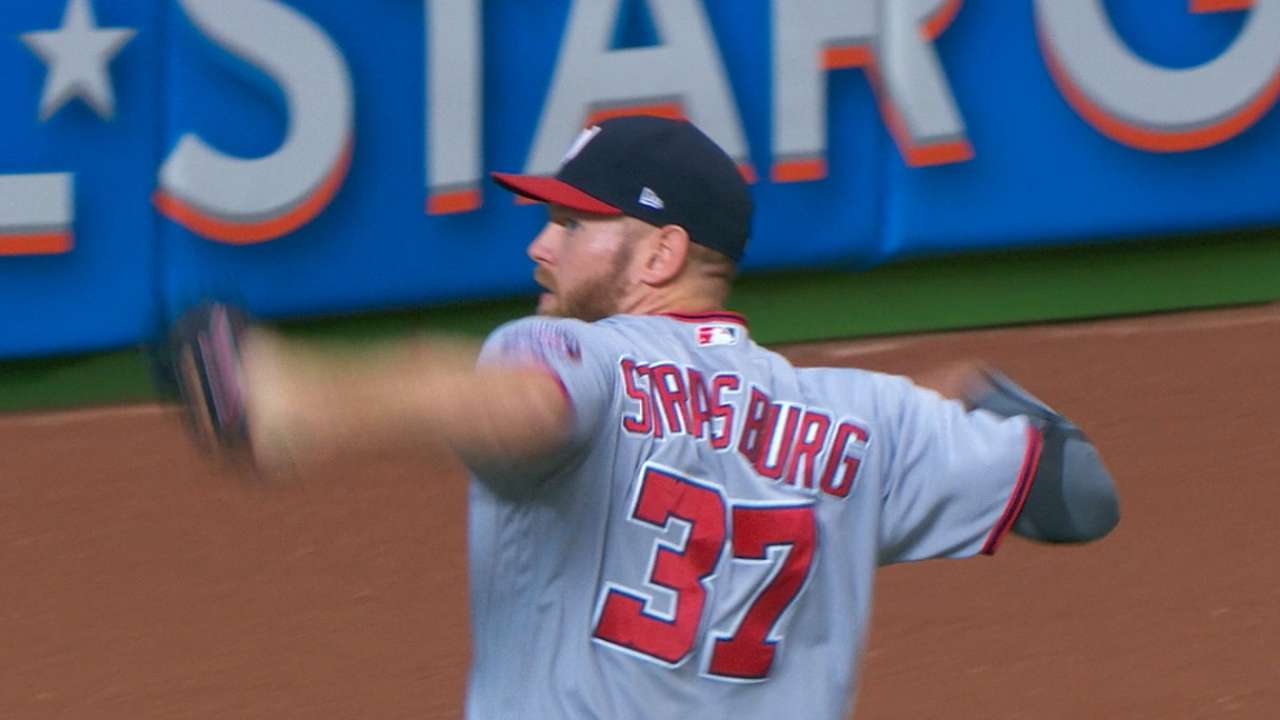 MIAMI -- Stephen Strasburg is on a tear like no Nationals pitcher has ever been on, but his health also remains very much in focus as his club inches closer to October.
Strasburg spent much of Washington's 2-1 win over the Marlins on Tuesday night stretching his right calf and landing on it gingerly. Still, he was able to toss six shutout frames to extend his consecutive scoreless-innings streak to 26, setting a Nationals record since the franchise moved to Washington in 2005.
Gio Gonzalez previously held the record with 25 straight scoreless innings in April 2012.
"He has great command right now. He has great command of his fastball, and they're really not picking up his changeup or his slider," Nats manager Dusty Baker said. "He's throwing the ball great, so we certainly have to keep him healthy down the stretch."
The 29-year-old right-hander experienced calf cramping two starts ago in Houston that forced him from the game early. On Tuesday night in Miami, Washington pinch-hit for him in the seventh after it was clear the cramp was affecting him too much.
In the fifth inning, Strasburg received a visit from pitching coach Mike Maddux and a team trainer to check on him. On his 90th and final pitch -- a filthy curveball that caught J.T. Realmuto looking for his eighth strikeout -- he favored his leg and walked slowly back to the dugout.
Strasburg said he wanted an IV, because they've generally helped him in the past, but he wasn't given one.
"I've been dealing with that for a little bit. It seems like I just lose a lot of fluids. It doesn't matter how much I drink, it just kind of goes right through me," Strasburg said of his cramp. "So it's just a part of it. Just gotta find a way, and I went as long as I could."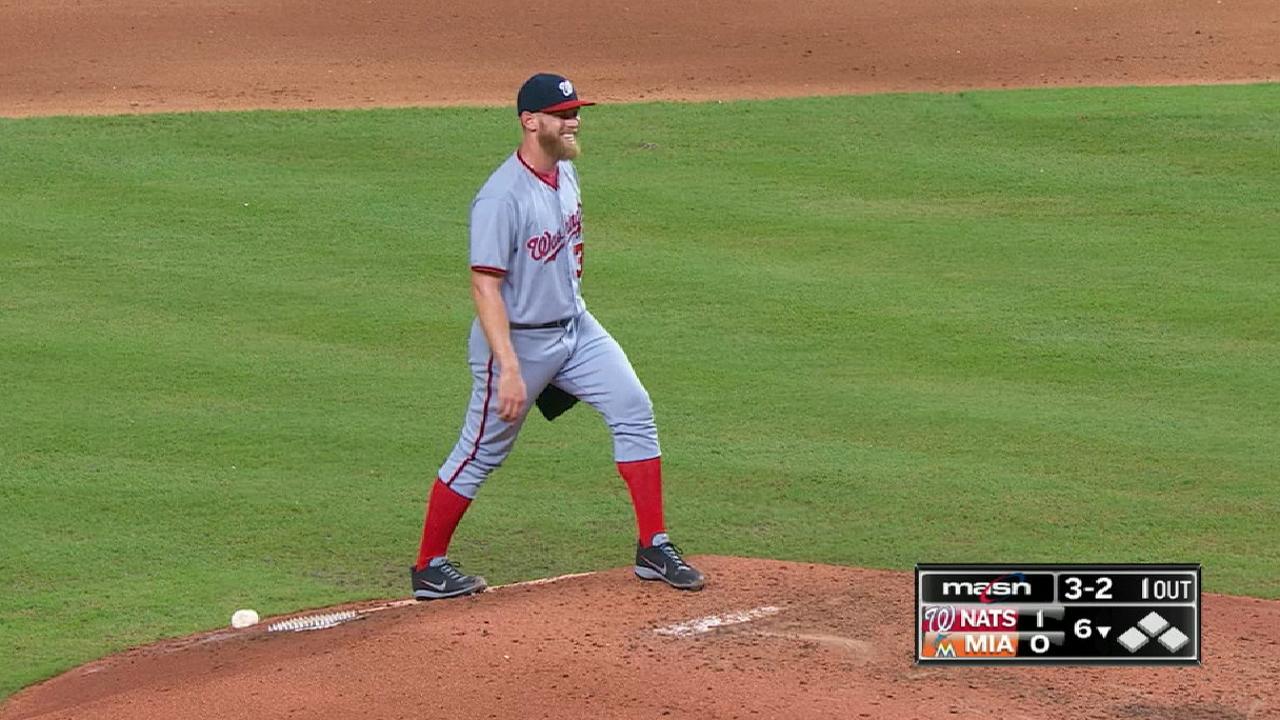 The flamethrower has somehow found a way to pitch through the pain. Strasburg dominated the Marlins again after twirling his second career shutout against them a start ago. Fifteen of his 26 straight scoreless innings have come against them.
The good news for Strasburg is the calf issues don't seem to be affecting his performance, velocity or mechanics. His average four-seam fastball velocity hasn't dipped below 95 mph in any of his last three starts.
Strasburg has focused on forgetting the lingering tightness even exists while he's on the mound.
"I try not to think about it as I'm throwing the ball," Strasburg said. "I just try and regroup mentally, and I'm not really trying to feel for it."
Baker, who wants to be cautious, isn't sure how to handle Strasburg's calf concerns during the final month of the regular season. He knows he'll need him healthy beyond September.
"I don't know what to make of it because our trainers are working on it," Baker said. "He's taking anti-cramping medicine and all that kind of stuff, so I don't know what to make of it. I'm not a doctor, I just make the moves when I have to make the moves."
Patrick Pinak is a reporter for MLB.com based in Miami. This story was not subject to the approval of Major League Baseball or its clubs.