AL Player of Week Ramirez continues tear
Versatile infielder homered in first two at-bats vs. White Sox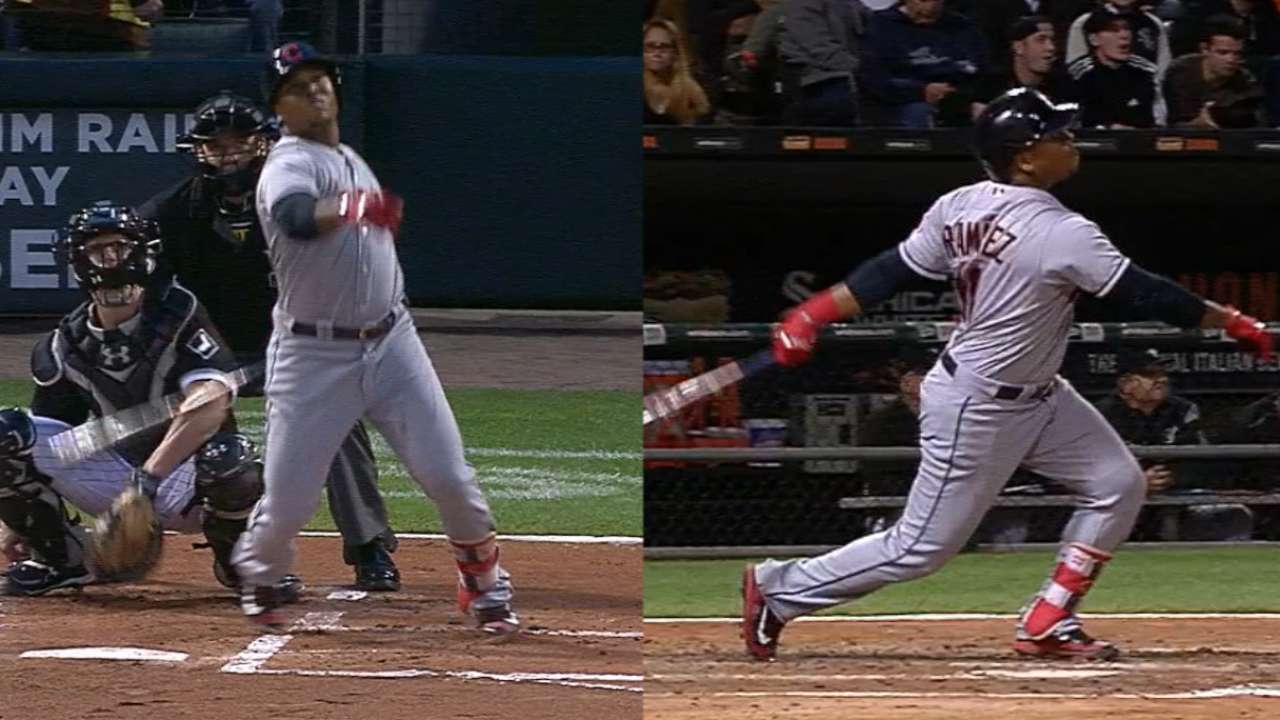 CHICAGO -- These days, it's hard to wipe the smile off Indians second baseman Jose Ramirez's face. Even if his success has all come with a bat that doesn't even have his name on it.
The 24-year-old, who was named the American League Player of the Week on Tuesday, homered twice in his first two at-bats off White Sox left-hander David Holmberg to continue his red-hot tear in what has been a career year.
Ramirez has now homered five times in his last three games -- including three at-bats in a row through Monday and Tuesday -- and seven times during the Indians' eight-game road trip thus far. Cleveland has been scorching, with a 13-game win streak that is the longest in the Majors this season, and Ramirez has been a key cog in the machine.
"You get more experience and you grow more, and it's also about the mentality that you bring to your game," Ramirez said through an interpreter before the game. "All that really helps and makes a big difference. I'm trying to do what I've always been doing. Trying to find a good pitch and put a good swing on it."
🐐 Notes:
- 6th multi-homer game this season
- First Indians batter with 5 homers over three games since Carlos Santana (July 25-27, 2014) pic.twitter.com/UK7GhAfrHF

— WWWWWWWWWWWWWindians (@Indians) September 6, 2017
After Austin Jackson opened the scoring with a solo shot off Holmberg with one out in the first, Ramirez immediately followed to mark the third time this season the Indians hit back-to-back homers. Ramirez hit an 81.4-mph changeup an estimated 370 feet to left field, according to Statcast™, to give Cleveland a 2-0 lead.
Ramirez added on in the second, tying the game at four apiece after he took a hanging 78.5-mph slider a Statcast-projected 413 feet for his 25th homer of the season. Ramirez leads the AL with 78 extra-base hits this season, including new career highs in doubles, triples and homers and entering Tuesday's game with an OPS nearly 100 points higher than his 2016 total.
"You've got a premier hitter in the league, and he's playing multiple positions," Indians manager Terry Francona said. "I think the other day I brought up Ben Zobrist [as a comparison]. You'll always take the guy's numbers, but when you can take a guy who can move around and be really good defensively, it's been a blessing for us.
"It's impressive. It looked like at the end of the day, he almost felt too good. He was kind of over-swinging. But it's been fun to watch."
Tuesday's performance also marked Ramirez's sixth multi-homer game this season, the most by a switch-hitter since the Astros' Lance Berkman in 2006. From Aug. 28 through his first two at-bats Tuesday, Ramirez was 19-for-35 (.543) with seven homers and 14 extra-base hits.
Ramirez can attribute some of his success to the aid of a teammate: Tuesday's starter, Danny Salazar. The utilityman noticed Salazar's new shipment of bats and liked the handle on the bat. So he took it and subsequently went on a tear. From Aug. 28 through Tuesday's 2-for-5 performance, Ramirez is 19-for-38 (.500) with seven homers and 14 extra-base hits.
"It's his bat now," Salazar said with a laugh, noting that an AL pitcher doesn't have much use for it.
"I like the bat, and I'm using it," Ramirez said. "It's the same weight as mine, but I really like the handle, so that's why I'm using it. It was when I started to hit again. I just went back there where the bats were, I saw it, I liked it and started using it. It's mine now."
Fabian Ardaya is a reporter for MLB.com based in Chicago and covered the Indians on Tuesday. This story was not subject to the approval of Major League Baseball or its clubs.