MLB.com Columnist
Jim Callis
What to expect from Dodgers' Buehler in big leagues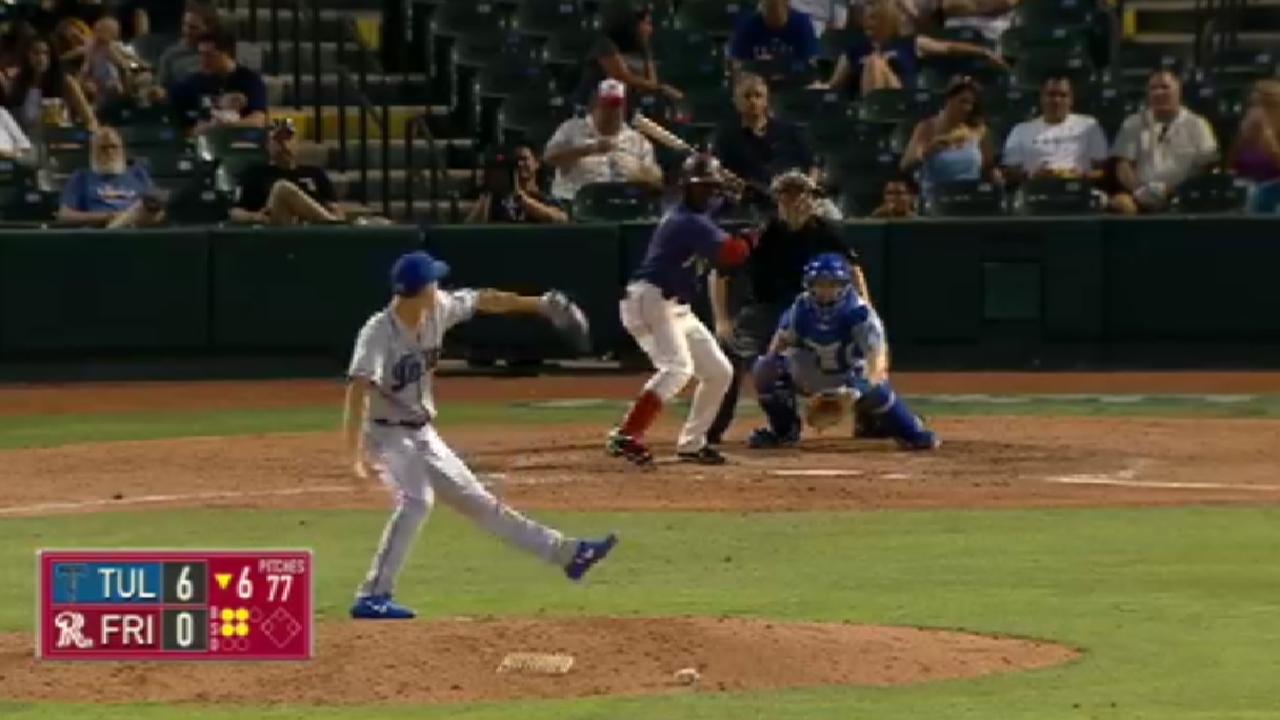 On Sept. 6, 2016, Walker Buehler had a total of five innings in two pro seasons on his résumé. Exactly one year later, the Dodgers are calling him to the big leagues and haven't ruled out having him crash their postseason roster.
In between, Buehler established himself as the Dodgers No. 1 prospect. He flashed better-than-ever stuff when he returned from Tommy John surgery last summer, and he has maintained it throughout 2017.
After working with a low-90s fastball at Vanderbilt, Buehler now operates in the mid-90s and touches 99 mph with life and an easy delivery that helps his heater play even better than its velocity. His low-80s curveball is a plus pitch with depth and ranks as his best secondary offering, though his upper-80s slider is nearly as good. He also can turn his slider into a low-90s cutter and has feel for a changeup that has its moments.
Despite his medical history and his relatively slender 6-foot-2 build, there's no question that the 23-year-old Buehler is a starter in the long run. His athleticism and his ability to fill the strike zone and repeat his mechanics should help him stay healthy and amass innings toward the front of a rotation, though he'll never be more than a No. 2 starter while Clayton Kershaw remains in Los Angeles.
For now, the Dodgers will use Buehler in short relief stints. They have handled him with care in what amounts to his first true full pro season, limiting him to five-inning starts before moving him to the bullpen in August. He logged 88 2/3 innings while moving from Class A Advanced to Double-A to Triple-A, and another dozen or so more won't hurt him.
With his arsenal, Buehler can bolster a Los Angeles relief corps that ranks second behind the Indians with a 3.15 ERA. He dominated Minor League hitters this year, averaging 12.7 strikeouts per nine innings -- which would have placed second had he worked enough innings to qualify. He recorded a 3.35 ERA in 88 2/3 innings, holding opponents to a .208 average and posting a 125-31 K-BB ratio.
If Buehler hadn't injured his elbow before his junior season at Vanderbilt in 2015, he never would lasted until the Dodgers' top pick (24th overall) that June. Scouts considered him the best prospect in the Cape Cod League during the previous summer, and he entered that year rated higher than Commodores teammates Dansby Swanson (who went No. 1 overall to the Diamondbacks) and Carson Fulmer (No. 8 to the White Sox). After a post-Draft physical revealed the need for Tommy John surgery, Buehler signed for a below-slot $1,775,500 and had the operation in August.
Now he looks like a steal. Even if he doesn't pitch himself into Los Angeles' playoff plans, he can begin laying the groundwork for an expanded role in 2018. The Dodgers have more rotation than depth than any club in baseball, but few of their starters can match Buehler's upside.
Jim Callis is a reporter for MLB.com. Follow @jimcallisMLB on Twitter. Listen to him on the weekly Pipeline Podcast. This story was not subject to the approval of Major League Baseball or its clubs.