MLB.com Columnist
Phil Rogers
Indians itching to get back to World Series
This team might be deeper, better than one that fell to Cubs last year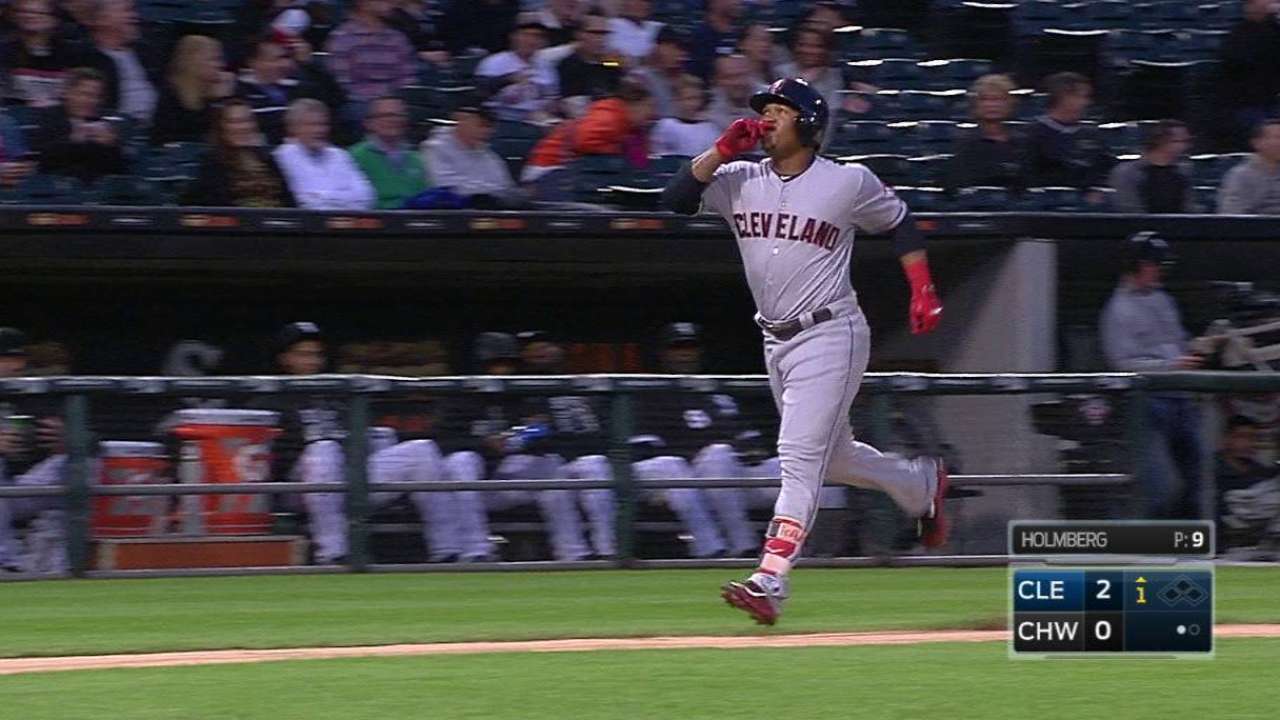 CHICAGO -- A fantasy football draft is in the books for the Indians, and that's a sure sign the best part of the baseball season is coming.
So close to winning the World Series last year, the Indians are playing well at the right time. They're driven by the chance to write a different ending this fall -- Cleveland's first winning World Series since 1948.
"That's what we expect,'' infielder Jose Ramirez said Tuesday. "We have a lot of experience, and now we have playoff experience. We have a good mindset, and we're doing the work we need to do, putting in the extra effort necessary, to get back there.''
No one should be surprised if Terry Francona's team does what the Royals did in 2015, winning a championship a year after experiencing heartbreak in Game 7.
This version of the Indians is a little better, a little deeper, than the one the Cubs beat in 10 innings after the fateful rain delay at Progressive Field.
The Indians have shown that by reeling off a 13-game winning streak while missing several key players, including left-hander Andrew Miller, second baseman Jason Kipnis, left fielder Michael Brantley and rookie center fielder Bradley Zimmer, all of whom could be on track before the postseason.
"That's the idea,'' Francona said. "Our goal every day is to win the game we play. I don't think we really sit down and think much about injuries, other than being prepared and helping our guys get back. We don't look too far ahead. We just try to win tonight. That's the idea every day.''
You never asked Tony La Russa how he was doing before a game. The answer was always the same.
"Ask me in a few hours,'' he'd say.
Francona looks at the baseball marathon the same way.
"We're playing pretty good baseball, but it's fluid,'' Francona said. "You've got a game tonight; you've got a game tomorrow. We don't get too caught up in streaks, whether it's bad or good. I don't think you set yourself up for success that way.''
You set yourself up for success by pitching well, and that's what the Indians do best. Anchored by Corey Kluber, they've got the best starting rotation in the American League and, since the All-Star break, probably the best in the Major Leagues.
Cleveland has a 65-37 record and 3.81 ERA from its rotation. Before Danny Salazar's rough outing Tuesday, the totals since the All-Star break were 28-7 with a 2.91 ERA.
Kluber, who made six starts in the postseason last year, has moved past Chris Sale as the Cy Young Award frontrunner. He will take a 14-4 record and 2.56 ERA into a start on Thursday at Guaranteed Rate Field. But that's not the good news for the Indians.
It seems more significant that the rotation is deeper than it was last October, when injuries to Carlos Carrasco and Salazar forced Francona to use Kluber on short rest three times, including in Game 7.
Carrasco and Trevor Bauer have been strong as the Nos. 2 and 3 starters, Salazar is a wild card, and Mike Clevinger, Josh Tomlin and Ryan Merritt all made significant contributions to the winning streak.
Francona's bullpen is as tough as usual, and the inventory of position players has improved. Ownership made an impact by providing the resources to sign slugger Edwin Encarnacion as a free agent and to pick up almost $4 million in salary to add right fielder Jay Bruce in August; the farm system delivered Zimmer, a first-round pick in 2014, and third baseman Yandy Diaz, signed in 2013 after he left Cuba.
Then there's the continuing development of Ramirez, who may have surpassed shortstop Francisco Lindor to be the Indians' most valuable player. He's been on a roll (15 extra-base hits, including six home runs, in his last nine games), and he leads the Major Leagues with 47 doubles to go along with his 25 home runs. Nos. 24 and 25 came in consecutive innings Tuesday night.
He's done this while bouncing between third base, where he'll probably be in October, and second, his natural position. He can also play the outfield but hasn't needed to this season.
"You've got a premier hitter in the league and he's playing multiple positions, that's pretty valuable,'' Francona said. "I've brought up Ben Zobrist's name. You'll always take the guy's numbers, but when you've got a guy who can move around and be really good defensively, it's been a blessing for us.''
Ramirez isn't the least surprised that the Indians put together a winning streak to challenge the franchise record of 14 wins in a row, which they set last season.
"We've had great success all year,'' he said through team translator Anna Bolton. "We're excited now. We have great players on the team, who are great guys, and we are winning. … We joke around, we have the energy, but when the game starts, we are focused.''
Ramirez was a force in the 2016 World Series, leading Cleveland's regulars with a .310 batting average. He loved every minute of it, and has a thirst for more.
"Yeah,'' he said. "That's what we all want.''
October is coming fast, and the Indians look like they'll be ready for all comers.
Phil Rogers is a national columnist for MLB.com. This story was not subject to the approval of Major League Baseball or its clubs.