Crew 'taking chance' on Villar in center field
Brewers testing whether defense good enough to keep his bat in lineup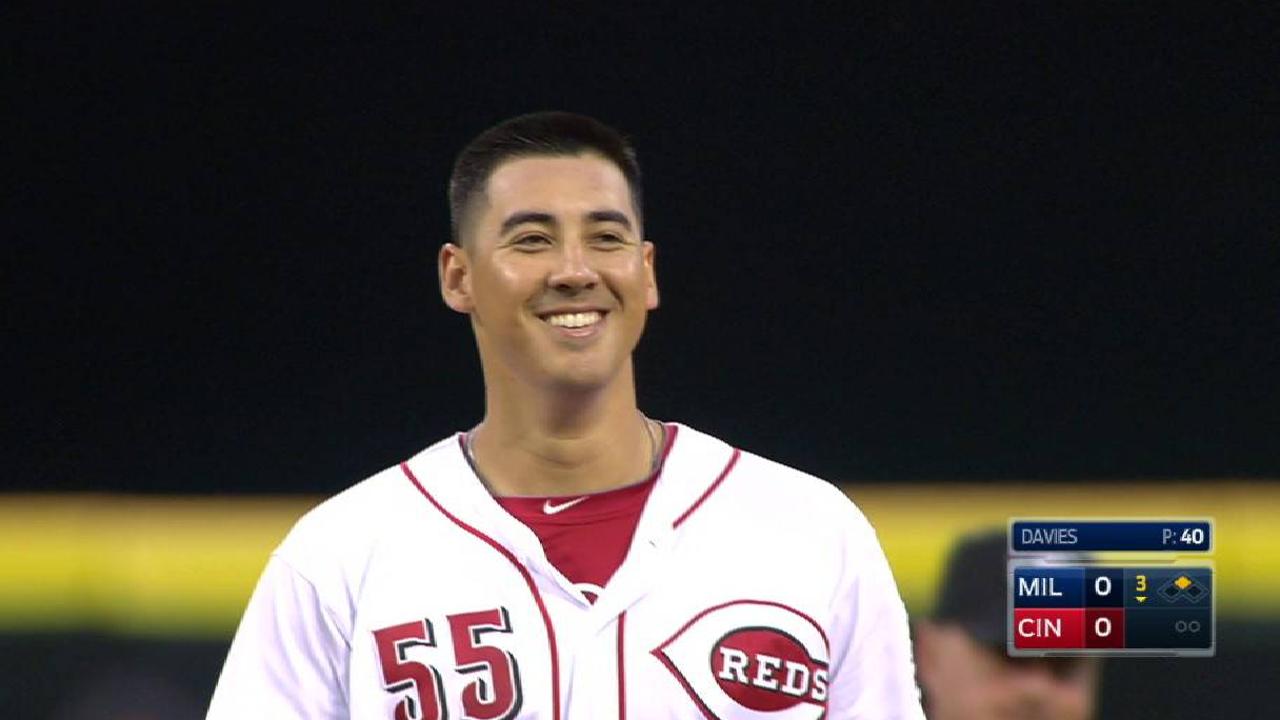 CINCINNATI -- "I'll acknowledge we're taking a chance," Brewers manager Craig Counsell said at Great American Ball Park on Tuesday afternoon, just a few hours before the risk he was talking about became abundantly clear.
A discussion of the dangers of playing infielder Jonathan Villar in center field yielded to a stark example in the third inning of the Brewers' 9-3 loss to the Reds. Villar's first error at the position led to the game's first run -- the game's only run into the sixth inning -- and fueled the debate of whether getting his hot bat into the lineup by sending him to center field was worth the defensive trade-off.
"Look, we're taking a chance. I'll acknowledge we're taking a chance," Counsell said before the game. "I understand that. But for me, although he's not been completely challenged, he's handled it well."
As if they'd been listening, the baseball gods promptly challenged Villar.
Afterward, Counsell said, "We have had to take risks to get to the spot we are, and we will continue to take risks. … Tonight, it burned us."
But first, a look back one day to what prompted Tuesday's discussion:
Counsell and his coaches spent part of the afternoon dissecting whether the Villar experiment had hurt the Brewers in Monday's walk-off loss to the Reds. They examined video replays and data related to Tucker Barnhart's two-run double to left-center field in the sixth inning of that game, a critical moment that gave the Reds a 4-0 lead on the way to a 5-4 win.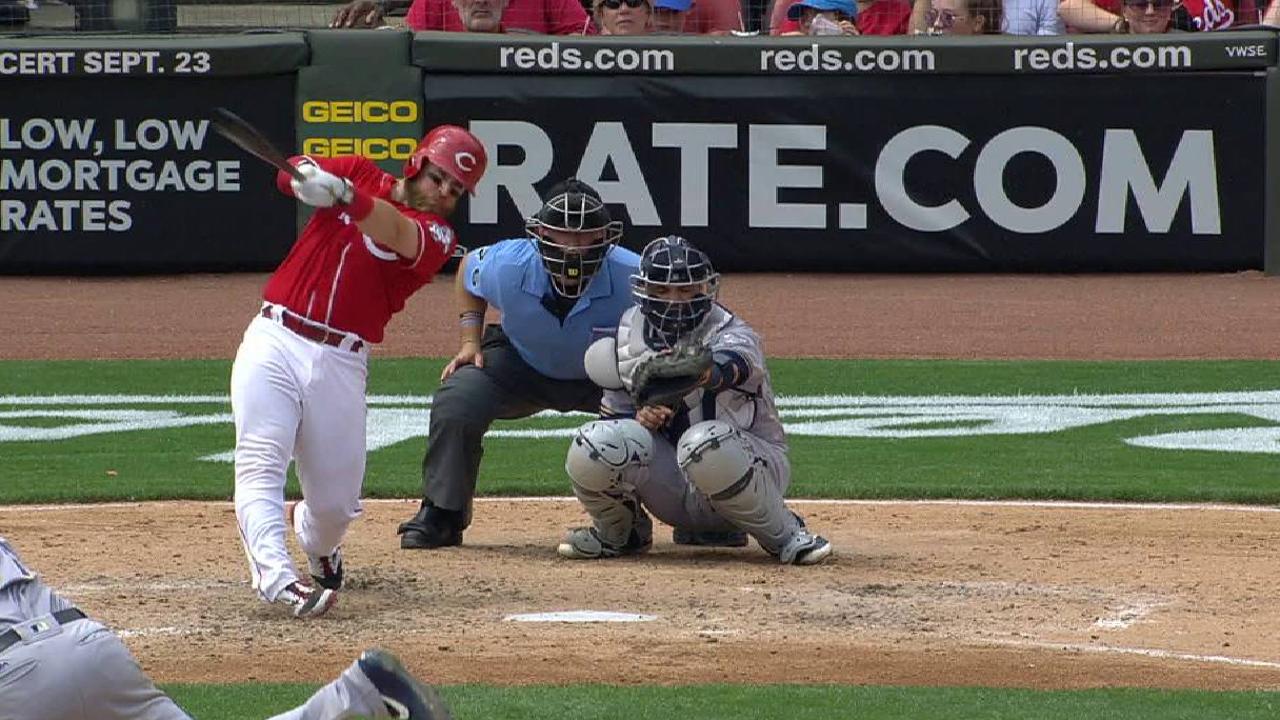 According to Statcast™, Barnhart's batted ball -- 102 mph off the bat with a 26-degree launch angle and a hang time of 5.3 seconds -- had a catch probability of 55 percent for Villar. "Catch probability," introduced at the start of this season, notes the precise starting position of each fielder and asks how far the fielder had to go, and how much time he had to get there.
Would a true center fielder -- Keon Broxton, say -- have made the catch?
"We looked at that play a lot today, and you start to get into some new Statcast™ things, and everybody who we're asking is saying 'no'," Counsell said. "We've asked a lot of people. We've asked Statcast™. The stuff that is coming with that is really interesting, for sure. How we're looking at whether or not they can catch a ball, it's pretty exciting, actually. We're certainly getting better at it. But Johnny's route on it was pretty good."
The Brewers began to experiment with Villar in center field after his bat heated up in August, when Villar won club player of the month honors by hitting .364. With Orlando Arcia entrenched at shortstop, Neil Walker on board mostly at second base and plus-center fielder Broxton enduring another cold spell at the plate, it was a way to get another productive bat into the lineup.
It was admittedly a trade-off. Broxton converts 73.3 percent of so-called "3-star plays," indicating an ability to save runs even when he is not producing them. But with the Brewers at the bottom of the National League in runs per game since the All-Star break, Counsell opted for Villar and a chance for offense.
"I've always believed on balls in the air on the infield, Johnny's routes are good and he goes after them confidently," Counsell said. "That's what's led to me feeling like he can do a good job out there [in center field]."
So, Villar was back in center field on Tuesday for his sixth start there.
And, for the first time, he was tested. Then he was tested again.
In the third inning of a scoreless game, with Reds pitcher Robert Stephenson at the plate and Villar playing shallow, Stephenson sent a deep fly ball to center field. It had a hang time of five seconds, according to Statcast™, and a catch probability of 69 percent for Villar, who covered 82 feet in time to make the play.
But the baseball popped out of his glove for a two-base error. Stephenson advanced on a sacrifice bunt and scored on another fly ball to center field, this time off Zack Cozart's bat and in front of Villar. It had a catch probability of 75 percent, but Villar could not get there in time, diving in vain for what became a Cozart double and a 1-0 Reds' lead.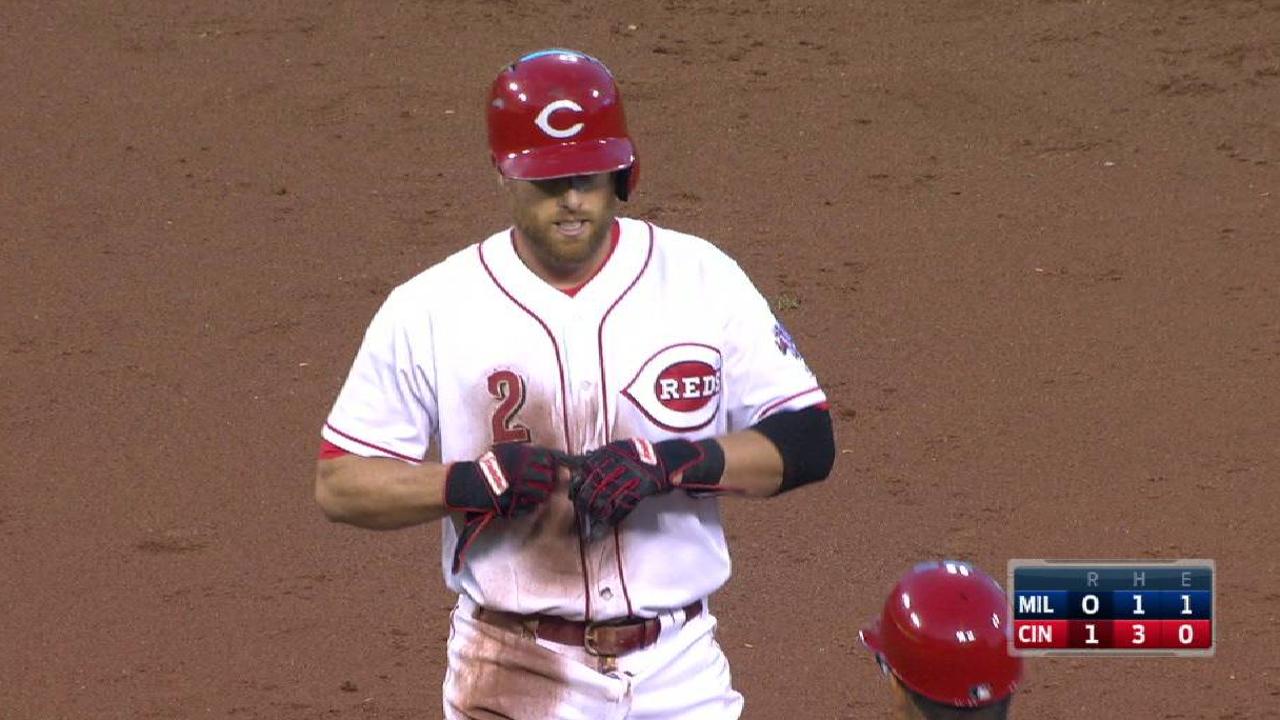 "I told [Davies], 'Hey, my bad," Villar said. "For me, it [cost] one run because I didn't catch that ball right there. We're not perfect. We don't catch the ball all the time. He told me, 'I'm fine.'"
Said Davies: "You have to go back out there and try to make pitches. I know it wasn't on purpose."
Will Villar see more action in center field?
"Keon's going to play tomorrow. That was the plan," Counsell said. "Some of these things, we're getting information as we go. That's important. It will instruct us how to use guys going forward."
Adam McCalvy has covered the Brewers for MLB.com since 2001. Follow him on Twitter @AdamMcCalvy and like him on Facebook. This story was not subject to the approval of Major League Baseball or its clubs.