Green's swing-and-miss stuff a nice surprise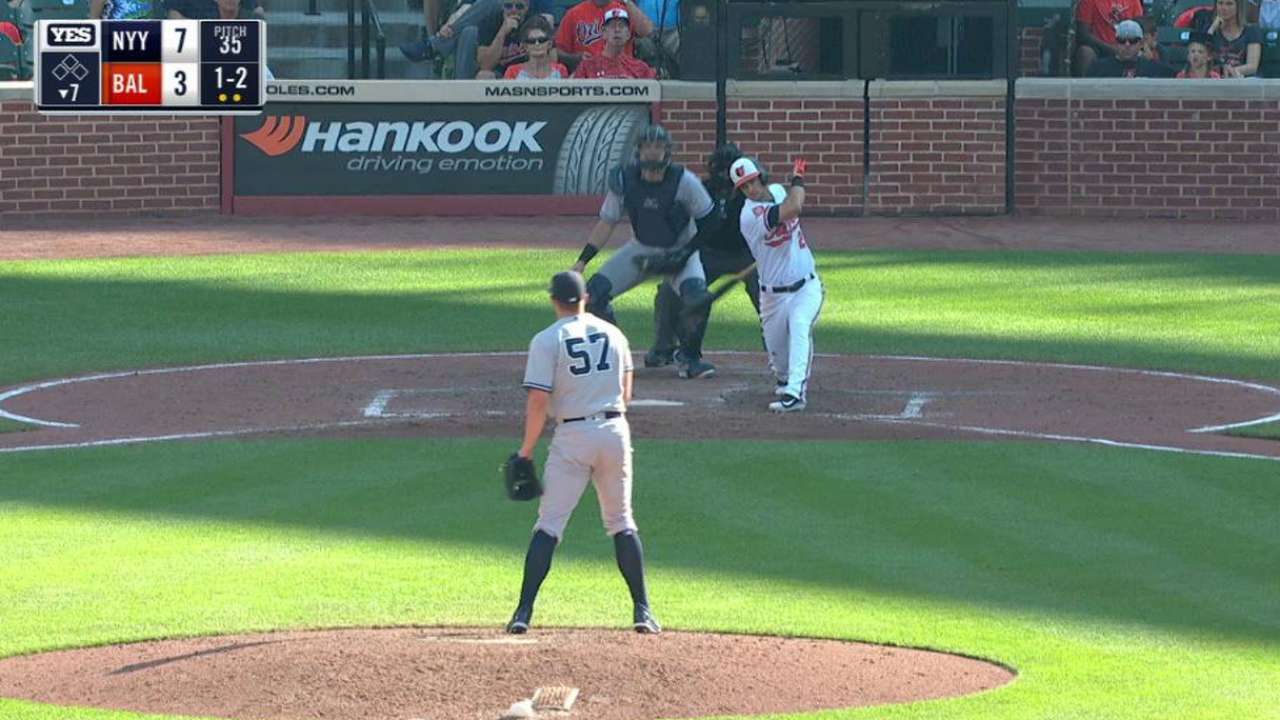 BALTIMORE -- The Yankees are not certain why Chad Green's fastball seems to be overpowering opposing hitters so often, but they are sure of one thing: They're glad that they don't have to face him in the late innings.
Green has emerged as a dominant force out of the bullpen this season, ranked third among American League relievers with a 1.73 ERA entering play on Tuesday. He retired all seven hitters he faced in the Yanks' 7-4 victory over the Orioles on Monday, striking out four.
"It just jumps on you," catcher Austin Romine said. "I don't know how else to put that in words. It comes in and it keeps its velocity and kind of jumps at you, instead of a normal fastball coming in. I know we're searching for an answer; I can't give you one. It gets on me, so I know it gets on hitters."
It sure does. In 31 relief appearances this season, the 26-year-old right-hander is striking out 13.66 per nine innings, with 87 K's against 25 hits in just 57 1/3 innings. In 23 relief appearances since June 18, Green has compiled a 1.60 ERA with 66 strikeouts in 39 1/3 innings.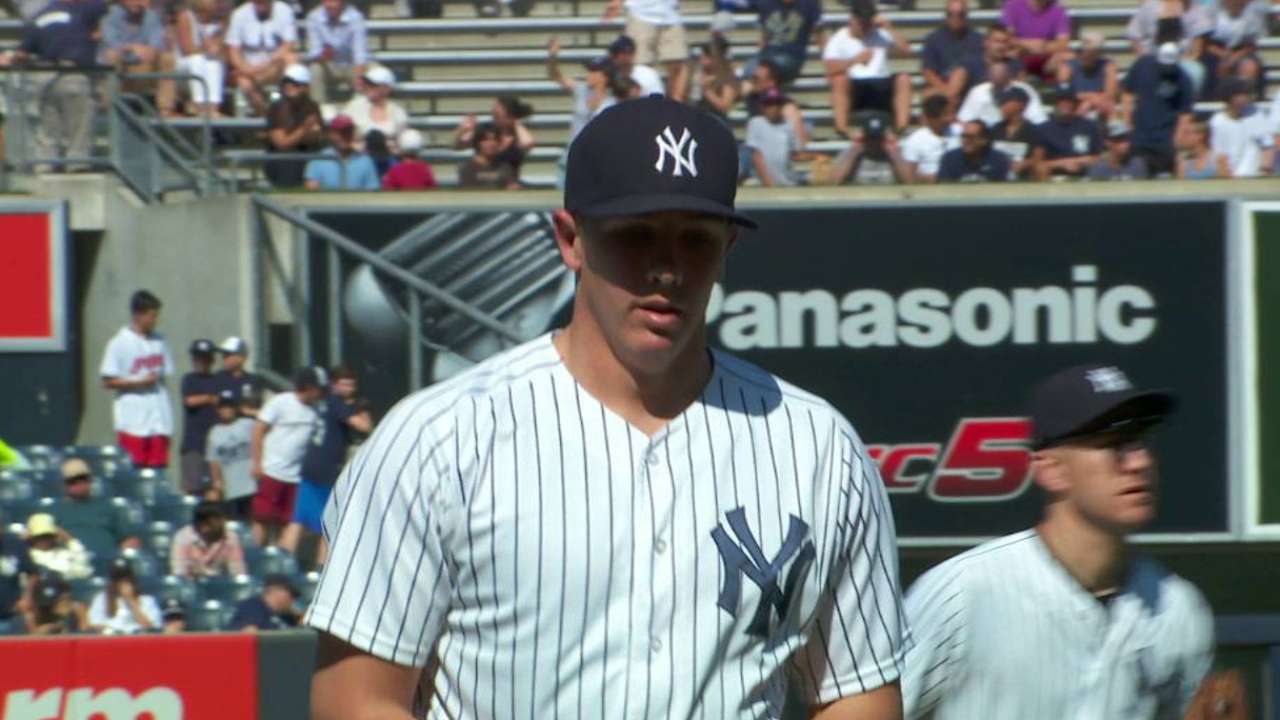 "What do I see? A lot of swings and misses," Yankees shortstop Didi Gregorius said. "That just tells you a lot right there, what his fastballs and cutters and everything does. That's what I definitely see from him."
Romine wondered if Green may spin the ball more than other pitchers. A dive into the Statcast™ database confirms that is the case -- Green's four-seamer rides at an average velocity of 95.5 mph and has a 2,477-RPM spin rate, which ranks 24th among pitchers who have thrown at least 500 pitches in the Majors this year.
"I see guys gearing up to hit fastball and just swinging and missing," Romine said. "I can't put my finger on it. We're looking for a reason why and I can't give you one. I just think he's got other good pitches as well. He keeps them honest with the slider. He has a cutter that he'll mix in there to keep them out front, and then he just attacks with the heater."
Green enjoys pitching up in the zone and said that entering the game in relief frees him to empty the tank the way starters seldom can.
"I think that's the mindset that I try to have, knowing that I might only face the lineup one time," Green said. "I have 30, 40 pitches to work with instead of 100. I just try to take it a pitch at a time."
Green isn't ruling out a return to the rotation at some point in the future. He made his big league debut as a starter last May 16 in a spot start at Arizona, and he started eight of his 12 games in the Majors last season.
Though he was in the mix for one of the Yanks' final rotation slots this spring, Green has found a home in the bullpen, where he has resided save for a two-inning start against the Orioles on June 11.
"Right now, I'm happy where I'm at," Green said. "The future, we'll worry about that later."
Bryan Hoch has covered the Yankees for MLB.com since 2007. Follow him on Twitter @bryanhoch and on Facebook. This story was not subject to the approval of Major League Baseball or its clubs.